Creative Arts Therapy is where psychology and creativity meet to help us help others. Through experiential and embodied learning and immersive clinical training, you'll discover the curative nature of the creative process and the healing potential of art.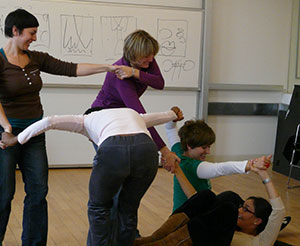 Type

Graduate, MS

Department

School
THE PROGRAM'S STRUCTURE
Both the MPS in Art Therapy and Creativity Development and MS in Dance/Movement Therapy masters are 60-credit programs providing a synthesis of creative, aesthetic, and psychotherapeutic theory. Courses offer a thorough theoretical frame­work that is translated into personal and practical application through an experiential process. Artwork and/or movement is done in every course and is used to learn therapeutic skills. Students focus on a wide variety of populations and are required to work with a different population for each of the two years of fieldwork/internship/practicum. Both programs are for students who want a broad body of skills, balanced with a strong theoretical framework.
Academic-Year Format
The academic-year format offers classes in a traditional manner, with classes in fall and spring semesters, for 15 weeks each semester.  The cycle of classes is as follows: students take courses and fieldwork/practicum/internship from September through May for two consecutive years. Students in the low-residency format are admitted for the spring semester only.
Students will be able to identify and utilize their own internal processes in service of therapeutic interventions.
Students will comprehend and apply creative and aesthetic processes in the context of creative arts therapy theory and practice.
Students will be able to establish a therapeutic relationship using imagery, movement, symbolization, and verbalization; and recognize shifts within that developing relationship.
Students will be able to demonstrate knowledge of psychodynamic theory within the context of creative arts therapy practice in the service of diagnosis, treatment, and ongoing evaluation.
Students will be able to articulate clinical theory and applied practice through writing, research, oral presentation, and professional advocacy across broad interdisciplinary communities.  
Students will be able to apply ethical and professional codes of practice as they apply to clinical practices, communities, and self.
Students will be able to understand the intersectionality of power, privilege, and oppression as they apply to clinical practices, communities and self.