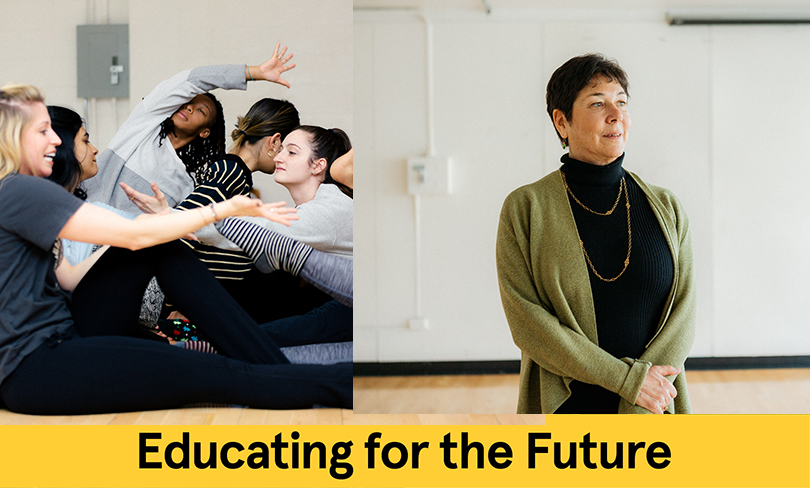 Exploring new models for education is one of the pillars of President Frances Bronet's inauguration and an important area of discussion in academia. We live during a time of dramatic change, where the landscape is quickly shifting. How is Pratt preparing its students for careers and technologies that aren't here yet?
In this new weekly series, "Educating for the Future," educators across Pratt's disciplines share their vision as to how they are educating students for a world that is quickly evolving—and reflect on what is needed to prepare the next generation for an environment that is rapidly changing.
This column is by Julie Miller, Chair of the Creative Arts Therapy Department in Pratt's School of Art.
As the Internet has opened up the world in ways that were unimaginable a half-century ago, trying to process this flood of information has impacted us psychically in the increased stress it places on our bodies and our lives. In addition, the ability to communicate electronically brings us together across vast geographical expanse but ironically draws us further and further away from deep embodied relationship and the ability to empathically attune to others. How can the work of art and dance therapists provide a counterbalance in this increasingly technological world?

While technology has driven progress in many disciplines, the fields of art therapy and dance/movement therapy are driven by human connection and the processes that enhance those connections. Our students become professionals who interact with people around the world addressing the impact of personal and societal trauma on individuals and communities.
We educate our Master of Professional Studies and Master of Science students to explore the inner landscape of human experience, utilizing the aesthetics of art making and improvisational dance/movement to access both strengths and unconscious disconnections that prevent people from realizing their potential. Our programs teach the primacy of the creative process to help people express, understand, and transform internal challenges, informed by current knowledge of development, diagnosis, and cultural, gender, and socio-economic differences. Awareness of diversity, power, privilege, and the intersectionality of culture are the guiding principles that have come to inform our approach to creative arts therapy education.
Find all of the "Educating for the Future" features and learn more about how Pratt's educators from across the Institute are addressing what the future of education will bring to their field.