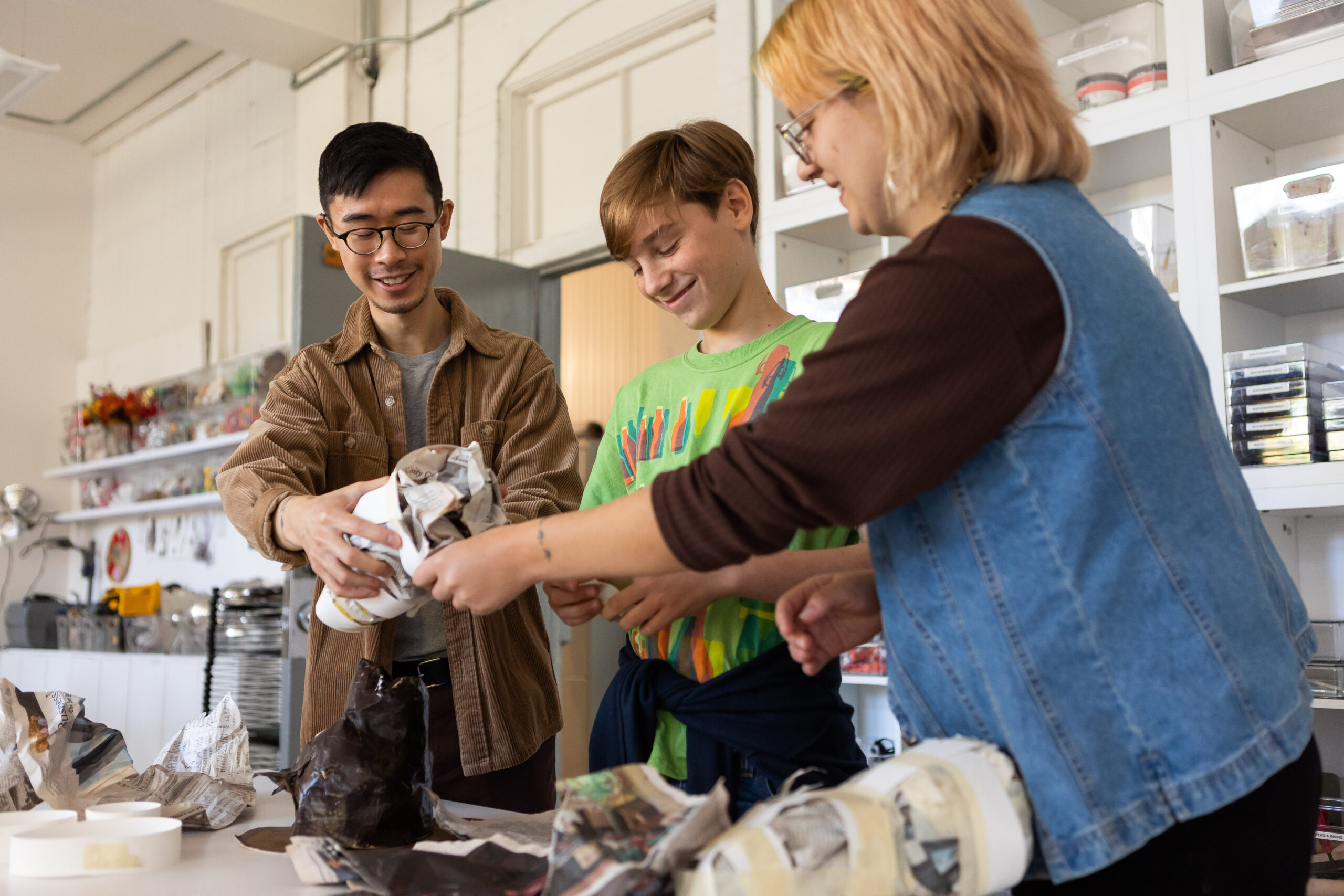 Overview
Pratt Institute's graduate programs in art and design education (with initial teacher certification, visual arts, all grades) provides an advanced education for artist-teachers in a top-ranked art and design school which has been preparing professionals to lead the field of art and design education for more than a century. Taught by faculty who are active practitioners in schools and community-based organizations, renowned artists and designers, and published researchers, you will observe, teach and conduct research in a broad pool of public schools in New York City. Pratt offers three graduate programs: BFA/MA in Art and Design Education, MA in Art and Design Education and Advanced Certificate, all with initial teacher certification, visual arts, all grades.
The Program Structure
Students in the MA and Advanced Certificate programs begin with focused courses in art and design education, as well as examine their learning in their undergraduate degree or studio-core, whether in Painting, Drawing, Sculpture, Printmaking, or Communication Design. Throughout the programs, courses integrate theory and practice as they support students who observe and teach in public schools and community settings. Research is also incorporated into courses so that there is a seamless integration of research and practice. All provide the following core learning experiences:
Studio Core
All states require a minimum of 25 credit hours in art, design, and/or the history of art – a studio core – in an undergraduate degree for entry into a graduate program to teach visual arts. Students examine, reflect on and are guided to teach in their studio cores and broaden their studio knowledge and skills – grounded in contemporary art practice – as they learn in the studio.
Teaching Experience
Students pursuing both degree paths— the MA and the Advanced Certificate – take courses that immerse them in fieldwork and student teaching in K-12 public schools and other settings.
Community Engagement
All students teach in Saturday Art School, a laboratory school for children ages 6-18 from Brooklyn's many neighborhoods. For over a century, Saturday Art School has provided neighborhood children and adolescents with a quality art and design program, taught by students in the Department of Art and Design Education.
Thesis
Students in the BFA/MA and MA explore the history and contemporary state of the field of art and design education and make an original contribution to the curriculum through their research. Students analyze diverse perspectives on a topic they are curious and passionate about so that they develop the capacity to question assumptions and previous knowledge, accept uncertainty, and situate curriculum research within the ongoing theoretical and empirical research debates.
Project Example
A Project Example is an example of the project the teacher plans to teach to children and is an important instructional strategy in art teacher education. It is the first step in developing a lesson(s) idea. This is not a personal work of art by the student-teacher, but rather a practice work that is created to illuminate and refine the main learning, skills and experiences embedded in the project. ADE students document (in video and/or in writing) their own physical and mental processes as they make their project examples. They then reflect upon their documentation with the goal of understanding the learning potential, challenges, required skills, and areas for possible misunderstandings for the children they will teach.
Certification
Our graduate programs are recognized by the New York State Education Department (NYSED) as "approved teacher preparation program(s)." In addition to completing an approved program, students must also complete non-curricular requirements in order to become eligible to apply for initial teacher certification in New York State in Initial Certification in Visual Art (all grades). Visit our Teacher Certification page for information on the non-curricular requirements.
Our integrated program intertwines studio thinking with learning theories and current research in the field. You'll develop a firm grounding in the arts and design disciplines with expertise in pedagogical strategies and teaching techniques. Conceptual innovation in education design—from lessons to curricula, projects, and programs—are combined with students' own interests and experiences.