Address complex social issues, experiment with new ideas and materials, and shape art and design's role in social change and transformation, in collaboration with schools, community, and cultural organizations.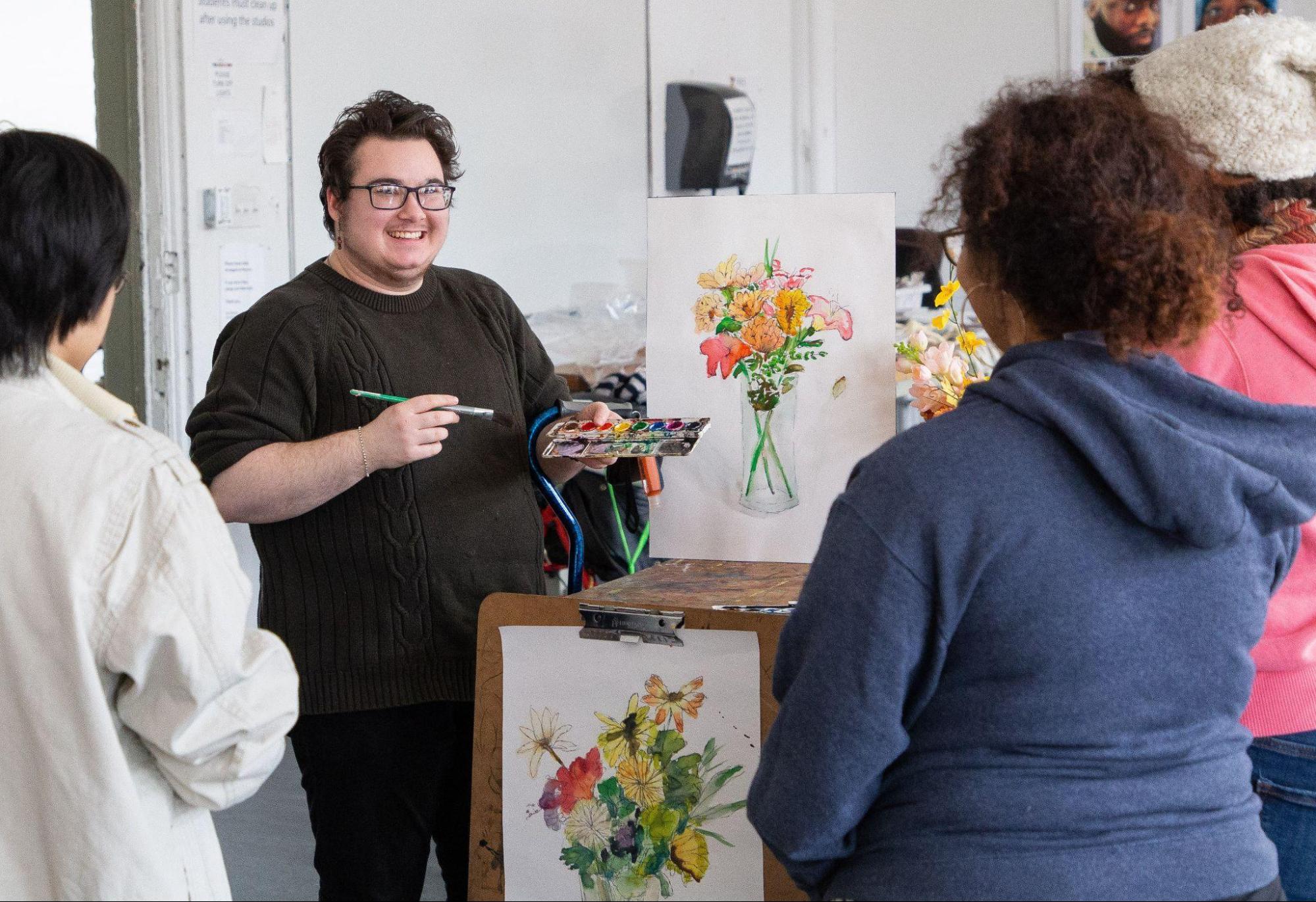 Type

Undergraduate, BFA/MA

Department

School

Credits

156

Duration

5 years
The BFA/MA in Art and Design Education with initial New York State teacher certification (visual arts, all grades) is a unique opportunity for students to complete both the undergraduate and graduate degrees in Art and Design Education at Pratt in five years thus reducing time and cost requirements. Students follow the BFA program: all first-year students take the Foundation program's core curriculum, along with required art history and liberal arts courses, and begin the art and design education
curriculum in the fall of the sophomore year. Within the BFA portion of the BFA/MA in Art and Design Education, students can opt to pursue two different paths during the BFA portion of the five-year program: one in art and design education with New York State certification and one in community art and design education. On successful completion of the BFA, students enter the MA portion of the five-year program (fall entry only). This unique graduate year provides students with opportunities to explore
fields related to art and design education such as museum education or community- based art and design education and to undertake a research project.
*Students need to remain in good academic standing to continue into the MA portion of the five-year program. Financial aid packages, as well as bursar and other payment processes, convert to graduate  student levels.
The BFA/MA program provides the following core experiences:
Studio Core
Students take a sequence of a minimum of 18 studio credits in an art or design discipline beginning in their sophomore year through to the end of their senior year. Through advisement sessions, students choose a studio core discipline based on their experiences in the foundation year and evolving studio interest, and examine their progress in the core as they move from one semester to the next.
Teaching Experience
Students pursuing both degree paths—certification and community art and design education—take courses that immerse them in fieldwork and student teaching in K-12 public schools and other settings. In their junior year, students decide which path they want to pursue. Students who choose the certification path fulfill their additional student teaching requirements in public schools, and students in the community art and design education track fulfill their student teaching requirements in community-based settings.
Community Engagement
Since 1897, Pratt Institute's Saturday Art School has been offering a broad range of classes for children and teens. All students in the Department of Art and Design Education teach in Saturday Art School, a teaching and learning laboratory school for children and teens from Brooklyn's many neighborhoods; classes are taught by students who are supervised by faculty. Students learn to integrate the knowledge, skills and values of their studio-core in the planning and teaching of studio-based projects over the course of the semester culminating in a curated exhibition.
Integrative Capstone/Thesis
During the BFA portion of the five-year program students complete a capstone course that supports their learning as they integrate their studio core with their teaching experiences through reflection and research in the field of art and design education. The capstone course in students' senior year provides a space for students to reflect and build on their learning by investigating a topic in art and design education and developing a senior exhibition. The capstone research project also prepares students well for thesis research in the MA portion of the five-year program.
Certification Requirements
Our programs are recognized by New York State Education Department (NYSED) as "approved teacher preparation program(s)" and as such prepare students to meet the requirements of Initial Certification in Visual Art, Grades Pre-K-12. In order to be recommended for New York State Education Department (NYSED) Initial Certification in Visual Arts (all grades), students must complete a Teacher Performance Assessment (TPA) and a number of non-curricular requirements. All non-curricular requirements must be taken with a provider approved by NYSED and may require a fee. Students in the BFA/MA program are recommended for certification only after completion of the five-year program. More information is available here: Teacher Certification Information.