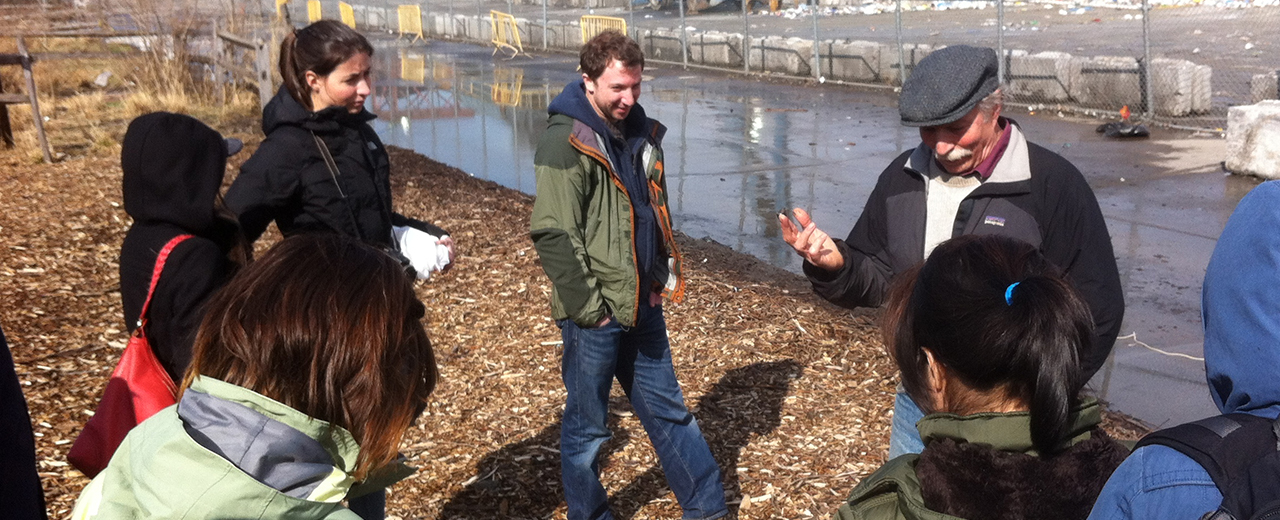 The 40-credit Master of Science in Sustainable Environmental Systems (SES) is a transdisciplinary STEM graduate program in sustainability studies with a curriculum focused on the nexus of environmental policy, science and design, addressed through the lenses of systems thinking and environmental and climate justice. Course work, offered mostly in the evenings at Pratt Institute's School of Architecture on its Brooklyn campus, is designed to meet today's increasing demand for environmental professionals.
Interdisciplinarity: Science X Policy X Design
MS in SES students learn the interdisciplinary skills needed to assess contemporary environmental issues; catalyze innovative environmental problem-solving; uphold environmental and social justice; and engage diverse stakeholders in designing and developing sustainable plans, policies, and communities. Graduates are prepared to take on a range of roles as environmental designers, policy analysts, sustainability consultants, low-impact developers, researchers, and advocates, collaborating with environmental scientists, policymakers, and communities. The SES program is unique in its combination of science, design, and policy. By uniting a foundation of theoretical and technical core courses with innovative mini-courses and transdisciplinary studio work, the program offers a uniquely comprehensive curriculum that fosters exposure to cutting edge practicing professionals. The program encourages students to closely examine the relationships between the environment, policy, and systems design.
The SES program welcomes students with a variety of undergraduate and graduate degrees, recognizing that sustainability work is most effective when integrating a number of disciplines. Students entering the program with relevant professional experience, or with a Bachelor of Architecture or a BS/BE in civil engineering or environmental science, may receive up to 10 credits of advanced standing – and the commensurate tuition savings.
At Pratt, our approach to sustainability is trans-disciplinary, as evident in our alliance of graduate degrees known as the Graduate Center for Planning and the Environment (GCPE). The GCPE is an unique, interdisciplinary alliance with shared values of urban sustainability and community participation, defined by the "triple bottom line" of environment, equity, and economy. Each program—including Urban and Community Planning, Historic Preservation, and Urban Placemaking and Management— maintains its independence, degree, and depth of study. Students may take elective courses in any of the four GCPE programs.
In their second year, SES students must participate in one of the GCPE's advanced interdisciplinary studios, where they work with community partners and coalitions to address policy, planning, development, heritage, and design issues of immediate and long term concern. Two of these studio offerings are based out of the SES program and represent areas of focus for the program: the Delta Cities Coastal Resilience studio, and the Green Infrastructure Design Build studio. Through course work and studio work, the program places particular importance on the development of critical analysis, systems thinking, oral and visual presentation, and writing – core skills needed to navigate transdisciplinary sustainability professions and projects.
Our faculty and students represent a wealth of disciplines and they truly believe that solutions to complex urban issues can only be developed through many points of view. As part of Pratt Institute and its School of Architecture, we are immersed in one of the nation's top art and design schools. Students are encouraged to pursue relevant coursework and partnerships in other departments, such as Industrial Design, Interior Design, Construction Management, Facilities Management, and Real Estate Practice, to further examine the interdisciplinary nature of sustainability and its related professions.
Professional Practice
The SES program is unique in its practice based approach and emphasis on experiential learning opportunities tailored to each student's interests. Students learn from one another and from leading edge NYC practitioner faculty whose expertise include: Integrated Urban Systems Designs for water, energy, and solid waste, Environmental and Social Justice, as well as Sustainable and Resilient Community Development. Students will study environmental sustainability with artists, designers, architects, planners, preservationists, and environmental managers. As the degree is particularly rewarding for those seeking professional development, many students have existing professional experience.
Virtually every student is assured a fellowship or internship with an organization, agency, or professional practice during their time in the program. Grant-funded research projects provide additional project-based opportunities to work with our faculty and community and public sector partners. Longstanding fellowships include the Environmental Justice Fellowship, in partnership with the NYC Environmental Justice Alliance and its member organizations, and the SWIM (Storm Water Infrastructure Matters) Coalition Fellowship.
Interns have been placed with organizations across disciplines, sectors, and environmental areas of focus, including: UN-Habitat, the NYC Mayor's Office of Climate and Environmental Justice, NYC Department of Environmental Protection, Waterfront Alliance, NYSERDA (New York Sustainable Energy Research and Development Agency), Urban Green Council, RISE (Rockaway Initiative for Sustainability and Equity), RETI (Research Education Training Innovation) Center, private architecture, design, and development firms, the Pratt Center for Community Development, and the Pratt Sustainability Center.
The curriculum culminates with the Demonstration of Professional Competence, or Capstone, course. During this course, students complete a demonstration fulfilling an approved scope of work, showing the analytical capacities and creative skills expected of a professional in the sustainability fields. As a capstone to the program, the demonstration can involve original research, a work-related project or an extension of course-related work. Students are expected to complete distinct deliverables to a client and interact with classmates and faculty advisers to develop research that can propel them to a new career in sustainability-related fields. You can see past Capstone projects in our Capstone Archive.
At the conclusion of the MS in Sustainable Environmental Systems degree program, graduates are prepared to take on a range of roles across disciplinary and sector boundaries, as environmental designers, policy analysts, sustainability consultants, low-impact developers, researchers, and advocates, collaborating with environmental scientists, policymakers, and communities.
Community Engagement & Environmental Justice
Through studios, theses, capstones, demonstration projects, research initiatives, partnerships and public programs, students have an opportunity to make an impact on the development of sustainable and just development policies, plans, and visions with New York City, regional, and even international communities and partners. This work builds upon six decades of relationships and trust earned through the community engaged, service learning approach of the Graduate Center for Planning and the Environment and its faculty, students, and staff.
MS in SES students have the opportunity to engage in extracurricular research activities, projects, and initiatives, grounded in our mission of participatory action research in support of community leadership, and practiced through our systems thinking and environmental justice lenses. Longstanding community and industry partnerships have yielded project-based research partnerships. Examples of grant funded partnerships include implementation planning and projects for the Sunset Park GRID (Green Resilient Industrial District), with UPROSE Brooklyn, and the RAMP (Recover, Adapt, Mitigate, and Plan) initiative, which provides technical support to a number of community-led responses to Superstorm Sandy (2012) and visioning for future community-led climate resilience and action across New York City and the Metropolitan Region (ongoing). Institutional partnerships with the Pratt Center for Community Development, the Pratt Spatial Analysis and Visualization Initiative, and the Pratt Sustainability Center, among other research centers, has yielded research fellowship opportunities for students and project based collaborations between our department and the broader research infrastructure at the Institute.
While the majority of our students' community engaged work is done in partnership with local and regional partners in the New York City Metropolitan Area, the MS in Sustainable Environmental Systems has built partnerships to foster international, multilateral dialogue. These exchanges of ideas, best practices, and lessons in sustainable development, environmental and climate justice, and climate mitigation, adaptation, and resilience are integrated into our international travel electives, and build upon existing and emerging networks. Examples include past exchanges with RDM (Rotterdam Design and Manufacturing) campus in the Netherlands, and ongoing partnership with Rio de Janeiro, Brazil's Catalytic Communities and Sustainable Favela Network.
The SES program operates closely with sustainability-focused stakeholders across campus. SES administrators, faculty, and students occupy roles in Pratt's Sustainability Coalition, Sustainability Committee, Department Sustainability Coordinators, and research collectives, and have formed long-lasting partnerships with the Pratt Sustainability Center and the Institute's Facilities Office. Together, we assess campus sustainability, collaborate on institutional priorities, coordinate events such as Pratt Earth Action Week, and develop campus living laboratory projects.
The Master of Science in Sustainable Environmental Systems program provides students with a broad, holistic knowledge base that supports community engaged research and professional investigations in response to emergent and longstanding environmental injustices and crises, building our students' tools and approach as emerging ethical, science-based, justice-driven sustainability professionals.
Acting Academic Director
Leonel Ponce
718.399.4328
lponce@pratt.edu
Office
www.pratt.edu/ses
ses@pratt.edu
Faculty Bios
www.pratt.edu/sustainable-environmental-systems/faculty-and-staff
Upcoming Information Sessions and Open Houses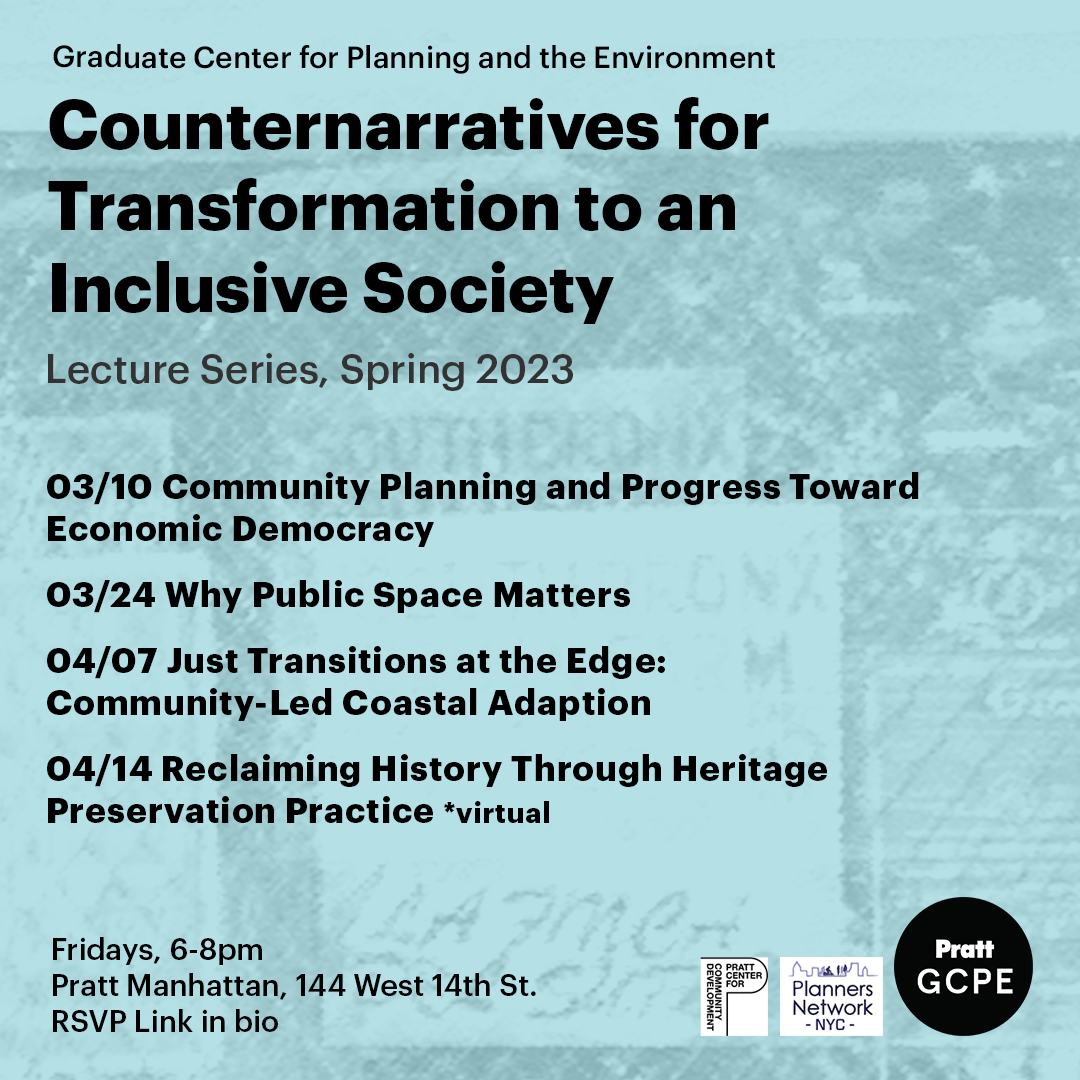 March 10 – April 14, 2023 6:00 PM – 8:00 PM
Pratt Manhattan, Room 201, 144 West 14th St
Event