The New York City metropolitan area is the most densely populated in the country, with concrete, glass, and steel dominating the landscape. Yet the city has a distinct ecology of nature; its shores range from popular beaches to industrial creeks, and its city parks and even traffic medians allow flora and fauna to thrive. There are also neighborhoods where flooding is recurrent due to planning oversight, and the frequency of severe storms with climate change threatens their survival.
Pratt students from across disciplines have been engaging with this local natural and unnatural terrain to find solutions for the future, engage people with urban nature, and understand the city's living shoreline. Alongside Earth Day on April 22, here are three projects and classes that show how students are learning from the New York City landscape.
Shoreline Fieldwork Along the City Waterways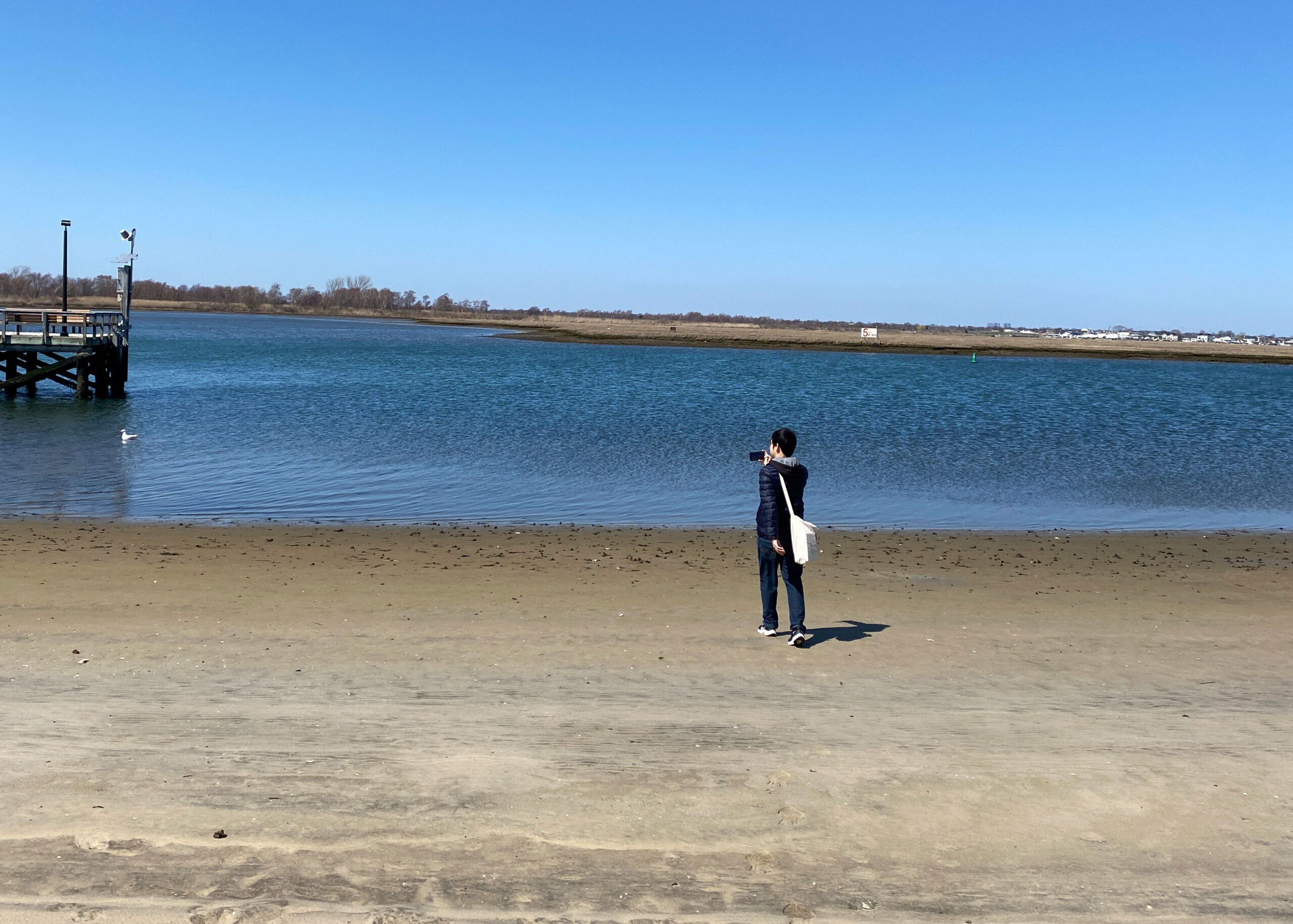 In the new Master of Landscape Architecture (MLA) program in the School of Architecture that launched in the fall of 2022, skill-building field exercises are central to the curriculum. These experiences range from camping in the New Jersey Pine Barrens to collecting soil samples at Gerritsen Beach in Brooklyn.
"Most courses in the first year have this component," said Visiting Assistant Professor in Landscape Architecture Mariel Collard Arias. "A commitment to the region's ecology, histories, and culture, and learning about landscape through first-hand engagement, are two of the program's core principles."
Collard is teaching this semester's Land Studio II, a second-semester core studio that focuses on the urbanized shores of the North Atlantic. Students recently spent time in Island Park, Harbor Isle, Barnum Island, and adjacent areas located between Jamaica Bay and Jones Beach State Park. During this session, they captured short abstract videos to show different aspects of the landscape, such as the sky, ground, or canopy. Viewing the videos together offered a sense of place for people who had not visited these areas. The experience enriched the studio's first-hand experience with winds, waves, tides, and currents that modify the shore so students can better understand how to design living shorelines in a time of adaptation, retreat, and rewilding.
Creating an Urban Trail Hike for Pratt's Brooklyn Neighborhood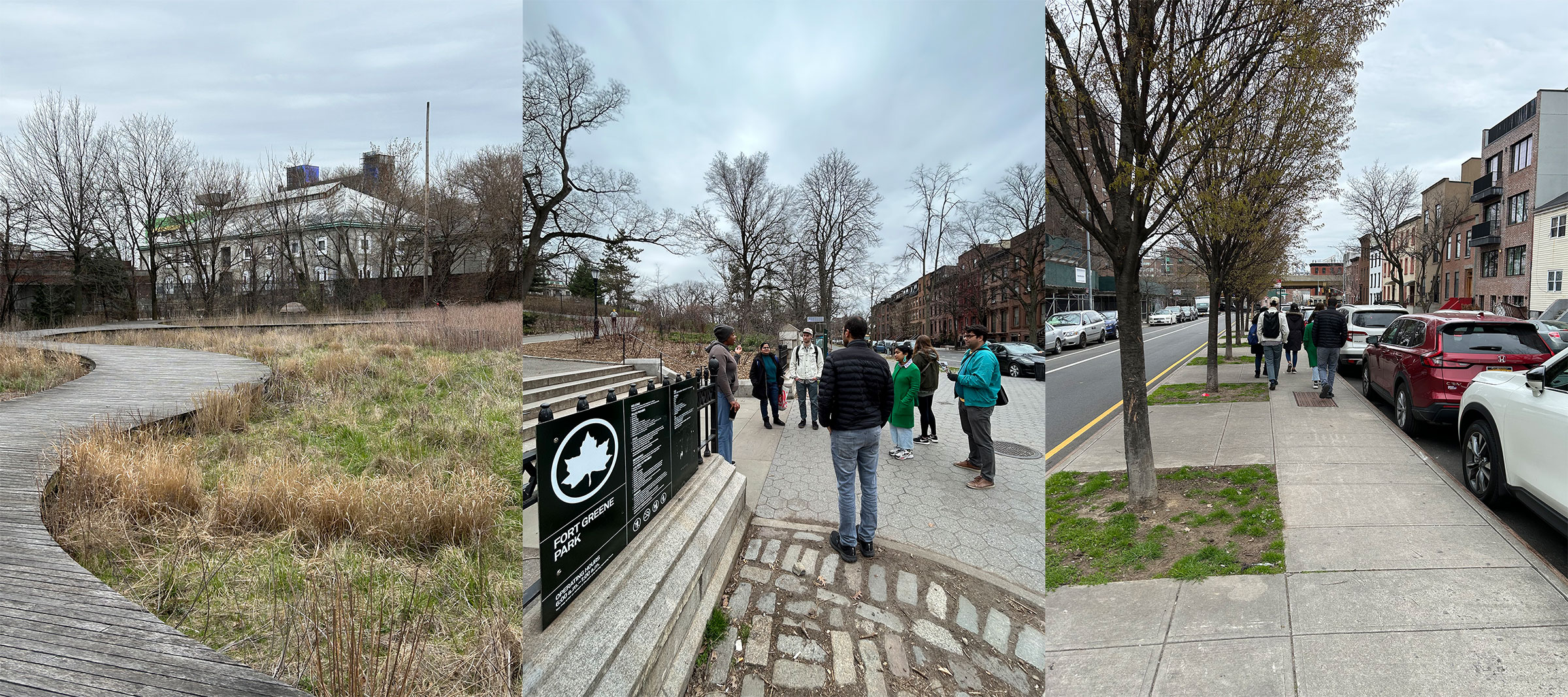 The Pratt Trail Network project is highlighting greenspaces in and around campus, with a team of students and faculty in the Graduate Center for Planning and the Environment (GCPE) identifying and mapping local pathways to link the Brooklyn campus with Fort Greene Park and the Naval Cemetery Landscape.
"Appreciating the community setting of Pratt and our beautiful campus, creating a walking or biking route to nearby natural areas, and helping our students and school community find their way around is a natural progression in community exploration and a great way to understand the problems and opportunities around us, especially in regard to sustainability," said Associate Professor Ira Stern.
While Fort Greene Park and Pratt's Sculpture Park may be familiar to people on campus and in the neighborhood, the Naval Cemetery Landscape at the Brooklyn Navy Yard is largely less known. The circular 2.5-mile trail, which was awarded a Taconic Fellowship from the Pratt Center for Community Development, invites participants to walk through these areas in Fort Greene and Clinton Hill while making observations and collecting data, such as on phenology, that show the seasonal changes in the local ecology.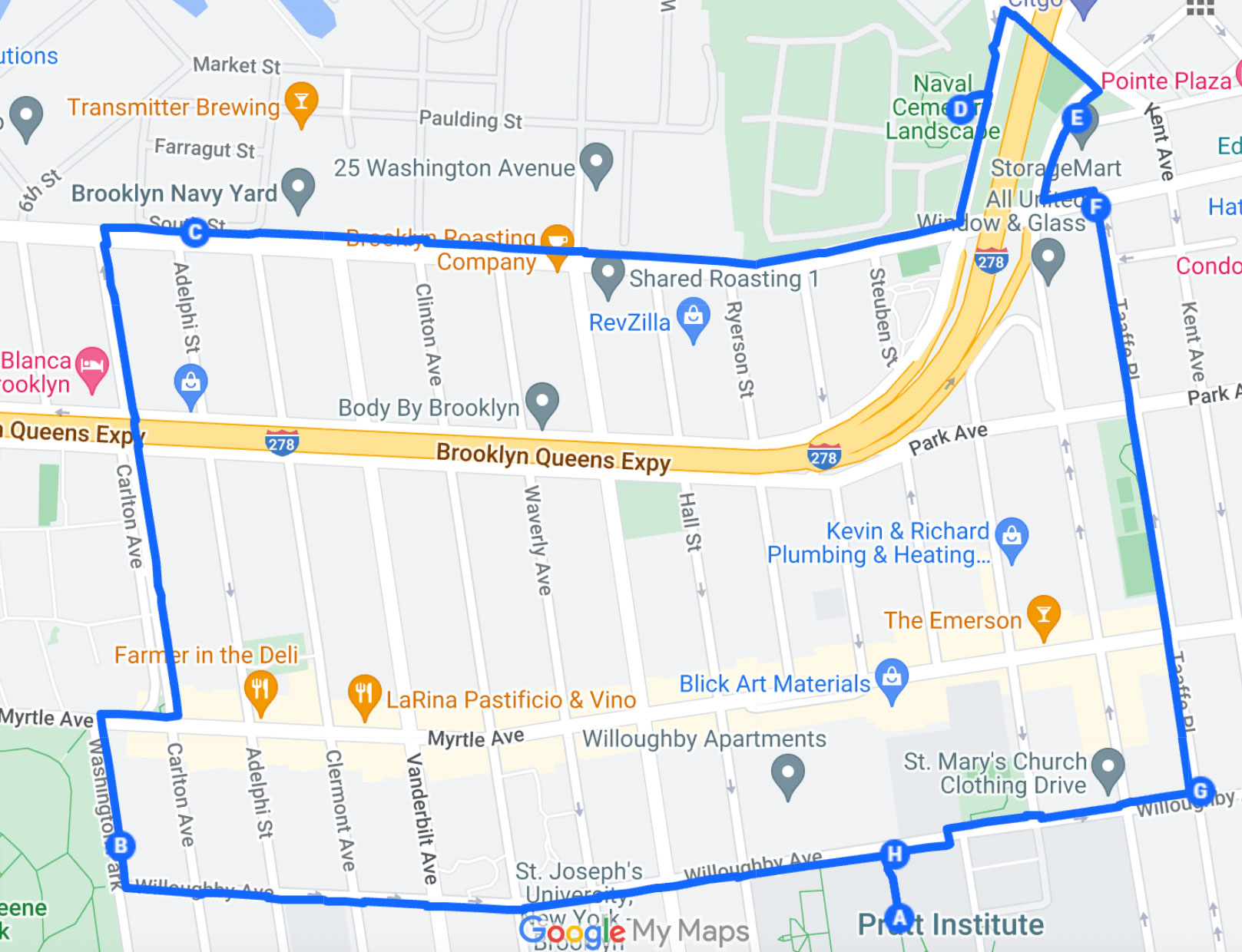 "It's a pretty unusual idea," said Harrison Nesbit, MS Sustainable Environmental Systems '23. "Trails usually denote an escape from the urban environment, not a deeper dive into it. We're hoping to defamiliarize the familiar and develop a framework for future research. The fellowship has also been a nice outlet to apply themes I've learned in my past three semesters."
The citizen science aspect of the Pratt Trail Network expands on the existing extensive data on iNaturalist about organisms on campus that have been facilitated by other students and faculty members. Classes like Sustainability Indicators in the Sustainable Environmental Systems (SES) program have further involved students in collecting data on biodiversity, green infrastructure, phenology, and social equity, which adds to this resource of knowledge. With Pratt's expanding presence in the Navy Yard, there is an opportunity to gather more data on the areas that connect it to campus and Fort Greene Park, such as the tree-lined median on Carlton Avenue.
"What sets this project apart is that we've not only focused on enhancing the experience but also explored ways to gather valuable data through stakeholder engagement," said Aditi Galande, MS Sustainable Environmental Systems '23. "By conducting interviews and analyzing these interactions, we were able to identify key goals and develop strategies to increase engagement in the project."
The project's team has already worked with the Fort Greene Park Conservancy and the Brooklyn Greenway Initiative and is now looking to collaborate with people and organizations on campus and in the neighborhood for exercise, mindfulness, nature bathing, wayfinding, or community study along the trails.
Researching the Present & Past of an Overlooked Neighborhood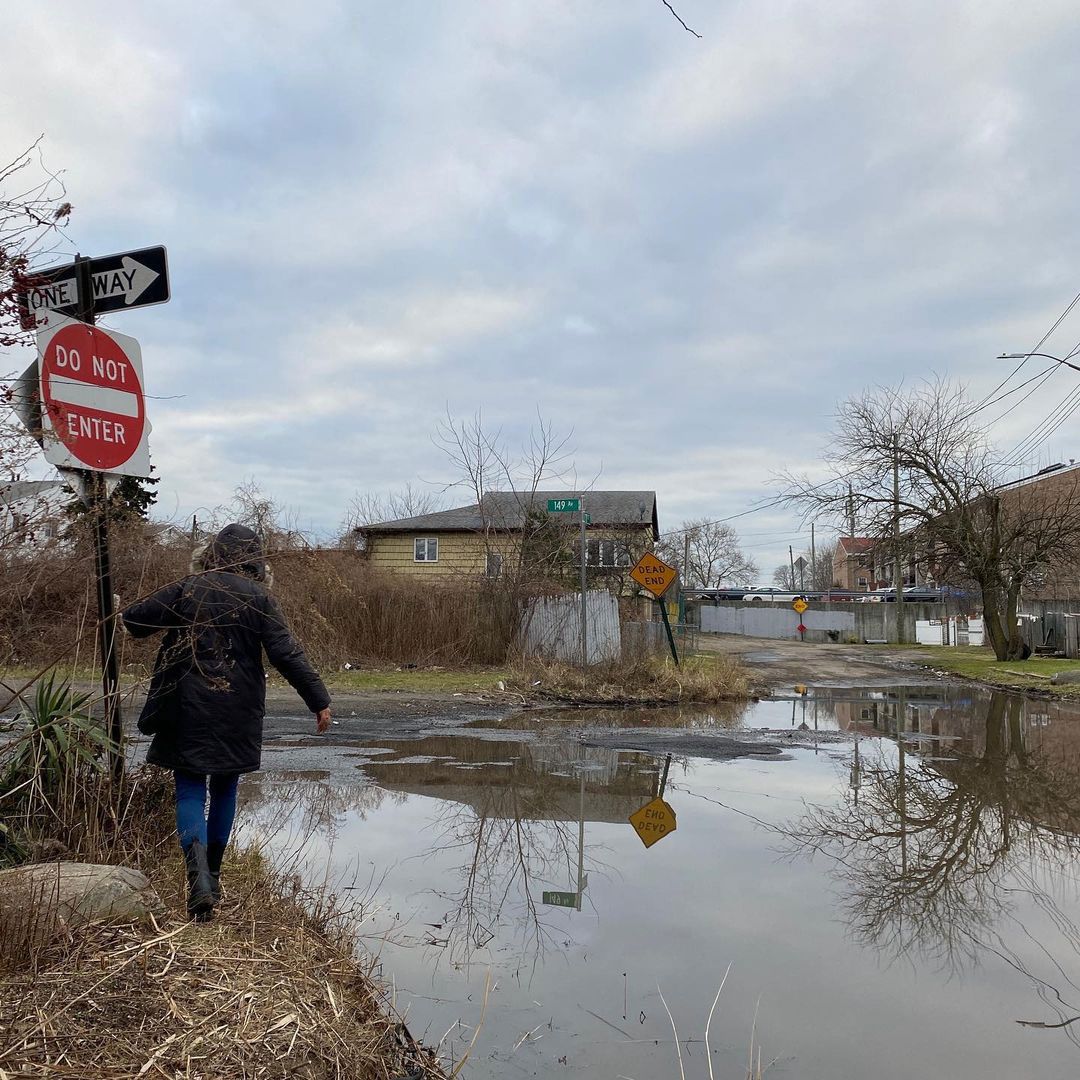 On the Queens-Brooklyn border is a low-lying neighborhood that sits outside the municipal sewer network and regularly experiences flooding. Often called "Jewel Streets" for names like Ruby, Emerald, and Sapphire that adorn its streets, it is more commonly called "The Hole" for its unpaved roads, lack of stormwater drains, and location lower than the ground level of the surrounding area.
Jenna Dublin-Boc, visiting assistant professor in Historic Preservation, is working on a Taconic Fellowship project with two students to document the history of this neighborhood's community and its underlying creek. Elliott Maltby, adjunct associate professor in Graduate Architecture and Urban Design (GAUD) and GCPE, has been co-leading an interdisciplinary Green Infrastructure Studio in the graduate Sustainable Environmental Systems (SES) program with Dublin-Boc, building on this research. The studio's collaborators on campus include Deborah Gans, professor of undergraduate architecture, and they have been working with the East New York Community Land Trust and their partners on related advocacy and research.
"It has been invaluable to connect with leaders from the East New York Community Land Trust," said Jerome Nathaniel, MS Urban and Community Planning '24. "Learning from their experience and expertise has been critical for our green infrastructure design intervention for the Hole. Furthermore, receiving their feedback on our proposed interventions has encouraged us to lean into themes, cohesion, and community interests for our final product."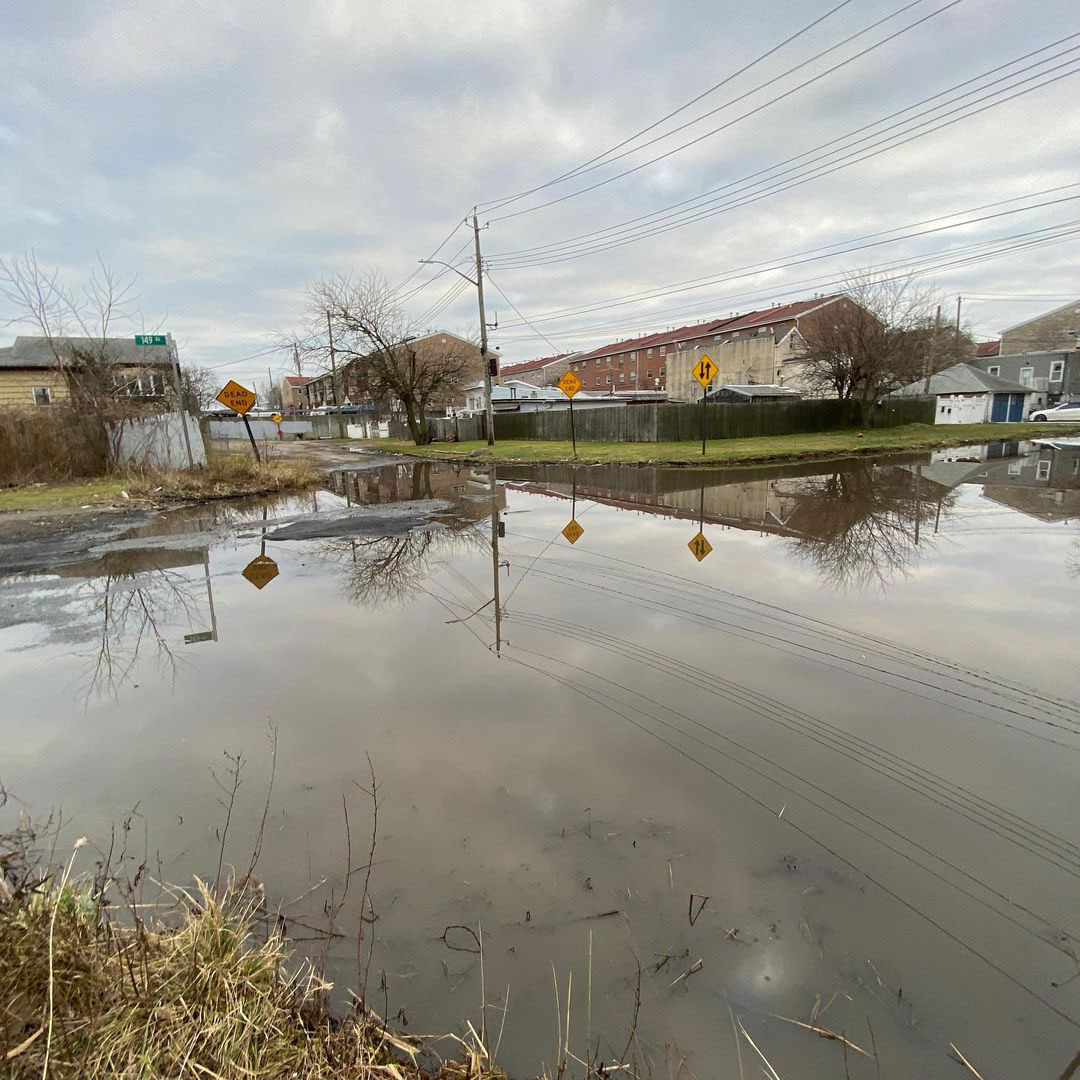 The work of this SES studio is interdisciplinary as it is collaborative with a National Trust for Historic Preservation and Taconic Fellowship-funded heritage engagement project involving Historic Preservation students and faculty. This research focuses on the ecological history of the area with the goal of providing its community with information on why flooding is so prevalent.
"The hands-on experience I've undertaken through this studio adds a real-world component to the research I've been conducting at Pratt for sustainable solutions that teach adaptability, diversity in designs to accommodate unique situations, and timeline construction for initiatives," said Nia James Starr, MS Sustainable Environmental Systems '24. "Engaging with the local community adds reality to the research and design process, allowing our team to create data points that otherwise may not have been recorded in an official capacity. As I envision my career in sustainable development, this hands-on experience has given me an opportunity to remember and truly consider who will be receiving the work that I conduct."