From the increasingly dramatic impacts of climate change to the high cost of housing, New York City faces myriad challenges in the years ahead as it emerges from the heavy toll of the COVID-19 pandemic. Across the city in a range of roles, alumni of the Pratt School of Architecture's Graduate Center for Planning and the Environment (GCPE) programs are working on community-based solutions to these and many other issues.
Whether it's a historic preservation studio or a neighborhood-based planning course, Pratt students graduate with real-world knowledge and community-based skills to help shape a city that is equitable and sustainable. GCPE includes four programs—City and Regional Planning, Historic Preservation, Sustainable Environmental Systems, and Urban Placemaking and Management—each with its own focus on urban sustainability and community participation. The City and Regional Planning program is now being transitioned to the Urban and Community Planning program to make this education more accessible through a reduction of its credits alongside a honing of its curriculum on the city and its communities.
"GCPE alumni enter practice with the skills to get things done, the passion needed to make the world a better place, and an awareness that change doesn't happen without collective action," said GCPE Chair Eve Baron. "The GCPE network is impactful because they put people at the center of what they do, even as they innovate."
Brad Lander, MS City and Regional Planning '98, is currently serving as the city comptroller, a position he was elected to in November 2021. In addition to being an alumnus, he served as the director of the Pratt Center for Community Development from 2003 to 2009. That year, he was first elected to the City Council and went on to co-found the Council's Progressive Caucus, with his background in community organizing and urban planning informing his work. This has included leading efforts to establish protections for workers in partnership with labor advocates as well as engaging residents in participatory budgeting, so they will have a say in how the city invests in their neighborhoods.
In a recent interview with Leanna Molnar, MS City and Regional Planning '23, Lander explained that he became interested in community development through his college student activism in Chicago. After moving to New York City in 1992, he wanted more skills to support this work. He enrolled in the year-long Pratt Community Economic Development Internship, which led to him enrolling at the Institute for his graduate degree.
"What I valued most at Pratt was working to develop an understanding of the balance between technical skills of planning and community development and the values of advancing community voice and vision for justice, sustainability, and community thriving," Lander said. "I came to see that these skills had to be fundamentally grounded in relational work, whether that was community organizing or community planning; that is an essential part of change-making."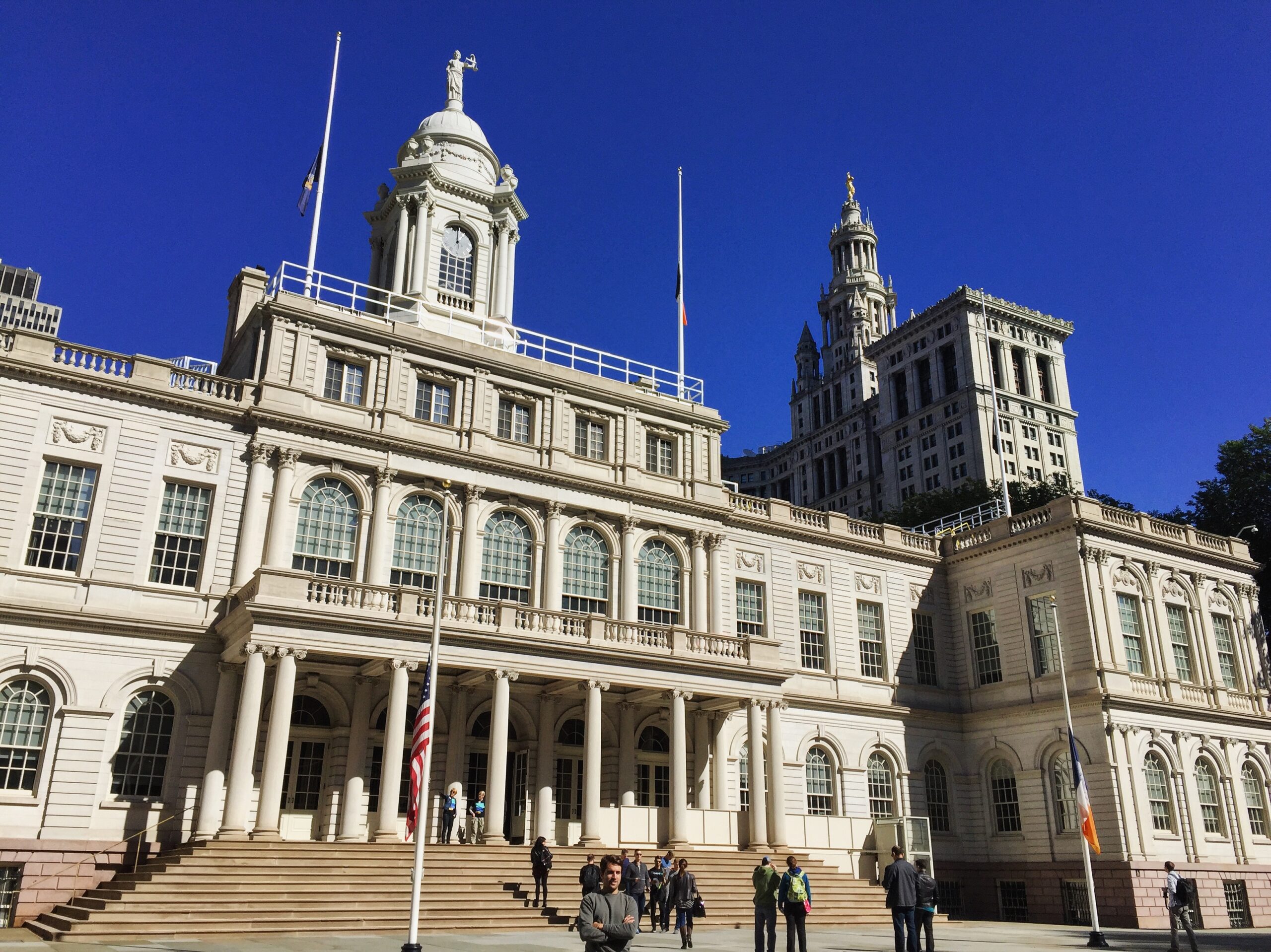 Lander cited Ron Shiffman, GCPE professor emeritus, as an influential mentor over the years in this method of planning. He noted that the work he did on the Gowanus, Brooklyn, rezoning was greatly informed by what he learned at Pratt, particularly as it involved working closely with the Gowanus Neighborhood Coalition as well as planners involved in the project. They included Winston Von Engel, BArch '86; MS City and Regional Planning '88, a longtime leader in the NYC Department of City Planning who currently serves as the senior policy advisor. Lander added that he frequently works with recent Pratt graduates such as Annie Levers, MS City and Regional Planning '17, who is the assistant comptroller for policy and was the lead author of a City Council proposal for comprehensive planning in the city.
"To me, young people coming out of programs like Pratt's are our only chance to change the systemic risks we face pertaining to climate change, growing inequality, and the weakening of our democracy," Lander said. "We need to make sure that community voices are heard to obtain real equality, while also understanding that the climate crisis is the existential issue of our time. Confronting all those things, together, with both strong organizing and technical skills, is what we are called to do."
Tiffany-Ann Taylor, MS City and Regional Planning '14, has worked in numerous positions in city planning, including as the deputy director of freight programs, education, and research for the Freight Mobility unit at the NYC Department of Transportation and as an assistant vice president at the NYC Economic Development Corporation. She is currently the vice president for transportation at the Regional Plan Association (RPA), a nonprofit organization that involves several members of the Pratt community including Marcel Negret, MS Sustainable Environmental Systems '15, and a GCPE visiting assistant professor. RPA concentrates on quality of life issues in the New York City area that can be bolstered by planning, from economic health to environmental resiliency, with their research offering guidance for policymakers and public agencies.
"Pratt was really instrumental in reminding me that I'm not the expert," Taylor said. "Unless you're currently in the neighborhood or in the zip code in which you're doing your work, and really understand day to day what people's lived experiences are, you're not the expert, and you should remember that both in your approach and the language that you use."
She added that since the City and Regional Planning program has many faculty members who are full-time planners, and they teach their students as colleagues instead of in the traditional hierarchy of a classroom, there is also a network that begins at Pratt that extends far beyond graduation and across the world.
In January 2021, Taylor became the first Black woman to be president of the New York Metro Chapter of the American Planning Association. In her work of identifying opportunities to improve public transit in the city, she has been a pivotal voice on issues like commuter transportation related to the Sunnyside Yard Master Plan effort, the engagement of stakeholders in how street space is allocated, and the positive benefits of congestion pricing.
"I have always felt that planners have a much larger responsibility to society than they're given credit for," Taylor said. "We are dealing with planning in a pandemic scenario and in a time where social injustice is much more visible, because things are recorded. There is much more responsibility on the planner to be thoughtful about their work. I think we can be and should continue to be leaders in increasing the diversity of our profession. And I don't just mean racially or culturally, I mean in terms of ability and geographic engagement. It absolutely behooves us to make sure that we're encouraging more diversity in our fields, more diversity in the students, and giving people more access and making sure that people are supported as they move towards leadership."
Across the five boroughs, many other alumni are using their expertise to center community perspectives in shaping a future city that benefits and supports all its residents, from Eddie Bautista, MS City and Regional Planning '02, who is the executive director of the New York City Environmental Justice Alliance that is helping to transform environmental policies, to Simon Kawitzky, MS City and Regional Planning '10, who brings his background in community engagement to his role as vice president of portfolio planning for the New York City Housing Authority (NYCHA). Summer Sandoval, MS Sustainable Environmental Systems '19, recently completed a three-plus year stint as UPROSE's energy democracy coordinator, with her work bringing thousands of green jobs to residents of Sunset Park, Brooklyn. Claudia Castillo de la Cruz, MS Urban Placemaking and Management '19, is a planner at the NYC Department of City Planning working on converting office buildings to residential space to increase the city's housing supply. Christopher Cirillo, MS Historic Preservation '16, is executive director of Ascendant Neighborhood Development, an affordable housing and historic preservation organization in East Harlem, and also teaches as a visiting assistant professor in Pratt's School of Architecture.
Elsewhere, Chris Hamby, MS City and Regional Planning '14, is director of capital planning and project initiation with the NYC Department of Transportation; Chelsea Kelley, MS City and Regional Planning '16, is deputy director of the Land Use Division for the New York City Council; James Lloyd, MS City and Regional Planning '15, is director of policy with the New York State Association for Affordable Housing; Alex Sommer, MS City and Regional Planning '13, is deputy director of the Brooklyn Office for the NYC Department of City Planning; and Lee Wellington, MS City and Regional Planning '13, is executive director of the Urban Manufacturing Alliance.
As the most populous city in the United States, New York City faces uniquely complex challenges relating to climate change, housing, deep-rooted inequalities, transit, land use, and much more. Yet these issues are relevant around the world as each urban area faces its own hurdles for the future. By being part of a network across New York City, Pratt alumni are making a consolidated impact here that can also inform the greater need to prepare for a changing future everywhere.