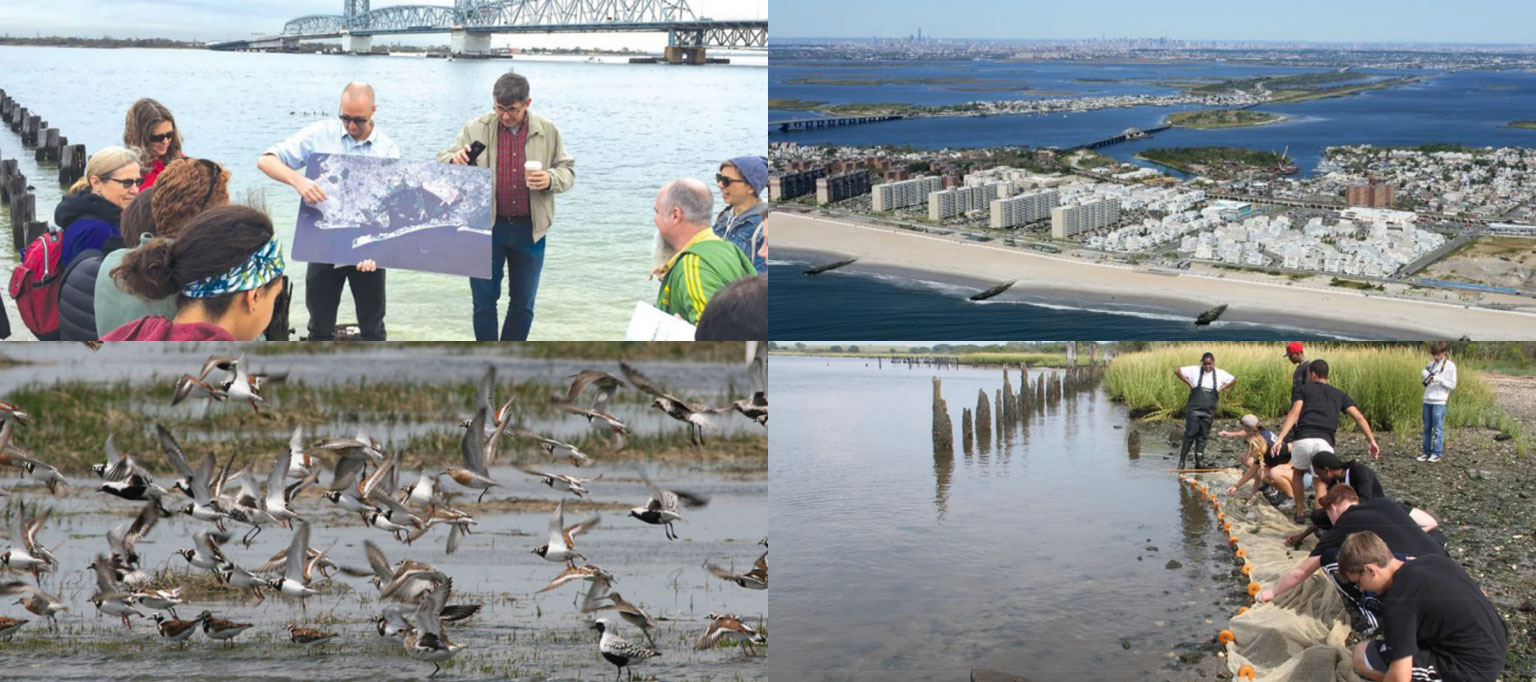 Ten years since Superstorm Sandy left a path of coastal destruction from the Caribbean to Canada from October 22 to November 2, 2012, affected communities have been made keenly aware of the urgency of preparing for a future of severe storms propelled by climate change. This includes New York City, where at least 43 people died and thousands of homes and businesses were damaged, with major flooding and electrical outages contributing to the impact on the metro region.
Pratt Responds to Superstorm Sandy
Members of the Pratt Institute community immediately stepped in to organize relief, such as through the student-formed Pratt Disaster Resilience Network (PDRN). Yet there was a more long-term need to anticipate storms that were no longer once-in-a-lifetime occurrences, especially with Superstorm Sandy hitting the area after 2011's Hurricane Irene. The Recover, Adapt, Mitigate, and Plan (RAMP) platform was launched with this forward-looking perspective by faculty in the School of Architecture's Programs for Sustainable Planning and Development (PSPD), now the Graduate Center for Planning and the Environment (GCPE). With the support of a grant from the Kresge Foundation, graduate and undergraduate studios were organized from spring 2013 to fall 2014 that examined how to adapt and protect shoreline communities in the face of rising sea levels, extreme storms, and habitat loss, while also guarding their historic identities. Central to this was building relationships and working directly with community groups in affected areas.
The initiative has concentrated on environmental and social justice in design, bringing together faculty and students from across disciplines with communities to share information, engage in research, develop curriculum, and organize public events. Importantly, RAMP's work has recognized that the people in these communities are the first responders in natural disasters and that community organizations need more capacity to address the pressing situation of climate change.
RAMP's initial leadership included faculty members Ron Shiffman, Jaime Stein, Zehra Kuz, and Deborah Gans. From the beginning, it was envisioned as an interdisciplinary effort, recognizing that change could not come from working in isolation. Involvement from across the Institute has included Communications Design faculty and students working on storytelling and visual design and the Spatial Analysis and Visualization Initiative (SAVI) which has collaborated on presenting and processing data through maps and charts.
"Designers at Pratt have the skills, creativity, and vision to begin to address the current and future challenges of climate change, but will most fully succeed when they work in tandem with the public, in communities, in dialogue, to understand what is at risk and what can be achieved through equity-forward work," said Ron Shiffman in 2021, reflecting on this approach. "Planning, development, and design processes should result in a place-based set of solutions that are creative and well-designed, managed, and operated. The process of planning is as important as the products of that process and, indeed, if the process is well designed, the end product—the places we live in, work in, and embrace—will be far better."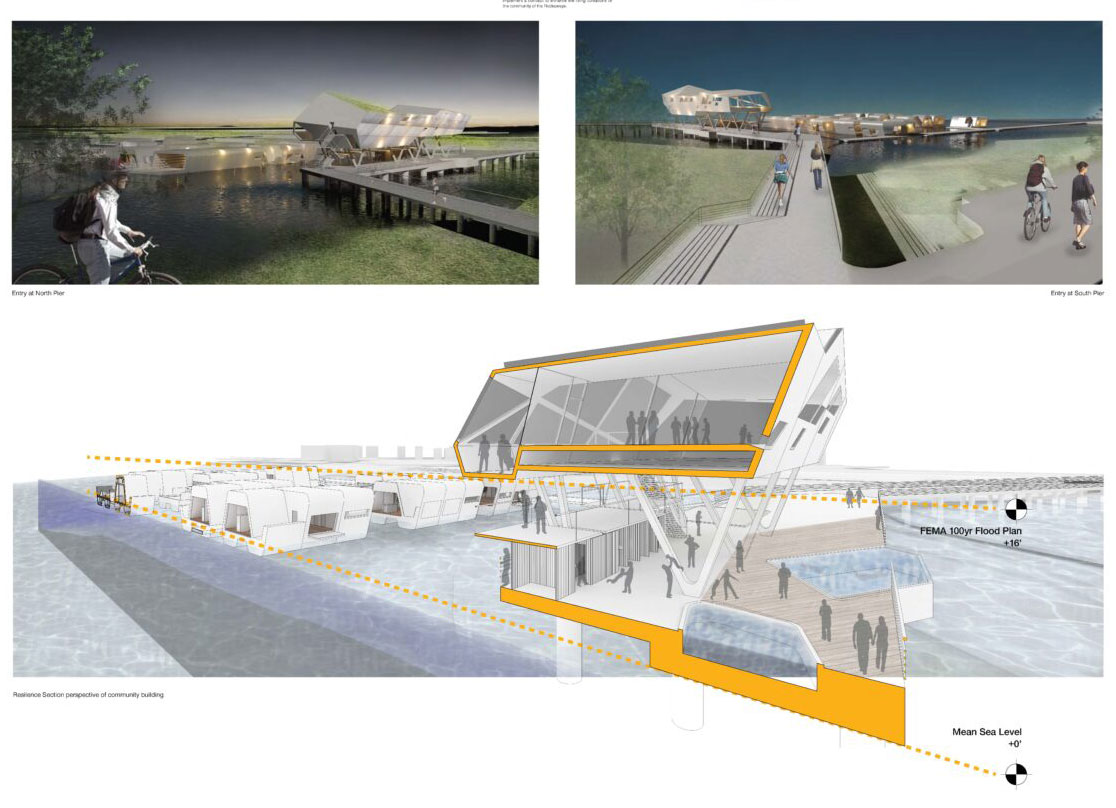 Curricular and Extra-Curricular Activities Form to Find Solutions
The initial almost two years of workshops, design studios, excursions, and other work shaped the backbone of RAMP. This early work focused on areas inundated by Sandy, such as Sheepshead Bay and Red Hook in Brooklyn and the Rockaway Peninsula in Queens. Planning students engaged in designing policy recommendations, while undergraduate architecture students considered what new design approaches could make living with and on the water sustainable.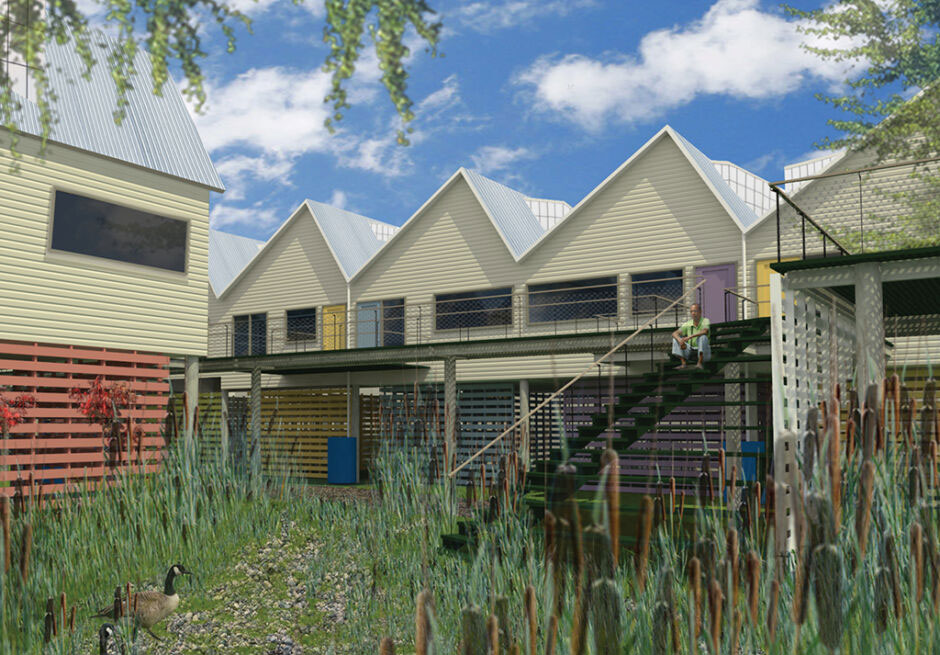 Impacted neighborhoods had often experienced historic disinvestment, which exacerbated their vulnerability to rising sea levels and natural disasters. Resilience, then, was not only about securing the shoreline against storms, but about empowering these communities to make their own decisions for the future.
Three years after Sandy, Professor of Undergraduate Architecture Deborah Gans said in an interview with Pratt.edu that the efforts of RAMP's curriculum "have not only sensitized our students to this complexity, but produced inventive design approaches to a future that is beautiful, green, and equitable."
Evolving to Delta Cities
Beyond this initial grant, RAMP continued to address design for climate change and evolved to focus on the working waterfront beyond the areas impacted by Sandy, particularly through the Delta Cities curriculum—coordinated through Pratt's graduate Sustainable Environmental Systems program—for graduate and undergraduate studios. This involved connecting with international groups to learn how other waterfront communities had designed their cities with climate change in mind. Pratt students have traveled to Rotterdam several times starting in 2014 for presentations and idea exchanges examining the centuries of design that the Dutch have used to live below sea level and in other low-lying areas.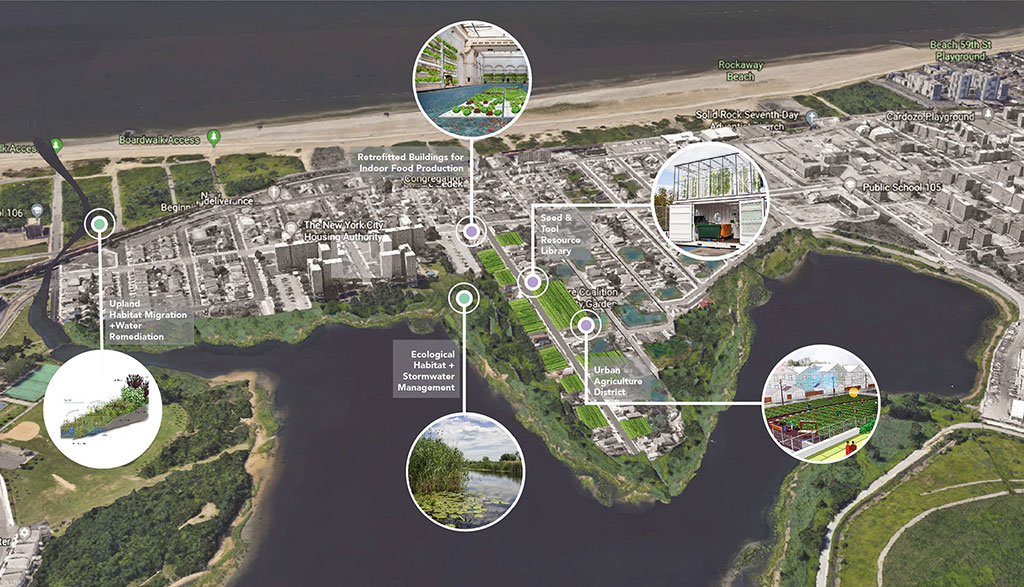 The Delta Cities studios have included considerations of scenarios in which, although some people may relocate away from the water, others will live and work alongside and on it, with the potential for aquaculture and other shoreline industries able to contribute to circular local economies. A studio concentrated on Edgemere, Queens, envisioning the year 2100, for example, investigated how those who remain on the waterfront could be stewards of a place returning to nature with restored marshes and a revitalized environment. Others have looked at the resilience of the working waterfronts at Sunset Park, Newtown Creek, Staten Island, Jamaica Bay, Hunts Point, and many more sites across New York City.
RAMP in a City Still at Risk
RAMP's work is ongoing as the city remains at risk of catastrophic flooding; a new proposal from the US Army Corps of Engineers that would construct 12 movable sea barriers, for instance, would not be completed until 2044 if approved and funded. RAMP's interdisciplinary Working and Advisory Group currently includes administrators, faculty, staff, and alumni from across campus. By working with the same community organizations again and again over the years, RAMP has helped strengthen a citywide network for advocacy and resource sharing. RAMP has returned to Jamaica Bay from 2014 to 2021 and its regular partners include the Rockaway Initiative for Sustainability and Equity (RISE), We Act for Environmental Justice, and UPROSE.
"RAMP has proven to be the best way to educate the students who will become the practitioners who confront climate challenges as part of their daily work," said GCPE Chair Eve Baron. "They gain the requisite skills, but also learn from the outset of the process that plans won't work unless they're made in partnership with those impacted most."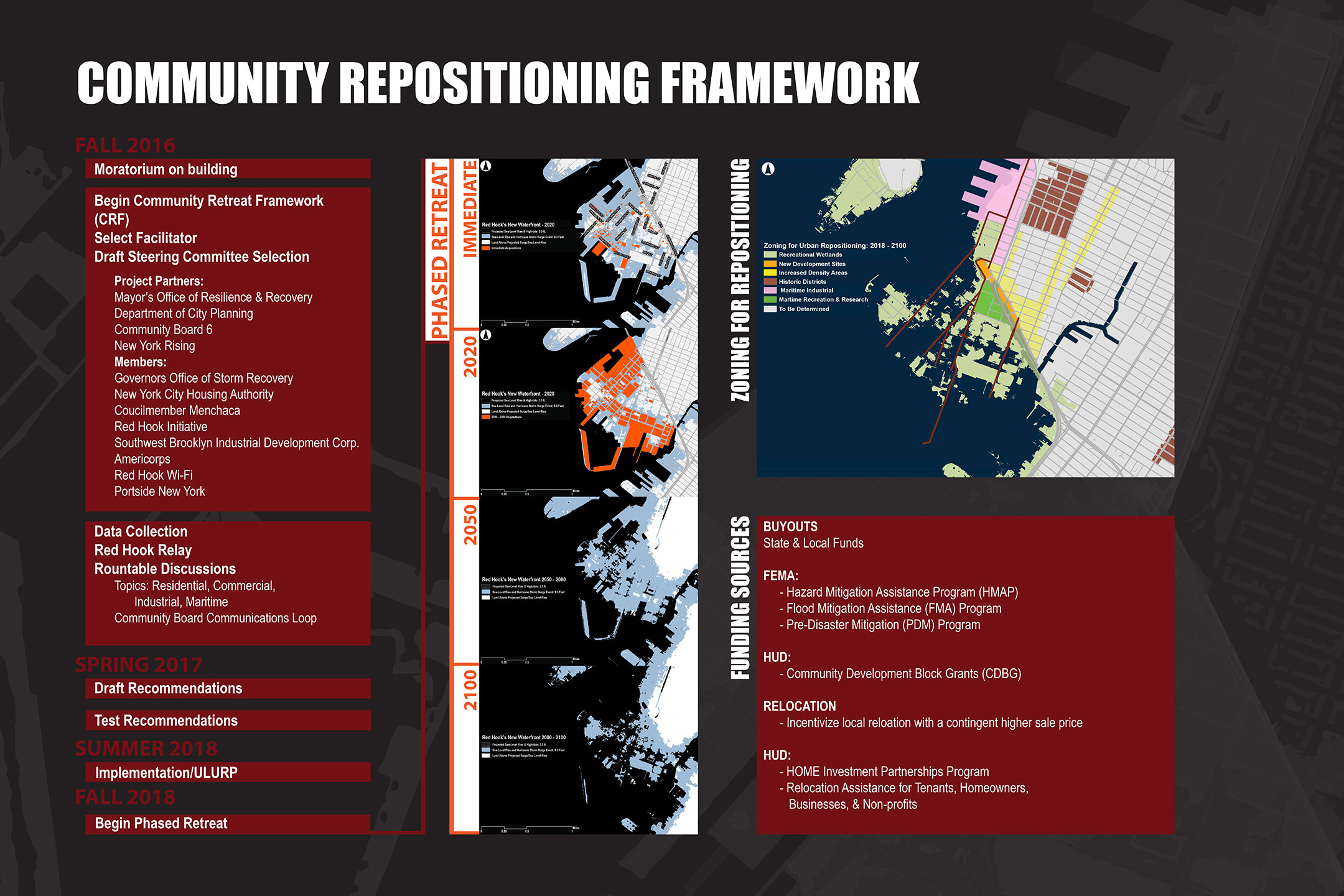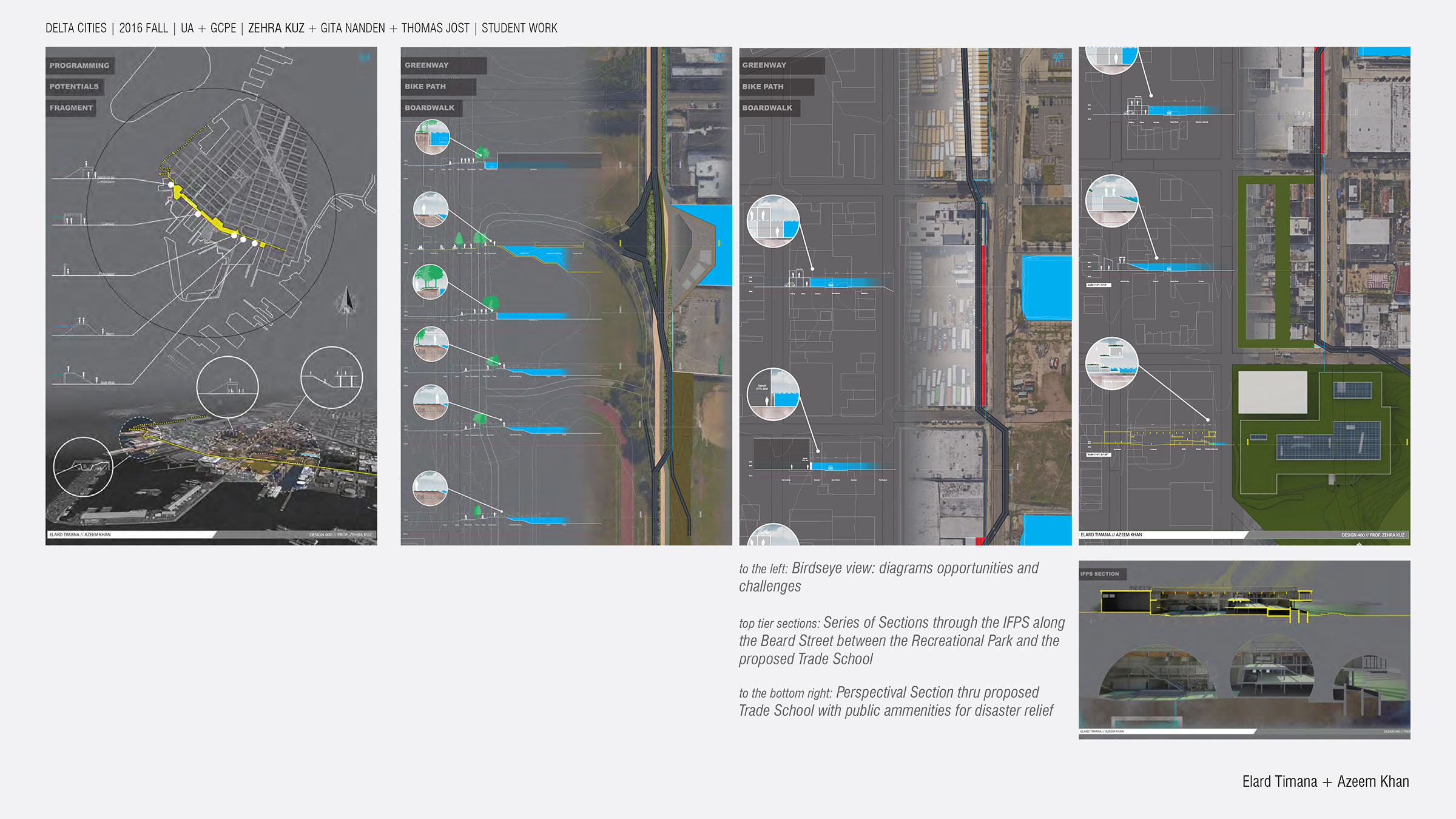 Some groups have grown out of RAMP's efforts, such as the RETI Center which started as an offshoot of RAMP and is now an independent organization. Pratt faculty Gita Nandan and Zehra Kuz have been involved in designing a climate-research vessel for Red Hook with the RETI Center, while Design Corps, an undergraduate communications design initiative that engages students in working with socially or environmentally conscious organizations, designed RETI Center's logo and worked on design for its BlueCity project.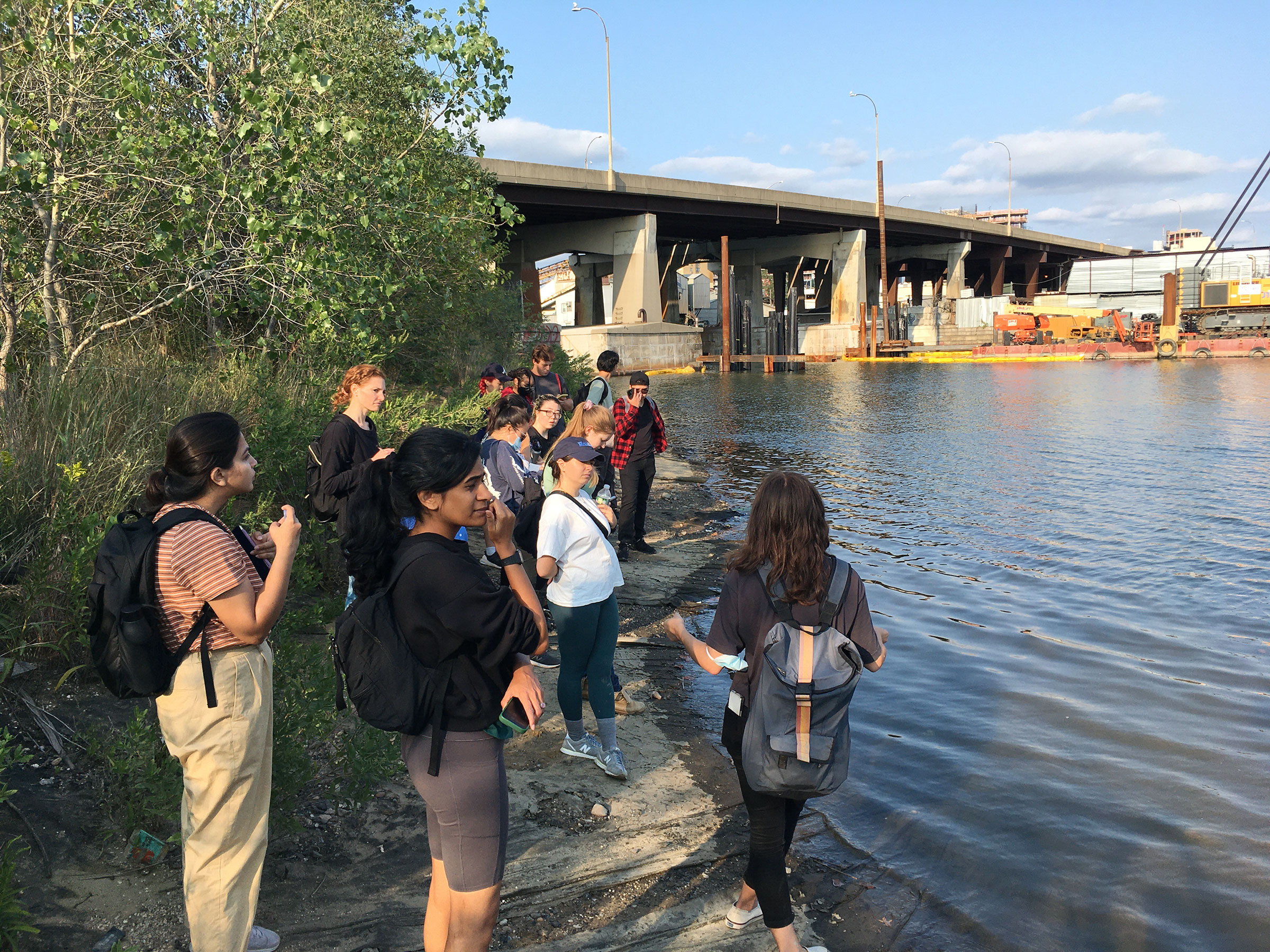 This fall, multiple classes are continuing RAMP's work, all oriented around the Flushing Bay Waterways in Queens. Both planning and architecture students are exploring the relationship between natural and built environments on the waterfront and strategies for community-based resilience, empowerment, and climate response. A GCPE studio led by Gita Nandan and Lida Aljabar is focusing on Flushing Creek, an undergraduate architecture studio led by Zehra Kuz is focusing on Flushing Bay, and the Design Corps undergraduate communications design course led by Michael Kelly is focusing on branding and design for a community partner, the Guardians of Flushing Bay.
"Design Corps' social impact mission is a natural fit with RAMP's efforts to address climate change, and we are well paired in how we both aim to connect students, faculty, and the community," said Michael Kelly, adjunct professor-CCE of undergraduate communications design. "While we have overlapped some in the past, this is our first semester focused on the same community, and it has highlighted the commonalities in processes across the campus, in terms of research methodologies and the importance of both understanding and telling the community's story."
The RAMP Working Group organized a Saturday, October 22, panel discussion at the RISE Center on "Mapping Change: Rockaways 2050" that included Pratt faculty David Burney, Ron Shiffman, Deborah Gans, and Lida Aljabar. The Center for Brooklyn History on October 25 also presented a talk coinciding with Sandy's 10th anniversary in partnership with GCPE that included faculty Eddie Bautista and Ron Shiffman. The third event of this sequence is highlighting the pedagogical success of the initiative and has invited GCPE and undergraduate architecture alumni to share how this experience influenced their careers. This event will be at the Forum at Columbia University on October 28 from 12PM to 1PM.

There is no doubt that climate change will reshape New York City and how people live in it. Collaboration between policymakers, environmentalists, and waterfront communities is essential for this future, with Pratt's students and faculty key members in building a knowledge bank to share strategies for planning, adapting, and mitigating for this reality. In a city of coastal geography, with all five boroughs touching the water from estuaries and creeks to rivers and the harbor to the Atlantic Ocean, action is as crucial as it was after Sandy ten years ago. And for those actions to be meaningful and sustainable, they must involve the communities who are at the frontlines, something which RAMP continues to advocate for in training the next generation of planners, architects, and designers.