With the world's sea levels projected to rise due to global warming, much of the New York City coastline could be underwater by 2100. Planning for these changes is essential and in a recent studio, Pratt Institute students responded to the projections by climate scientists to envision a more resilient city.
The spring 2021 Sustainable Communities Studio worked with the Rockaway Initiative for Sustainability and Equity (RISE) and the Ocean Bay Development Corporation to develop three future scenarios for communities on the Rockaway Peninsula, which contains several Queens neighborhoods such as Far Rockaway, Rockaway Beach, and Edgemere. These scenarios include the establishment of aquaculture activity, the expansion of the wetlands as a national park, and a neighborhood offering a just living environment amidst the rising shorelines.
The studio was led by Graduate Center for Planning and the Environment (GCPE) faculty members Associate Professor Courtney Knapp, Adjunct Associate Professor Gita Nandan, and Professor Ron Shiffman. The students' work built on Pratt's long standing collaboration with RISE and an ongoing relationship with the Rockaway Peninsula communities. This has included extensive stakeholder participation to look at managed retreat, a strategy that involves the transitional movement of residents due to changing ecological situations from climate change. Each of the studio's future planning and development scenarios looked at a sea-level rise of eight to ten feet, which would cover much of the existing land and infrastructure, and provided community-oriented adaptations and relocation solutions.
"These scenarios allowed students and their community partners to grapple with the social equity and racial justice challenges inherent to potential approaches to massive-scaled relocation and managed retreat in diverse legacy communities," Knapp said. "I am impressed by their human-centered approach to these monumental challenges. Their focus on long term community engagement, regenerative economic development, and creative adaptation impressed me deeply."
Planning with a Resilient Waterfront Community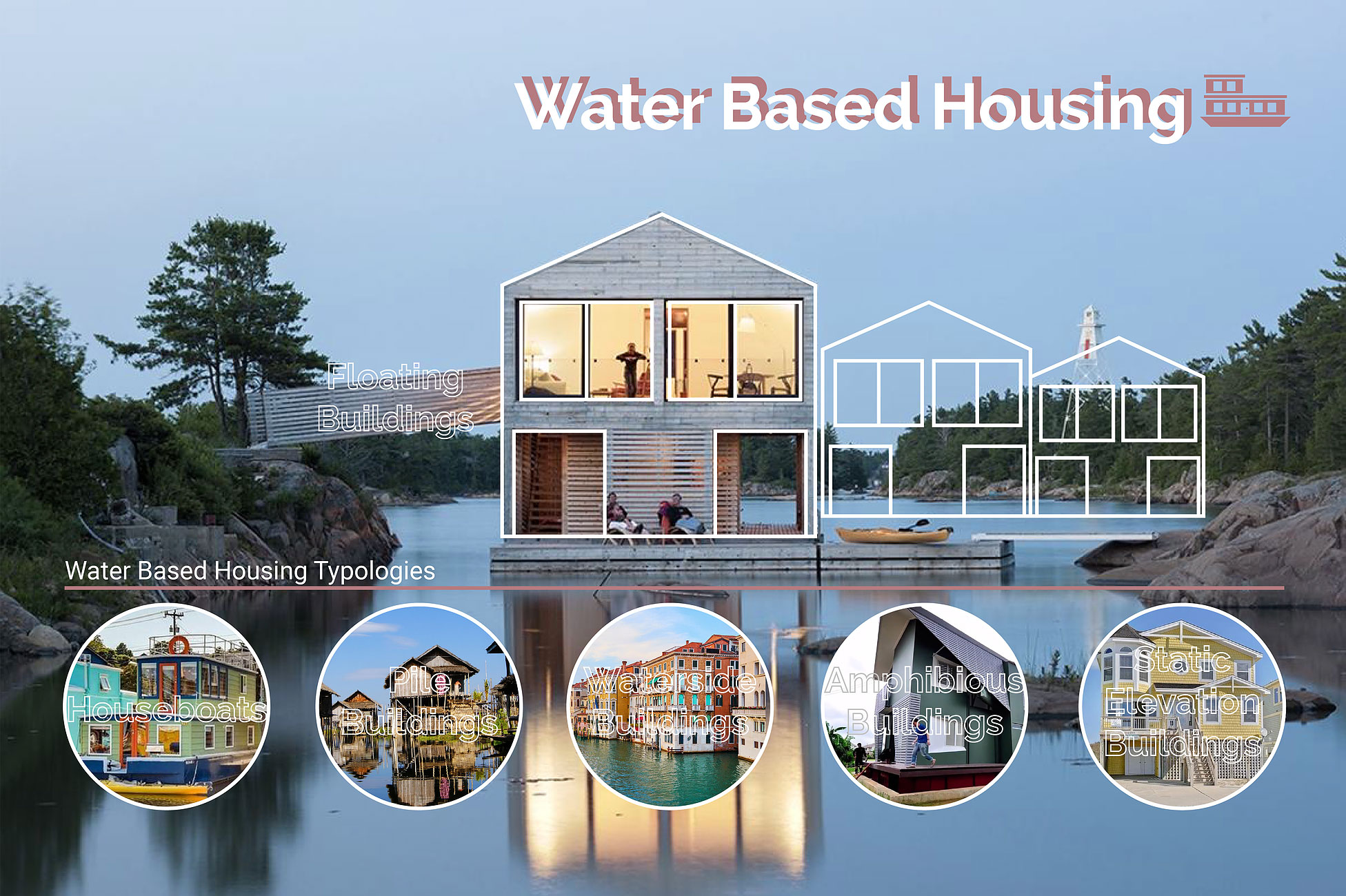 The students submitted their materials to the national Green New Deal Super Studio initiative and have shared their work online to contribute to conversations about just transitions of coastal communities and managed retreat within and beyond the Rockaways. The scenarios can all be explored in detail on the Human & Community Centered Resilience: Managed Retreat 2100 site that was designed by studio team member Braley Bullard, MS City and Regional Planning '23.
"We wanted to emphasize in the studio that people in these areas are strong and resilient; they have been living in a vulnerable area for a while," Bullard said. "They have lived through Hurricane Sandy and other disasters and have come back stronger. Our intention in this studio was to empower them with knowledge and opportunities to grow and work together to make the right livable futures for themselves."
The scenarios for managed retreat all prioritize equity within potential policies and strategies. To illustrate these possibilities, Bullard worked on an interactive game that looks ahead 80 years. It guides players through different decisions community members might make, such as voting on how to fix infrastructure or limit coastal development, deciding how to rebuild or relocate after another storm, considering the impact on public transit to the ocean, and addressing how to prepare land that will be overtaken by the sea. Each result aligns with one of the studio's proposed scenarios.
Designing for Adaptation to Climate Realities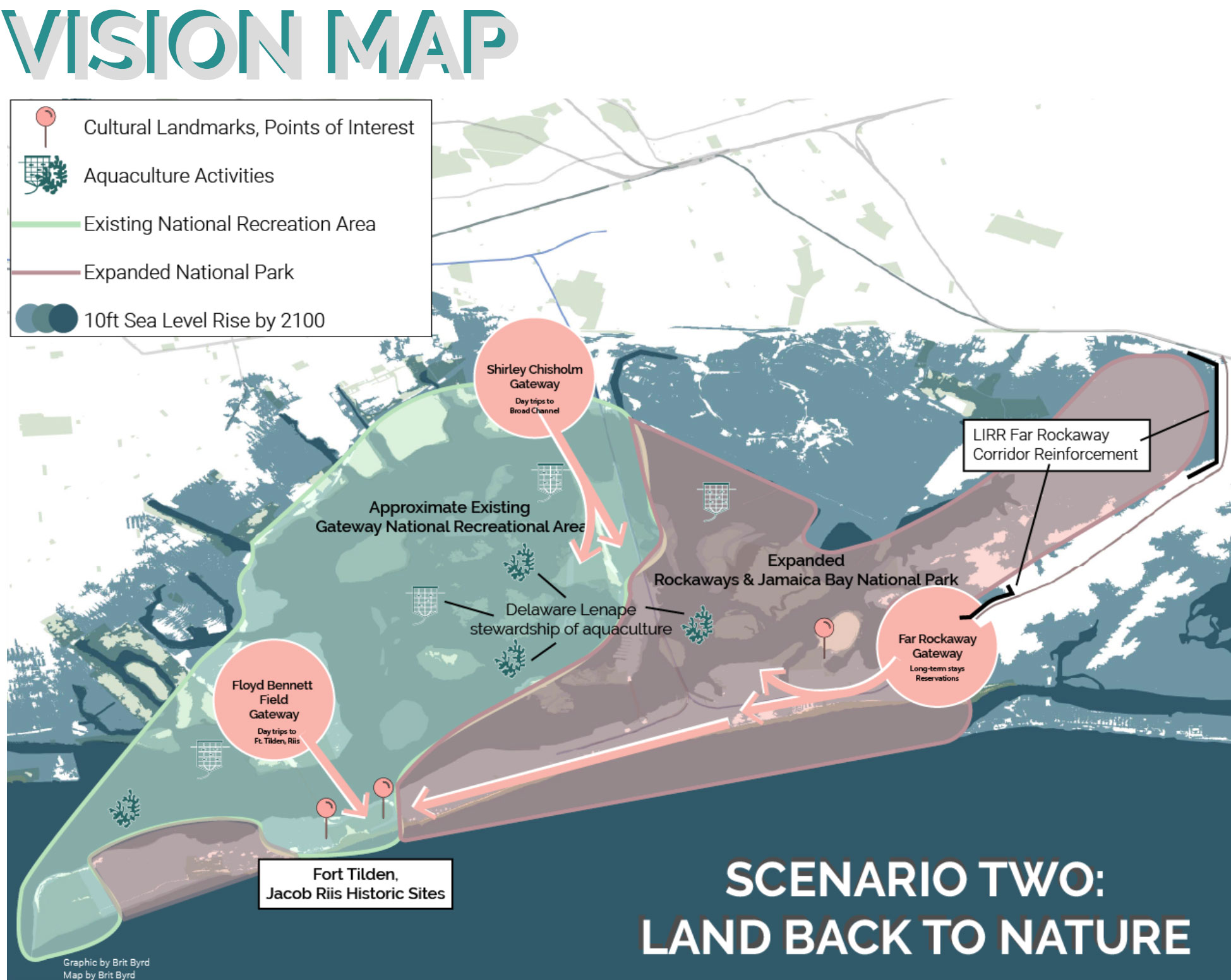 "It was new to work with climate change and sea-level rise in such a clear-eyed manner," said Brit Byrd, MS City and Regional Planning '21. "For much of my life and career, schools, government, and media have framed climate change in terms of mitigation rather than adaptation. Planning for the worst-case scenario felt less urgent, or even like conceding defeat. This studio was the opposite, and took adaptation very seriously in asking: 'what will this look like in our built and natural environment?'"
Byrd worked on a scenario that proposed a future revolving around a national park in Jamaica Bay. Along with the protection of the newly inundated wetlands in an expansion of the current Gateway National Recreation Area, it would focus on affordable and safe housing for Rockaway Peninsula residents in more resilient locations. Another scenario called "Land Given Back to Water" looks ahead to a totally submerged situation that would include resilient housing on land as well as floating architecture, with aquaculture, sailing schools, wave-based energy production, and other new industries supporting the area while celebrating its history. A third "Human Adaptation" scenario supports the people who decide to stay in the flooded neighborhoods by retrofitting existing housing and infrastructure while involving residents in this adaptation, making them part of a thriving local economy.
Creating a Sense of Belonging in a Changed Place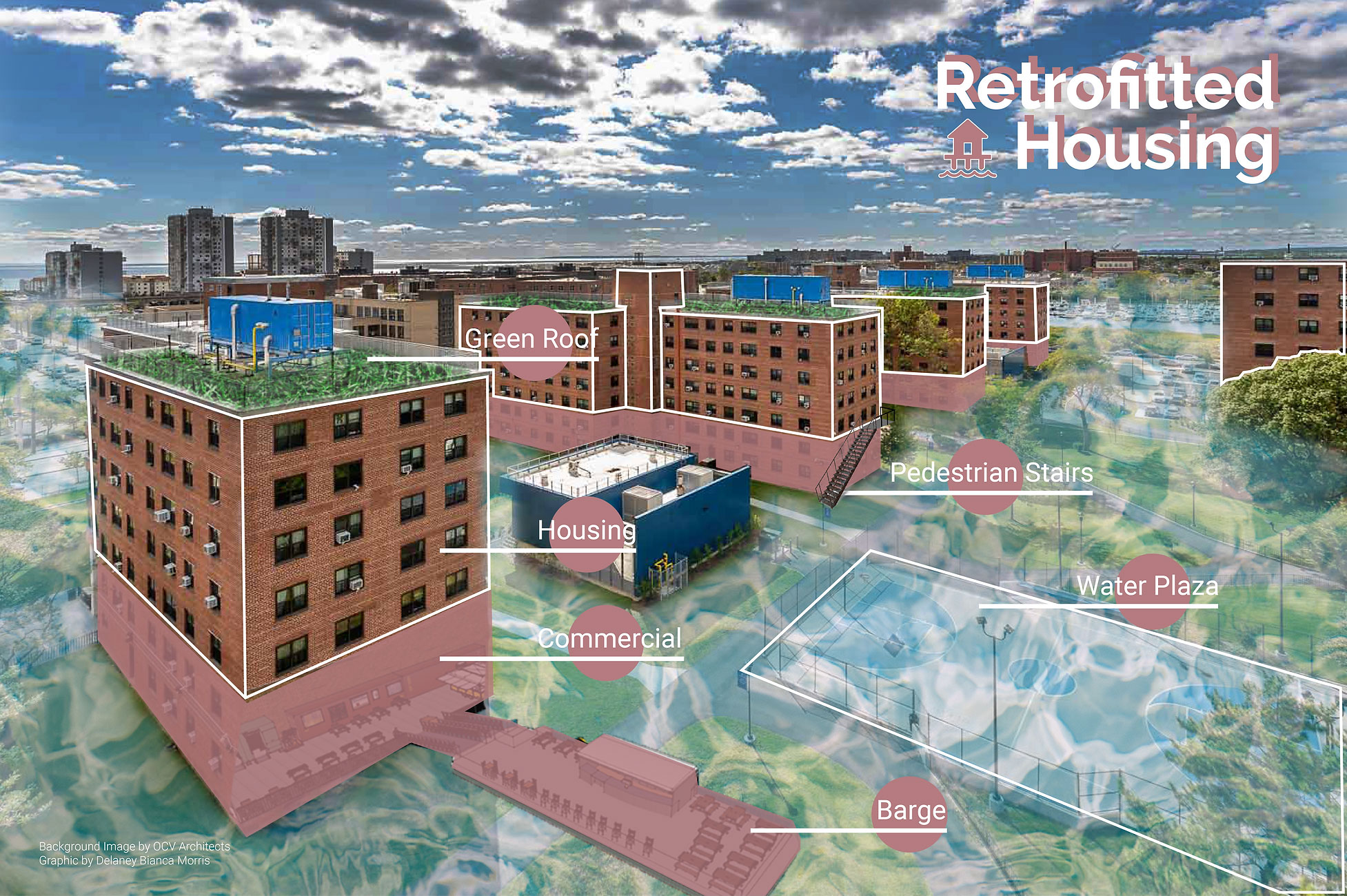 "We spent time trying to understand how to not only employ sustainable and resilient proposals for our client, but to also get to the heart of the futures at stake," said Delaney Bianca Morris, MS Urban Placemaking & Management '20; MS Sustainable Environmental Systems '21, who served as the team's project manager. "We practiced empathy and looked into the work around mental health and the rise of climate-change related anxieties and stressors. We discussed at length the implications of our proposals and we led with the idea that people are not vulnerable, but that the systems and environments we live within are the vulnerabilities."
Morris's work with the studio team included the relocation community engagement framework which was developed with Knapp to examine how someone moves when they have been relocated due to climate change. The resulting framework concentrates on issues such as ways to engage the community in these shifts and how to create a sense of belonging in a new place.
"We have scientific evidence through the Intergovernmental Panel on Climate Change (IPCC) that climate change is only getting worse and so if we are to protect the communities that so much of our humanity calls home, then we need to take seriously what our future will look like," Morris said. "Rising seas, increased storm events, and storm surge will be threats to these areas and if we do not begin to work through adaptation and mitigation measures now then these communities will certainly be impacted later."