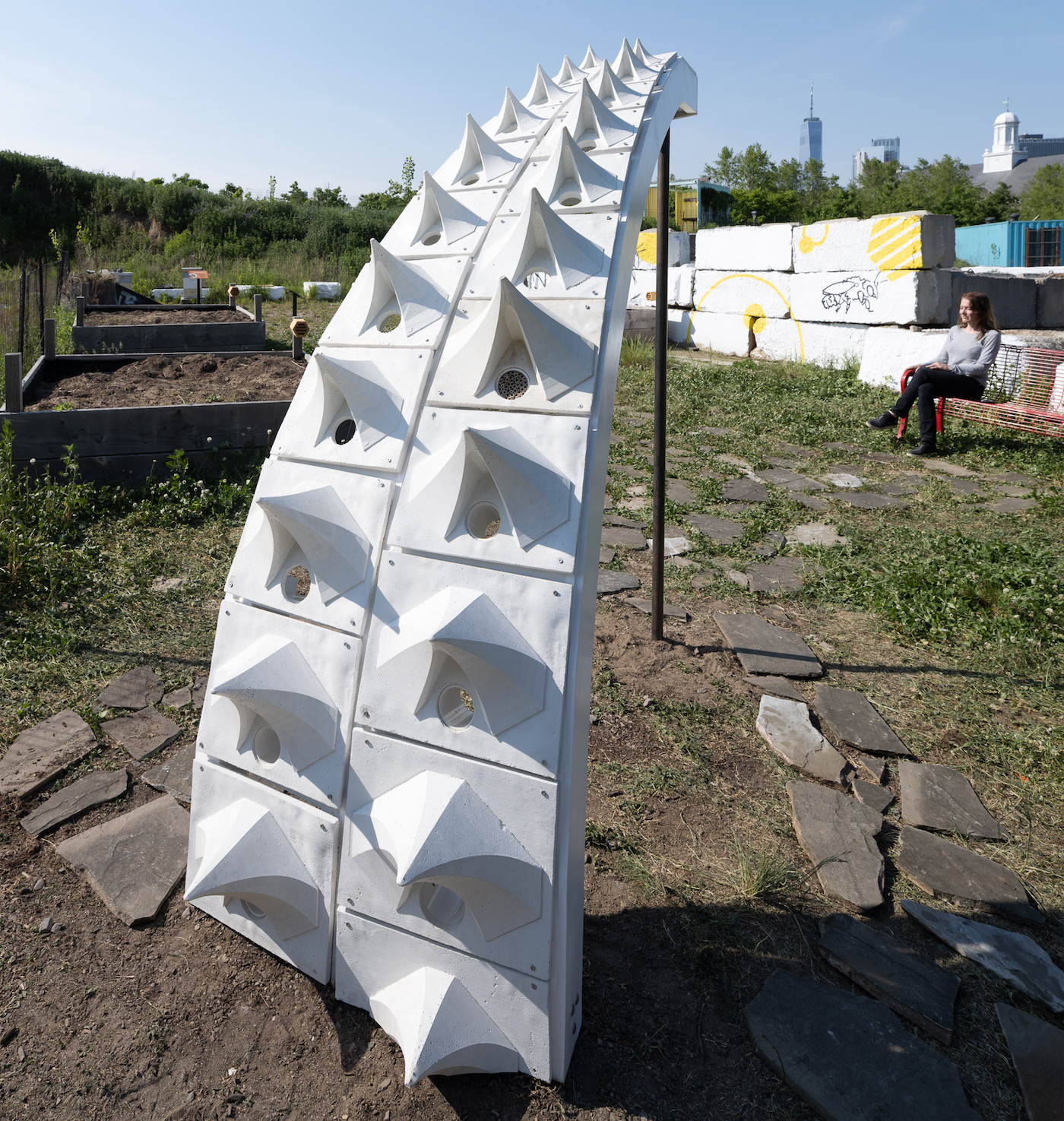 As New York City rebuilds in the aftermath of a long pandemic year, Pratt students are partnering in the local Brooklyn community and beyond to support a better, more equitable future with innovative solutions. In the Making a Difference series, Pratt's news page is highlighting ways in which students and faculty have been working towards positive change in areas including sustainability, climate change, social justice, civic engagement, and public health. This article is the first in the series.
Taking a ferry out to Governors Island in the New York Harbor is a reminder that New York City is an archipelago where climate change, and its potential rising sea levels, will impact the shores. As part of a multi-year initiative, Pratt Institute is expanding climate education on Governors Island with a series of pavilions, exhibitions, workshops, and other dynamic experiences. Spearheaded by the School of Architecture's Graduate Architecture and Urban Design (GAUD) program, Climate Provocations is this summer installing prototypes to connect visitors with issues like marine habitat loss and the importance of native bees.
The Dean of the School of Architecture, Dr. Harriet Harriss, initiated the installation series in alignment with the school's commitment to addressing climate and social justice issues within its pedagogy and curriculum. According to Dean Harriss, "The detrimental impact of the climate crisis is not experienced equally. Not only are minorities and Indigenous peoples in the Global South worst affected, but here in New York, Black and Brown communities are more likely to be adversely affected by badly designed housing lacking in air-conditioning and less access to leafy parks and tree-lined sidewalks that could otherwise provide some respite from rising temperatures and extreme heat." Harriss' perspective is that the installations provide a means through which the public can engage in the key issues without the distraction of too much techno-utopianism. "We want to engage the public in understanding that the climate crisis is a social project, not simply a scientific one."
Ariane Lourie Harrison, GAUD faculty member and the MS Architecture and Urban Design program coordinator, has been leading the Climate Provocations initiative that is bringing together Pratt faculty, students, and staff from the School of Architecture as well as the School of Information and Pratt labs and centers including the Consortium for Research and Robotics (CRR), the Interdisciplinary Technology Lab (ITL), the Spatial Analysis and Visualization Initiative (SAVI), and the Inclusive Ecologies Research Incubator (IE).
"Our two main themes are promoting ecosystem restoration and communicating about ecosystem loss," Harrison said. "We hope that our dynamic installations on biomaterials, food networks, ocean warming, pollination, and sustainable fabrication will create accessible and interactive formats to engage visitors in climate topics in an open-air format."
This summer's projects expand on two seasons of programming organized by GAUD on Governors Island under the leadership of Chair David Erdman. Responding to a call for proposals for culture and education tenants to take up seasonal residence in the historic homes in Nolan Park, GAUD has been using one of these sites for studio research in its graduate programs, including the Studio of Experiments sequence that concentrates on the limits between a conventional studio, a research studio, and a graduate thesis. Their work in what's known as Building 14 has included prototyping green cores and adapting historic buildings, all relating to the island and its ongoing development and potential futures.
"The New York Harbor is indicative of the fragility of cities and human habitat in the era of rapid climate change," Erdman said. "Awareness and action are both required to address, rethink, and reorient our philosophical and intellectual frameworks toward the future. Governors Island, located squarely within the harbor, rests in an intersectional zone between dense urbanity and the exurban, between reclamation and rising tides, fostering aquacultural, agricultural, and recreational livelihoods which combined signal the types of complex problems the built environment must inevitably face and within which humans must inevitably cohabitate in the 21st century."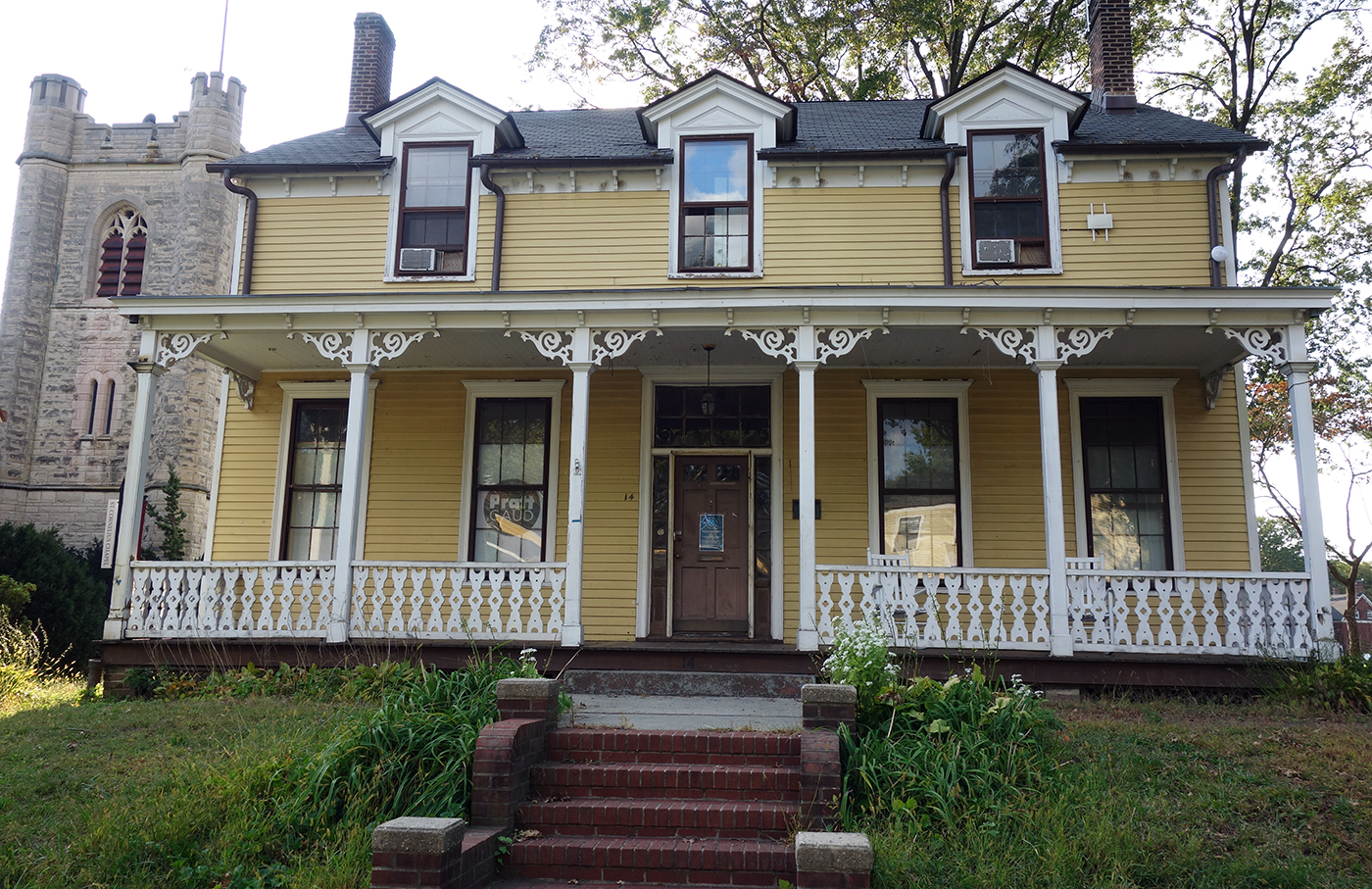 The GAUD exhibitions in Nolan Park have included physical shows as well as augmented and virtual reality experiences, with student work engaging with the ongoing redevelopment of Governors Island. From its precolonial use by the Lenape as a fishing camp to its 20th-century role as a Coast Guard base, the 172-acre island has undergone decades of change. Since it opened to the public as a park in 2005, it has continued to transform, with cultural programming—like GAUD's projects—installed in the 19th-century military officers' homes and proposed rezoning now on the horizon to establish a research institution for climate solutions.
"Prioritizing new approaches to STEM education centered on climate resilience is key to the economic and civic sustainability of our city," Harrison said. "Design brings the arts into STEM learning—as STEAM—creating a space for broad public engagement."
Climate Provocations explores both the heritage of the island and its possible futures, with the first summer 2021 GAUD exhibition in the Nolan Park house—RE:AL ESTATES, on view through June 18—investigating the adaptive reuse of architecture. Although the GAUD students used Singapore as a case study, their work on sustainable ways to alter and conserve architecture rather than demolish it resonates with the changing topography of Governors Island, where historic buildings such as those in Nolan Park have been used as project spaces while other structures, like a Coast Guard apartment building, have been brought down to make way for greenspace.
Many of the Climate Provocations projects involve collaboration with partners around the island. The first of these is a slice of the Pollinators Pavilion, designed by Harrison Atelier, installed at the Governors Island sanctuary of the Bee Conservancy. The nonprofit has sites around New York City that are addressing pollinator habitat loss in a similar way to the Pollinators Pavilion, which has a spiky concrete structure intended as a home for native bees.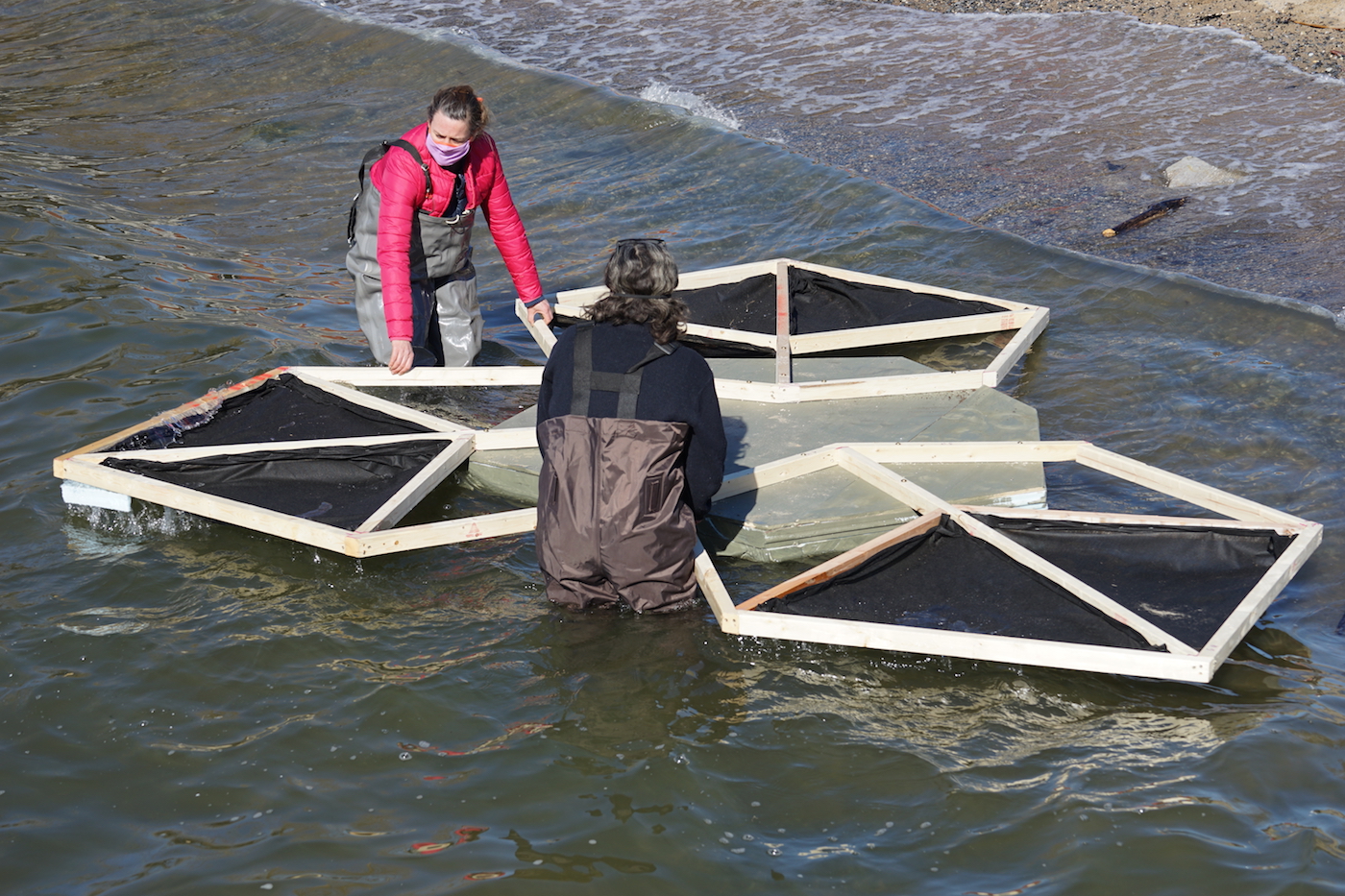 Other prototypes will be interventions to the island demonstrating ways to better support local ecology, such as the BlueBlocks Garden, expected to be installed near Pier 101 on the northeast corner of Governors Island this summer. Developed by Adjunct Associate Professor in GAUD Elliott Maltby and Adjunct Associate Professor in the Graduate Center for Planning and the Environment (GCPE) Gita Nandan in partnership with the RETI Center, it will introduce a living prototype of semi-submersible modular components. By creating a small salt marsh, the BlueBlocks Garden offers solutions for marine habitat loss while also serving as a platform for education and data collection.
"The pavilions represent the kind of transdisciplinary collaborations required to grapple with the complexities of the climate crisis in an urban context," Maltby said. "Bringing together multiple perspectives and expertise, the Climate Provocations projects demonstrate the need for prolonged and inventive dialogues between designers and scientists, and the testing of new ideas that directly involve students and the broader public."
Future projects also include the Climate Narratives Pavilion that will be built with robotically-manufactured recycled wood created through CRR, with the pavilion hosting a STEM program on ecology and environmental issues for Brooklyn middle and high school students. As a component of their ongoing collaborative project Field, Visiting Artist at Pratt GAUD Mrin Aggarwal (Supemrin), Assistant Professor of Undergraduate Architecture Ane Gonzalez Lara, material designer Jil Berenblum, and performance artist Jessica Fertonani Cooke will present a research exhibition showcasing new grass-based biomaterials they have developed in response to the widespread use of manicured lawns in public space and the environmental impacts of this practice. Featuring a prototype outdoor sculpture exploring the potential of these materials for temporary site interventions, the exhibition will present the results of their investigations to date. Their pavilion will be created in collaboration with the University of Cincinnati, CRR, and ProArts Gallery and COMMONS.
This summer, the public programming will include the July 2 opening of the Climate Provocations exhibition at Building 14, featuring prototypes, video, and works-in-progress highlighting 14 installations that are planned for the summer of 2022. A free "Communicating Climate Science through the Arts" training workshop will be held by the School of Architecture and School of Liberal Arts and Sciences in collaboration with Guerilla Science from July 12 to 13. Along with the work on Governors Island, renderings of the Climate Provocations prototypes are being displayed in the CITYX Virtual Pavilion—which Dean of the School of Architecture Harriet Harriss worked on as a creative director—that is part of the 2021 Venice Architecture Biennale.
The Climate Provocations initiative is planned to continue through November 2022, with additional pavilions, programs, exhibitions, and other events from Pratt's students, faculty, and staff providing interactive and accessible ways for Governors Island visitors to consider complex issues and needs around climate resilience and sustaining local ecology.