PROJECT THIRD 2019: Shaun Leonardo's Social Practice Laboratory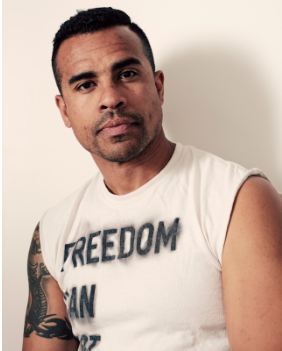 For his Project Third residency in summer 2019, Leonardo partnered with students to conduct a Social Practice Laboratory. Viewable from the Dekalb Gallery, the lab offered an investigation into varied forms of creative public engagement through a series of student-driven projects, which explored the interpersonal potential of art in various social spaces, including a community center, prison, classroom, and living room, while instigating the public vs. private nature of the practice.
In spring 2020, Leonardo extended the work into a collaboration between the Creative Arts Therapy Department, Fine Arts Printmaking area, and youth Peer Leaders of Assembly — an alternative sentencing, diversion program operating out of the Brooklyn non-profit Recess, for which the artist has acted as Lead Educator for the last 4 years. Conceived as a series of 'sharing workshops' between the two entities, the Pratt x Assembly exchange was born out of a philosophy of community building that begins with a belief in the restorative power of imagination as a binding force that moves people toward collective healing and action. The semester-long collaboration resulted in an exhibition and participatory workshop, centering the communicative possibilities of visual and embodied narrative.
Shaun Leonardo's multidisciplinary work negotiates societal expectations of manhood, namely definitions surrounding black and brown masculinities, along with its notions of achievement, collective identity, and experience of failure. His performance practice, anchored by his work in Assembly — a diversion program for court-involved youth at the Brooklyn-based, non-profit Recess — is participatory and invested in a process of embodiment.
Leonardo is a Brooklyn-based artist from Queens, New York City. He received his MFA from the San Francisco Art Institute, is a recipient of support from Creative Capital, Guggenheim Social Practice, Art for Justice and A Blade of Grass, and was recently profiled in the New York Times. His work has been featured at The Guggenheim Museum, the High Line, and New Museum, with a recent solo exhibition at Maryland Institute College of Art (MICA). From fall 2018 through spring 2020, Leonardo enacted socially engaged projects at Pratt Institute as the School of Art, Visiting Fellow.
Summer 2019 Participants: Sofia Baryshnikov, Stewart Bird, Maria Elizabeth, Eleanor Gray, Duff Norris, Na'ye Perez, Janae' Sumter, Devin Utah
Spring 2020 Participants: Frankie Bartolomie, Kat Bennicoff Yundt,
Nate Bernard, Kristina Bivona, Kim Bush, Terell Daniel, Taylor Dean, Saint Forza, Devan Fulton, Jana Markova, Christian Mason, Julie Miller, Rotem Peles, Deborah Rice, Geremia Romain
Pratt Institute conversation with Celebrated Artist Shaun Leonardo discusses his mutlidisciplinary projects and work at Pratt.
Hyperallergic Podcast: An Artist Works to Break Down the Walls Between a College and It's Community
MFA alum '20 Hannah Celli in collaboration with previous School of Art Fellow and P3 Resident Shaun Leonardo