2018 PROJECT THIRD (P3) INAUGURAL ARTISTS IN RESIDENCE: BFAMFAPhD
BFAMFAPhD (Susan Jahoda, Emilio Martinez Poppe, and Caroline Woolard)
BFAMFAPhDis a collective that employs visual and performing art, policy reports, and teaching tools to advocate for cultural equity in the United States. The work of the collective is to bring people together to analyze and reimagine relationships of power in the arts.
Residency Project: Making and Being, which took place during the Summer of 2018 where BFAMFAPhD hosted workshops with Pratt students and publicly shared the process of producing the publication Making and Being.
Making and Being is a multi-platform pedagogical project which offers practices of collaboration, contemplation, and social-ecological analysis for visual artists. Making and Being is for arts educators who want to connect art to economy and for students who want to make artworks that reflect the conditions of their own production.
Making and Being is a book, a series of videos, a deck of cards, and an interactive website with freely downloadable content here: https://makingandbeing.com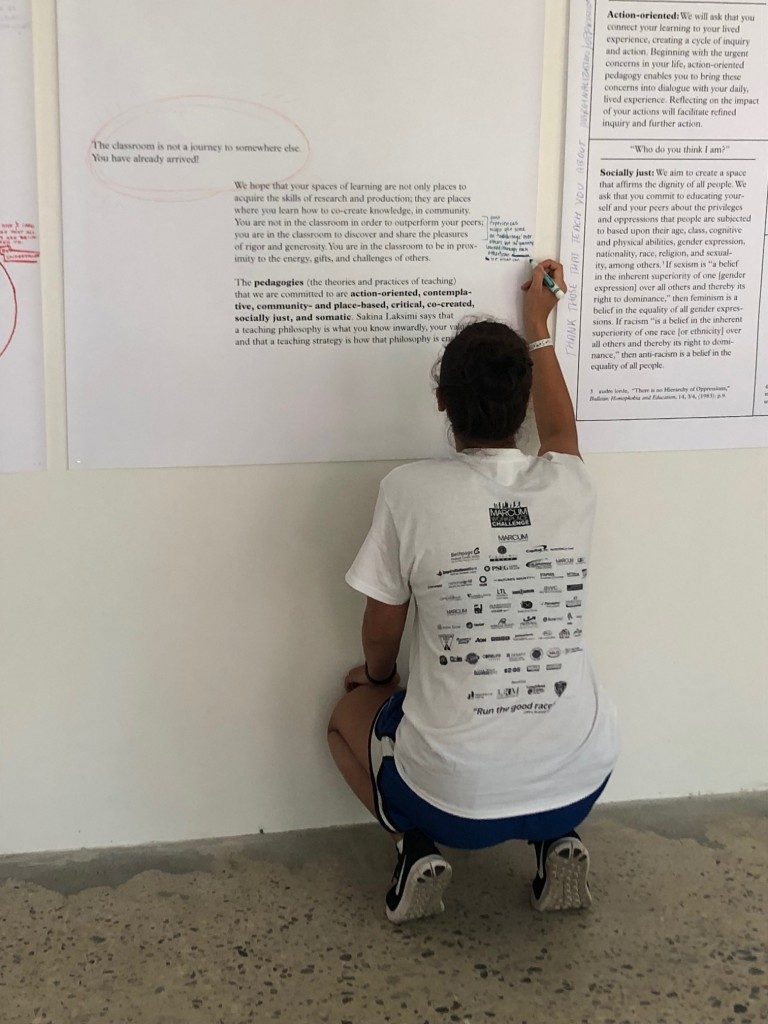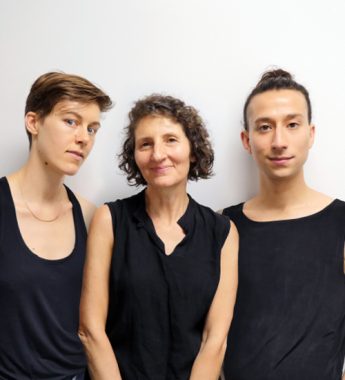 Making and Being is a contribution to BFAMFAPhD made by Susan Jahoda, Emilio Martinez Poppe, and Caroline Woolard. BFAMFAPhD is working with artist Or Zubalsky on the interactive, digital, and open source components of the pedagogical project. Susan Jahoda is a Professor in Studio Arts at the University of Amherst, MA; Emilio Martinez Poppe is the Programs Manager at Fourth Arts Block (FABnyc), New York, NY; Caroline Woolard is an Assistant Professor of Sculpture at The University of Hartford, CT. Core members of BFAMFAPhD who are not directly working on Ways of Being include Vicky Virgin, a Research Associate at the New York City Office for Economic Opportunity, New York, NY and Agnes Szanyi, a Teaching Fellow and PhD candidate in Sociology at The New School, New York, NY.
BFAMFAPhD received critical acclaim for Artists Report Back (2014), which was presented as the 50th anniversary keynote at the National Endowment for the Arts and was exhibited at the Brooklyn Museum, the Museum of Art and Design, Gallery 400 in Chicago, Cornell University, and the Cleveland Institute of Art. Their work has received critical acclaim in the Atlantic, the New York Times, the Washington Post, the New Yorker, Andrew Sullivan's The Dish, WNYC, and Hyperallergic, and they have been supported by residencies and fellowships at the Queens Museum, Triangle Arts Association, and NEWINC.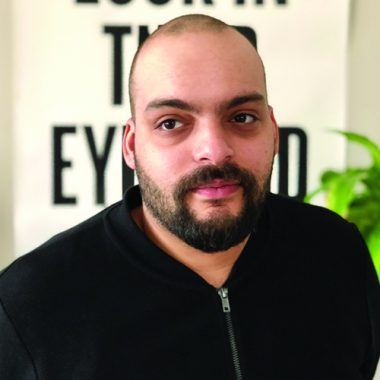 Fine Arts Integrated Practices MFA summer session led by visiting faculty Jeff Kasper
Jeff Kasper is a research-based artist working in installation, time-based media, publications, public pedagogy and engagement. His work investigates a range of interrelated topics, including, emotional health and interpersonal relationships, placemaking, location and identity, and subjectivity in the human sciences and social planning.
Kasper has been awarded residencies at Elizabeth Foundation for the Arts Project Space (2017), CUE Art Foundation (2017), and the Art & Disability Institute (2018). In 2017 he was selected to participate in the inaugural cohort of Disability/Arts/NYC/Taskforce working to promote the practice and policy of disability artistry. He has been invited to lecture at the MoMA Department of Education, School of Visual Arts, School at the Art Institute of Chicago, and The New School. His work has been exhibited at the 26th International Graphic Design Biennial Brno (2014), The James Gallery (2017), Okno Gallery Russia (2014), Ammerman Center for Arts and Technology at Connecticut College (2018), Open Engagement (2018), Bronx River Art Center (2013), Queens Museum (2017), The Graduate Institute for Design, Ethnography & Social Thought (2017), and International Graduate Center for the Study of Culture at the University of Giessen (2016).
His work will be featured in the upcoming books Futures Worth Preserving: Nostalgia and Sustainability in Cultural Constructions of the Present (Transcript, 2019), Art as Social Action: An Introduction to the Principles and Practices of Teaching Social Practice Art (Skyhorse, 2018), and Bridging Communities Through Socially Engaged Art (Routledge 2019).
In addition to founding Civic Art Lab with Laura Scherling, currently Kasper serves as the Director of Engagement at More Art where he develops a professional development program for emerging artists; contributes to the graduate art curriculum, Social Practice Queens (SPQ) at Queens College; and serves as a mentor for New York Foundation for the Arts' Immigrant Artist Program in Social Practice.
Kasper has a B.A. (with honors), Urban Theory and Politics from the City University of New York; and an M.F.A. Social Practice and Studio Art (Critical Media) from Queens College
Pratt Partners: The Writing Program; Humanities & Media Studies; Art and Design Education, the Center for Career and Professional Development.