FILM/VIDEO SPEAKER SERIES 2022-2023
Kelly Reichardt (2023)
Kelly Reichardt is an acclaimed feature filmmaker and one of the great, essential talents of American independent cinema.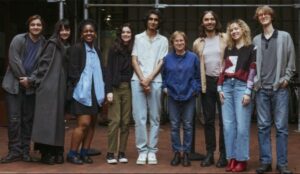 Her latest film SHOWING UP, starring Michelle Williams and Hong Chau, premiered in competition at the Cannes Film Festival 2022 and opened in theaters in April 2023. Her feature films include: RIVER OF GRASS (1994), OLD JOY (2006), WENDY AND LUCY (2008), MEEK'S CUTOFF (2010), NIGHT MOVES (2013), CERTAIN WOMEN (2016), FIRST COW (2019), and SHOWING UP (2022). Special screenings include the Venice International Film Festival, Sundance Film Festival, Viennale Film Festival, Berlin International Film Festival, Toronto International Film Festival, International Film Festival Rotterdam, BFI London Film Festival, New York Film Festival, Whitney Biennial, and a retrospective of Reichardt's work at the Center Pompidou in October 2021.
---
November 2022
Elegance Bratton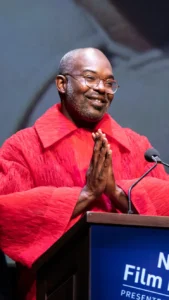 Elegance Bratton was born in Jersey City, and raised in Phillipsburg, New Jersey. At age 16, he was kicked out of his home for being gay and spent 10 years being homeless before joining the Marines. He served as a combat camera production specialist in Camp H.M. Smith in Hawaii, shooting videos and taking photographs. He graduated from Columbia University with a degree in African American Studies, and received his MFA from New York University Tisch School of the Arts for directing and writing.
Elegance is a critically acclaimed documentary and narrative filmmaker. He began his career writing, directing, and producing a variety of projects including the short film Walk for Me, the reality television series My House, and the documentary film Pier Kids, available on the Criterion Channel. His narrative film directorial debut, The Inspection, based on his own experience, premiered at the Toronto International Film Festival and screened at the New York Film Festival in 2022.
---
September 2022
Owen Kline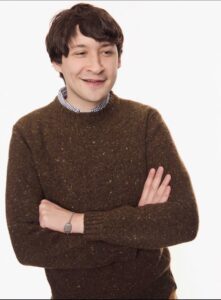 Owen Kline is a New York-based filmmaker, actor, screenwriter and cartoonist, best known for his directorial debut Funny Pages (2022) and his role as Frank Berkman in The Squid And The Whale. Before Funny Pages, Kline directed the delirious Jazzy for Joe (2014) starring the late talk show legend Joe Franklin raising an abandoned baby found on his doorstep. He attended Pratt Institute in Brooklyn, New York, studying illustration and film.
---

PREVIOUS VISITING ARTISTS/FILMMAKERS INCLUDE:
Jessica Kingdon (2022)
Apichatpong Weerasethakul (2022)
Glenn Ficarra and John Requa (2022)
Ryusuke Hamaguchi (2021)
Alice Rohrwacher (2021)
Garrett Bradley (2020)
Nia DaCosta (2020)
Brandon Harris (2020)
Charles Burnett (2020)
Jeff Preiss (2020)
Kirsten Johnson (2019)
Trinh T. Minh-ha (2018)
Jim Jarmusch (2018)
Lucrecia Martel (2017)
Werner Herzog (2017)
Jeremiah Zagar (2017)
William Caballero (2017)
Anna Rose Holmer (2016)
Katja Blichfeld and Ben Sinclair (2016)
Terence Nance (2016)
Edward Lachman (2016)
Peggy Ahwesh (2015)
Kelly Reichardt (2015)
Sam Green (2015)
Alex Rivera (2015)
Barbara Hammer (2015)
Lynne Sachs (2014)
Travis Mathews and Keith Wilson (2014)
Peter Snowdon and Bruno Tracq (2014)
Sebastian Silva (2014)
Peter Mettler (2013)
Debra McGuire (2013)
The Yes Men with Igor Vamos (2013)
Chico Pereira (2013)
Eve Sussman (2013)