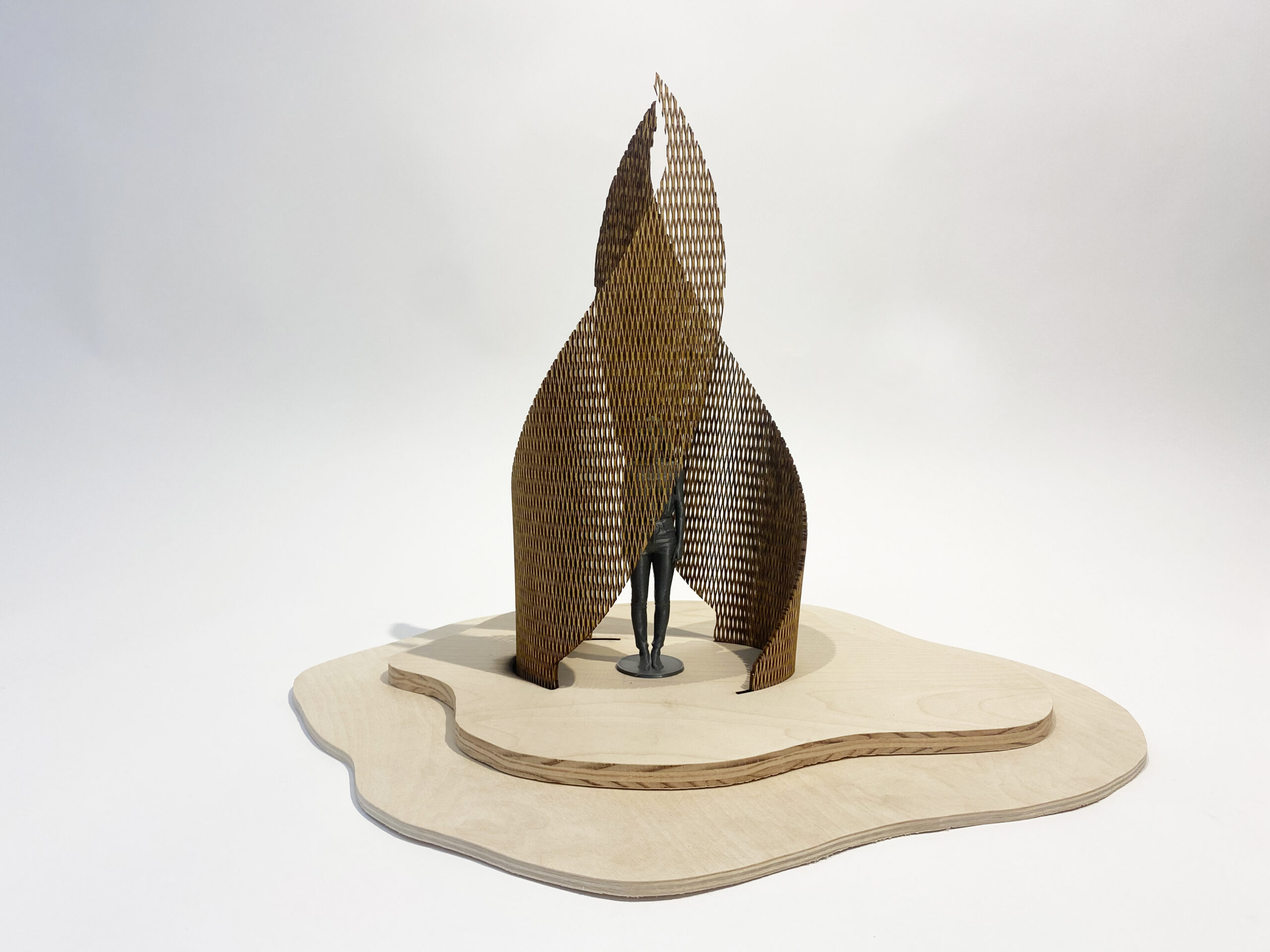 Ann Lewis  – 9/20/22 – This lecture will include a discussion on sexual violence.
Hu Xiangqian – 11/15/22
Park McArthur – 1/31/23 – This lecture will provide ASL and CART 
Jeffrey Gibson – 2/21/23
Baseera Khan – 3/7/23
Ayanah Moor – 4/4/23

Tuesdays at 6PM
ONLINE
Lectures are Free and Open to the Public
Registration links are below for each artist.
About VALS
Each year Pratt Fine Arts invites contemporary artists for a public lecture and to conduct studio visits with fine arts graduate students. This Visiting Artists Lecture Series (VALS) is coordinated by graduate student leaders. The aim is to provide our students with exposure to a wide array of artists working in a variety of fields at various stages in their career. Recent and past visiting artists include: Abigail D. Deville, Edgar Heap of Birds, Jennie Jieun Lee, Shazia Sikander, Elektra KB, Nina Katchadourian, Wardell Milan, Wendy Red Star, Narcissister, Pradeep Dalal, James Hyde, Jill Magid, Schezerade Garcia, Rochelle Feinstein, Lavar Munroe, Lorna Simpson, Rico Gatson,Nicole Eisenman, Tom Sachs, Aura Satz, Leigh Ledare, Judith Bernstein, Dan Walsh, Kalup Linzey, Keltie Ferris, LaToya Ruby Frazier, Trenton Doyle Hancock, Diana Al-Hadid, Rashaad Newsome, Dora + Maja, Bryan Zanisnik, Nancy Grossman,Peter Saul, Michael Berryhill, Wafaa Bilal, and Catherine Opie.
Pratt's Fine Arts Department Visiting Artists Lecture Series was made possible by a generous grant from the Robert Lehman Foundation.
Ann Lewis – 9/20/22
Ann Lewis is a multidisciplinary activist artist using painting, installation, social practice, and participatory performance in our public spaces to explore themes related to American identity, power structures, and justice. Her work speculates on a future bereft of sexual violence through communal creative healing sessions, the embodied contemplation of definitive autonomy, and non-violent modes of creation. Her most recent work Our Monument is an ongoing exploration of preventative means to eliminate sexual trauma through restoration, empathy, and monumental public sculpture.
After receiving her Bachelor's degree from the University of Wisconsin, her career began in the street art world of New York City and has evolved into large-scale public works. Her mural See Her received an Americans for the Arts 2018 Public Art Network (PAN) Award. Ann's art has been acquired by the New York Historical Society Museum and the US Library of Congress. It has been discussed in Hyperallergic, Artnet, The LA Times, and The Guardian. She has exhibited in solo and group shows throughout the US and abroad, including shows at Petzel Gallery in New York, Seyhoun Gallery in Tehran, Iran, and the Obama White House. She is expected to receive her MFA in Digital + Media from the Rhode Island School of Design (RISD) in the spring of 2023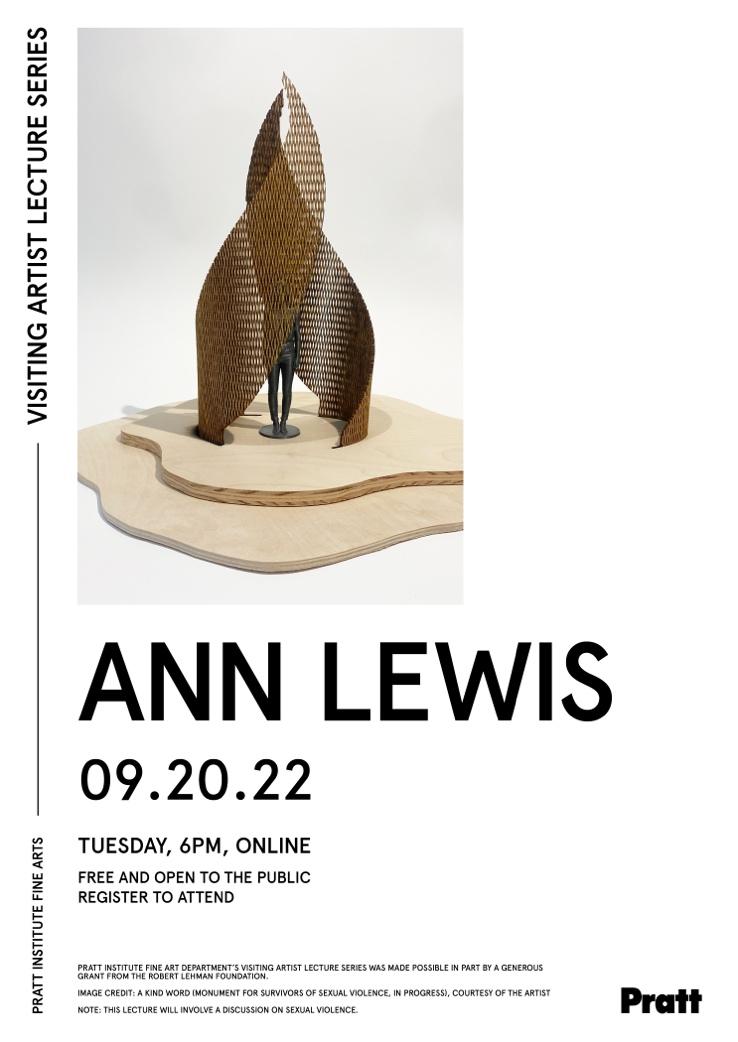 Hu Xiangqian – 11/15/22
Hu Xiangqian was born in 1983 in Leizhou, and currently lives and works in Beijing. His works are not elaborately thought out, nor do they deal with astonishing content — there are only his sudden inspirations. For the most part, his medium of choice is performance art — the better to achieve a more direct bodily and perceptive experience; some of what he does perhaps targets not the audience but rather the performer himself. As he himself says, "I want to understand my mind through art."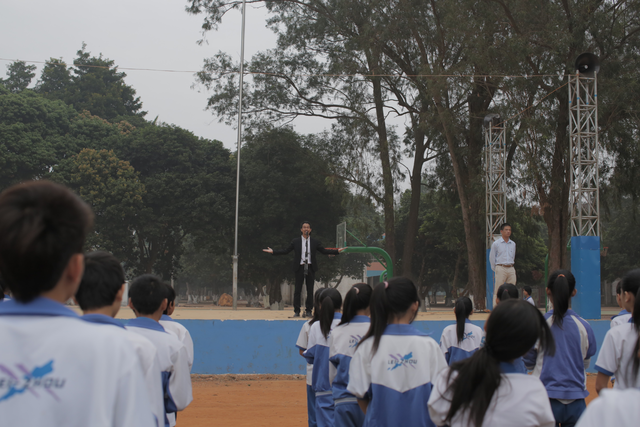 Park McArthur – 1/31/23
New York-based artist Park McArthur works primarily in sculpture, sound and text. In addition to her use of readymade industrial objects, McArthur is interested in objects that result from, what she describes as, "the work necessary for life," work that is also known as reproductive labor or living labor. Objects of this nature featured in previous sculptures and installations include, the artist's own pajamas, worn and altered by processes of care and sleep, as well as twenty temporary access ramps, made or purchased at McArthur's request in order to enter and exit buildings by wheelchair. Less interested in the body as a sovereign unit than in the fleshiness of bodies that deny such a unit, McArthur asks what materiality has to do with flesh and what flesh has to do with absorption, and absorption's sibling, expulsion.
Under the guidance and instruction of disability McArthur experiments with personal and social meanings of debility, delay and dependency by making artwork across different media and formats. With Constantina Zavitsanos McArthur has published texts and exhibited collaborative work. In 2016 McArthur co-organized with Jennifer Burris a survey of Beverly Buchanan's artistic practice that traveled from The Brooklyn Museum to The Spelman College Museum of Fine Art. McArthur has presented exhibitions at Kunsthalle Bern, MoMA, SFMOMA, and Chisenhale Gallery and in 2019 joined The Department of Art & Design at Rutgers University as Tepper Family Endowed Chair.
This lecture will provide ASL and CART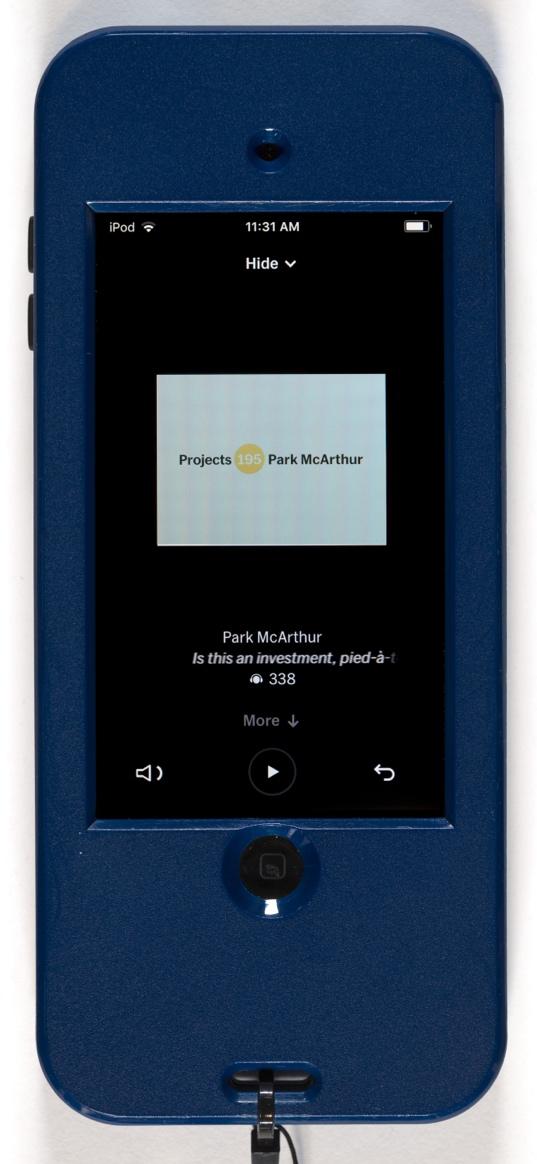 Image Credit: Park McArthur with Paula Stuttman, PARA-SITES, 2018, digital audio and transcript, English, installation view at MoMA, listening device, 1 + 3 AP; courtesy the artist and Maxwell Graham / Essex Street
Jeffrey Gibson – 2/21/23
Jeffrey Gibson's multimedia practice synthesizes the cultural and artistic traditions of his Cherokee and Choctaw heritage with the visual languages of Modernism and themes from contemporary popular and queer culture. His work is a vibrant call for queer and Indigenous empowerment, envisioning a celebration of strength and joy within these communities.
Jeffrey Gibson (b. 1972, Colorado Springs, CO) grew up in major urban centers in the United States, Germany, Korea, and England. He received a Bachelor of Fine Arts in painting from the School of the Art Institute of Chicago in 1995 and Master of Arts in painting at the Royal College of Art, London, in 1998. He is a citizen of the Mississippi Band of Choctaw Indians and is half Cherokee. He is currently an artist-in-residence at Bard College and lives and works near Hudson, New York.
Recent solo exhibitions also include Infinite Indigenous Queer Love at deCordova Sculpture Park and Museum in Lincoln, MA (2021); When Fire Is Applied to Stone It Cracks at Brooklyn Museum (2020); Time Carriers at Esker Foundation, Calgary (2019); and The Anthropophagic Effect at New Museum, New York (2019). Jeffrey Gibson first survey exhibition, LIKE A HAMMER, was curated by John Lukavic for the Denver Museum of Art where it premiered in 2018. The exhibition traveled to Mississippi Museum of Art, Jackson, MS; Seattle Museum of Art, WA; and the Madison Museum of Contemporary Art, WI. Gibson's work was included in the 2019 Whitney Biennial.
Gibson's work is included in the permanent collections of the Whitney Museum of American Art in New York; Denver Art Museum; Museum of Fine Arts, Boston; Smithsonian Institution's National Museum of the American Indian in Washington D.C.; National Gallery of Canada in Ottawa; Crystal Bridges Museum of American Art in Bentonville, AR; among many others. Gibson is a recipient of numerous awards, notably a MacArthur Foundation Fellowship (2019); Joan Mitchell Foundation, Painters and Sculptors Award (2015); and Creative Capital Foundation Grant (2005).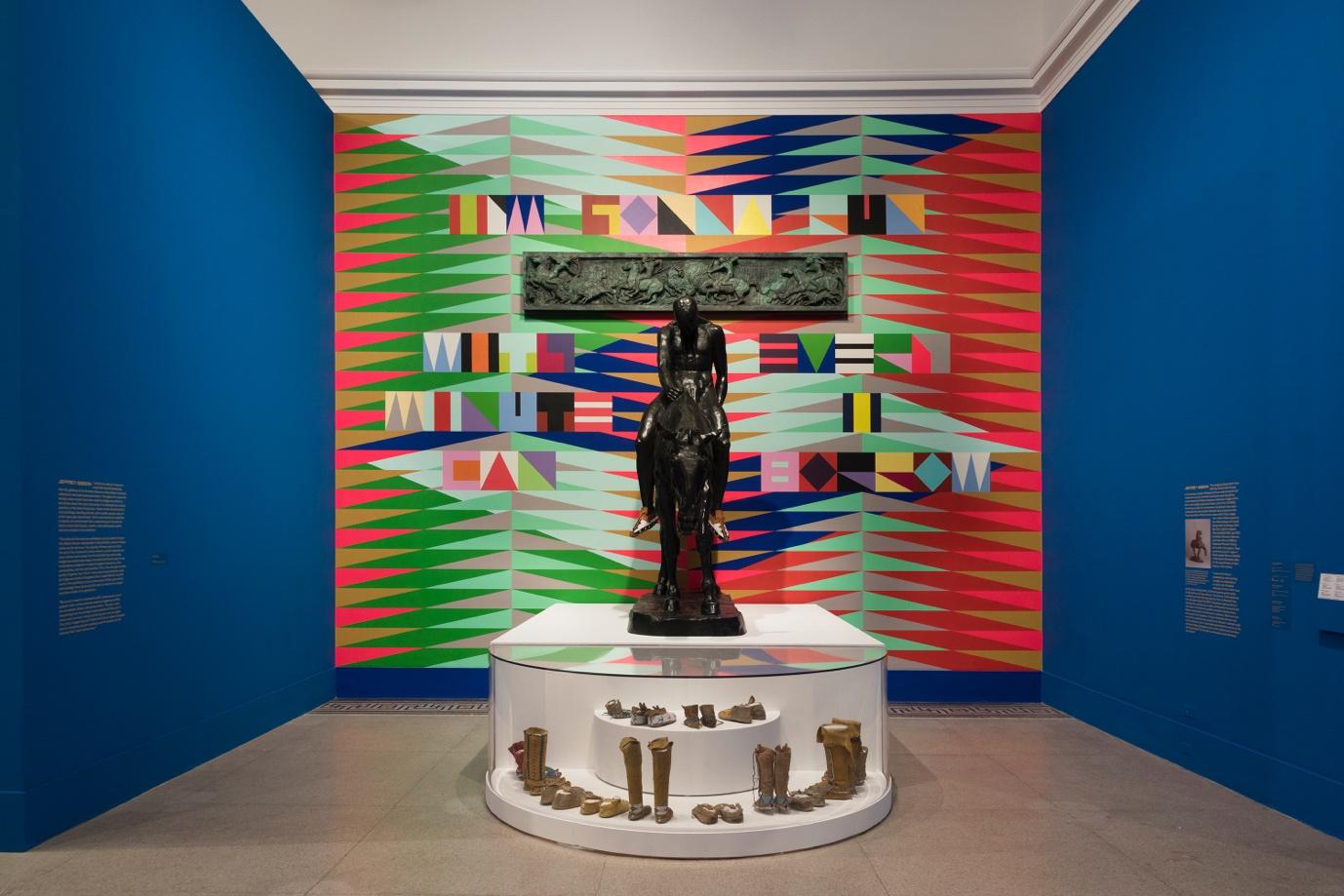 Credit for Image: Jeffrey Gibson: When Fire Is Applied to Stone It Cracks, Brooklyn Museum, NY, 2021.
Baseera Khan – 3/7/23
Baseera Khan is a New York-based visual artist who sublimates colonial histories through performance and sculpture in order to map geographies of the future. Baseera collages distinct and often mutually exclusive cultural references to explore the conditions of alienation, displacement, assimilation, and fluidity. Against the backdrop of a crestfallen edge, their work also gestures toward humorous pop cultural references. Using visual legacies of body identities, ritual, and spiritualities, Khan also attempts to reveal volatile subjectivities especially within capitalist-driven social environments such as the United States. Making layers in their work that fit besides, on top, in between, and underneath creates numerous projects that evoke senses of living under surveillance, in suspension, between exile and kinship. Khan generates installations of concealment, momentary reflections, and sanctuaries. Their life's work is dedicated to the development of their own legacy, on their own terms, with the use of fashion, photography, textiles and music, parody, sculpture and performance, they manifest their femme native born Muslim American experience.
Painful Arc (Shoulder-High) expands upon the artist's interest in interrogating architectural archetypes and the authority they represent. Central to Islamic architecture, while also serving as entry ways and meeting places in American cities and towns, archways act as gateways to a wide range of structures, including religious sites and memorials. Using commonplace materials, including plywood and high-density foam, Khan renders a traditional arch clad with panels incised with patterns sourced from illustrated Islamic manuscripts and self-portraiture. On the upper half of the structure, two silhouettes of the artist's body mirror each other, as if climbing the façade of the arch. Recurrent symbols from the artist's practice such as the triangle, the crescent moon, and the microphone suggest a sense of weightlessness, freeing the work from a predetermined history and inscribing it with the artist's own experience. The installation encourages viewers to rethink colonial powers and their historic influence, while raising questions about equity, access, and the need to build new monuments for a more inclusive future.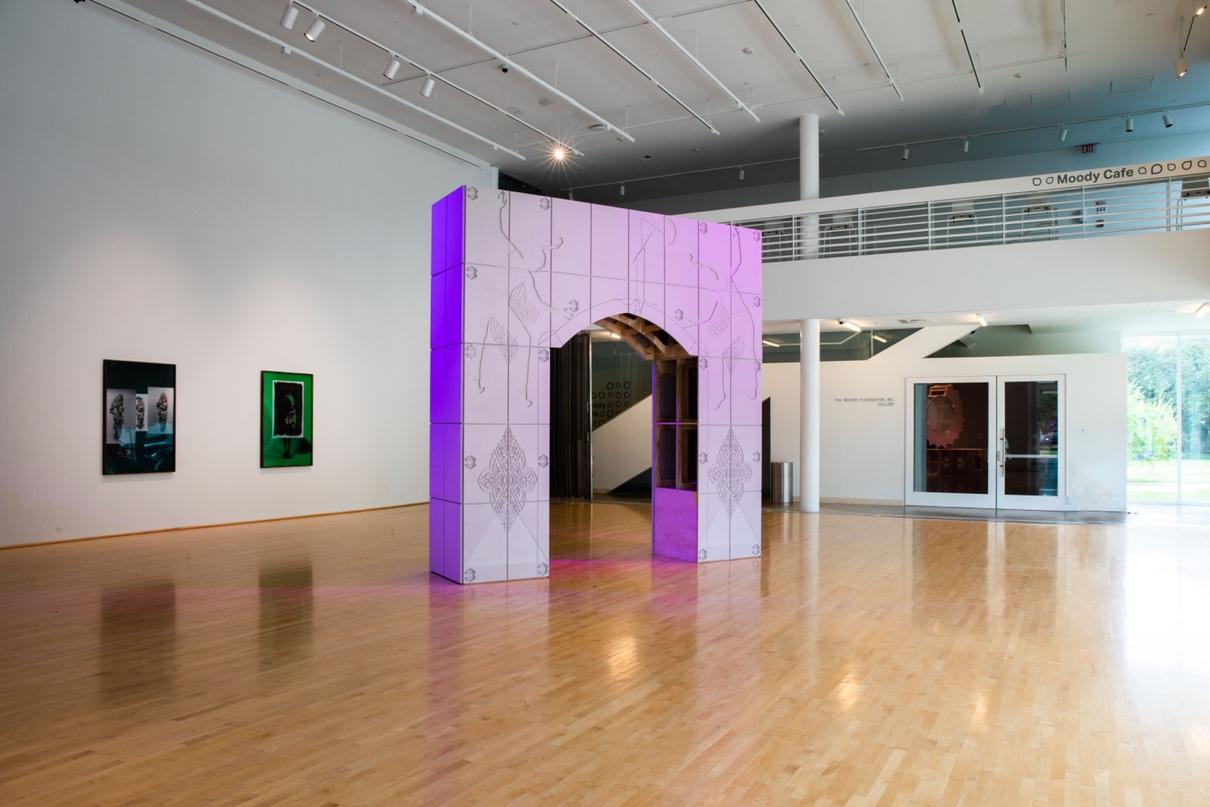 Image Credit: Painful Arc (Shoulder-High), 2022 Plywood, high-density urethane foam, and LED lights Commissioned by the Moody Center for the Arts, Rice University, Houston, and the Contemporary Arts Center, Cincinnati
Ayanah Moor – 4/4/23
Ayanah Moor (b. 1973, Norfolk, VA) is a Black visual artist and educator living and working in Chicago. She earned an MFA from Tyler School of Art, Temple University, in 1998 and a BFA from Virginia Commonwealth University in 1995. Her art is held in the permanent collections of public and private institutions, including DePaul Art Museum (Chicago); Capital Group (Los Angeles); Soho House (London); Museum of Contemporary Photography (Chicago); and the David L. Lawrence Convention Center (Pittsburgh). Moor's artwork and writing are featured in Nicole Fleetwood's, Troubling Vision: Performance, Visuality, and Blackness (2011); Astria Suparak and Brett Kashmere's, Incite: Journal of Experimental Media, SPORTS (2017), and discussed in, What is Contemporary Art? (2009) by Terry E. Smith and The Social Practice that is Race (2016) by Dan S. Wang & Anthony Romero. Moor has exhibited at venues including the Cleve Carney Museum of Art and Museum of Contemporary Art (Chicago); Andy Warhol Museum (Pittsburgh); Studio Museum in Harlem (NY); daadgalerie (Berlin); ONE National Gay and Lesbian Archives, University of Southern California Libraries, (Los Angeles); Te Tuhi Centre for the Arts, (Auckland); and in scenes of Universal Pictures' 2021 film, Candyman, directed by Nia DaCosta and produced by Jordan Peele.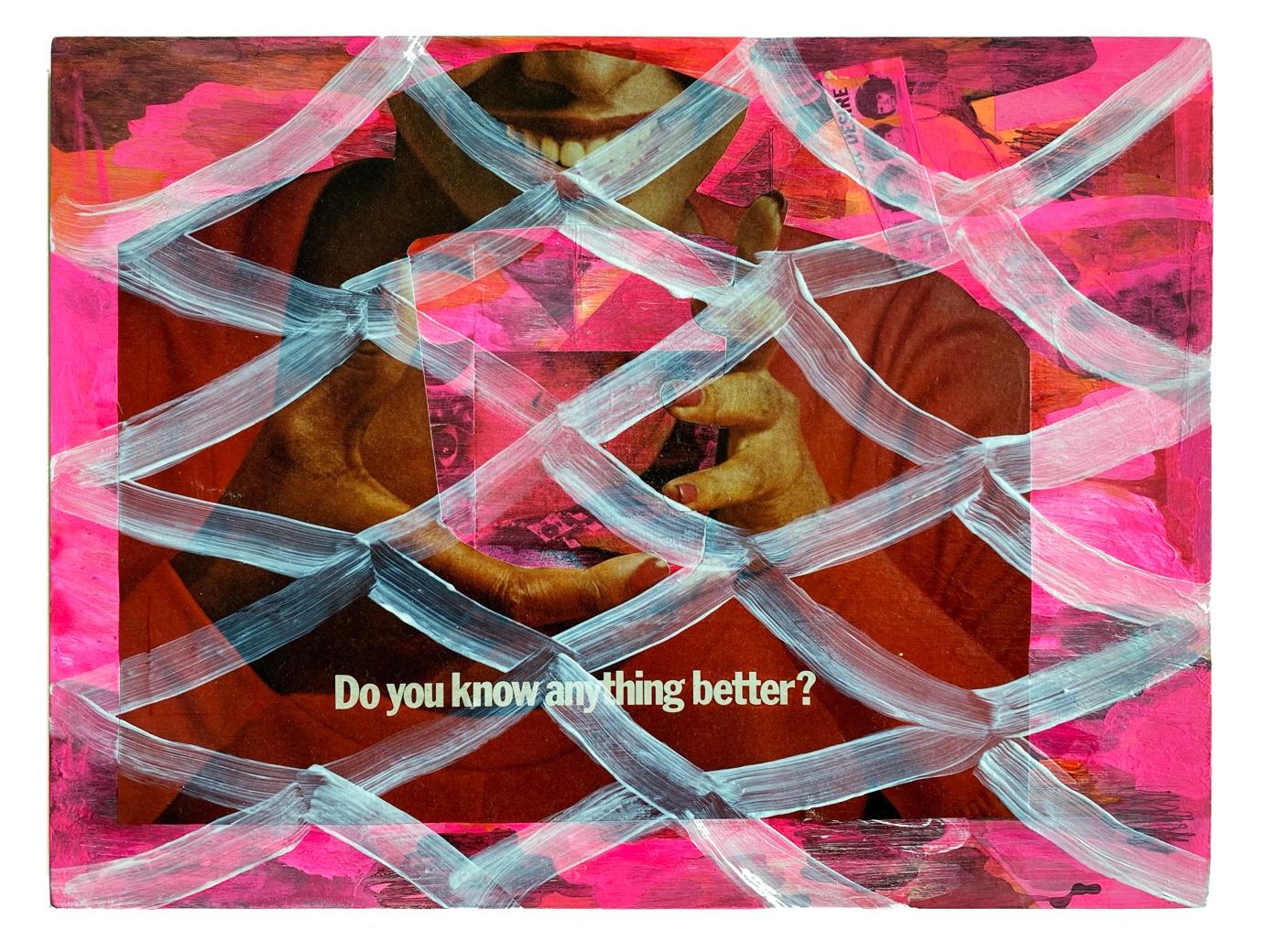 Image Credit: Anything Better, 2021. Acrylic, graphite, and Ebony magazine page on wood panel
Pratt's Fine Arts Department Visiting Artists Lecture Series was made possible by a generous grant from the Robert Lehman Foundation.