FALL 2023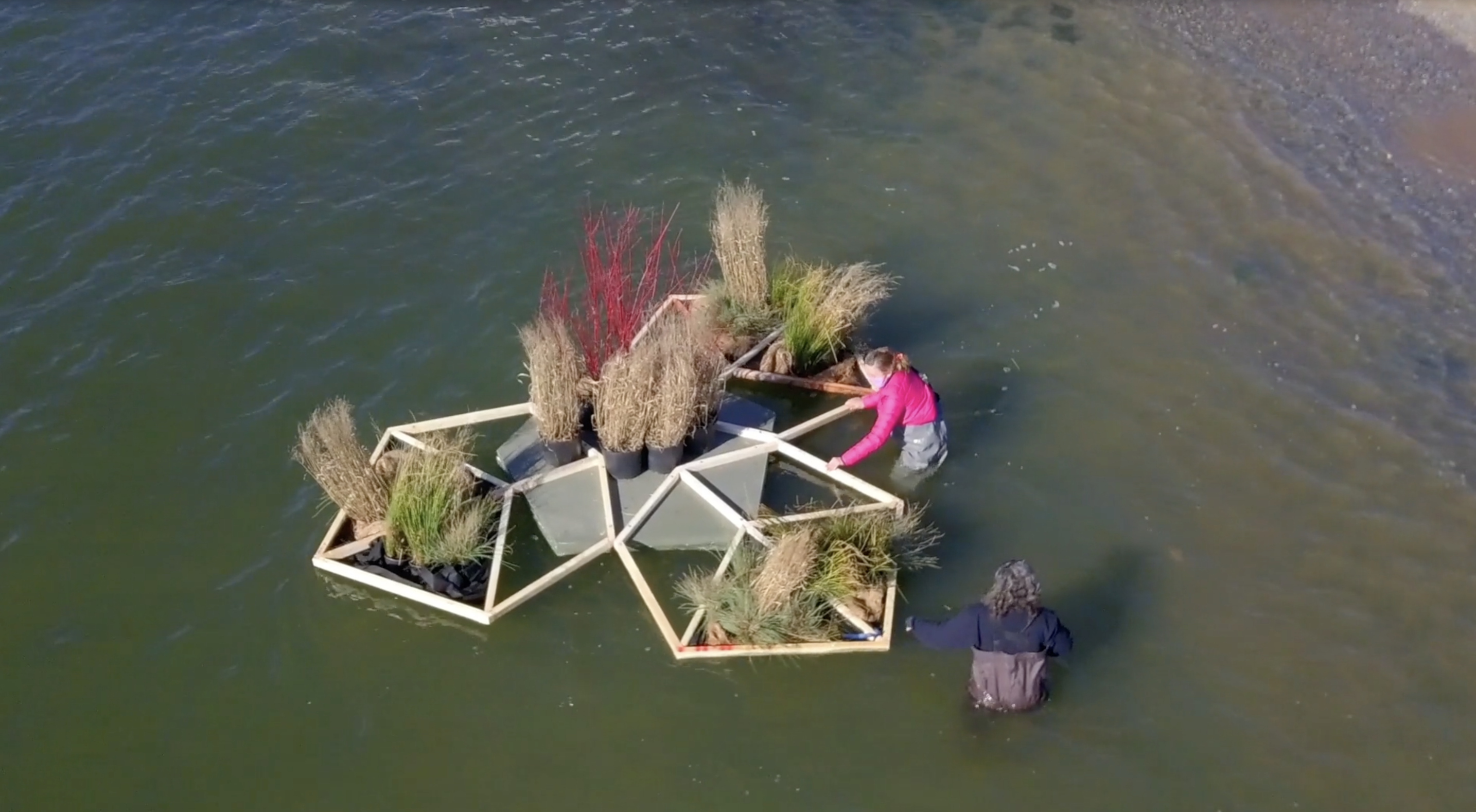 Learning with the RETI Center and the Gowanus Canal:
Thursday, October 19, 2023 at 11 am, RETI Center at 701 Columbia Street, Brooklyn, NY
Gowanus Canal is a waterway in continuous turmoil and transition. We will meet with Gita Nandan, R.A. founder and board chair at the RETI Center, and learn about their resilience work including the Climate Lab, floating BlueBlock Gardens, Sugar Kelp Aquaculture project, and more. We will then have a chance to listen to the water with hydrophones, do some DIY testing of the canal's water, and develop prompts for different ways of experiencing or sensing the canal. We will present our prompts in an exhibition the following week on Pratt's campus. RSVP is required for this event. When we receive your RSVP, we will prepare your kit and send you directions.
This event is co-hosted with Critic-at-Large Harriet Harriss in the Graduate Center for Planning & the Environment and the Industrial Design Department with Swati Piparsania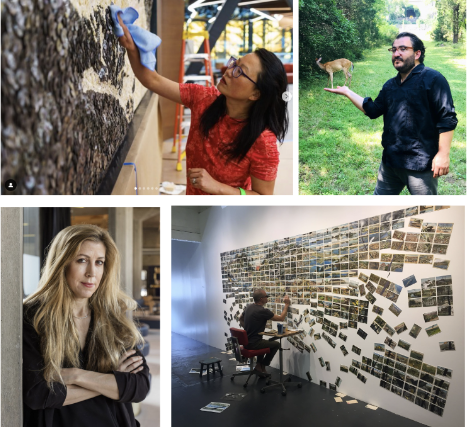 Roundtable: Contemporary Art and Ecological Sustainability
Pratt Earth Action Week from October 23-28
October 25th, 2023 from 12 – 2 pm, Alumni Reading Room, Pratt's Brooklyn Campus
Participants include: David Opdyke, Jean Shin, David Brooks, introduced by Harriet Harris
This Round Table Event will take place on Pratt's campus during Earth Action Week in order to spark vital discussions on ecological sustainability in the field of contemporary art. This event brings together contemporary artists whose work is driven by ecological principles and invites them to explore sustainability from multiple angles. This is a jumping-off point for a larger roundtable discussion with students and practitioners. Co-curated by MFA Candidate Suzanne Watters, Civic Engagement Fellow Mary Mattingly, and Professor Christopher Jensen.
This is a collaborative event with the Fine Arts Civic Engagement Fellowship and the STEAMplant Grant Critic-at-Large Harriet Harriss in the Graduate Center for Planning & the Environment
October 26th, 2023 from 11am – 1pm, South Hall Rm 001
"CULTIVATIONS: Ritual, Discussion and Action for a Livable Future." A card deck serves as the jumping-off point for a workshop designed to help us face our environmental concerns and move toward community, connection, and action. We'll perform some fun rituals, have some heartfelt discussions, and do some simple actions to help us move toward a just and livable future. This is an in-person workshop for anyone concerned about the environment, anyone anxious about the future of the planet, and anyone who wants to connect around these important issues. You don't need to bring anything, but a smartphone or laptop could be useful as we move into the "action" part of the workshop. Facilitator Dave Ratzlow is a Brooklyn-based writer and activist. This card deck was partially inspired by his 16-year participation in an international peer counseling community focusing on the mental health aspects of social and environmental justice.
---
Public Food and Public Water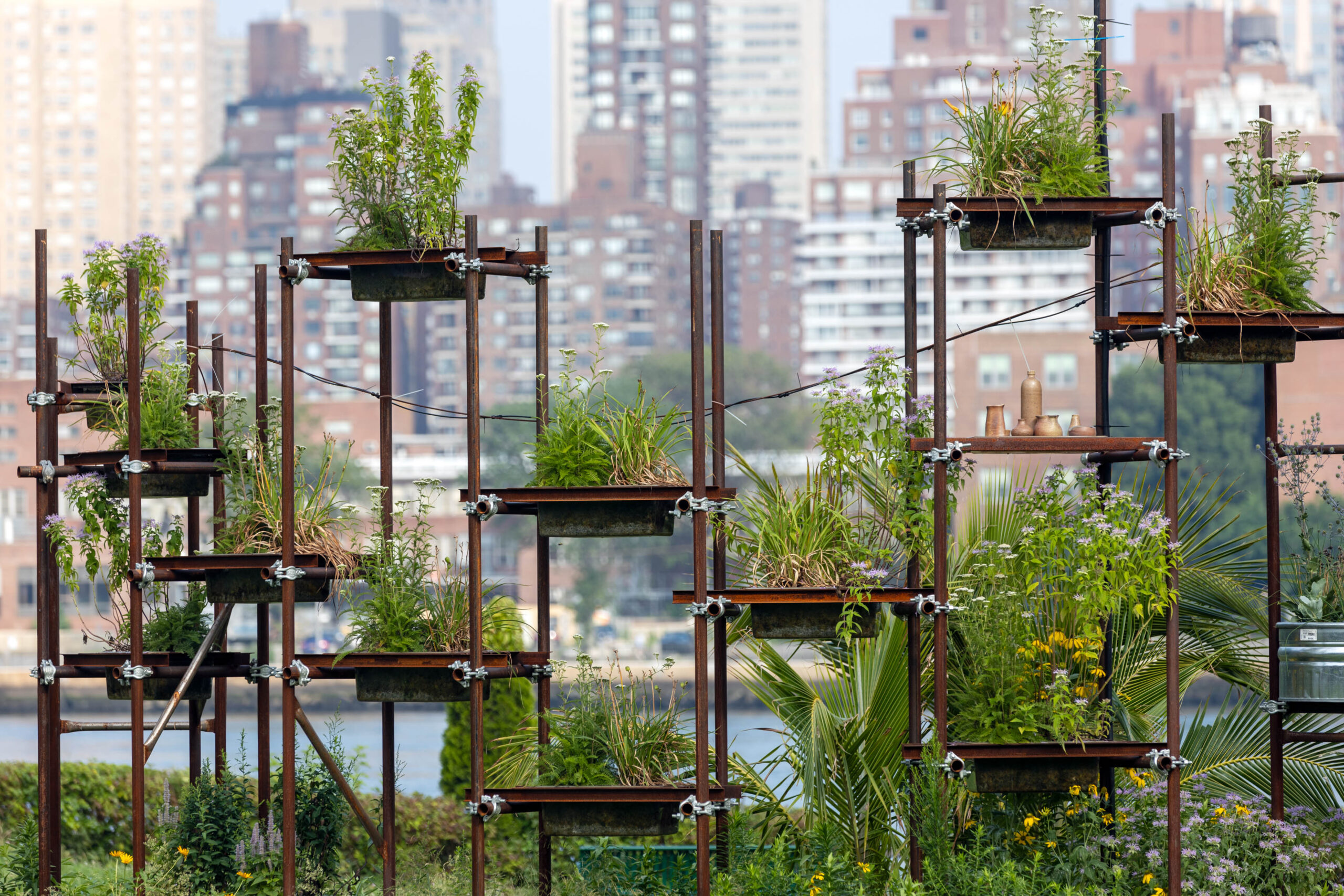 Co-curated by Swati Piparsania and Mary Mattingly (Civic Engagement Fellow 2022-24)
On view from September 1 – October 5, 2023
In Dekalb Gallery, Pratt's Brooklyn campus
Saturday, September 9, 2023 from 3PM – 4:30PM Water Workshop with artist Betsy Damon and Edible Plant knowledge-share with Mary Mattingly, as well as seed, vegetable and herb harvest at Socrates Sculpture Park in Queens. Drop in for a plant tour and harvest the Ebb of a Spring Tide sculpture at Socrates Sculpture Park.
Events in Dekalb Gallery:
Tuesday, September 12 from 5PM -7PM
Opening for Public Food & Public Water by Swati Piparsania and Mary Mattingly
Thursday, September 14, 2023 from 11AM – 12.30PM Edible Plants Knowledge-share
Creating outdoor signs sharing knowledge about edible plants around campus and beyond.
To attend RSVP to mmatting@pratt.edu
Wednesday, September 27, 2023 from 4PM-6PM with Swati Piparsania and Mary Mattingly
Reading centered on closed-loop systems and utopian design with a world-building activity to redesign Governors Island as a self-sustaining system in food, water, and energy supply.
Mary Mattingly is an artist who works in the public realm, often addressing water and food systems. Her collaborative work "Swale" was a floating food forest on a barge that utilized waterways common law as a workaround for public land laws in New York City. In 2021, she worked with +More Art on "Public Water", a sculpture that cleaned water and highlighted New York City's drinking watershed. Mattingly is a civic engagement fellow at Pratt.
Swati Piparsania is a researcher and object maker. She is interested in understanding how a social body is constructed and defined, looking at everyday experiences of bodies in oppressive, surveilled and conditioned spaces, particularly public spaces. Her research interests include performance as intervention, creative activism, and critical narratives. Piparsania is an Assistant Professor of Industrial Design at Pratt.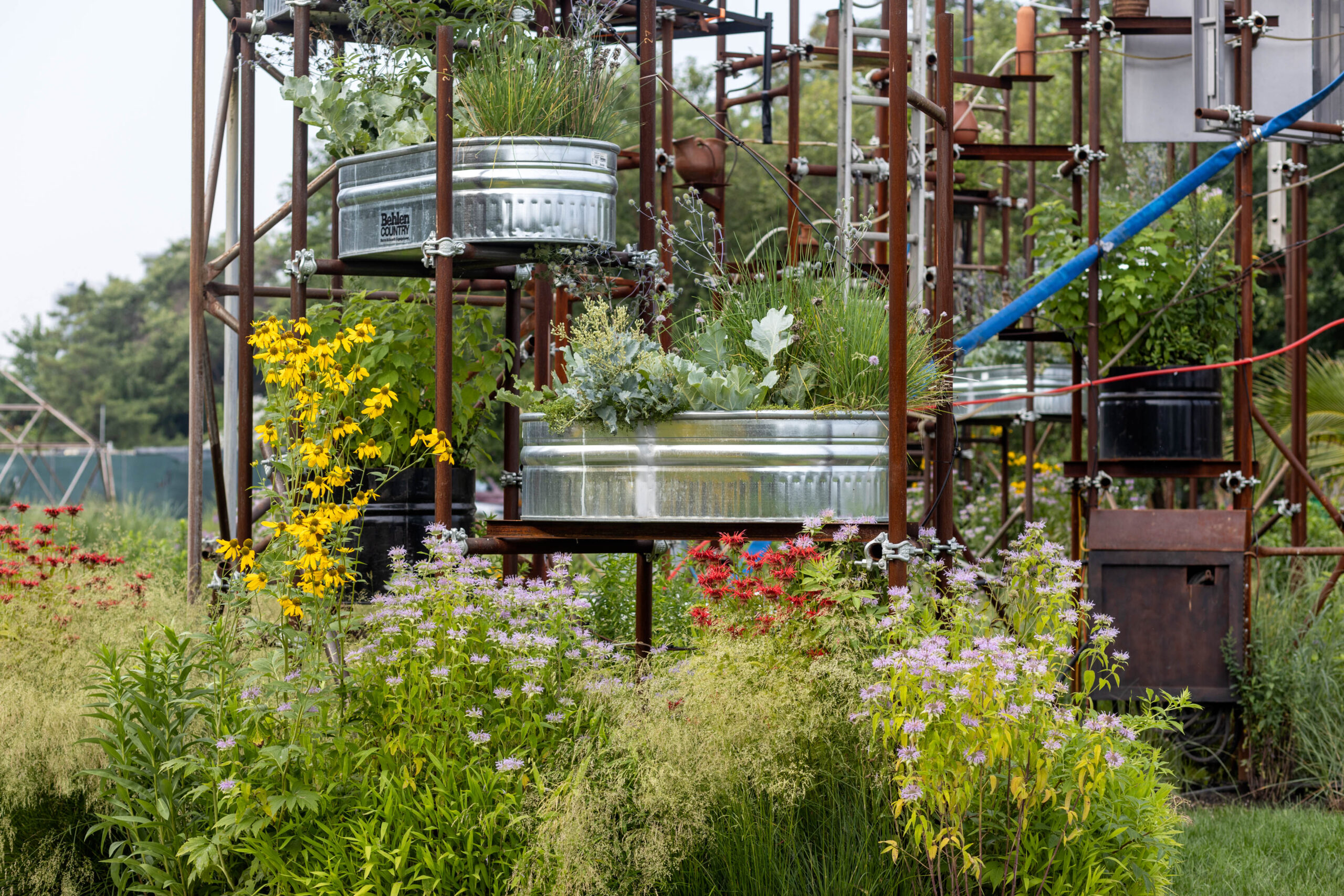 ---
Below is an archive of projects and events for the Civic Engagement Fellowship years 2022 – 2023
Water Time/ Earth Time/ Plant Time Series
led by Civic engagement fellow Mary Mattingly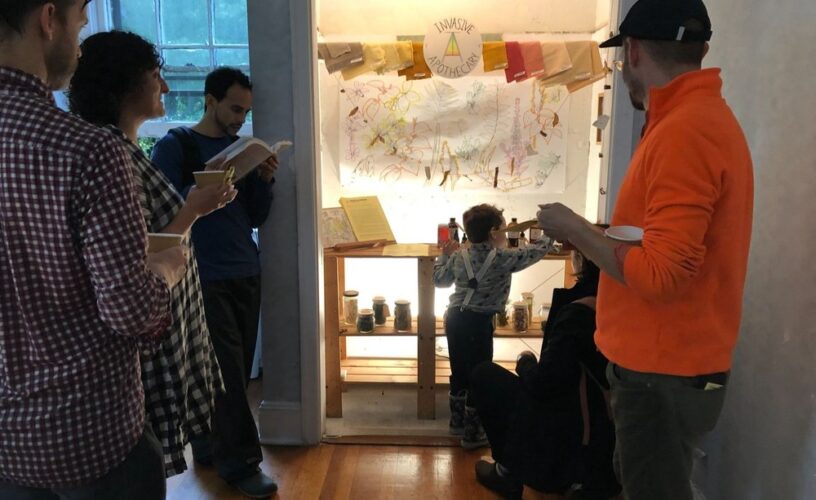 Plant Time!
IN PRATT PUBLIC SPHERE AND AROUND NYC
Artist/Writer Residency addressing plants, water and soil launches on Governors Island
Swale is hosting residencies on Governors Island, NYC, available in one-week to two month increments.
Do you have an arts-based research project related to plants, food, water, soil, poetry or eco-fiction? We are looking to support artists, writers, and ecologists engaged in environmental justice, regenerative agriculture, and issues around the climate crisis with space to do their work.
Swale's collaborative residency/research space at house #11 on Governors Island, features a desk, wall space, porch and outdoor space, and access to:
An ecotopian library collection (an expanding resource including books, natural and cultural objects people note as tools for change)
A public space to share your project
Tools including a hydrophone and microscope
Soil science and monthly soil testing workshops
a growing community eager to be in dialog with and support of your work
Residencies run from May 5th through November 10th, 2023.
Click here for more information.
People making enclosed terrariums at Soil Jam at Socrates Sculpture Park, photos: Mary Mattingly
---
SOIL JAM from 11 am – 5 pm, Saturday April 22 at Socrates Sculpture Park
Queens farmer Anna Poaster of Hellgate Farm invited folks to plant vegetables, herbs, and flowers that that will then be harvested throughout the summer at Socrates Sculpture Park. People made soil in a composting workshop hosted by Build it Green Reuse, and took home compost to nurture their own seeds. Later we created small enclosed ecosystems for Ebb of a Spring Tide, a project that opens at Socrates Sculpture Park May 20th. Makina served the best "habesha" Eritrean-Ethiopian food!
Paella lunch made by Rafael de Balanzo, Rafael and Mary Mattingly host a somatic walk, and students present their projects for the Pratt Public Sphere, photos: Mary Mattingly
---
Rafael de Balanzo and Mary Mattingly host a somatic walk from Pratt Public Sphere regarding vital habitat preserves tucked into building surfaces for species facing dramatic decline.
Pratt Public Sphere – Friday, April 21st, from 11am – 1pm
Discovering Connections, photos: Elizabeth Bamford
---
Discovering Connections: Part mystery and part guided exploration, join us for an interactive look into the world of plant stewardship and community care with performance artist Ania Hemphill. Thursday April 6th, 10 am at Socrates Sculpture Park.
First Row: Michael Pietosi and Robin Smith's Plant Cloud plan and models;
Second Row: Purvi Gargayan and Paxton Masengill's Afloat model, photos: Mary Mattingly
Third Row: Amy Chien and Alma Aguirre Molina's Floating Farms model
Fourth Row: Rain Lee's Crashing Wave
photos: Mary Mattingly
---
Participatory Design Workshops for a mobile, modular Swale barge! Pratt GAUD students and Mary Mattingly.
Tuesday, April 4th, and Friday, April 28th, 2-6pm.
---
Ruderal Plants with Natalie Stopka, photos: Mary Mattingly
---
Harvesting Ruderal Plants to make Lake Pigments and Natural Dyes with artist Natalie Stopka.
Thursday, March 30th from 2 – 3:30pm with Earth Action Week at the Foundations Lab.
---
Inside/Outside projection on Pratt Public Sphere with James Hannaham.
Pratt Public Sphere – Evenings, March 6th-9th following a lecture by Julie Trébault.
---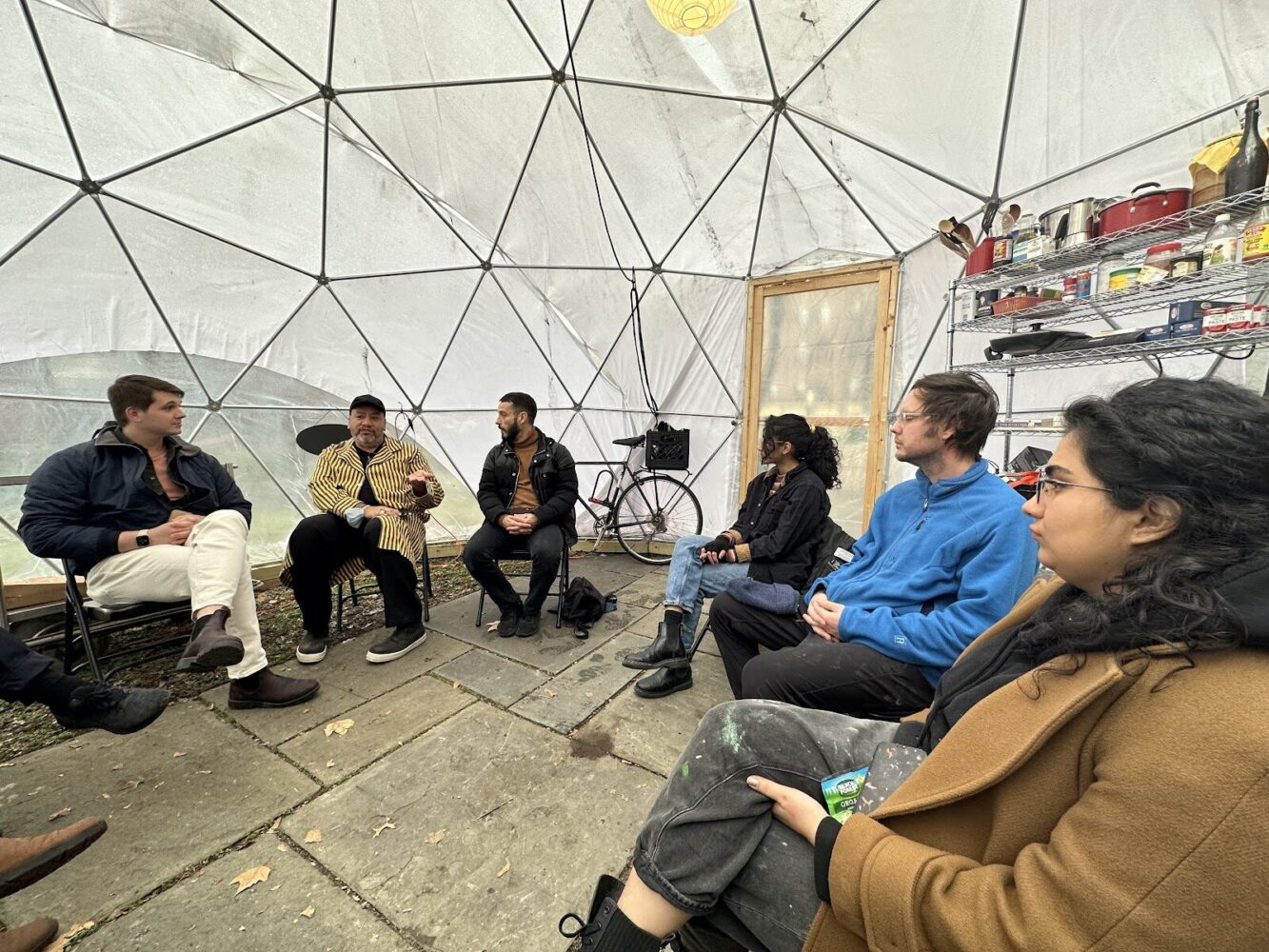 February 21, 2023 – VALS event with artist Jeffrey Gibson in the Pratt Public Sphere, photo by Dan Fethke
---
Rafael de Balanzo in Pratt Public Sphere, photo: Dan Fethke; Pratt Public Sphere, photo: Mary Mattingly
---
Pratt Public Sphere – Environmental Architecture workshops at the Pratt Public Sphere led by Rafael de Balanzo and Enrique Lanz Oca;
Fridays in February from 12-2pm.
---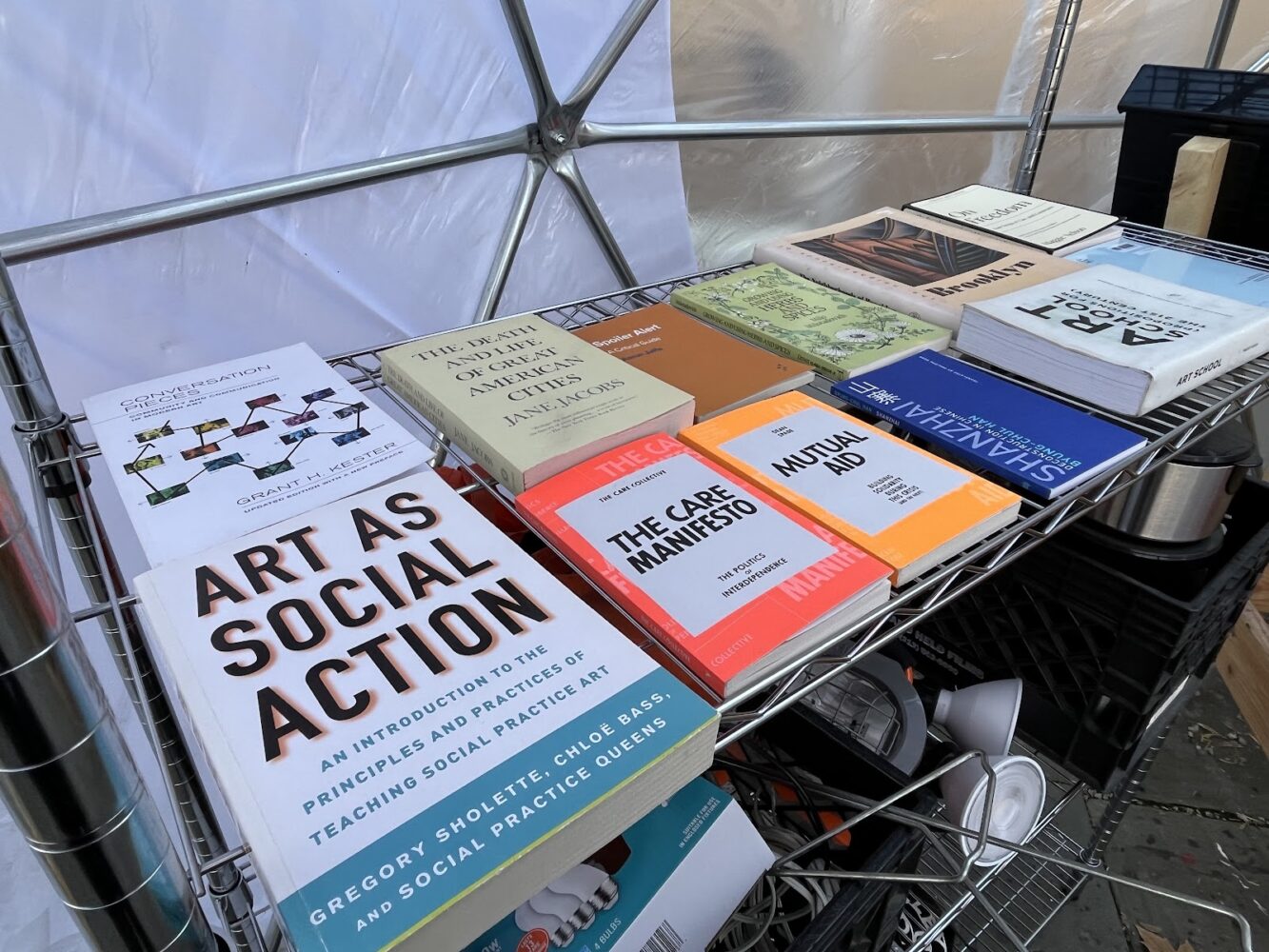 Pratt Public Sphere, photos: Dan Fethke
Lunch Time with Choy Commons & Amanda Huynh, Pratt Public Sphere organized by Daniel Pravit Fethke – March 7th
---
Pratt Public Sphere, photos: Mary Mattingly
Monday mornings in March: Daniel Pravit Fethke hosts free coffee!
---
Papermaking workshop, photos: Mary Mattingly and Dan Fethke
Recycled Paper / Making Workshop with Sonja Petermann. In this workshop, we will learn how to make paper out of paper waste. Participants are encouraged to collect and bring in their own paper recycling to transform back into usable paper. Materials will be provided.
Pratt Public Sphere – February 23rd
---
Swale Studio, photos: Mary Mattingly
---
SWALE studio facilitated by Mary Mattingly with Bram Gunther, former Chief of Horticulture for NYC Parks.
Rapid urbanization, climate change, racial and economic inequities, and ecosystem degradation deem it necessary for different approaches to water and food infrastructures that align goals of resilience, equity, ecological responsiveness, public food, integrated water systems, and access to clean water.
Using SWALE as its prototypical basis and enriching its potential, this studio seeks to design a fleet of barges fueled by electrically powered "Pusher" vehicles that expand the community impact and the geographical reach of Governors Island and its climate literacy/advocacy aspirations across the five boroughs. Students will be focusing on the nautical and logistical design of barges that are harbored at GI, and which absorb different native ecologies.
Tuesday, February 7th, 2023
---
Food on Swale workshop, photos: Cameron Burgoyne
"Food on Swale" with Amanda McDonald Crowley, Pratt Public Sphere
February 4th
---
EARTH TIME SERIES
IN DEKALB GALLERY, THE FOUNDATIONS LAB, WHITEBOX ART SPACE AND ON GOVERNORS ISLAND WITH LOWER MANHATTAN CULTURAL COUNCIL
Gloria Ushigua (she/her) is the co-founder of the Sápara women's organization Ashiñwaka, which defends Sápara people's ancestral land and environmental rights in Ecuador. Since 2010, Gloria has been actively defending her territory of untouched jungle in the Amazon, primarily against private and State-owned companies seeking to exploit oil deposits. When Sápara territorial rights were threatened by a government plan to open oil blocks in Ecuador's Southern Amazon, Gloria led successful efforts to keep the oil in the ground. As a result, she has been threatened, intimidated, judicially harassed, discredited on national television by high public officials and assaulted by law enforcement officers, along with other members of her family. Gloria is in conversation with Quito Ziegler at Pratt Libraries.
Wednesday November 30th, 5-6:30pm
---
---
A conversation between critic and historian Eva Díaz and artist Mary Mattingly will focus on Buckminster Fuller's works, and his ideas about equitable resource management and sustainable architectural forms, in relationship to Mattingly's work on human-triggered climate change and ecological uncertainty. Higgins Auditorium alongside the AHRA conference.
Friday November 18th, from 6-7:30pm
---
Design workshop, photos: Mary Mattingly
---
Design Workshop with Greg Lindquist and Willis Elkins: Presentation by Willis Elkins, executive director of Newtown Creek Alliance (NCA), will follow a screening by Greg Lindquist explaining the historic impacts of pollution on the Creek, and the Newtown Creek Alliance's mission to restore community health, water quality, habitat, and access along the Creek.
Friday November 18, from 2-5pm
---
Phenomenology of Metabolism Symposium, photos: Urban Soils Institute
---
Symposium, Swale in collaboration with the Urban Soils Institute, on Governors Island at the Lower Manhattan Cultural Council. Phenomenology of Metabolism delves into the metabolic processes that sustain life and that can build or rebuild the foundations of sustainability by incorporating them into our cities, industries, suburban, agricultural, traffic, and mining, and conservation areas.
Wednesday, November 16th from 11am – 1pm
---
Knit In, photos: Mary Mattingly
---
"Knit In" is a workshop led by artist Borinquen Gallo in collaboration with artist Miranda Ratner. It will take place at WhiteBox Art Space's GreenBox. Borinquen Gallo will facilitate a workshop knitting reclaimed plastic into a large installation that will be on display at GreenBox during the exhibition Ballots not Bullets.
WhiteBox 9 Avenue B, New York, NY 10009.
Thursday November 10 at 5pm.
---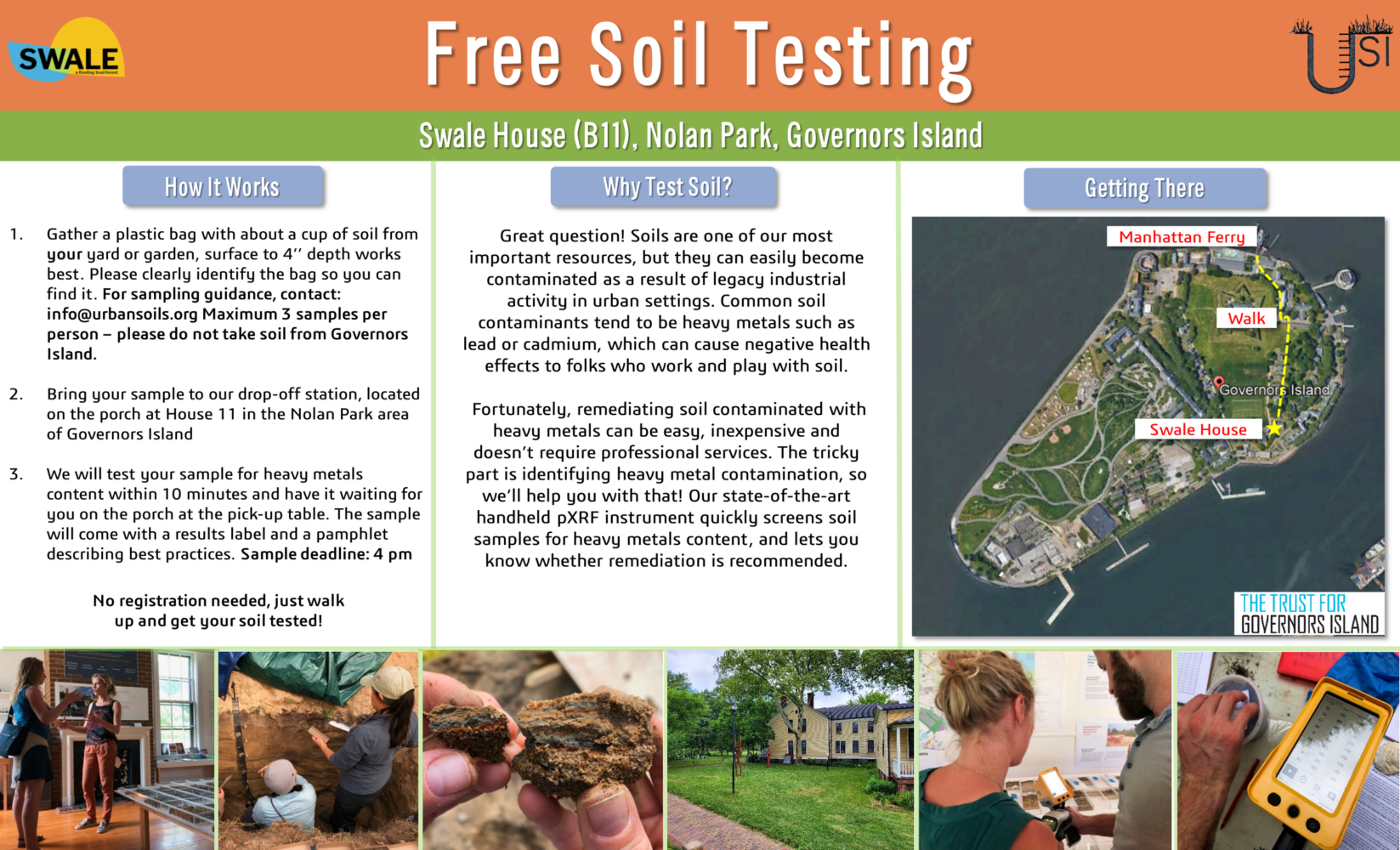 Free Soil Testing in November. Bring soil samples to Governors Island on Saturdays in November in order to plan for growing next spring! See what's in it and how to balance or remediate it.
---
Diletta Bellotti on Zoom, screenshot; Diletta Bellotti, screenshot
---
Diletta Bellotti (Rome, 1995) is a political activist, researcher and writer. In 2019 she launched an awareness campaign to shed light on labour exploitation in agriculture in Italy. Since 2020, Diletta is collaborating with #CleanClothesCampaign to advocate for women's rights employed in the textile industry.
In October 2020, her first book, a civic education manual, "The Rebel Toolkit" , was published by De Agostini. This talk will be live in person with Diletta on Zoom here and will be facilitated by artist Agnes Questionmark on Thursday, October 27th at 12:30pm.
---
Adobe Workshop, photos: Mary Mattingly
Adobe Brickmaking with Cassils and Rafa Esparza
---
Water Time!
IN DEKALB GALLERY AND ON GOVERNORS ISLAND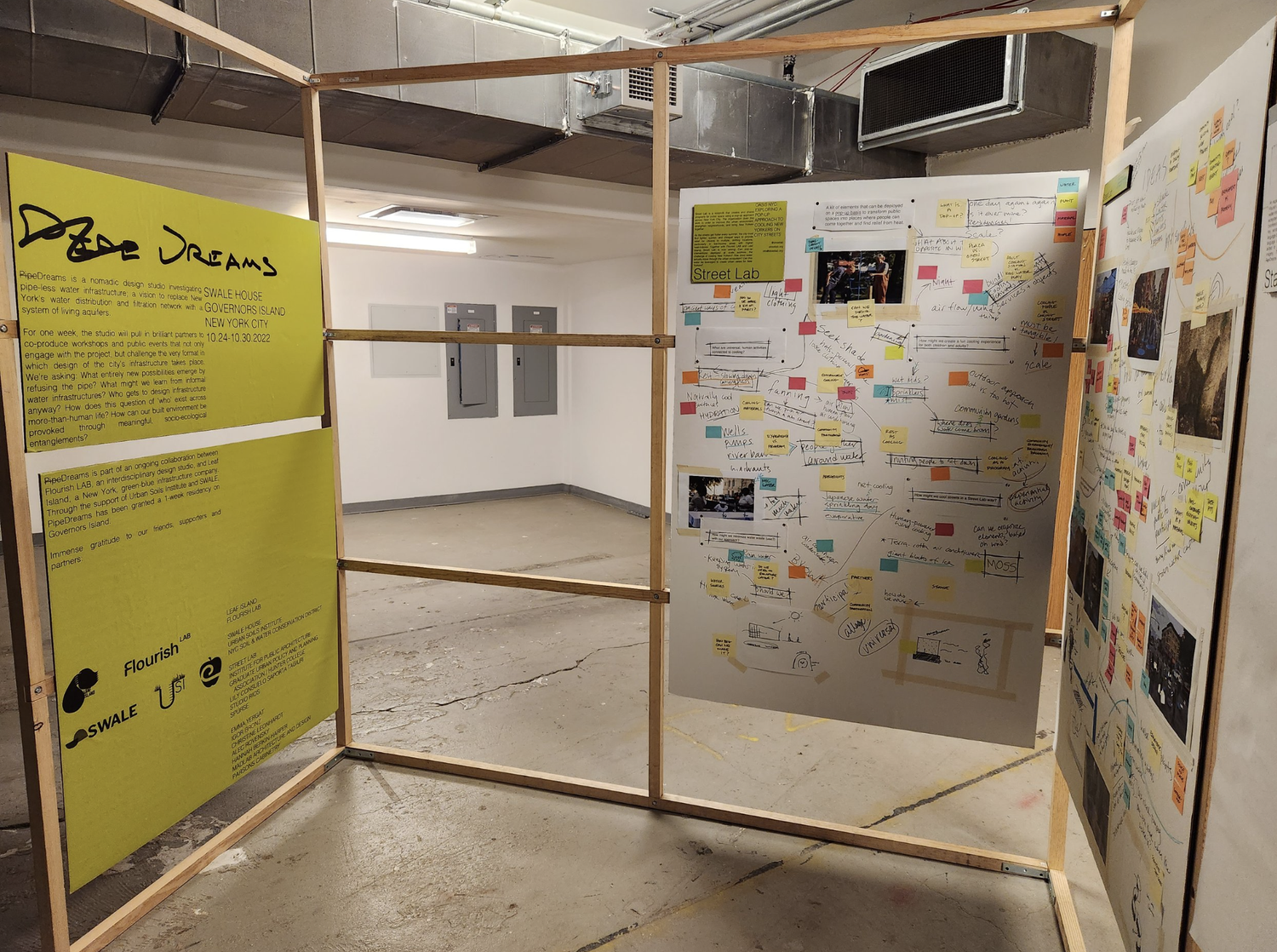 Hunter Urban Policy and Planning student organization dedicated to helping students of the Urban Policy and Planning with GUPPA on Climate change and Urban Policy, Swale and Pratt Institute mixer. October 28th 5-7pm.
---

Swale/Pratt Institute and Flourish Lab/Hunter policy and planning mixer, photos: Flourish Lab
BQE Infrastructure and flooding, modeling session. Co-hosted by Flourish Lab and Institute for Public Architecture, October 27th 6:30 – 8:30pm
---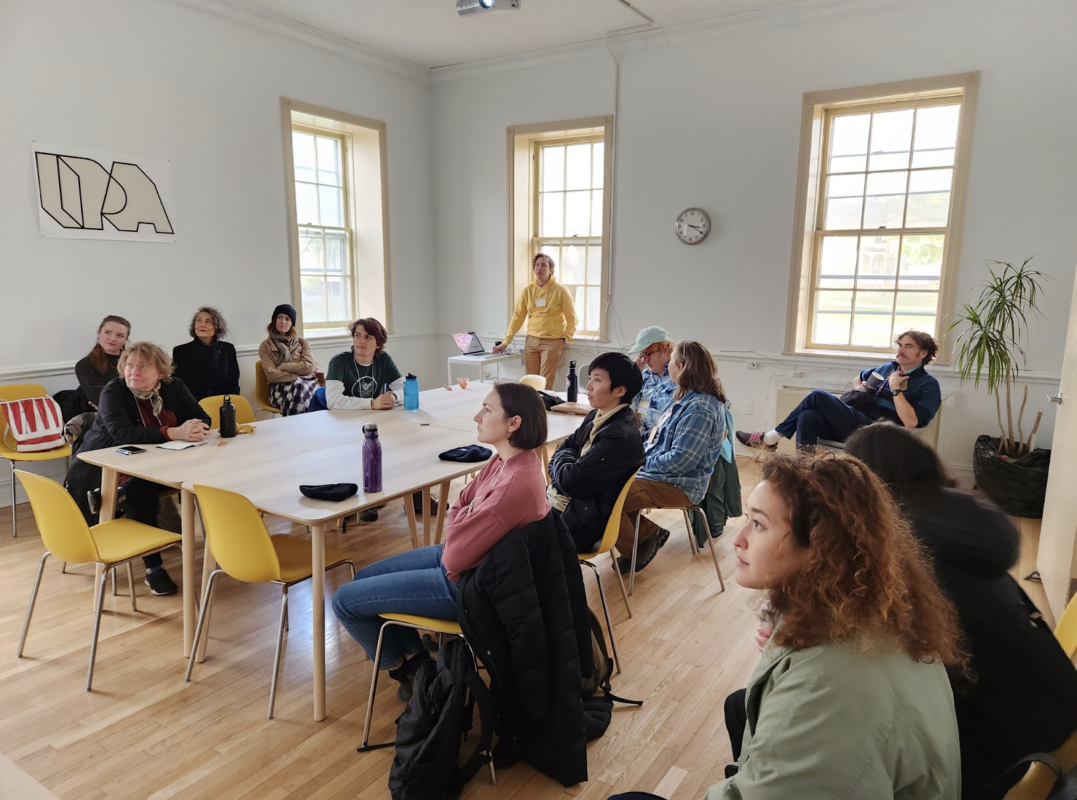 ---
Street Lab deploys its pop-up interventions in hot, summer street environments. Given the context of pipeless water infrastructure, what novel opportunities for incorporating water into the city scape might be possible? How does water actually move through the urban ecosystem? Can that be challenged, and leveraged, to create cooler city-scapes? How can street cooling move beyond cracking the fire hydrant open? What can informal infrastructures teach?
Co-hosted by Flourish Lab and Street Lab, October 26th 10am – 2pm.
---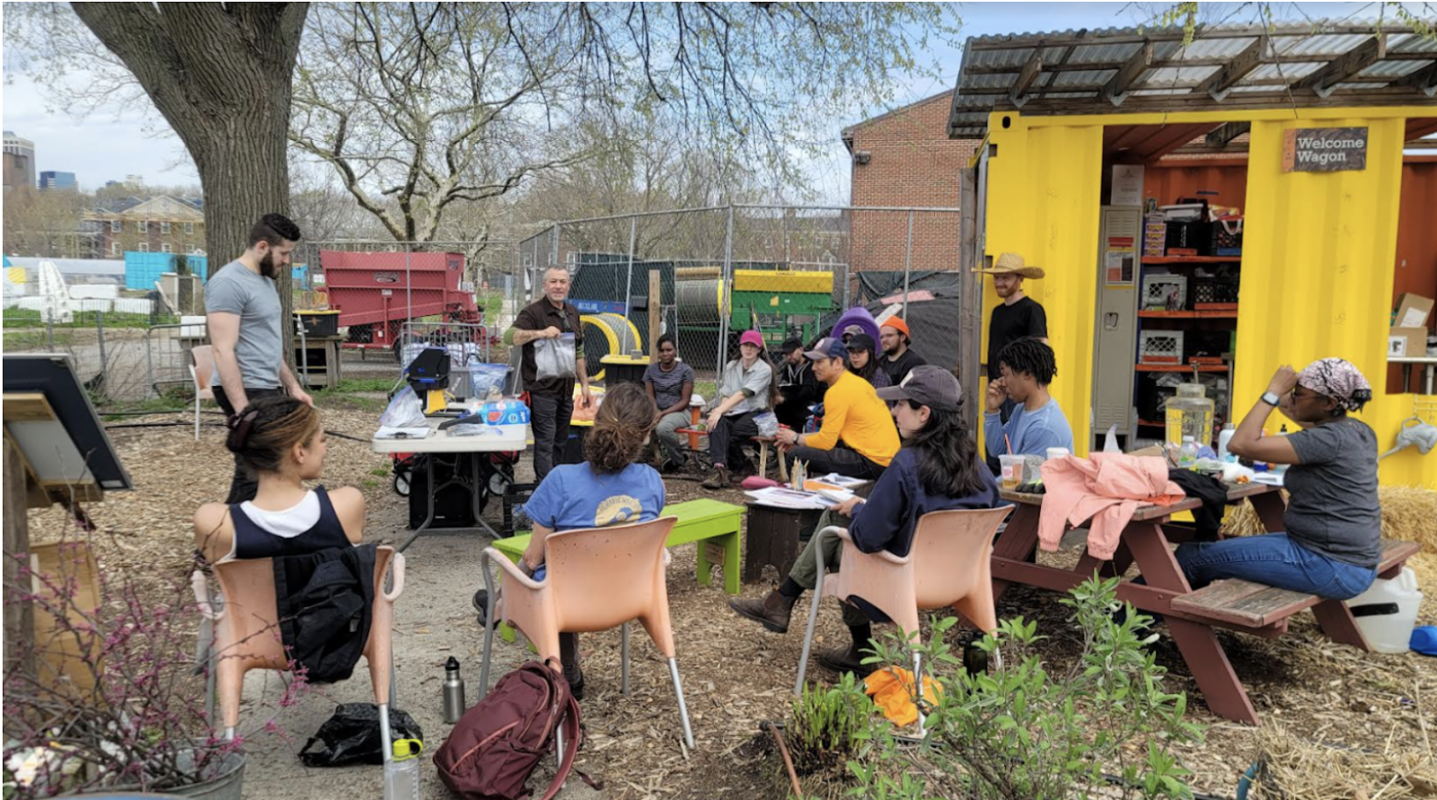 ---
Natural Filtration Workshop. Participatory design workshops focused on the design of green infrastructure technologies in order to pilot a filtration network with a system of living aquifers, constructed from the city's waste construction materials.
At Swale Lab on Governors Island. October 24th – 30th.
---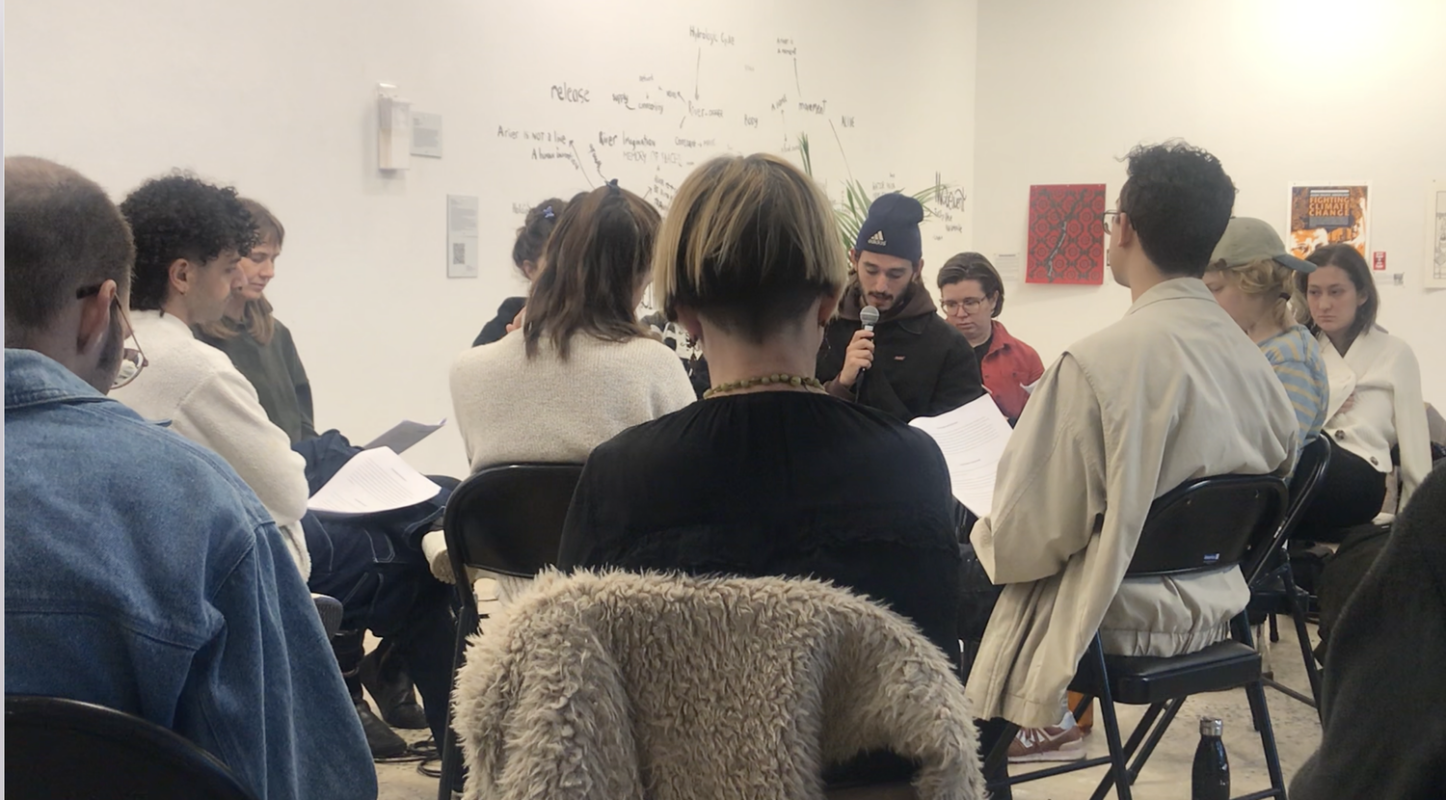 Have You Ever Felt Overwhelmed? is a participatory performance and collaboration between students participating in 'Ecological Turn' a class led by Mary Mattingly, visitors, and artist Amy Howden-Chapman and her ongoing performance series: Have You Ever Felt Overwhelmed? The work takes interviews with climate professionals as the material for a performance that explores the feelings of exhaustion, consternation, and sorrow that the climate crisis inspires. Documenting the perseverance of individuals committed to tackling this crisis, it also models possibilities for action.
Friday, October 21st at 5pm.
---
Hydrocommons, photo: Mary Mattingly; artist
---
Hydrocommons. Artists sTo Len and Betsy Damon in conversation about art and water. At Pratt Institute's Dekalb Gallery, live streamed at GreenBox @ WhiteBox Art Space in the LES.
Thursday October 13th 6 – 7:30pm
---
Water Time with Esteban Gaspar Silva, photo and video: Mary Mattingly
---
Water Time. A sonic meditation on water across the East River. Esteban Gaspar Silva plays an upright bass and generative music, balancing it with the sounds from a sculptural water clock. At Dekalb Gallery and live streamed at GreenBox @ WhiteBox Art Space in the LES.
Tuesday, October 11th at 6:00pm
---
Natural Dyes and Lake Pigments with Natalie Stopka, photos: Mary Mattingly
---
Natural Dyes and Lake Pigments. Natalie Stopka on making lake pigments and natural dyes. At Dekalb Gallery, Pratt Institute in Brooklyn. Thursday September 29th, 11am – 1pm
---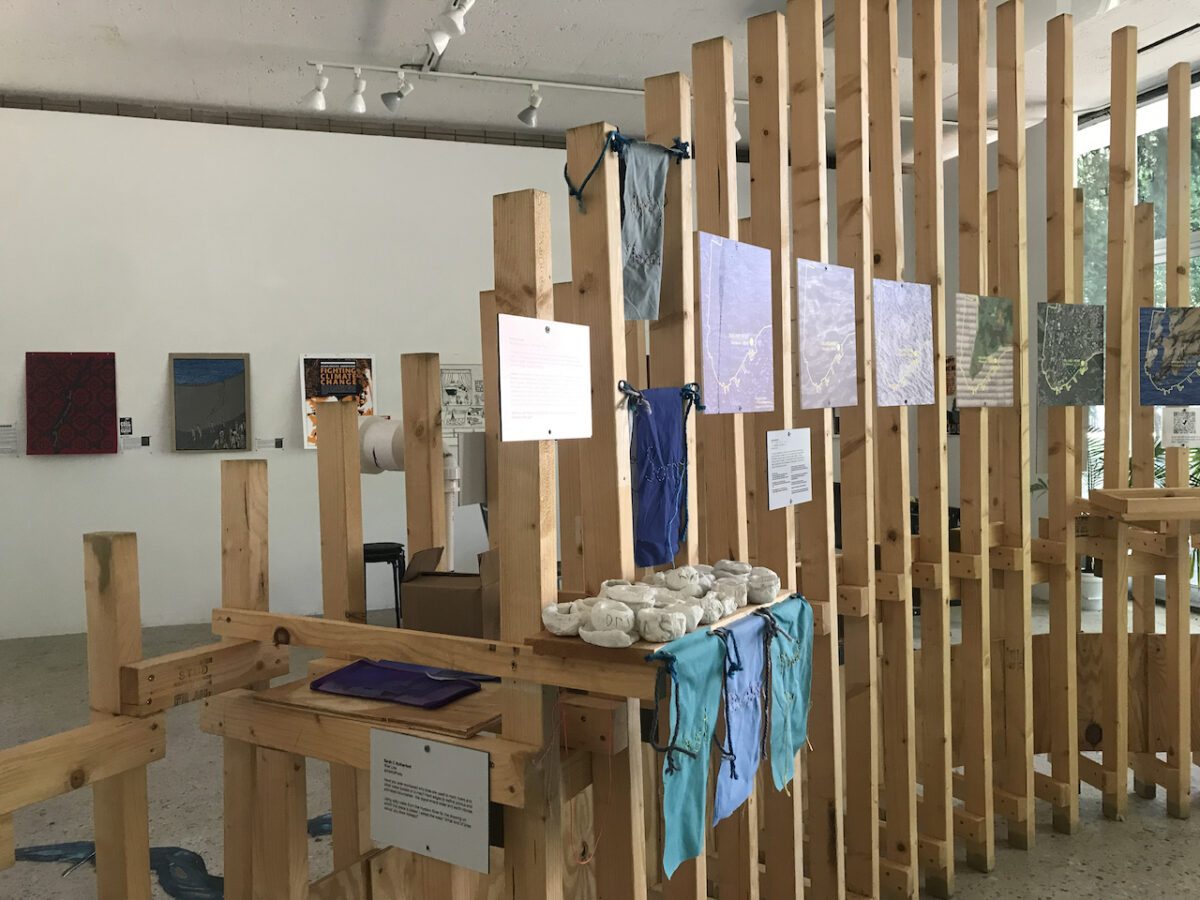 ---