In response to the COVID-19 pandemic, changes to normal campus access have been instituted to ensure the safety of the campus community and to comply with state and local guidelines. Until further notice, the Photography Gallery is open and accessible only to current registered students, faculty, and staff. Please wear a face covering and practice social distancing.
Please click here to view the current exhibition.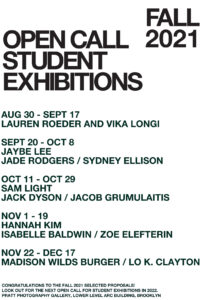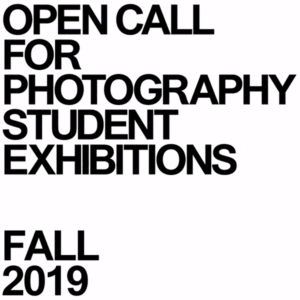 Past Exhibitions
---
Innamorato
September 29–December 14, 2018Pratt Photography Gallery
200 Willoughby Ave, Lower Level ARC Building
Brooklyn, NY 11205
Gallery hours: Monday–Friday, 11 AM–5 PM
Opening reception: Wednesday, October 3, 6–8 PM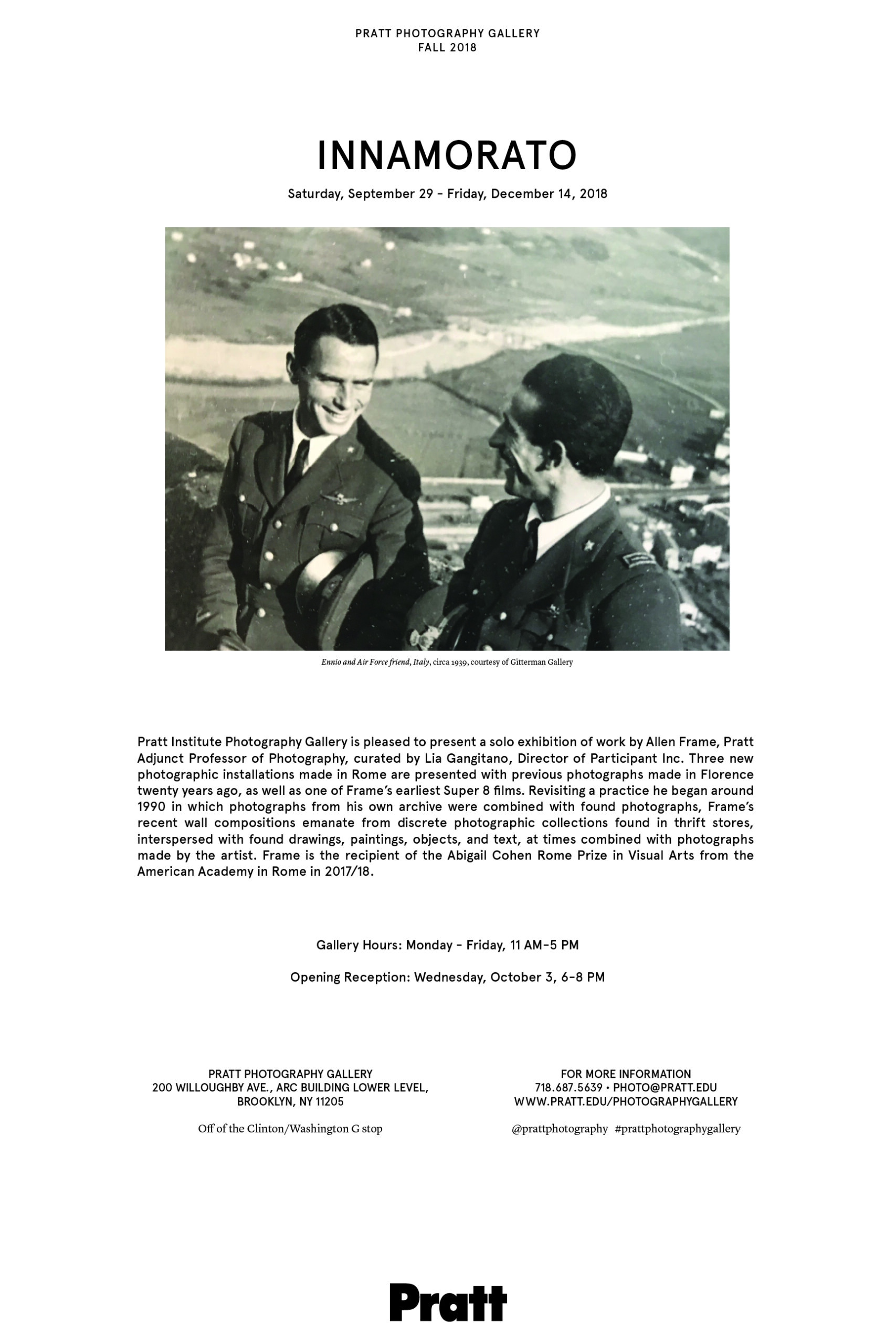 Pratt Institute Photography Gallery is pleased to present a solo exhibition of work by Allen Frame, Pratt Adjunct Professor of Photography, curated by Lia Gangitano, Director of Participant Inc. Three new photographic installations made in Rome are presented with previous photographs made in Florence twenty years ago, as well as one of Frame's earliest Super 8 films. Revisiting a practice he began around 1990 in which photographs from his own archive were combined with found photographs, Frame's recent wall compositions emanate from discrete photographic collections found in thrift stores, interspersed with found drawings, paintings, objects, and text, at times combined with photographs made by the artist. Frame is the recipient of the Abigail Cohen Rome Prize in Visual Arts from the American Academy in Rome in 2017/18.
In new large-scale pieces, Frame explores personal narratives imbedded in found images and adds to them in different ways, from interjecting literary texts, with Ennio (2018); to bringing a set of photos from the 1950s into the present by photographing people who may or may not be the same characters today, with Two Sisters in Rome (2018). Ennio assembles over fifty pictures of one family in Italy in the late 1930s, centered on the oldest brother, an air force pilot, his sister, and a man with whom they both appear close. Interspersed among them are text excerpts, written by hand, from the Italian translation of William Faulkner's Absalom, Absalom, which tells the story of a brother and sister during the 1860s in Mississippi, and a stranger from New Orleans with whom they are both in love–tying together the Italian Mussolini-era family pictures and the Faulkner Civil-War characters with the presence of a romantic triangle. Ennio is accompanied by a series of seven recently printed portraits by Frame from negatives found with the photographs. Frame has noted: "In this piece and others made over the last year, there is a relationship between a sprawling, epic form and an intimate, personal narrative." The inclusion of Frame's early Super 8 film portrait of his childhood friend Barry, made in Mississippi when they were 19, creates another connection between Faulkner's homoerotic Southern narrative and Frame's Ennio.
Image: Ennio and Air Force friend, Italy, circa 1939, courtesy of Gitterman Gallery
---
Grass of Memory
PRATT PHOTOGRAPHY FACULTY & STAFF EXHIBITION
Location: Pratt Photography Gallery
Show Dates: August 20–September 20, 2018
Gallery Hours: Monday–Friday, 11 AM–5 PM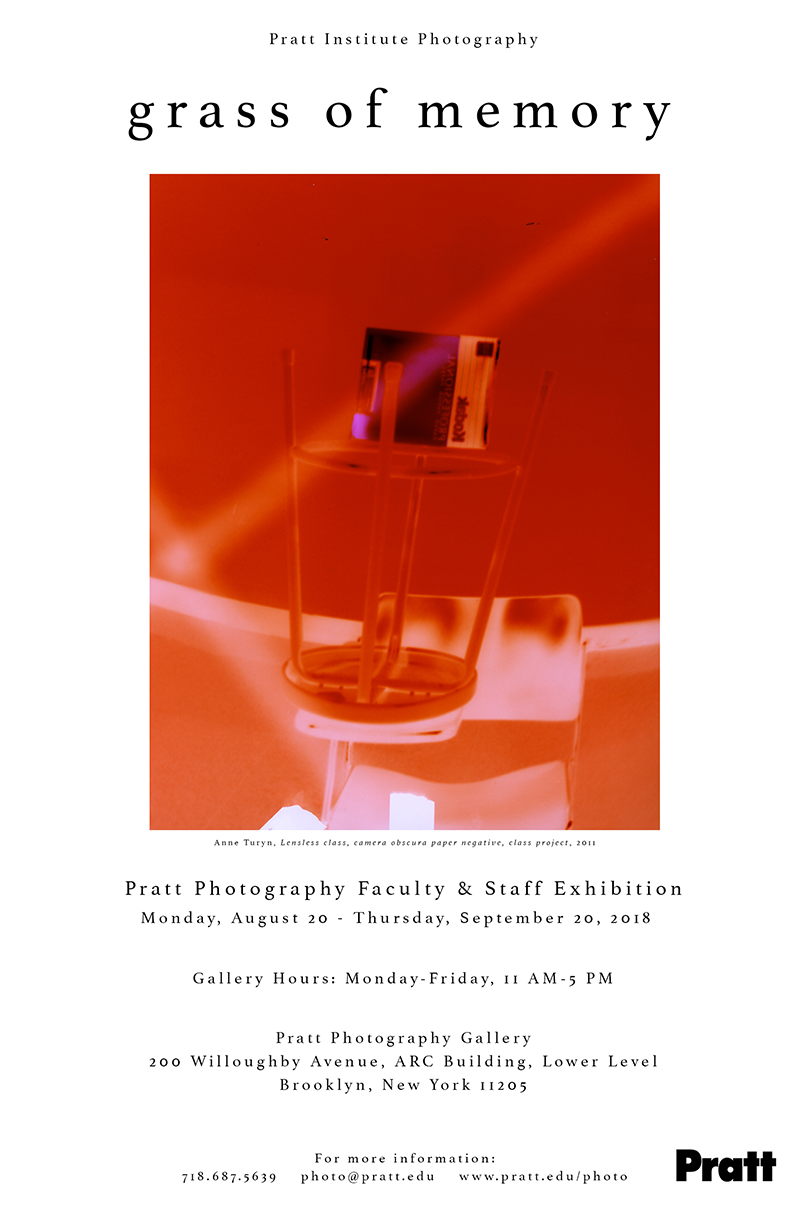 This year, the Pratt Photography Gallery presents Grass of Memory, an exhibition of work from faculty and staff of the Photography Department. The works included in this year's exhibition examine flatness and space, identity and anonymity, the many and the few. Walls are made of cinder block, or dense tree branches, or empty storefronts, or impenetrable stacks of tires. Figures are isolated, even in groups. There is joy here, but also coldness, dislocation, nihilism. These works often occur in disintegrated space, fragments of lives lived, echoes of bodies, rootlessness. We, as viewers, bear witness to time's lightning passage as well as instants that are boundless; these images are, at once, static and infinitely moving. We see, within these variegated visual diaries, hints of remembered moments, shadows of lives having passed, permanent yet fleeting. These "archaic traces" will collapse, folded comfortably (or uneasily) into the dizzy fury of time.
The works in this exhibition speak to a relentless questioning of time's fabric, of the uneasiness of our current slice of history, politics and identity, with media that comprise video and gif; inkjet, silver gelatin and chromogenic print; as well as alternative process and embroidery.
---
Vinculado (Linked)
LOCATION: PRATT PHOTOGRAPHY GALLERY
SHOW DATES: MAY 2–16, 2018
RECEPTION: WEDNESDAY, MAY 2, 5-7 PM
GALLERY HOURS: MONDAY–FRIDAY 11 AM-5 PM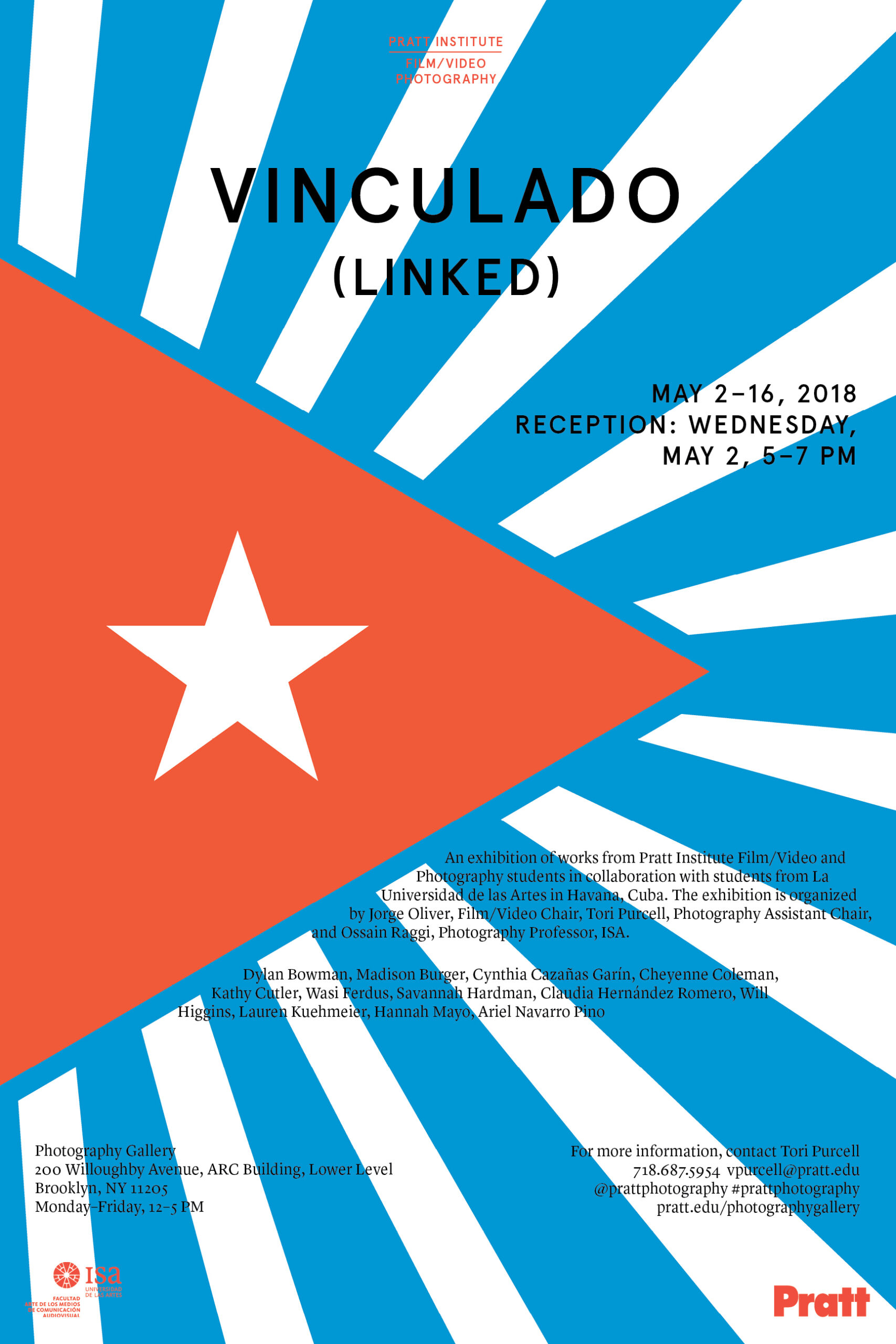 An exhibition of works from Pratt Institute Film/Video and Photography students in collaboration with students from La Universidad de las Artes in Havana, Cuba. The exhibition is curated by Jorge liver, Film/Video Chair, and Tori Purcell, Photography Assistant Chair.
Looking at the impact of the Cuban Revolution and the U.S. Embargo on Cuba's social, cultural, and economic development, the student work reflects contemporary life in Havana.
For more information please contact the Photography Department:
718.687.5639
photo@pratt.edu
---
THE NAMING OF THINGS
SELECTIONS FROM THE NYPL PICTURE COLLECTION
LOCATION: PRATT PHOTOGRAPHY GALLERY
ARC BUILDING LOWER LEVEL, BROOKLYN CAMPUS
SHOW DATES: THURSDAY, OCTOBER 5–FRIDAY, DECEMBER 15, 2017
RECEPTION: THURSDAY, OCTOBER 5, 6–8 PM
GALLERY HOURS: MONDAY–FRIDAY 11 AM-5 PM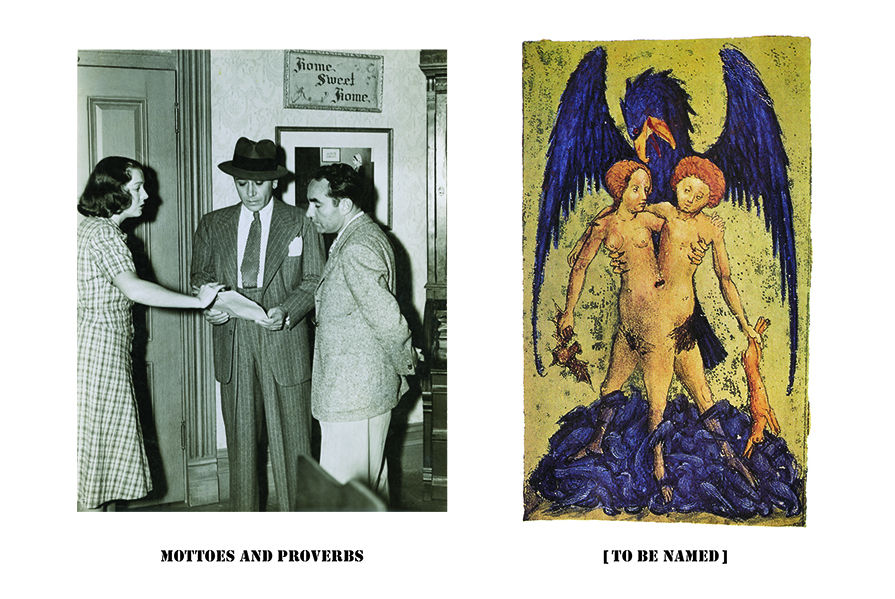 Consider how pictures function in our culture, how we define them, and how others react to the words we ascribe to them. A two-part interactive exhibition organized by Pratt Institute students that showcases the nature of the cataloging process at the New York Public Library's Picture Collection, with an interactive gallery in which audience members can try their hand at cataloguing objects on display.
Curated by Pratt Institute students and alumni Ethan Kell, Jingqi Liu, Abbi Newfeld, Sam O'Neill, and Caroline Sartono in collaboration with Adjunct Associate Professor Peter Kayafas.
For more information please contact the Photography Department:
718.687.5639
photo@pratt.edu
Press
---
ALL THE DISTANCE
LOCATION: PRATT PHOTOGRAPHY GALLERY
SHOW DATES: MONDAY, AUGUST 21–FRIDAY, SEPTEMBER 22, 2017
RECEPTION: WEDNESDAY, AUGUST 30, 2017, 6-8 PM
GALLERY HOURS: MONDAY–FRIDAY 11 AM-5 PM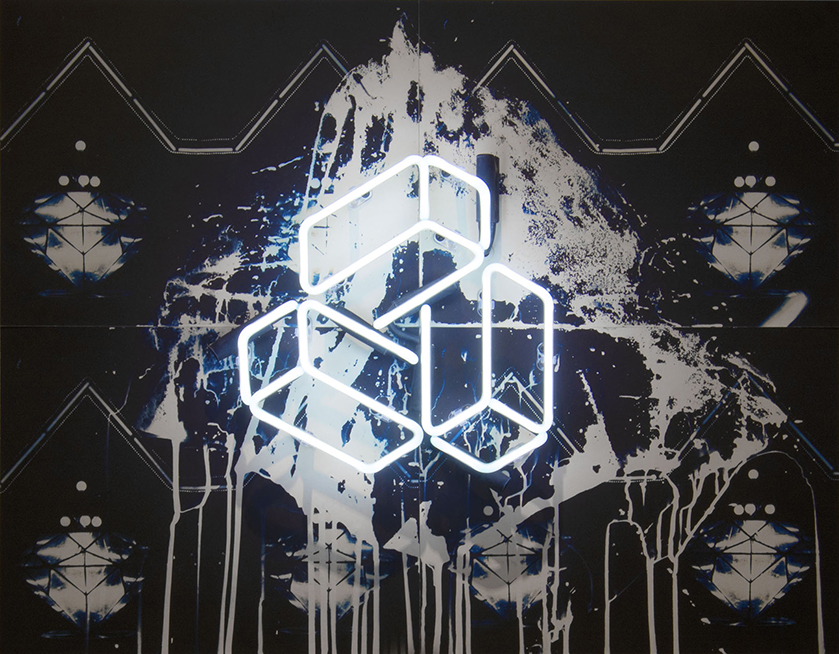 The Pratt Photography Gallery opens the semester with All the Distance, an exhibition of works from the Pratt Photography Department faculty. The widely varied work included in the exhibition represents the diversity of our faculty in terms of subject and medium, including analog and digital color prints, silver gelatin and platinum/palladium prints, video, and photographic sculpture. Spanning several decades, the works characterize the possibilities within continually evolving lens-based media. What emerges from the rich history of photography via its various techniques and applications can appear initially heterogeneous and far-flung, but there is also a coziness there, a familiarity, a common set of ancestors. Here, we move beyond the present, into both digital and analogue spaces, collapsing history. Here, we sit face to face with the medium and its many branches and directions. Here, past and present are an accordion that converges across that distance. All of this may happen in the open space that is "photography."
---
CAMINOS DE LA HABANA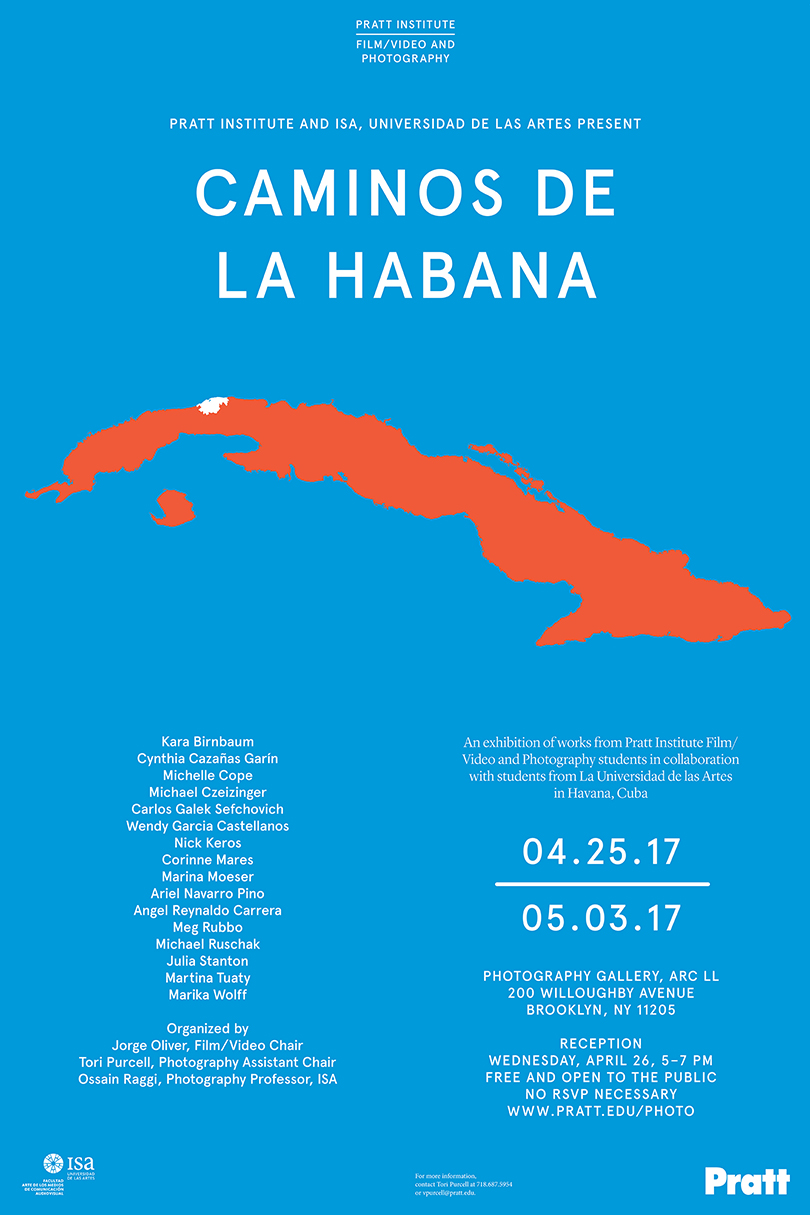 Caminos de La Habana is an exhibition of works from Pratt Institute Film/Video and Photography students in collaboration with students from La Universidad de Las Artes in Havana, Cuba.
---
A HANDFUL OF DUST
THURSDAY, SEPTEMBER 15–FRIDAY, DECEMBER 2, 2016
OPENING: WEDNESDAY, SEPTEMBER 14, 2016, 8 PM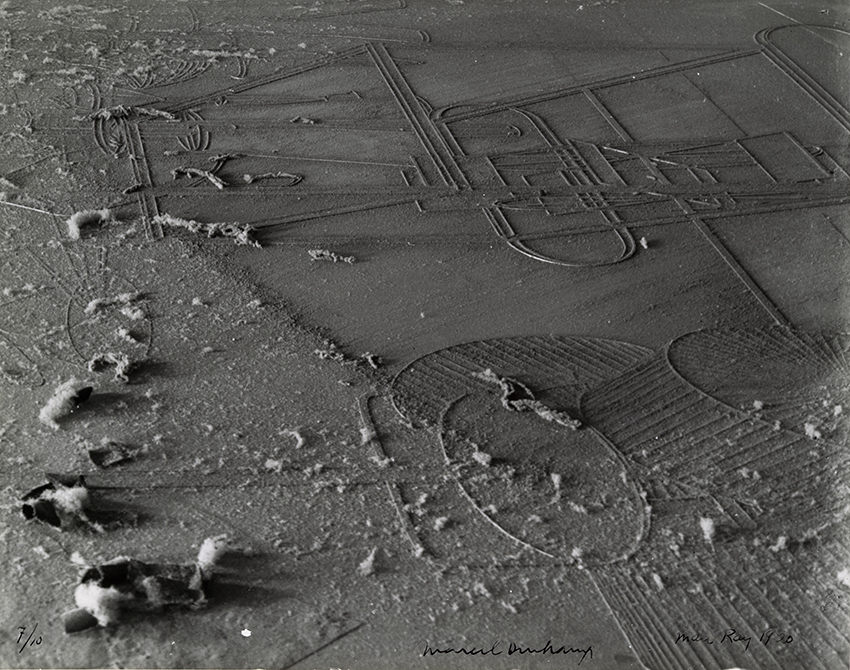 Location: Pratt Photography Gallery, Lower Level ARC Building, Brooklyn Campus
Gallery Hours: Monday–Friday, 12:30 PM–5 PM, open for class visits
a Handful of Dust is David Campany's speculative history of the last century, and a visual journey through some of its most unlikely imagery.
Let's suppose the modern era begins in October of 1922. A little French avant-garde journal publishes a photograph of a sheet of glass covered in dust. The photographer is Man Ray, the glass is by Marcel Duchamp. At first they call it a "view from an aeroplane." Then they title it Dust Breeding. It's abstract, it's realist. It's an artwork, it's a document. It's obscure but strangely compelling. Cameras must be kept away from dust but they find it highly photogenic. At the very same time, TS Eliot publishes the great modern poem "The Waste Land": "I will show you fear in a handful of dust." The exhibition's connections range far and wide, from aerial reconnaissance and the American dustbowl to the Middle East via conceptual art, landscape photography, still life imagery, scientific imaging, and police files.
a Handful of Dust includes works by Man Ray, John Divola, Walker Evans, Edward Ruscha, Frederick Sommer, Wols, Sophie Ristelhueber, Robert Burley, Jeff Mermelstein, Bruce Nauman, Aaron Siskind, and Jeff Wall.
The exhibition originated at Le Bal, Paris, continues at the Pratt Photography Gallery and then travels to Whitechapel Gallery, London; and the Moderna Museet, Stockholm. MACK Books published a Handful of Dust by David Campany in 2015.
Co-sponsored by the Photo League, Pratt Institute Libraries, and the School of Art
Image: Man Ray / Marcel Duchamp, Levage de poussire, (Dust Breeding) 1920, printed 1964.
© Succession Marcel Duchamp / ADAGP, Paris / Artists Rights Society (ARS), New York 2016
© Man Ray Trust / Artists Rights Society (ARS), NY / ADAGP, Paris 2016
Press
The New York Times
Collector Daily
L'Oeil de La Photographie
Wall Street Journal
Time Magazine
Paris Photo
---
THE PURE PRODUCTS OF AMERICA GO CRAZY
OCTOBER 7–NOVEMBER 20, 2015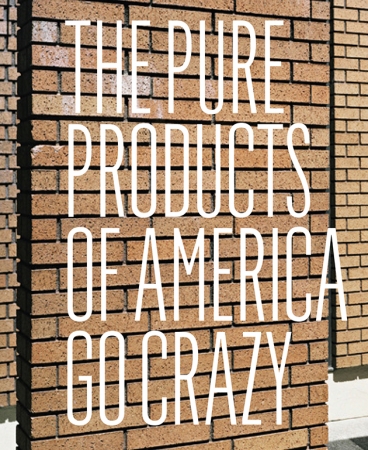 This extraordinary exhibition was curated by Joshua Chuang and features contemporary artists Lucas Blalock, Owen Kydd, and John Lehr along side Harry Callahan, Walker Evans, Jan Groover, Arnold Newman, Paul Outerbridge, Jr., Aaron Siskind, Sandy Skoglund, and Frederick Sommer. This exhibition, whose title derives from a 1923 poem by William Carlos Williams, assumes the form of a running dialogue between photographic images—past and present—that take as their subject the accumulated byproducts of an American way of life.
Lucas Blalock was born in Asheville, North Carolina in 1978. Like many studio-based photographers today, he records his pictures on film with a view camera and processes them in Photoshop. Instead of being a routine stage of predetermined refinement however, digital post-production for Blalock is an arena for overt acts of whimsy and destabilization. Blalock is featured in the exhibition "Ocean of Images: New Photography 2015" at the Museum of Modern Art. He is represented by Ramiken Crucible.
Owen Kydd was born in Calgary, Alberta, Canada in 1975. Kydd has referred to his pictures as "durational photographs." Made with the digital camera's video function and displayed on high-definition LED monitors typically used for commercial signage, Kydd's perpetually-looping photographic videos untether photography's association with discrete time while taking advantage of the medium's ability to describe the world with compelling precision. Kydd, who has been nominated for the 2015 Aimia | AGO Photography Prize, is currently the subject of a solo exhibition at the Montreal Museum of Fine Art. He is represented by the Nicelle Beauchene Gallery.
John Lehr was born in Baltimore, Maryland in 1975. Lehr examines urban surfaces and facades with tripod-mounted cameras. The wealth of detail available to him in the digital files he creates is then dissected, subtly amplified, or toned down in the computer to create seamless pictures that oscillate between reality and hallucination. He often prints his work at exactly the same size as the original subject, resulting in photographic objects that present a hyper-realized proposition of reality even as they refer back to an actual space and time. Lehr is represented by the Kate Werble Gallery. He is an Assistant Professor of Photography at Pratt Institute.
Joshua Chuang is the Chief Curator at the Center for Creative Photography in Tucson, Arizona. Previously he served as the Richard Benson Associate Curator of Photography and Digital Media at the Yale University Art Gallery, where he organized the exhibitions "Robert Adams: The Place We Live," "First Doubt: Optical Confusion in Modern Photography," and "Art for Yale: Collecting for a New Century." He has also co-edited and produced more than a dozen artist monographs, including those by Robert Adams, Lee Friedlander, Judith Joy Ross, and Mark Ruwedel.
---
LYNN SAVILLE DARK CITY
AUGUST 21–OCTOBER 2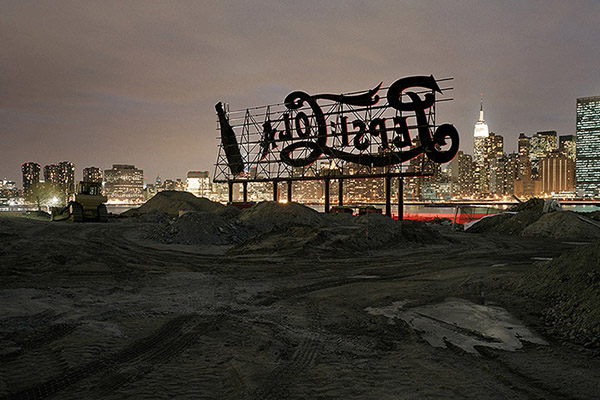 Pepsi-Cola Sign, 2008
Dark City features photographs from Lynn Saville's three monographs Acquainted with the Night (Rizzoli, 1997), Night/Shift (Monacelli, 2009), and Dark City (Damiani, 2015), each of which depicts American cities at night and what the artist describes as, "the boundary times between night and day." The retrospective exhibition depicts three decades of the artist's nocturnes with an emphasis on photographs made in Greater New York.
Lynn Saville's photographs have been widely exhibited in the U.S. and abroad. Saville has won a number of awards, including fellowships from The New York Foundation for the Arts and The New York State Council for the Arts; a Premio in the Scanno, Italy, Festival of Photography; and First Place in the Architecture category, Women in Photography International.
Lynn Saville was educated at Duke University and Pratt Institute, where she received her M.F.A. in Photography in 1976.
Press
---