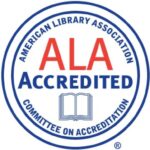 The MSLIS program at Pratt Institute is accredited by the American Library Association (ALA) with the status of Continued accreditation. The ALA Committee on Accreditation conducts comprehensive reviews of LIS programs on a seven year rotating schedule, with the next comprehensive review of Pratt's MSLIS scheduled for fall 2024.
To be ALA-accredited, all LIS programs must demonstrate that they meet or exceed standards. Pratt's MSLIS program has been continuously accredited since 1924/25 when ALA first began accrediting LIS programs.
The ALA COA is recognized by the Council for Higher Education Accreditation (CHEA) as the authority for assessing the quality of education offered by graduate programs in LIS.