Carry out art historical research; apply the theories, research, and practice of information science; design digital libraries, archives, and exhibitions; and communicate content effectively and creatively in the arts across diverse cultures and societies.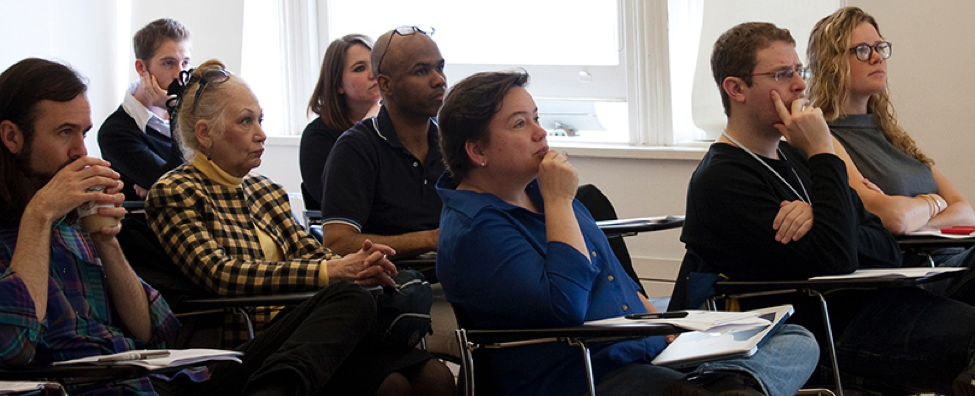 Linked with Pratt's History of Art and Design department on the Brooklyn campus, the MSLIS/MA History of Art and Design dual degree program prepares students for careers in art, museum, and academic libraries. With courses and internships taking place at NYC's leading museums, libraries, and archives, such as Brooklyn Museum, the Guggenheim Museum, and The Metropolitan Museum of Art, the dual degree program offers unique opportunities for experiential learning.
This 60-credit dual degree program is ideal for students interested in pursuing careers in academic and museum libraries, as having the MSLIS and a subject master's represents the standard requirement for these fields. Graduates of the dual degree program have secured positions with leading educational and cultural institutions such as: the New York Public Library; Bard College Library; Cooper-Hewitt Library; Art Institute of Chicago; Princeton University; and East Asian Library, Columbia University.
Dual Degree Requirements
This program consists of 30 credits at the School of Information and 30 credits at the History of Art and Design Department (HAD) for a total of 60 credits, which must be completed with a B average or better. Students in the dual-degree program generally take one or two classes in each program per semester (3–4 courses, 9-12 credits). The average time for degree completion is three years.
Master of Science, Library and Information Science (10 Courses, 30 Credits)
Foundation (1 course, 3 credits)
MSLIS Core (3 courses, 9 credits)
*INFO 654 is required but may be waived for students with have sufficient technical knowledge and/or experience; for more information please visit the Information Technologies course waiver page.
Electives (6 courses, 18 credits)
In addition to the four core courses, six school-wide electives are also required. Below is a sampling of elective courses that may be of particular interest to students in the MSLIS/MS History of Art and Design dual degree program.
Master of Arts, History of Art and Design
HAD Core (2 courses, 6 credits)
Electives (8 courses, 24 credits)
Elective courses must meet each of the distribution requirement fields (Note: a course may fulfill more than one requirement):
Film, Design or Photography
Non-Western art and history
Architecture
Non-Western art and history
Renaissance or Baroque
19th, 20th, or 21st Centuries
Advanced Certificates
This dual degree can be completed while earning any of the following advanced certificates:
Admissions
Applicants must submit one application to the dual degree, and will be evaluated by both departments. Those accepted to the dual degree will receive a single letter signed by both departments. If only accepted to one of the programs, students will receive a letter for the stand-alone program signed only by the relevant department. Application may be made initially to the dual degree program or to one of the two programs, with later application to the other provided that the student has not yet graduated from the first program entered. Please note that the dual degree programs only accept students for fall matriculation.
We are pleased to announce that because of generous funding from the Hauser & Wirth Institute, we are able to offer a 3-year full scholarship (tuition and fees) to an incoming student to the dual-degree MS Library and Information Science and MA History of Art and Design program beginning in fall 2023.  To be considered, please apply by January 5th, 2023.  BIPOC candidates are especially encouraged to apply as the scholarship intends to support diversity in the field. For questions, please contact Dean Cocciolo.
---
Questions? For admissions inquiries, please contact Graduate Admissions at 718.636.3514 or admissions@pratt.edu. For all other inquiries, contact the School of Information at 212.647.7682 / si@pratt.edu or the Department of History of Art and Design at 718.636.3598 / had@pratt.edu. For more information, you may also request a catalog and sign-up to attend an information session.