When Pratt Institute's library opened on its Brooklyn campus in 1896, it included a children's room, the first to be part of a library's design. Since then, children's and youth librarianship has been a focus of Pratt's education and community engagement, with current initiatives including a program involving teenagers at public libraries in New York City in issues impacting them, specifically data literacy in the age of social media.
A History of Library Access for All Ages
Library Director Mary Wright Plummer wanted Pratt's library to be welcoming to everyone in Brooklyn, including local children, who were often not allowed in libraries. The children's room had its own entrance through a 1912 portico on the south side of the building. It was inspired by a 12th-century staircase at the King's School at Canterbury Cathedral and is now located outside the Activities Resource Center (ARC). Inside what was then known as the Pratt Institute Free Library—the first free public library in Brooklyn—children could read books from a collection devoted to young readers and attend story hours. They had their own space that could be livelier than the rest of the library and knew that all the books on the shelves were for them. Pratt's Library School offered training for children's librarians, which included the study of methods of children's libraries and children's books, and observation in the children's room.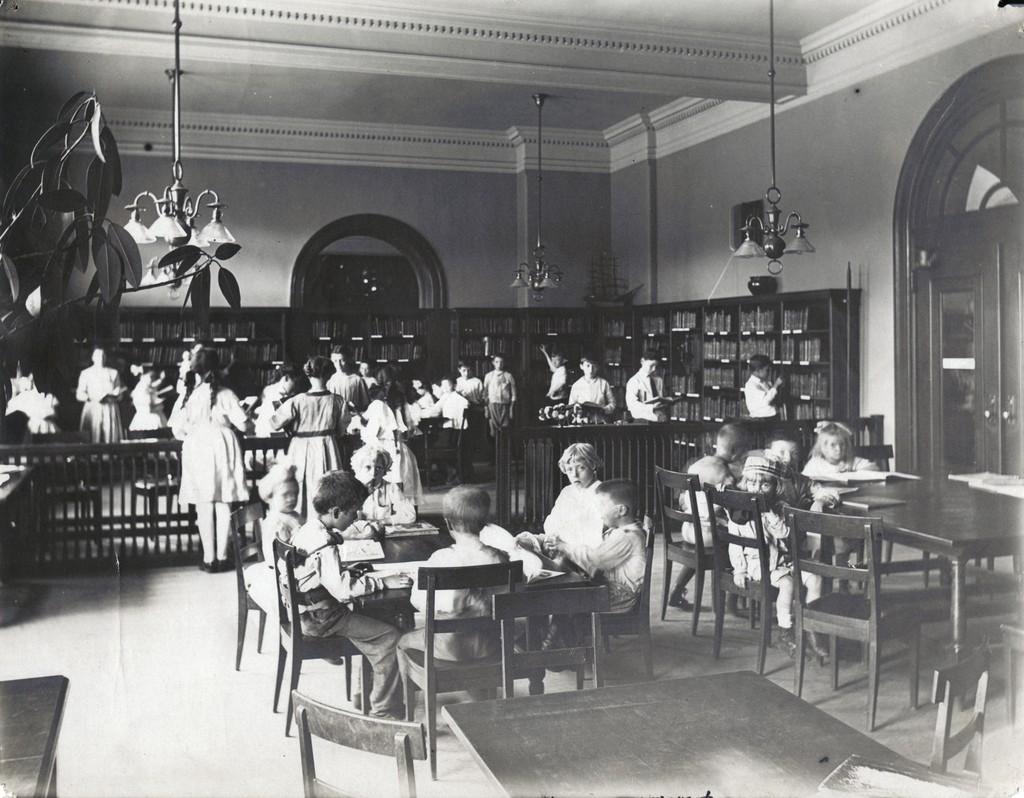 Anne Carroll Moore, who had studied at Pratt, was asked by Plummer to work on designing the children's room and overseeing its services. She would go on to help set up the children's rooms at several branches of the New York Public Library, giving special attention to acquiring books in diverse languages for children in immigrant communities. She was avid in supporting literacy, including sharing the joy of reading through storytelling and improving the quality of children's books, even authoring some herself, and is considered a foundational leader in children's librarianship.
Sydni Meyer, MSLIS '21, wrote a paper on the "History of Children's Library Services at Pratt Institute" while at Pratt that examines Moore's approach to children's librarianship.
"Using the children's room in Pratt's Brooklyn library as an educational space for library students and children alike, Moore believed that children's librarians should frame their work around the relationship between children, books, and images," Meyer said. "Under Moore's leadership, library students started collaborating more closely with Pratt's kindergarten department, leading to library courses in natural science to stoke questions about the world around the library."
A New Century of Libraries for Youth
Pratt's Master of Science in Library and Information Science (MSLIS) program continues to train the next generation of librarians with courses in children's and young adult services. The program is accredited by the American Library Association (ALA) and guided by the competencies outlined by the Association for Library Services to Children (ALSC) and the Young Adult Library Services Association (YALSA). There is a new fellowship in children's and young adult services with the Brooklyn Public Library and other initiatives continuing to expand the engagement with the MSLIS program and area libraries.
Just as the children's room at Pratt empowered young readers to discover books and explore their own interests, the ongoing research, teaching, and learning around librarianship approaches 21st-century issues through thoughtful collaboration. Currently, the "Data Literacy with, for, and by Youth: Exploring How Teens Co-Design After-School Programs as Sites of Critical Data Practice" project led by Leanne Bowler, professor in the School of Information, and her colleagues Irene Lopatovska, associate professor in the School of Information, and Associate Professor of Math and Science Mark Rosin, is working with teens and staff from public libraries in New York City to engage young people in data literacy. The project, funded by the National Science Foundation, begins with the recognition that today's youth generate more data than ever before through social media and other online platforms and that libraries can play a role in raising awareness about how personal data can be collected, tracked, analyzed, and often monetized.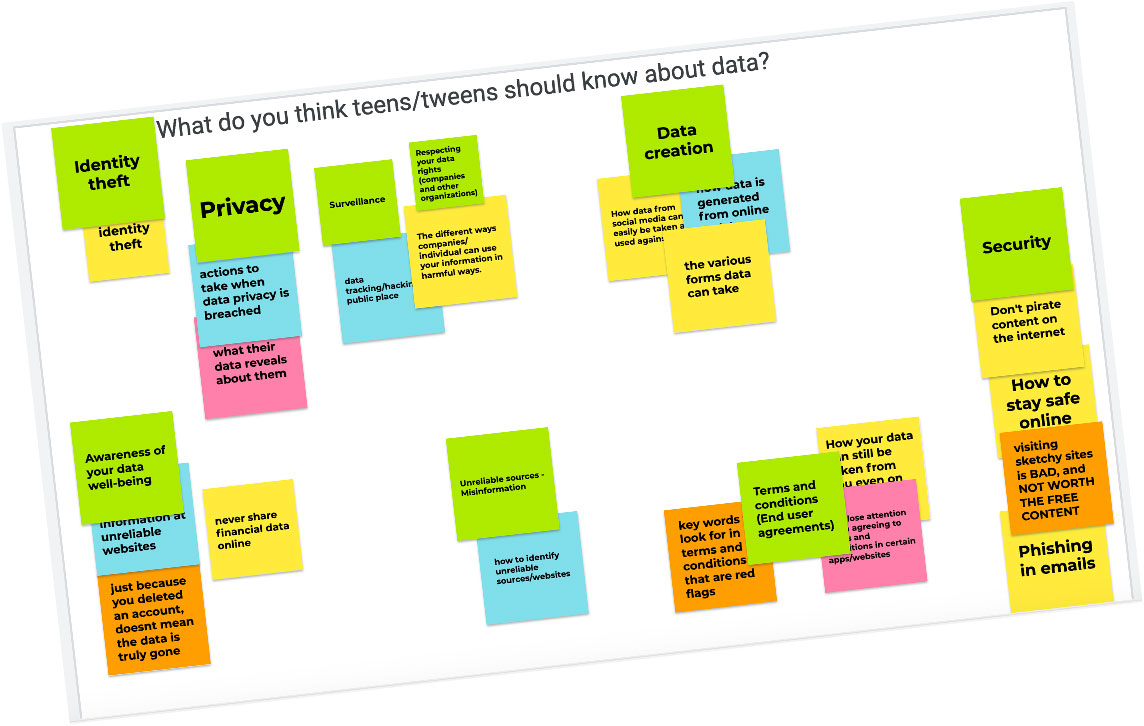 "Young people are growing up in a data-driven world and the effect of mass data collection on the development of young people is still unknown, particularly in the areas of privacy, identity development, learning, self-efficacy, and individual freedom," Bowler said. "This raises ethical, civic, and legal issues that need to be addressed. In the meantime, we think that raising data awareness in young people, helping them understand the uses of data in their lives, at both a personal and community level, and giving them some data skills, is a form of empowerment."
Working with the active participation of teenagers, the team—which includes MSLIS students from the School of Information—is creating prototypes for youth-oriented data literacy activities that could be used in after-school STEM programs at the public libraries. This winter, they launched a third series of data labs focused on civic data using the NYC Open Data repository. Later in the spring, they are planning to run another series with a different theme.
"We see that when learning about data in an after-school environment, the emphasis has to be on fun," Bowler said. "The teens working with us have recommended hands-on, creative activities where they can work with other teens toward a goal. They don't want a math or statistics class at the library."
Children's and youth library services have now been a part of Pratt for over 120 years. As new leaders graduate into the field, they will continue to find innovative ways to enrich libraries as places of reading and information that are open to everyone at every age and support their needs.