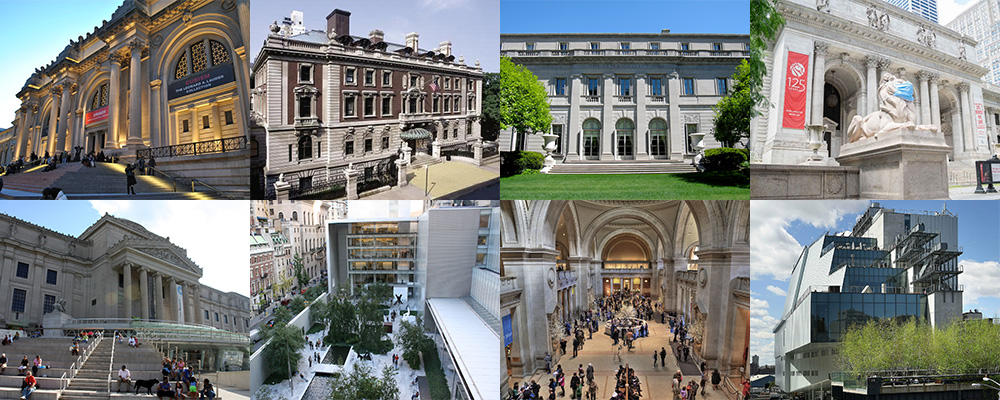 Our fellowship program supports two-semester practicum-internships designed to provide students exceptional professional-level experience in NYC's world-class institutions.
Fellowship recipients for academic year 2021/2022 include:
Brooklyn Public Library Children's/Young Adult Services Fellowship – Brianna Stamm
Brooklyn Public Library Center for Brooklyn History User Services Fellowship – Althea Meer
FIT SUNY Library College Archives Fellowship – Elizabeth George
Franklin Furnace Fellowship – Anna Jacobson
Frick Library Fellowship – Ellis Mikelic & Anna Collins
LGBT Community Center National History Archives Fellowship – Jacqueline Rodriguez
Lesbian Herstory Archives Fellowship – Bonnie Whitehouse
Met Museum Watson Library Fellowship – Ever Sugarman & Carol Choi
MoMA Library Fellowship – Maya Lekach
MoMA Linked Open Data Fellowship – Allysha Leonard
Cooper Hewitt Smithsonian Design Museum UX Fellowship – Annamika Menon
Met Museum Digital UX Fellowship – Lillian Yang
Met Museum Data Analysis & Visualization for Collections Information – Jiacheng Chen
Pratt Center Mapping, Data Analysis & Visualization Fellowship – Ziqi Wang
Whitney Museum Collection Information & Data Fellowship – Anna Short
Brooklyn Museum Visitor Experience & Engagement Fellowship – Van Nguyen
New York Public Library Digital Archives Fellowships – Kc Stanziano
Past recipients can be found in our newsletter: 2021/2022, 2020/2021, 2019/2020 and 2018/2019.
Our fellowship program is made possible through donations from our generous community and occasional grants. Supporters include:
Dorothy M. Cooper Endowed Scholarship Fund
Morton D. Flaum Memorial Scholarship
Ford-EEOC Scholarship
Bogardus Scholarship
Scilken Endowed Scholarship
Hoffman Scholarship Fund
Library School Graduate Association Scholarship
Hart Scholarship
Carnegie Corporation of New York
Donors to the Fund for Pratt: School of Information
The Institute of Museum and Library Services (grant #s: ARPML-250555-OMLS-22, RE-71-12-0023-12, RE-01-08-0012-08, RE-01-10-0018-10, RE-01-05-0036-05)
Application Information
Students can apply for the fellowship program starting in their second semester of study. Partnering with NYC museums, libraries, and other institutions, we offer students fellowships that support tuition scholarships in the amount of $7,210 ($3,605 in fall 2022 and $3,605 in spring 2023).
Fellows are required to carry-out two-semester practicum/internships, requiring 120 hours per semester of on-site work at one of the partner institutions. To fulfill the fellowship requirements, students must enroll in a course related to their practicum (the course varies by fellowship). Students must also either enroll in INFO 698 Practicum/ Seminar in the spring 2023 semester or present their fellowship projects at #Infoshow2023. The practicum and internship site work and supervisor must the same for both the practicum and internship.
Please be aware that each of the fellowships have different eligibility requirements which are detailed in the application.
Fellowship Opportunities 2022-2023
Fellowship opportunities for the 2022-2023 academic year are listed below. Students can apply for multiple fellowships but must apply to each fellowship separately and can only participate in one. Applicants must have enrolled at the School of Information no later than the spring 2022 semester and be graduating no earlier than spring 2023.
**The application deadline is Tuesday, April 5, 2022 at 5:00PM EST. The deadline for the DAV for Collections Information Fellowship at the Met is Tuesday, April 19, 2022 at 5:00PM EST. The deadline for the Pratt Center Mapping, Data Analysis & Visualization Fellowship is Tuesday, April 26, 2022 at 5:00PM EST.
---
Pratt Center Mapping, Data Analysis & Visualization Fellowship
One fellowship opportunity is available at the Pratt Center for Community Development for a MS Data Analytics and Visualization student. The 2022-2023 fellow will work on a variety of projects to support affordable housing, climate justice, and equitable economic development in NYC. Projects can include geospatially projecting data, such as producing city-wide maps of different types of building and housing stock, various legislative boundaries, and other types of data in support of affordable housing policy campaigns.
---
Met Data Analysis & Visualization for Collections Information Fellowship
One fellowship opportunity is available at the Metropolitan Museum of Art to work on Data Analysis and Visualization of Collections Information. The 2022-2023 fellow will work on projects that may include:
Provide analytics on online collection use (e.g., trends, referral traffic, etc.) using dashboards and other tools to make clear the use of collection information.
Work with the Met's Public API to understand what is working, identify areas of improvement, what data visualizations can be created, and explore ways of measuring the use and impact of the API.
Produce Wikidata visualizations (including knowledge graphs) that show how Met collections connect to other data sets outside the museum.
---
Cooper Hewitt Smithsonian Design Museum Digital Ux Fellowship
Cooper Hewitt is the only museum in the United States devoted exclusively to historical and contemporary design and is the steward of one of the most diverse and comprehensive design collections in the world. The purpose of the Digital User Experience Fellowship at the Cooper Hewitt Smithsonian Design Museum is to provide students with the opportunity to apply the skills and knowledge in the area of user experience (UX) and digital product design in a practical setting. Information Experience Design students who are passionate about design—from historical to contemporary—and are intrinsically motivated are particularly encouraged to apply.
Students will bring a visitor-centered perspective and contribute to a project based on current museum priorities and the fellows' skills and interest, such as:
Redesigning the museum's digital collections interfaces
UX feedback for the Digital Exhibition site
Developing new digital products or revisions to existing products
Improvements to Cooper Hewitt's main website
The student will work with a team that includes in-house developers and third-party developers. Applicants must be comfortable with prototyping software (e.g., Sketch or Adobe XD) and other Creative Suite products and UserTesting.com.
---
Metropolitan Museum Digital User Experience Fellowship
The purpose of the Pratt SI Digital User Experience Fellowship is to provide students with the opportunity to apply the skills and knowledge in the area of user experience (UX) in a practical setting, in this case a world-class museum – The Met. Students will work in one or more areas that the Product Development department, including Museum Digital Experience and Global Audience initiatives. The student will work with a team that includes developers, designers, product managers, user researchers, and analytics experts to help shape the experience across the Met's digital platforms and contribute to the establishment of a universal Design System. Students will learn how to apply a user-first mindset and the ability to deeply empathize with human behavior in order to shape how people interact and experience art online. They will help create experiences that drive both the product's interaction and visual design. Students will gain familiarity working in an Agile product development environment and with the JIRA project management tool. Students will also learn how a design system works within the context of product development, and practice design thinking. The student will be considered a Graduate Intern, and part of the Met's Undergraduate and Graduate Internship Program cohort. They will participate in Met internship programs to learn about museum practice broadly, and talk with Met staff across the Museum.
---
Brooklyn Museum Visitor Experience & Engagement Fellowship
The Brooklyn Museum seeks a community-oriented and tech-savvy fellow to work with the Visitor Experience & Engagement team on initiatives designed to identify and reach our diverse audiences and to be more welcoming to all visitors onsite and online. Projects might include evaluating existing digital platforms and programs using Google analytics alongside other tools and techniques; working closely with the Marketing & Communications team on audience evaluation and outreach through email marketing or other campaigns; or working with the Visitor Experience team on exhibition-specific engagement projects (digital or analog). There will also be an opportunity for a self-initiated capstone project, determined by candidate's skills and interests. This fellowship will serve as an exciting entry into the dynamic world of visitor experience and engagement.
---
Moma Linked Open Data for Museums Fellowship
The focus of the fellowship in the MoMA Archives is to expand, enrich, and explore as linked open data information related to MoMA's ninety-three-year institutional history of collecting and exhibiting modern art. While projects will be worked out with the specific fellow, possible activities include: refining and standardizing exhibition data sets and recreating that data in Wikidata; connecting archives and library resources and creators to Wikidata and Wikipedia; creating data visualizations to demonstrate and interrogate the richness of the dataset; or exploring mapping software and other free tools for exploiting the data. Relevant skills that will be developed during the course of the fellowship include data analysis, reconciliation methods, archival research methods, and semantic web methods. The project's ultimate aim is to create new research tools for art historical scholarship while also demonstrating methods for interlinking library archival resources online.
The purpose of the LOD for Museums Fellowship is to provide support for a student in the MS Museums and Digital Culture or MS Library & Information Science program to investigate the application of Linked Open Data (LOD) within a museum setting. The fellowship allows the student to apply the knowledge and competencies acquired from their course work in a professional setting while developing new skills through participation in an on-site internship.
---
MoMA Library Fellowship
The fellowship presents the opportunity to participate in several aspects of MoMA library operations. The fellow will focus their time on reference, collection development, and acquisition activities. Particular projects will be determined at the start of the fellowship but may include such tasks as reading room staffing, assessing current reference tools, and backlog appraisal and remediation. Appropriate training and supervision will be provided for any tasks assigned. The ideal candidate will have demonstrated a knowledge of and interest in art history, particularly modern and contemporary art, and be excited to learn of the particular role the museum library plays within the institution.
The fellow will work primarily in the MoMA Library, Manhattan, though some work may be required at the MoMA QNS warehouse facility in Long Island City for 8 hours/week (120 hours/semester for the fall 2022 and spring 2023 semesters). While COVID safety protocols may determine some aspects of the work environment, the fellowship is expected to be entirely on-site.
---
Whitney Museum of American Art Collections Information & Data Fellowship
The purpose of the Collection Information & Data Fellowship is to provide an opportunity for a MSMDC student to gain first-hand experience in multiple areas related to the management of permanent collection information, data, and records in a museum setting. The fellowship will take place in the Whitney Museum of American Art's Permanent Collection Documentation Office, which is part of the Museum's Research Resources Department.
The Permanent Collection Documentation Office collects, preserves, and makes accessible records pertaining to the institution's permanent collection, oversees the Museum's collection database (The Museum System/TMS), and creates and maintains the Content Standard Element Sets (CSES) for cataloguing and describing works of art in the museum's jurisdiction. Its primary role is to document the history of the permanent collection and to provide primary source material (located in the object files and artist files) for staff, interns, and visiting researchers seeking further knowledge on the objects and artists in the Museum's collection.
Responsibilities include:
Assisting Museum staff, interns, and outside researchers with research inquiries
Assisting Permanent Collection Documentation Manager with collection information and data fact-checking, as needed
Data entry, including assigning descriptive subject terms to permanent collection object records, and entering provenance data, in TMS
Drafting and entering published reference citations into TMS
Organization of primary source documents and filing
Data entry and associating permanent collection images in ResourceSpace, a digital asset repository
The Research Resources Department supports the research needs of museum staff and members of the academic and museum communities by providing access to primary resources, published resources, and other research material relating to the Museum's history, collections, and programming. Comprising the Research Resources Department are the Permanent Collection Documentation Office, Library, Archives, and Licensing division.
---
Center for Brooklyn History (BPL) User Services Fellowship
The fellowship recipient will assist the Reference Librarian in the reading room of an interior landmarked research library. Duties include staffing the reference desk, answering in- person and remote reference questions, facilitating appointments for archival research, gathering user services assessment data, and creating an online subject guide. The ideal candidate should have an interest in user services in a special collections environment while demonstrating reliability, punctuality, attention to detail, and follow-through. Competitive candidates will have already completed coursework in reference and user services. An academic focus or some experience with special collections and archives is preferred.
---
Brooklyn Public Library Children's & Young Adult Services Fellowship
This Fellowship is for MSLIS students who plan to work in children's and young adult services at the public library.
The Fellowship offers the opportunity to gain hands-on experience in children's and young adult services at the Brooklyn Public Library, a leader in traditional and innovative library services that reflect the dynamism of diverse communities.
Specific projects and activities will be determined at the start of the fellowship but may include tasks such as the design and implementation of programming for children and youth, collection appraisal and preparation of readers' advisory resources, and community outreach and library advocacy. Projects and activities will align with ALSC and YALSA core competencies for librarians serving children and youth.
Fellows will work at Brooklyn Public Library's Central Library Youth Wing (10 Grand Army Plaza), under the supervision of children's and young adult services librarians. Adjustments to on-site work may be made in order to observe COVID-19 guidelines.
---
Frick Art Reference Library Fellowship
Two fellowship opportunities are available at the Frick Art Reference Library working with the web archiving team for the New York Art Resources Consortium (NYARC). Fellows will contribute to a unique web archive collection devoted to born-digital resources for art history, including websites for New York City galleries, museums, artists' websites, catalogues raisonnés, and auction catalogs. The fellows will evaluate candidate sites for web archiving; be trained in using Archive-It, Conifer, and Webrecorder tools to capture websites; create bibliographic records for websites using OCLC Connexion; perform review, maintenance and QA of archived websites; participate in discussions regarding web archiving policy and workflow for the Frick and NYARC; and assist with beta testing of new tools and research. Fellows will additionally have the opportunity to present at local and national professional events, contribute to NYARC blog posts, and become actively involved with the international web archiving community.
---
Lesbian Herstory Archives Fellowship
The Lesbian Herstory Archives is home to the world's oldest and largest collections of materials by and about Lesbians and their communities. The Lesbian Herstory Archives exists to gather and preserve records of Lesbian lives and activities. This ensures future generations will have ready access to materials relevant to their lives. You can learn more about LHA at https://lesbianherstoryarchives.org/.
In the fellowship, we expect to structure it around the interests of the chosen fellow. Potential projects include:
Imaging & Metadata Rehousing: Graphics, Buttons, Videos, T-Shirts, Banners
Archival Processing: Music (Legacy Formats), Special Collections, Periodicals, Unpublished Papers
---
Watson Library Fellowship
Two opportunities are available for Pratt MSLIS students at the Metropolitan Museum of Art's Thomas J. Watson Library. The goal is to provide students with guided learning experiences across the key activities of art librarianship. A sincere interest in a non-profit and/or arts institution is expected, as well as an enthusiasm for visual art and museums. Selected participants will be considered Met Graduate Interns, and part of The Met's Undergraduate and Graduate Internship Program cohort. They will participate in Met internship programs to learn about museum practice broadly and meet with Met staff from across the Museum.
Over two semesters, participants will undertake a survey of all the areas of operations in the library: technical services, reader services, digitization, systems, circulation and conservation. This will take place in the context of hands-on work whenever possible, but also through meetings and demonstrations with staff members. At the same time, there will be a project which will be an opportunity to focus more deeply on several of these areas, developed in consultation with library staff to meet both library needs and intern interest and aptitude, while maintaining some continuity of core duties. Participants will give a presentation to library staff on their project at the end of the second semester.
Participants will learn best practices from a workflow level down to a personal level, working with competencies already in place for Watson Library staff. These can include:
hands-on work with technical services workflows;
copy catalog monographs and auction catalogs in Sierra and Connexion Client;
gain reader service experience on the registration desk assisting all library visitors to the research library;
learn to use Python, SQL, Javascript and HTML/CSS in a live environment;
learn how to perform basic book conservation procedures (making enclosures, plastic covers, etc.);
carry out basic acquisitions functions such as placing orders, selecting and receiving;
learn the basics of creating metadata in CONTENTdm and work with our cutting edge scanners on digitization projects;
help with record loads and data transformation;
become familiar with serials workflows; and
participate with various circulation activities such as paging, shelf-reading, and searching for missing books.
Participants will learn about basic preservation theory, and preservation issues specific to art books, gain familiarity with conservation vendors; become familiar with conducting preservation needs assessments, and identifying books with artifactual value.
---
NYPL Digital Archives Fellowship
The purpose of the Digital Archives and Preservation Fellowship is to provide support for a MSLIS student with the Advanced Certificate in Archives to gain hands-on experience with born-digital archives, such as floppy disks, laptops, and email, and to research a topic in the lifecycle of born-digital collections, including born-digital archives, web archives, and born-digital audio/video.
Fellowship Activities
Learn how born-digital archival media is managed at NYPL

Read the NYPL digital archives documentation
Inventory media from an archival collection
Transfer files from obsolete digital carrier formats using write blockers and forensic workstations

Learn how born-digital archival files are processed at NYPL

Read the NYPL processing manual
Meet with processing archivists working on collections with born-digital material
Add born-digital components to a collection in ASpace
Research Activities
Work may include literature reviews, staff interviews, scripting, and other work as determined in partnership with the fellowship recipient. Examples of topics include:
Document the collection and preservation of software
Research usage policies and practices for born-digital archives in reading rooms
Evaluate the effectiveness of transfer processes
Others as discussed with fellow
All projects are conducted from the Library Services Center in Long Island City, Queens.
---
Franklin Furnace Archives Fellowship
Franklin Furnace's mission is to present, preserve, interpret, proselytize and advocate on behalf of avant-garde art, especially forms that may be vulnerable due to institutional neglect, cultural bias, their ephemeral nature, or politically unpopular content. Franklin Furnace is dedicated to serving artists by providing both physical and virtual venues for the presentation of time-based art, including but not limited to artists' books and periodicals, installation art, performance art, and unforeseen contemporary avant-garde artforms; and to undertaking other activities related to these purposes. Franklin Furnace is committed to serving emerging artists; to assuming an aggressive pedagogical stance with regard to the value of avant-garde art to life; and to fostering artists' zeal to broadcast ideas.
The School of Information fellow will work with our Archives Assistant and Archives Technologist, under the supervision of Harley Spiller, Ken Dewey Director, to promote the discoverability of BIPOC artists whose work is represented in the Franklin Furnace artists' books collections and related vertical files. The resultant information will be shared and promoted through digitization and other communication efforts, including blogging and social media outreach.
---
Fashion Institute of Technology-SUNY Library Archives Fellowship
This fellow will contribute to the unique collection of primary source materials in the FIT Library College Archives housed in the college's unit of Special Collections and College Archives (SPARC) unit.
SPARC is a rich study center for the fashion industry, fashion historians, and associated
researchers, including students from FIT's wide range of graduate and undergraduate programs. The FIT Library College Archives holds records that document the Fashion Institute of Technology's people, events, buildings, and research. The history of FIT is a vital part of the history of New York City's Garment District, a nationally-registered historic district. The holdings include selected institutional records created by past and current administrative and program units as well as documentation related to FIT campus architecture, information about Museum at FIT exhibitions, and audio-video recordings of FIT-sponsored educational programs including symposia and lectures.
The fellow will work on one or two structured projects that will be supervised by SPARC staff. They will learn how SPARC serves the students of FIT and the wider creative industries community, how it preserves the College's historical records, and how it complies with government retention policies. The fellow will gain experience in problem solving within an archival setting and perform a number of tasks that will involve working directly with archival materials including processing, weeding, inventorying and creating finding aids.
---
LGBT Community Center National History Archive Fellowship
The LGBT Community Center National History Archive is a community-based archive that collects, preserves and makes available to the public the documentation of LGBTQ+ lives and organizations centered in and around New York. Through our collections, we enable the stories and experiences of New York's LGBTQ+ people to be told with historical depth and understanding.
The School of Information fellow will engage in activities related to the Community Archives & Preservation (CAP) Project. CAP is a collaborative effort that provides tools and resources, including tutorials and workshops, to NYC LGBTQ+ community groups and members to self-determine archiving and preservation strategies for their records. The histories of LGBTQ and BIPOC people have long been underrepresented or not represented at all. Guided by our community partners' insights into the lack of resources in institutional preservation against the great need for archival documentation, CAP will address these issues.
The fellow will work under the guidance of the Director of Archives to:
Coordinate project activities, including research and information-gathering; production of guidelines and other resources; promotion and outreach; and planning sessions with partner organizations.
Facilitate or co-facilitate meetings, workshops and other events.
Contribute ideas and writing as we develop a project handbook, website section, and other publicly accessible resources.
Other project duties as assigned.
The fellow should meet the following requirements:
Completion of first full semester of MSLIS core courses
Demonstrated interest in LGBTQ+ history
Computer proficiency with Microsoft Office (Word, PowerPoint, Excel), Zoom, and Google Suite (Gmail, Docs, Drive, Calendar) required.
Demonstrated ability to work collaboratively with others to move projects forward.
Comfort working with archival materials of a sexual nature.
Demonstrated ability to work with individuals of diverse races, identities, ethnicities, ages, gender identity and sexual orientations in a social justice driven environment.
Understanding of, and commitment to, undoing structural and institutional racism and bias and the spectrum of gender identity and bias. Consideration of the impacts and outcomes in decision-making processes and on underserved and historically oppressed communities.
A strong commitment to social justice and the mission of The Lesbian, Gay, Bisexual and Transgender Community Center.