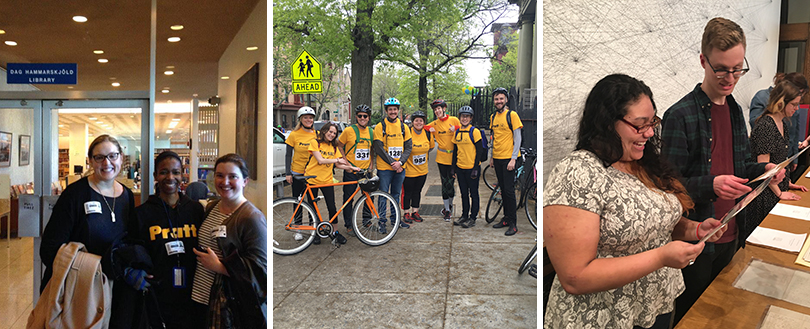 At the School of Information, we aim to foster a culturally responsive environment that is inclusive of various backgrounds and perspectives. In addition to a geographically and culturally diverse student body that features individuals from across the country and around the world, our many student groups enrich the academic experience by organizing guest lectures, workshops, tours, site visits, and other events that will help you deepen and expand your professional network.
PALA (Pratt student chapter of the American Library Association)
The student chapter of the American Library Association focuses on offering insightful and exciting programs and activities related to libraries and librarianship.
ASIS&T@Pratt
The student chapter of the Association of Information Science & Technology offers free events throughout the year that represent the many facets of information technology across multiple fields.
SAA@Pratt
The student chapter of the Society of American Archivists provides workshops, lectures, group meetings, guest speakers, and field trips pertaining to archives, special collections, and museums.
UXPA@Pratt
The student chapter of the User Experience Professionals Association (UXPA) facilitates UX-related discussions and creates skill-building opportunities through UX-focused workshops, presentations, tours, and other events.
Pratt Emerging Museum Professionals (PEMP)
As a registered chapter of the Emerging Museum Professionals Network, PEMP aims to build a community in which graduate students interested in a career in the museum sector can engage with other museum professionals across all stages of their careers.
Beta Phi Mu Theta Chapter
The Beta Phi Mu Theta Chapter is an alumni academic honor society whose goal is to support the School Information by providing financial aid to the students, offering lectures and activities of interest to members and colleagues, and sponsoring a mentoring program.