A few years back, conceptual artist Brad Downey, BFA Film '03, commissioned a site-specific wood sculpture, Melania, 2019, a work embedded with critique of the US's then administration, created by a chainsaw artist in the Slovenian town where the former first lady was born. Installed on a poplar tree trunk near Sevnica, the sculpture was burned in what appeared to be arson. As a memorial to the burned sculpture, Downey cast a bronze replica to replace the original object. This process prompted Downey to also consider how a digital work might commemorate the original artifact in a VR space.
Downey, born in Kentucky, a graduate of Pratt Institute and Slade School of Fine Art in London, and now an expat having lived and worked for most of his adult life in Europe (he is based in Berlin), was initially recognized for his prolific, often collaborative street-art sculptures in New York City in the late 1990s and early 2000s. While continuing his works of public installation, Downey has now taken a similar approach into the virtual public arena.
The digital memorial of the piece based in Sevnica became part of Downey's recent project Between Particles and Waves, a collaboration with artist Jan Vormann that brought together virtual works by an international group of artists for an exhibition held in the realm of Minecraft, the 3-D world-building video game.
"In quantum physics, it's either the particle or the wave that represents the basic, fundamental fabric of our reality, so I thought, maybe it's light particles and waves that translate between the meta reality and the physical reality," thus giving the Minecraft exhibition its name, Downey explains. "This could be any space, but I thought, Minecraft is the most widely used, most established, has the most people inside, and as a public space, it's the most accessible, the most easy to use."
Are exhibits in virtual space more accessible? Do these metaverse exhibitions still abide by the laws and conventions of the art world? As Downey puts it, the metaspace has a lot in common with real-world venues he's been working in.
"It's the same reason that we started to work in public spaces—it's a space," Downey says. "We just took it as a place where people can see our work, a more working-class approach to putting your work out to be seen. So this internet space takes the same sort of sentiment, where everyone is engaging with it, it's not this elitist space, and it's also a space that's evolving, it's dynamic, evolving much quicker. It's something everyone is involved in, not just artists."
The idea was for the exhibition to be open and discoverable, with additional ways of experiencing the show outside Minecraft as well, via recordings on digital platforms like Twitch and Reddit. Furthermore, Downey and Vormann also wanted to offer viewers the opportunity to dive deeper into the art in a guided way. And that's where institutional presence came in, in a cooperative rather than gatekeeping way. "We had museums like the Guggenheim and Total Museum from Korea do guided curator tours," Downey says. "So you had this space mostly targeted to a younger audience, but then we had academics giving tours about serious artists doing serious site-specific works."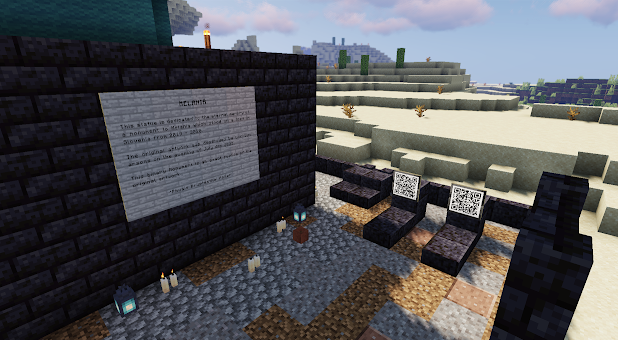 There was also an interactive element. Downey offers some backstory. Early in the exhibition, "some very good Minecraft players entered a kind of 'door to hell'" and hacked their way up to destroy the original artworks. Downey and his collaborators restored the pieces and secured them, but eventually, they opened up the exhibition, setting it to an "anarchy mode" that let people change the work. "Anarchy" ultimately translated to "destruction," but the pieces were not lost. The works in their original forms were then released as NFTs, with downloadable content that could be installed in any metaspace their owners might inhabit.
Will we see many different metaspaces in the future?
"We're developing our own metaverse now," Downey shares. "I had this idea to do a museum of ephemeral art. There's a lot of artwork that has existed in physical space that now only exists as documentation, so I thought we could try to recreate the works, make them one-to-one scale in a metaverse and do a museum of ephemeral art. . . . I imagine a space where you walk through many cities very quickly and see many site-specific works that don't exist anymore."
Ultimately, new spaces like this, with their own rules of time and motion, could be a benefit for artists, scholars, and art appreciators, though Downey naturally sees more than one side of the picture.
"Of course, every space is ready for corruption," he says. "It still comes back to the problem of capital and money, and you need programmers to build these spaces. These things get controlled and there's surveillance—these are huge factors when dealing with metaspaces. But you have a lot of chances in the metaspace that you don't have here, just based on physics."
View highlights from the exhibition Between Particles and Waves at betweenparticlesandwaves.com. A career-spanning collection of Downey's work is collected in the book Slapstick Formalism: Process, Project, Object (Hatje Cantz, 2022).
Read more stories from "Start Here" in the Fall 2022 issue.