We are a cohesive team of creative and strategic thinkers who build Pratt's brand and reputation through compelling stories, imagery, and branded materials. As Pratt's in-house communications and marketing team, we collaborate with our campus colleagues, serving as strategic partners and guides to ensure that they achieve their institutional goals.
Our team manages and oversees many of the Institute's communications and marketing areas. Our responsibilities include:
creative services,
digital news and content development,
media relations,
web and digital communications,
marketing and communications strategy,
social media, photo and video initiatives, and more.
We are eager to partner with our colleagues to promote their students and programs, to co-own the Institute's brand with us, and to develop effective new communications channels together.
---
Pratt's Visual Identity System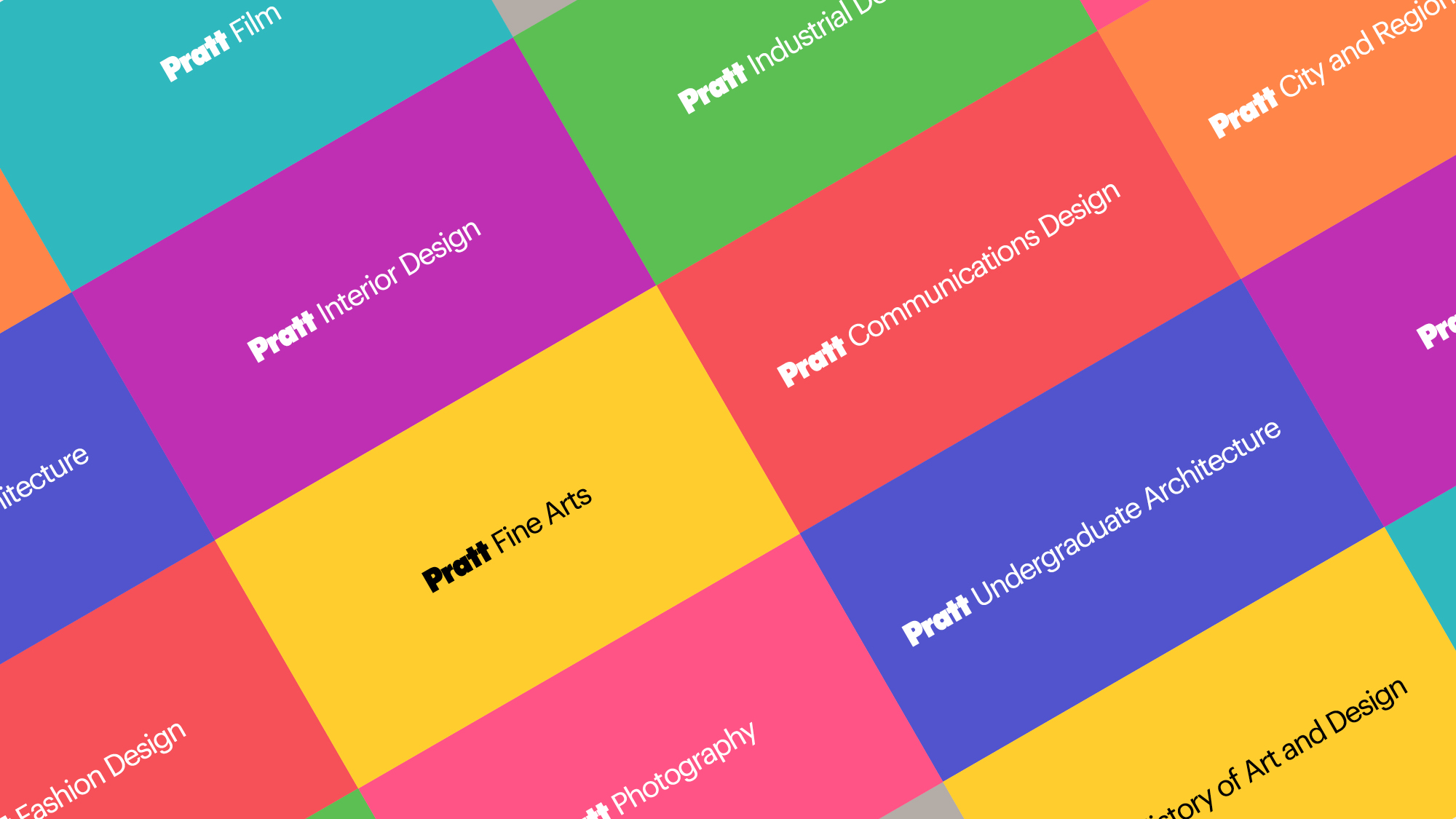 Pratt's flexible visual identity system reflects our diverse and multifaceted community. We've provided a collection of versatile resources—logos, colors, typefaces, and more—to help you create distinctive yet consistent communications that are uniquely Pratt.
---
Photography and Videography
In keeping with the goal of creating high quality marketing and communications materials that reflect the Pratt brand, PComm offers photo and video management services for clients across the Institute. Photo/video management services include researching existing imagery and managing the coordination and creation of new photography and videography. Please complete the Identity Resources Request form (choosing the "Photography or Video Content" option) to tell us about your project.
---
Pratt Communications and Marketing Staff
James J. Kempster
Vice President for Communications and Marketing
718.636.3471
jkempste@pratt.edu
Serena Thomas
Director of Operations
718.230.6852
sthoma23@pratt.edu
Seriah Sargenton
Administrative Assistant
718-687-5454
ssarge19@pratt.edu
Client Services
Stephanie Greenberg
Associate Director, Project Management
718.687.5709
sgreen22@pratt.edu
Charlotte Savidge
Director of Development Communications
718.399.4574
csavidge@pratt.edu
Erica Dagley Galea
Associate Director of Communications Management
718.687.5336
edagley@pratt.edu
Creative Services
David Frisco
Director of Creative Services
718.230.6807
dfrisco@pratt.edu
Jana Flynn
Assistant Creative Director
718-687-5492
jflynn37@pratt.edu
Marcela Albuquerque
Graphic Designer
718-687-5480
malbuq83@pratt.edu
Nir Bitton
Freelance Graphic Designer
nbitton@pratt.edu
Chris Keating
Print and Digital Production Coordinator
718.636.3401
ckeating@pratt.edu
Robert McConnell
Senior Graphic Designer
718-540-5403
rmccon24@pratt.edu
Tim Atakora
Video & Photo Production Manager
718.687.5446
tatakora@pratt.edu
Yeji Kim
Graphic Designer
718.687.5117
ykim246@pratt.edu
Prattfolio
Jean Hartig
Director of Editorial, Prattfolio
718.687.5718
jhartig@pratt.edu
Nikolas Slackman
Assistant Editor, Prattfolio
718.687.5149
nslackma@pratt.edu
Public Relations & Editorial Communications
Jolene Travis
Assistant Vice President for Communications
718.636.3495
jtravi12@pratt.edu
Marion Hammon
Director of Editorial Communications
718.399.4515
mhammon@pratt.edu
Amanda Blancato
Assoc Director of External Communications & Media Relations
718.636.3554
ablancat@pratt.edu
Brandhi Williamson
Senior Editorial Manager
718.399.4206
bwilliams@pratt.edu
Brett Reynolds
Senior Digital Marketing and Insights Specialist
718.687.5375
breynold@pratt.edu
Nicole Barnes
Project Manager, PR & Editorial Communications
718.687.5453
nbarn178@pratt.edu
Joe McCarthy
Civic Engagement Writer
718.687.5153
jmccar44@pratt.edu

Web and Digital Communications
Laura Banas
Assistant Director of Digital Communications
718-687-5481
lbanas@pratt.edu
Julianna Dow
Social Media Coordinator
718.687.5388
jdow62@pratt.edu
Alex Weiss Hills
Senior Developer
718.636.3760
aweisshi@pratt.edu
Albert Johnson
Digital Production Coordinator
718.687.5482
ajohn515@pratt.edu
---
Mailing Address
Pratt Communications and Marketing
200 Willoughby Avenue, Myrtle Hall
Brooklyn, New York 11205
Location
Myrtle Hall
536 Myrtle Avenue, Third Floor East
Brooklyn, New York 11205
General Inquiries and Requests
Members of the press and media relations
press@pratt.edu
718.636.3554
Story, news and editorial content development
editorial@pratt.edu
Creative services, design, visual identity, and photography
creativeservices@pratt.edu
Social media
socialmedia@pratt.edu
Website content and development
website@pratt.edu
Commercial photography or filming on campus
Antoinette Perry, Director of Risk Management
Office of the Vice President for Finance and Administration
aperry@pratt.edu
718.636.3784
Event videography, live streaming, and academic recording
Dan Lawson
Office of Public Programs
dlawson@pratt.edu
718.687.5801