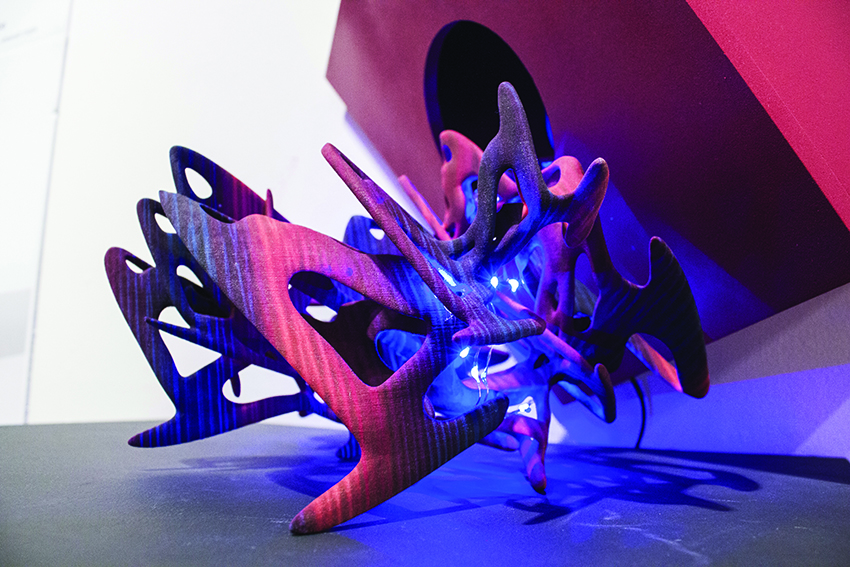 BIOmetric is a series of student investigations generated in Arch 711A at Pratt Institute, Graduate Architecture and Urban Design. This course concentrated on using parametric design and scripting techniques to create directed intelligence as a way of form-finding.
We explore the nature of these complex systems and their impact on design. Using object-oriented programming with parametric design tools, we investigate how these emergent systems can feed into the discourse of architecture in order to evaluate new methods of making.
The seminar focused on adapting bioluminescent behavior found in nature to create a parasitic building element, which registers various environmental parameters such as heat and occupancy. The investigations focused on developing a parasitic element that attaches to a host and provides real-time feedback on particular parameters of the host element.
A Swarm behavior simulation was used to control the various parametric and geometric deformations. The bioluminescent behavior was translated into electroluminescence and controlled using various sensors and microcontrollers. Each project is represented as an interactive installation.
Students: Courtney Jones, Miranda Rogers, Victoria Maceira, Trey Lindsay, Sheenam Mujoo, Chang Hee Park, Stephen Ullman, Heena Patel, Michael Hoak, Elisa Li, Christina Ostermier, Nicole Petitpierre
Sponsors: Bently, Shapeways, Sparkfun Electronics