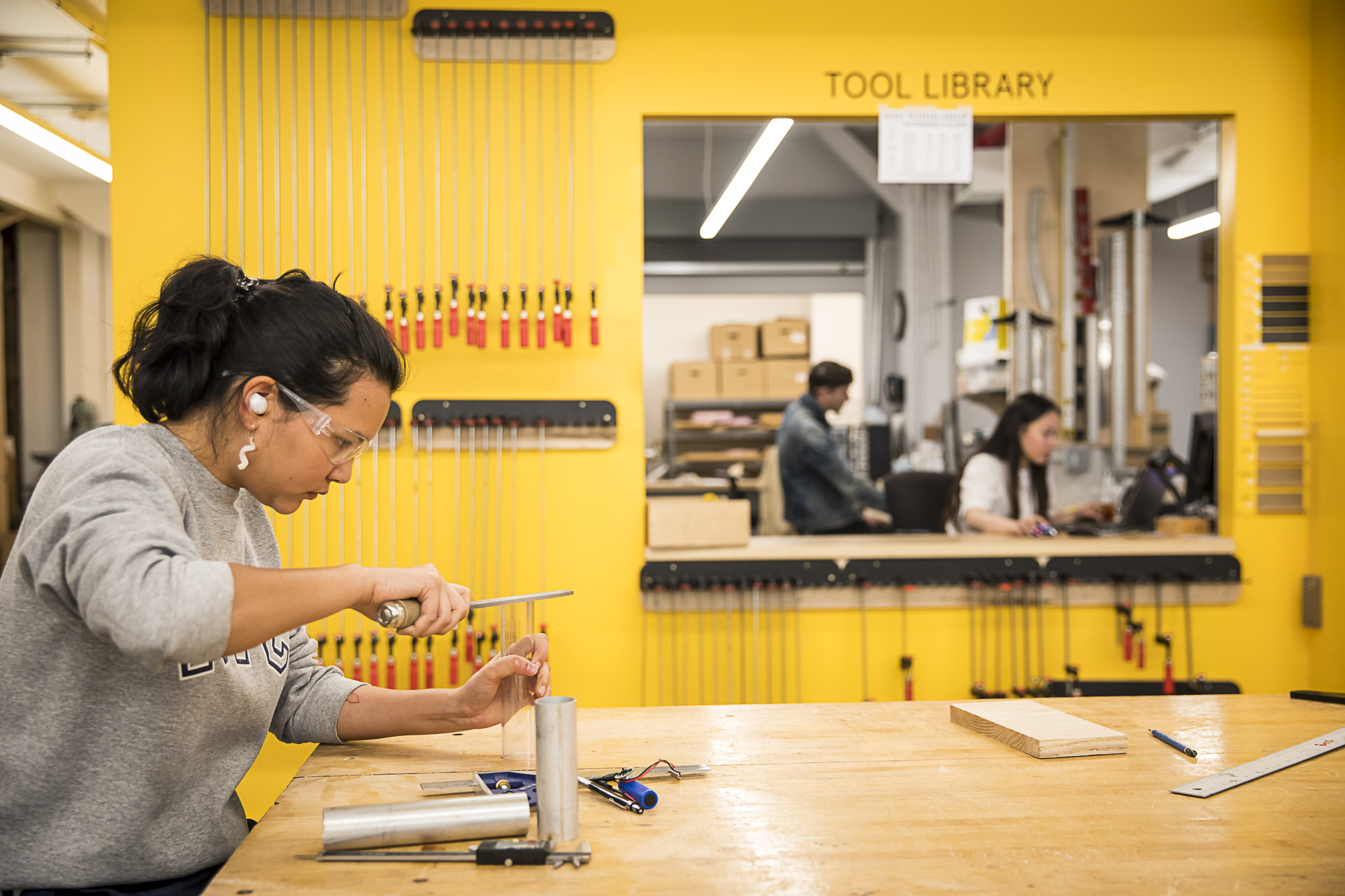 Design Lab and Studios
Sustainability and material exploration drive our passion for making. We are hands-on and immersive; any student of design can discover, iterate, and refine their investigations through our many labs.
The School of Design's Production Labs provide collaborative fabrication facilities that support a range of 3-D and 2-D production needs. Within each of our shops and labs, students will find a variety of digital fabrication technologies and traditional production equipment, with walk-in and appointment options, overseen by an interdisciplinary team of design educators who can provide guidance and instructional support. In the Production Labs, student designers establish and refine their technical design skills that will guide their making practice in and beyond their time at Pratt.
Studio Culture
Our success as a community depends on our working together.
The design studio is at the core of your educational experience at Pratt. It is a creative space and a community in microcosm, from which we connect to the larger community. Our studio culture supports our work to create spaces, environments, and structures that are just, equitable, accessible, and give agency to all.
Material Lab
The Material Lab is a collaborative research center dedicated to advancing the study of materials at Pratt Institute. Housing over 25,000 unique material samples, the Material Lab's circulating collection supports haptic design research and facilitates practical discussion about materials grounded in their characteristics, composition, application, and impact.
Textile Dye Garden
The Textile Dye Garden is an ongoing project located at Pratt Institute in Brooklyn, NY. The garden serves as a resource for sustainability education and a hub for collaboration and experimentation.
CNC Lab
Computer Numerical Control (CNC) is the same process that controls our 3-D printers and laser cutters, except that instead of a print head or laser beam, there's a router used to carve things like wood and plastics. Where the laser cutters are limited to only 2-D cutting operations, the vertical, or "Z" axis, of the CNC routers and mills are capable of moving up and down while cutting. This enables 2.5D, using vectors to cut all the way through your material and/or partially through at a different height, and 3-D cutting, carving 3-D models out of solid material.
Photo Studio
The Photo Studio is open to all currently enrolled students and active faculty in the School of Design. The studio is divided into two spaces separated by a solid black curtain: One with a 103-inch wide seamless backdrop, ideal for portraiture and to photograph large objects, and a second with a 53-inch seamless backdrop with a table top, more suited for product photography. Both spaces have three seamless-backdrop color options: white, black, or gray, and are also equipped with dedicated professional studio lights with a softbox light modifier.
Laser Lab
Laser Lab is a 2-D digital fabrication facility that contains six laser cutters, with varying capabilities. Laser cutters use a high-powered laser to cut or engrave a variety of materials and fabrics. They are great tools for rapid prototyping 2-D components in a precise and repeatable manner.
Imaging Center
The Imaging Center is primarily a print and production resource and facility that employs the latest in print and color management technologies to deliver professional quality prints. We offer Risograph, Laser, Inkjet, and custom-paper printing that utilize high-vibrancy inks on a variety of substrates and fine art papers to ensure output is of the highest quality. Along with print services, we also offer scanning, book binding, and a variety of equipment rental options to current students in the School of Design.
Spray Booths
The Spray Booths, located in two locations within the School of Design, are for use with water-based finishes only. Free water-based spray paint is available for use to students enrolled in the School of Design. A third Spray Booth is located on the Engineering Building's loading dock, where both water and oil-based finishes can be used.
SoD Shop
The School of Design Shop is a 5,000-square-foot space dedicated to analog fabrication including, but not limited to, woodworking, cold forming of metals, plastic fabrication and casting, assembly, and application of spray-based finishes.
Knit Lab
The School of Design's Knit Lab is open to students who have a demonstrated need for digital knitting in their projects. The Knit Lab contains three Shima Seiki machines, each with their own capabilities and features.
Assembly Room
The assembly room is the SoD Shop's flexible-use class and work space. Here, students are able to rig up or glue projects, or meet for shop-adjacent instruction or group work. This space is open 24 hours a day, seven days a week.