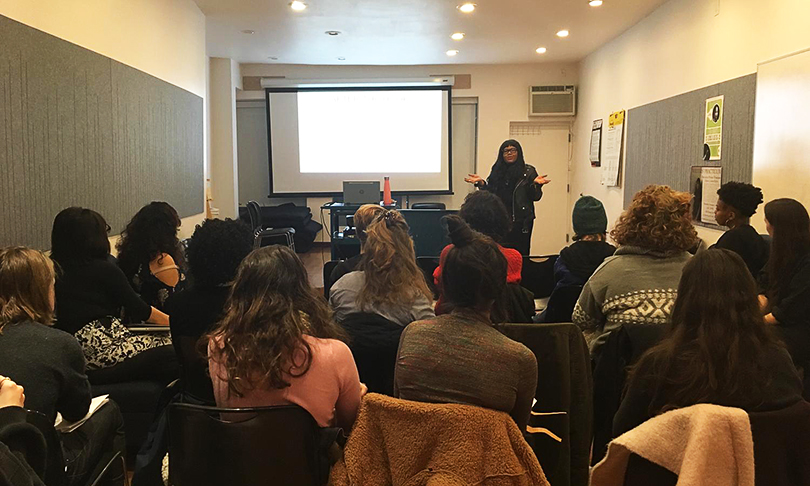 Community
The BFA Writing Program offers a suite of courses designed to prepare undergraduates for a life in writing, in all of its dimensions. Taken in the first year, "Community as Classroom," is a course which immerses students in the vast array of literary series, institutions, venues, and activities inside the city, as sites for learning about not only what kinds of things are happening in writing right now but also  what kinds of artistic lineages they are part of. 

Professional Development
One of the things we're committed to in the BFA Writing program is supporting our students in building meaningful, creative, and sustainable writing lives, especially in the years following graduation.Since a fulfilling writing life means many different things to different people, our support necessarily can take many different forms. Taken in the third year, "Writer as Worker" provides Writing majors with concrete skills and guidance toward discerning, acquiring, and planning for a professional development track in the spring semester, either through an internship, an independent fieldwork project, or a relevant class on offer (i.e. "The Art of Teaching" or "The Prattler," both of which run in the Spring semester). By facilitating weekly guest visits with working professionals in a variety of writing-adjacent professions (authors, agents, editors, journalists, teachers, filmmakers, theater artists, etc), and developing application-building skills, the course positions students to make informed choices about the sorts of work / life experiences they'd like to explore in the coming semesters, and beyond. Internship and job search basics—resumes, relationship-building, cover letters, pitching, communicating with editors and interview skills—are also covered. Students learn how to identify forms of support for writers (grants, fellowships, grad school), and think about ways to build a writing life that inspires them while tending to their practical survival.
Internship & Fieldwork
Each student has the opportunity to take on a credit-bearing internship or independent fieldwork project for one semester, and is simultaneously provided with a guided professional exploration course to accompany those experiences: "Internship Seminar" and/or "Fieldwork." Internship opportunities vary depending on the particular interests of the student, but range from publishing houses to literary agencies to film/TV studios to podcast networks to news publications to arts organizations and nonprofits, and many others. Fieldwork projects also vary greatly depending on the students' goals and area of inquiry, though they have included starting a literary journal, publishing a zine, planning a symposium, developing a podcast pilot, building an artist website, learning how to produce and fund theatrical and film productions, and many others. The accompanying courses allow the internship or fieldwork project to become an educational opportunity that empowers students to gain experiential knowledge about a particular professional sphere, through which they can more effectively discern the kind of work-life conditions they will need as writers/artists, now and in the future, as well as confront the material realities of life in a writing world and the labor that sustains it.