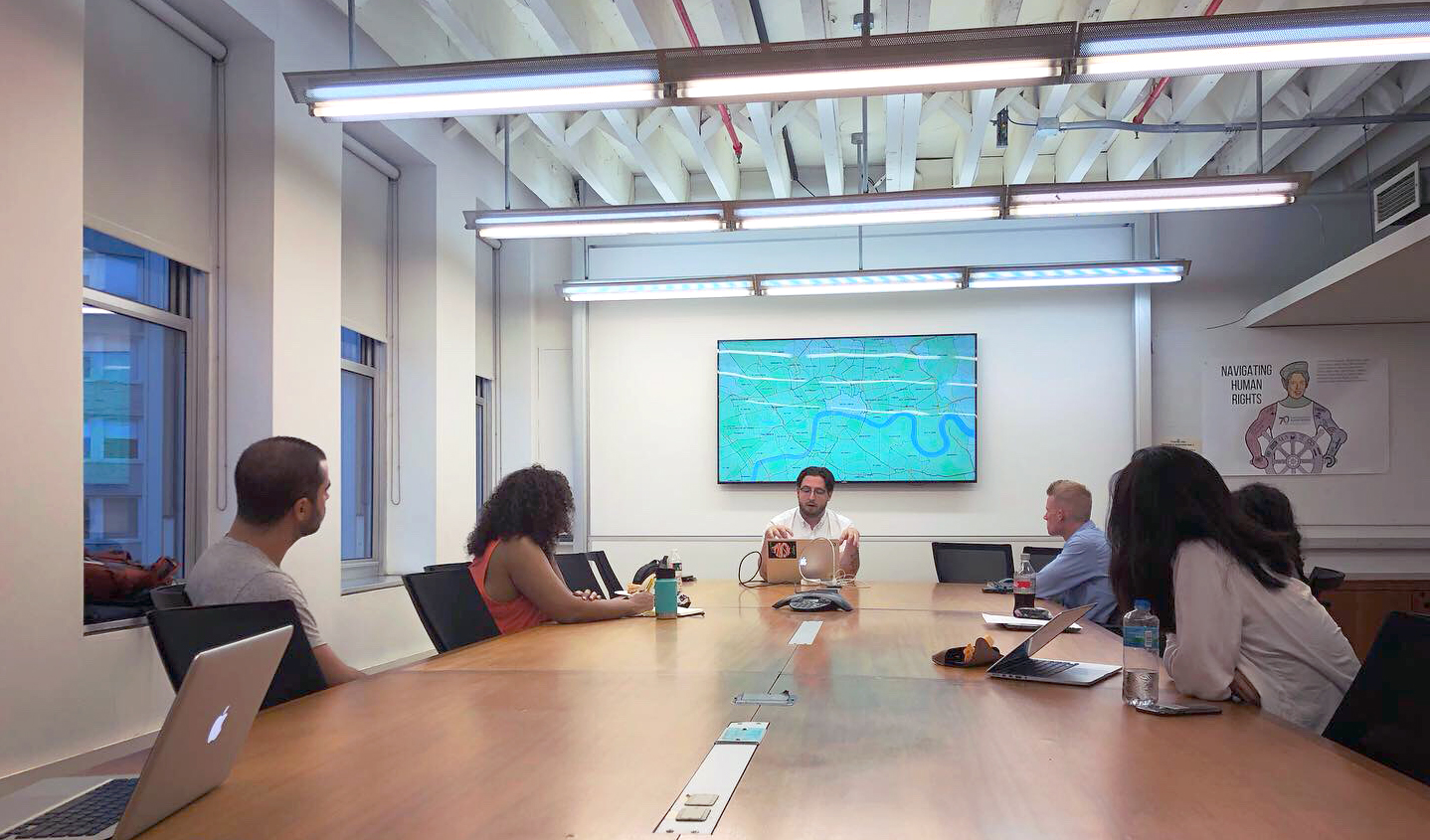 Demographics
The DAV program welcomes students from a range of backgrounds. Here is a snapshot of DAV students as of the Fall 2021 semester:
29.3 years old (average age of students)
63.6% of students identify as women
27.2% of students identify as Black, Latinx, Asian or Asian-American
39.3% of students are international
The School of Information is engaged in ongoing diversity, equity and inclusion (DEI) initiatives as part of Pratt Institute's DEI strategic plan.
Student Satisfaction
Student feedback is solicited regularly through course evaluations, focus groups, and graduating and alumni surveys.
100%

of graduates report that course offerings aligned well with their professional goals

100%

of graduates report that the program faculty are effective teachers

92%

of graduates say the School of Information offered a quality program that prepared them to work in their chosen profession
(Data from graduating student survey 2021/2022, N=13, 92.3% response rate)
Student Activities
The School of Information has many student groups that enrich the academic experience by organizing guest lectures, workshops, tours, site visits, and other events that will help deepen and expand your professional network. DAV students are leaders and participants in ASIS&T@Pratt, the student chapter of the Association of Information Science & Technology, and UXPA@Pratt, the student chapter of the User Experience Professionals Association, as well as other groups. Students can also form new organizations through Pratt's Office of Student Involvement.
DAV students also participate in School of Information activities, such as the annual showcase of student work (#infoshow).
Support
All applicants are considered for merit scholarships during review of applications; a separate scholarship application is not required. For students in good academic standing (i.e., if the student maintains a minimum 3.0 GPA), merit scholarships are automatically renewed for the second year of study. After their first semester, students may petition to change to part-time study and prorate their scholarship funds over the length of their study.
Second-year students in the program can apply for a 9-month fellowship with a leading NYC organization. DAV students have completed fellowships at the Mayor's Office of Data Analytics (MODA), United Nations Global Pulse and the Pratt Center for Community Development. Read Matt Bishop's post describing his fellowship work at MODA creating their Dataset Compliance Dashboard.
Support for research-based scholarly and/or creative projects that enhance students' professional development—individually or through small student teams—are available through the Graduate Student Engagement Fund (GSEF).
In addition to support from the School of Information office, all students are assigned a faculty advisor upon entry.
Placement
Pratt offers lifelong services for students and alumni through its Center for Career and Professional Development.
What will you do?
Recent job titles obtained by program graduates include:
Chief Product Officer
Data & Analytics Designer
Data Visualization Analyst
Data Visualization Designer
Data Visualization Associate
Data Science Fellow
Product Designer
Qualitative User Insights Researcher
User Experience Researcher
Where will you work?
A selection of organizations where these graduates work:
Ask Iggy, Inc.
Global Association of Risk Professionals
Google
Intrepid Sea, Air & Space Museum
New York Public Library
New York University
NY Renews
Pandemic Response Accountability Committee (U.S. Govt)
Process First
Slate Magazine
Tryll