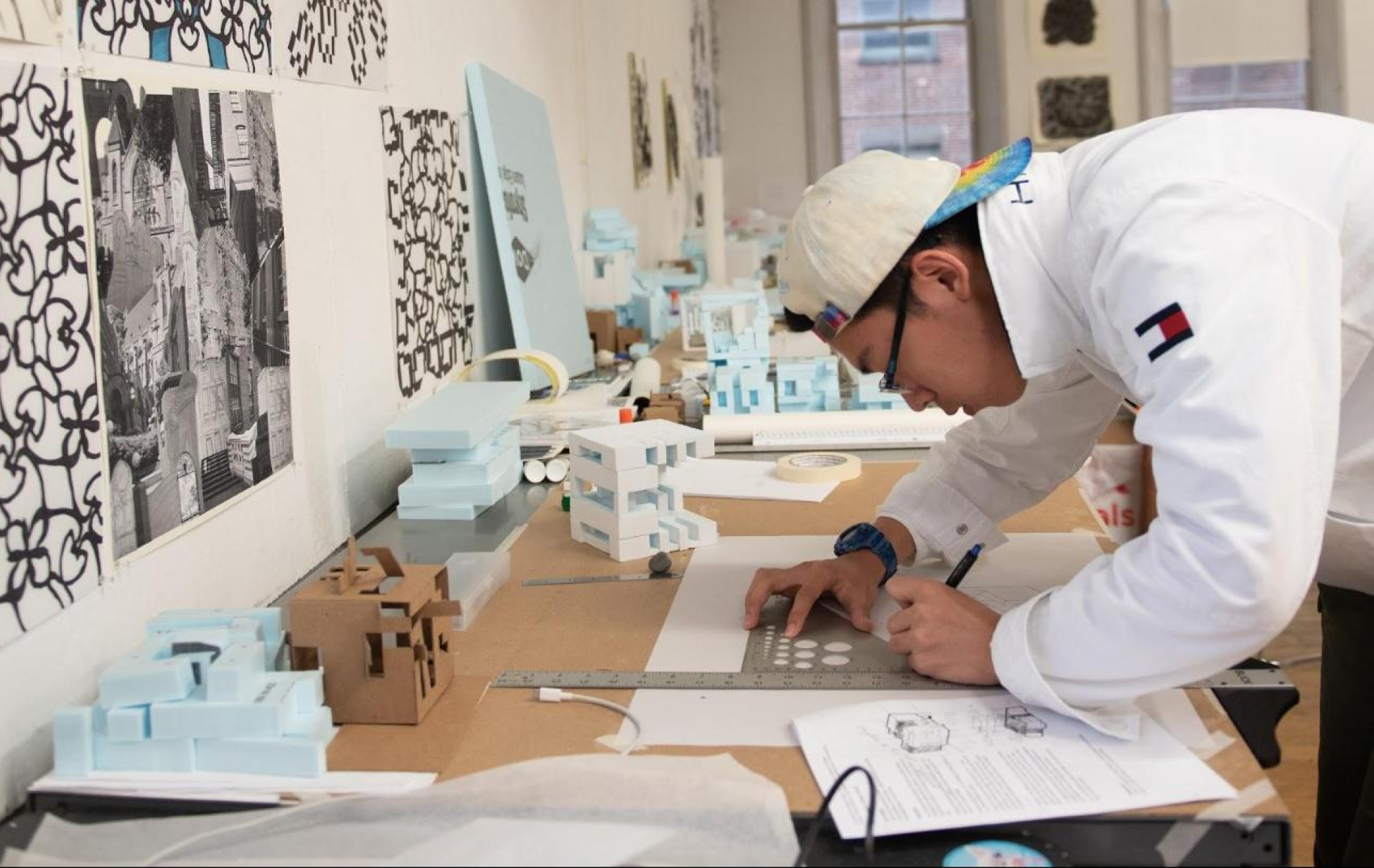 Fall and spring classes are designed for high school students to develop their creative voice and build skills in art, design, and creative problem-solving.
Courses, tuition, location, and schedules vary by semester, please review application or registration link for details and availability each term. Please note credit courses and non-credit classes require separate registration processes and some courses are offered online.
Credit Courses
Credit-bearing classes are modeled after Pratt's undergraduate curriculum and focus on specific areas of study across the Institute's offerings. Each course requires dedicated time to complete assignments outside of class hours and students receive a letter grade and elective college credit accepted at Pratt and most other universities.
1-Credit Courses
Available courses, tuition, and schedules vary by semester, please check PreCollege Fall/Spring Application for details.
Architecture: Reconstruct the spaces you use every day. This course is designed to introduce students to ideas, principles, concepts, and methods of architectural design in a studio setting. Through a graduated sequence of exercises, students explore the architectural concepts of space, form, function, scale, site, structure, and inhabitation through analytic and generative approaches.
Industrial Design: Reimagine everyday objects. This course will introduce students to the process of designing objects intended to meet the everyday needs of society. In this course, students will examine how embracing today's social, physical, and ecological needs can present opportunities for creative design. Through drawing and model-making, students will explore, challenge, and redefine the forms and inventions with which we live.
Painting and Drawing: Translate the three-dimensional world onto a two-dimensional surface. This course covers fundamental issues in drawing and painting while enhancing perception and aesthetic awareness of Fine Art. Students will be familiarized with the visual language of line, shape, composition, proportion, perspective, and color; and are given the tools to express their ideas through a variety of techniques.
Creative Writing: Write compelling stories. This course focuses on mastering the fundamentals of creative writing to develop strong narratives in one or more genres. Explore the art of creative writing through reading and writing assignments, class discussions, peer review, and faculty critique. Focus on examining story structure, the process of composing, and exploring your personal voice.
Students should complete their application with a parent or guardian present. Applications close 1 week (5 business days) before the start of each course. Early registration is encouraged as space is limited.
Non-Credit Courses
PreCollege non-credit courses are designed to support your creative practice, expand your technical skills, and build your portfolio. Each course includes assignments to complete outside of class hours and students receive a pass/fail grade. A parent/guardian must submit a completed Program Consent Form to precollege@pratt.edu prior to the start of class to confirm the student's ability to participate.
Portfolio Development
Discover: Discover your personal voice and craft an artist statement in this studio class. A strong personal perspective is vital when developing a body of work. Students will research topics of personal interest and create imaginative portfolio pieces that demonstrate their personal perspectives and views.
Document: Develop the necessary skills to create and document a personal, thoughtful, and technically proficient portfolio. This class will focus on developing observational drawings from still-life and/or life models. Learn how to complete a piece from inception to completion, including photographing and displaying the piece.
Tuition
PreCollege credit classes are 38% discounted from Pratt undergraduate courses. PreCollege does not currently offer scholarship opportunities or payment plans for fall or spring students. Full payment for courses must be completed before the start of any course. Tuition does not include the cost of any materials or lab fees unless otherwise stated.
Technology Requirements
Students must meet the requirements below to register for online classes.
A laptop or desktop computer with a reliable internet connection
Access to a webcam or phone camera
A scanner or digital camera
All students will be given access to the required digital tools through their Pratt Onekey account (e.g. GSuites, Slack, Adobe Suite, and Zoom). Pratt will use these online platforms to connect students with their faculty and it is the student's responsibility to check that their region/computer is capable of supporting these various platforms and tools.
Have a question? Contact precollege@pratt.edu.