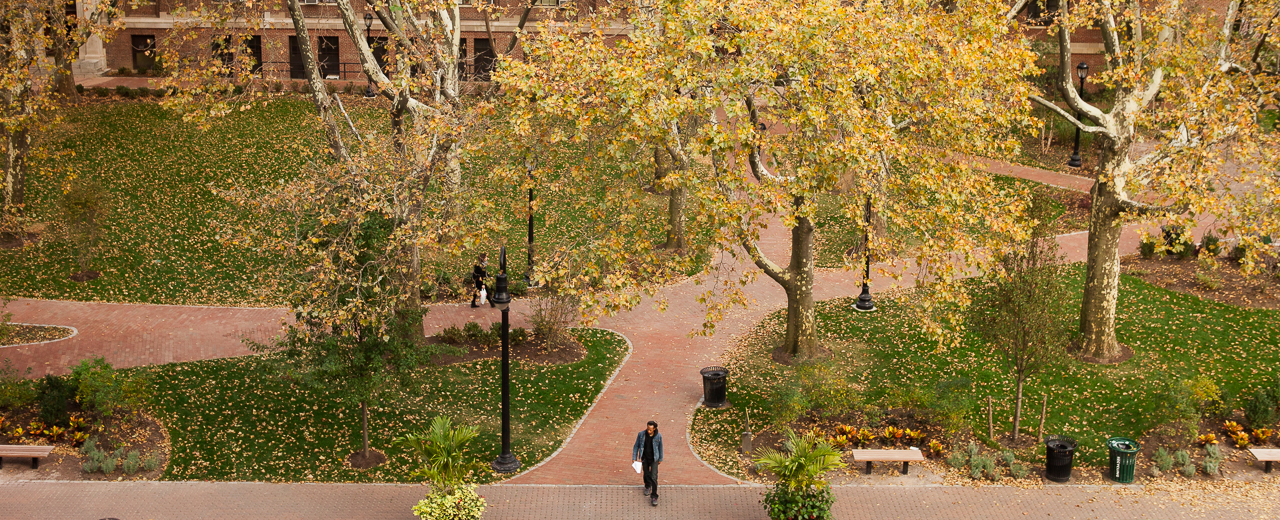 Who We Are
The Office of Facilities Management provides the staffing, supplies and resources to maintain the buildings and grounds at Pratt Institute. Our goal is to deliver the best quality and services in support of the Institute's Mission. The mission of the department is to plan, design, construct, and maintain comfortable, attractive buildings in a safe and clean physical environment for Pratt Institute students, faculty, staff, and guests.
Our Mission
To deliver the best service across all departments of facilities management. Through the use of best practices, standardized procedures, sustainability initiatives in pursuit of a safe, healthy and inclusive environment for the Pratt Institute. To be the stewards of the historic campus while updating the buildings and infrastructure in support of the Pratt Institute strategic plan.
Contacts

---
OFM Org Chart
Service Requests

Work Order Requests
Did you know the Office of Facilities Management receives over 900 service requests a month? That is about 215 per week or more than 11,000 per year. Help the Office of Facilities Management to improve our service and response time by using the online work order system. Accessed via the Pratt web portal, the online system is easy to use and filled with user-friendly functionality:
• submit work and service requests online using your onekey credentials,
• receive real time assignment of work orders with updates on status and scheduling,
• use the review function to update service order requests and check your work order history.
To Submit a New Work Order/Service Request:
Standard Work Orders and Service Requests should be submitted online using onePratt via www.Pratt.edu (Pratt onekey username and password required).
1) from the onePratt dashboard click the Contact Support button or use https://one.pratt.edu/s/contactsupport
2) from the Help page select: Contact Facilities
3) You will be directed to the Pratt Institute work request welcome page
4) enter the service needed using the work request form.
***For emergencies or urgent request, please contact the Facilities Helpdesk at 718-636-3579.
Option (2) two is to:
1.Launch the Pratt Safe App.
2. Select 'Support Resources'
3. Select 'Submit a Facilities Work Order'
4. Enter onekey username and password to log in.
5. Complete and submit work order.
Contact
facility@pratt.edu
718.636.3579
For Pratt Manhattan Center (PMC)
facilitiespmc@pratt.edu
718.636.7422
East Hall Boiler & Plaza Project Update for April 2023
Work continues on the new East Plaza Deck above the Boiler Room. During the next few weeks the contractor will continue to install the structural steel for the new plaza deck over phase 2 & 3. The interior chimney repairs are ongoing with completion scheduled for the end of April.
Work within the boiler room in preparation for the new boilers is progressing. New concrete basement slab, steam piping and mechanical equipment installation continues through the end of May. The new boilers will arrive in early June.
Foot traffic around the plaza and into East Hall is redirected during this time. Facilities Management staff along with the construction manager will be monitoring the work. We will notify the campus if there are any changes to the schedule. Please expect periodic noise during performance of the work.
Other projects scheduled to begin this Spring are:
East Hall and Main building masonry repairs and repointing.
Engineering and Machinery Window Replacement.
North Hall Accessibility upgrade and Elevator Project.
Pratt Studios Fire Escape Renovations.
Please adhere to all signage for safety and temporary closures. Thank you for your cooperation as we continue improvements to the Campus.
Contact Office of Facilities Management at facility@pratt.edu or (718) 636-3579.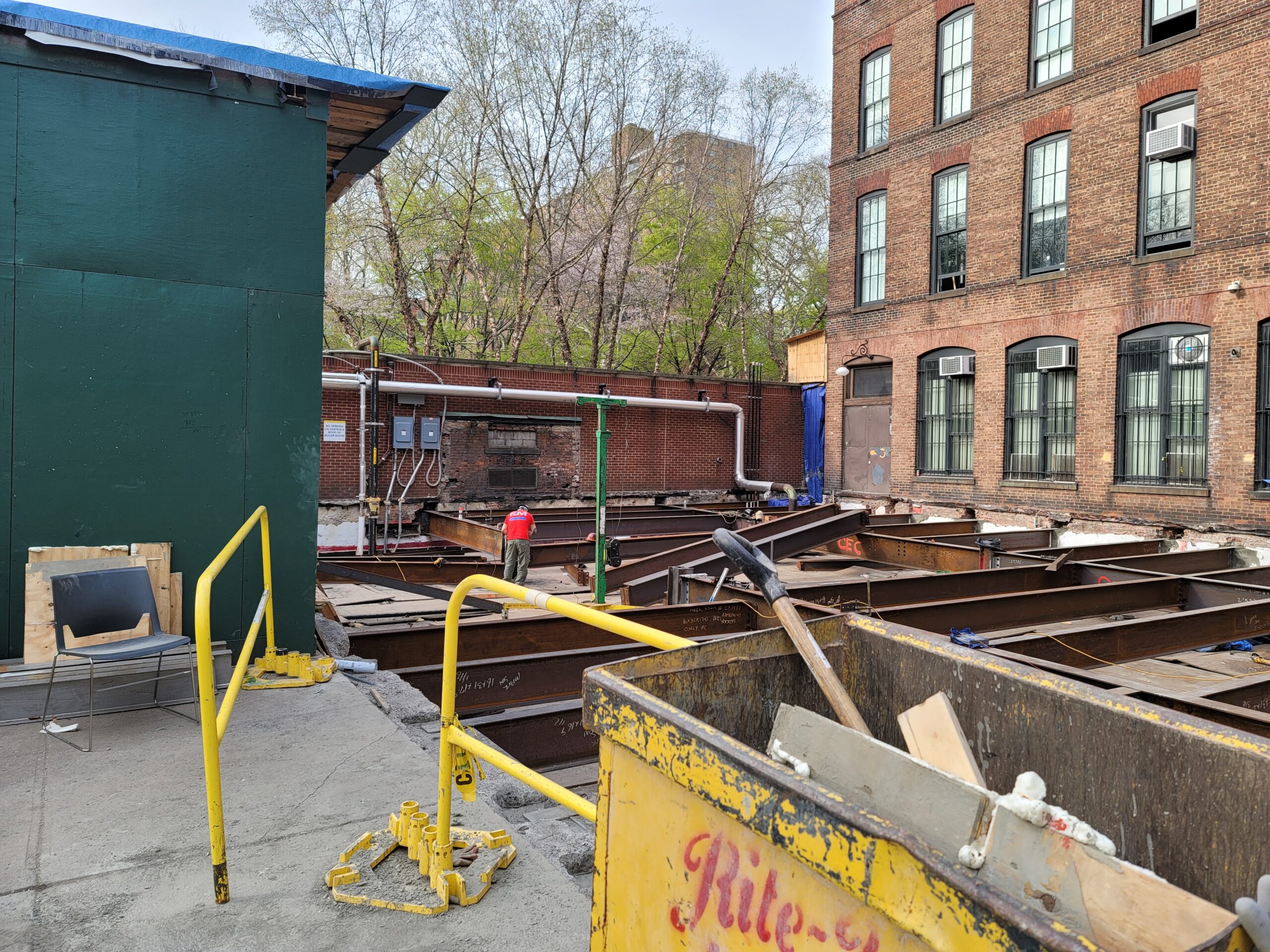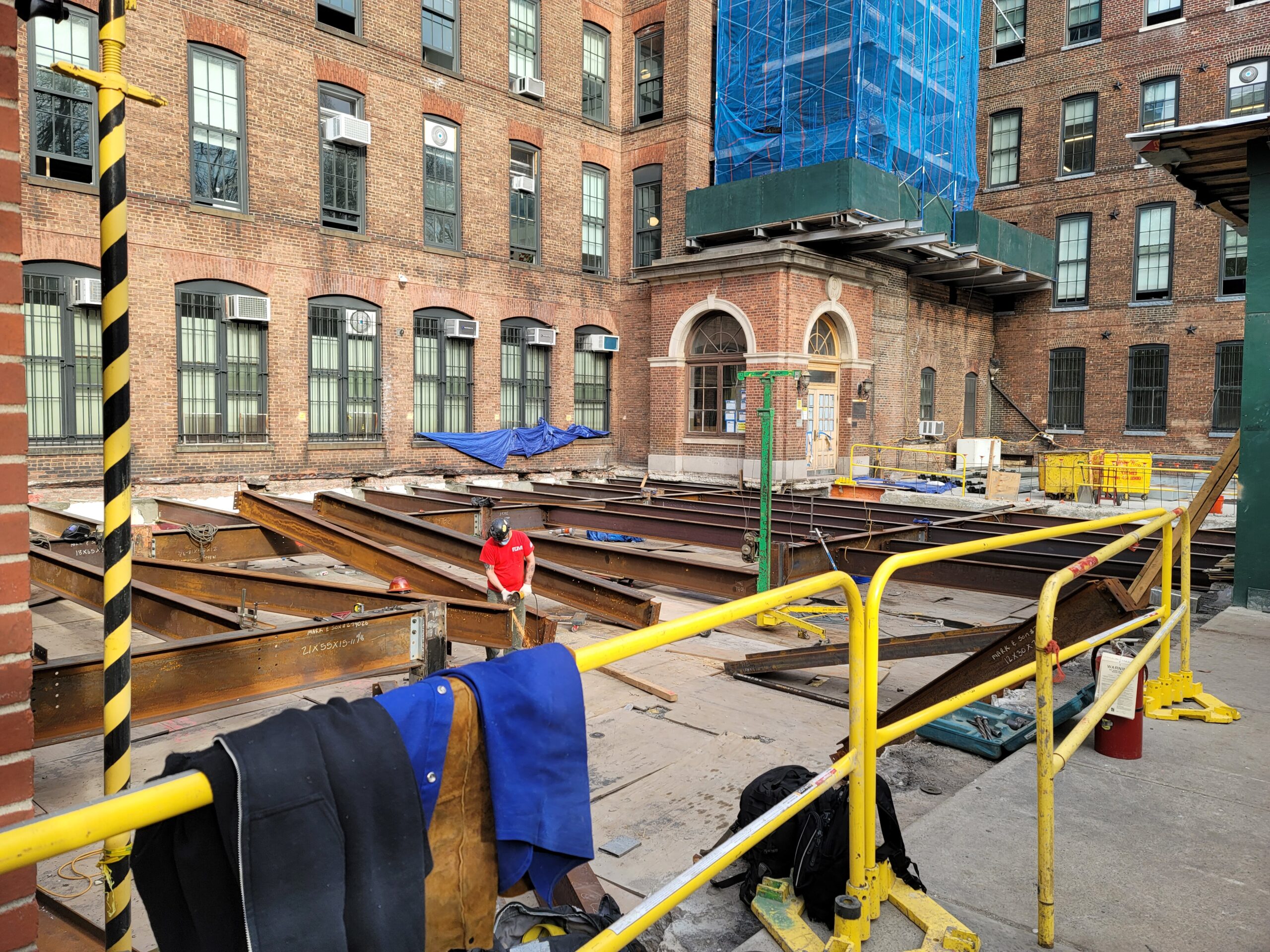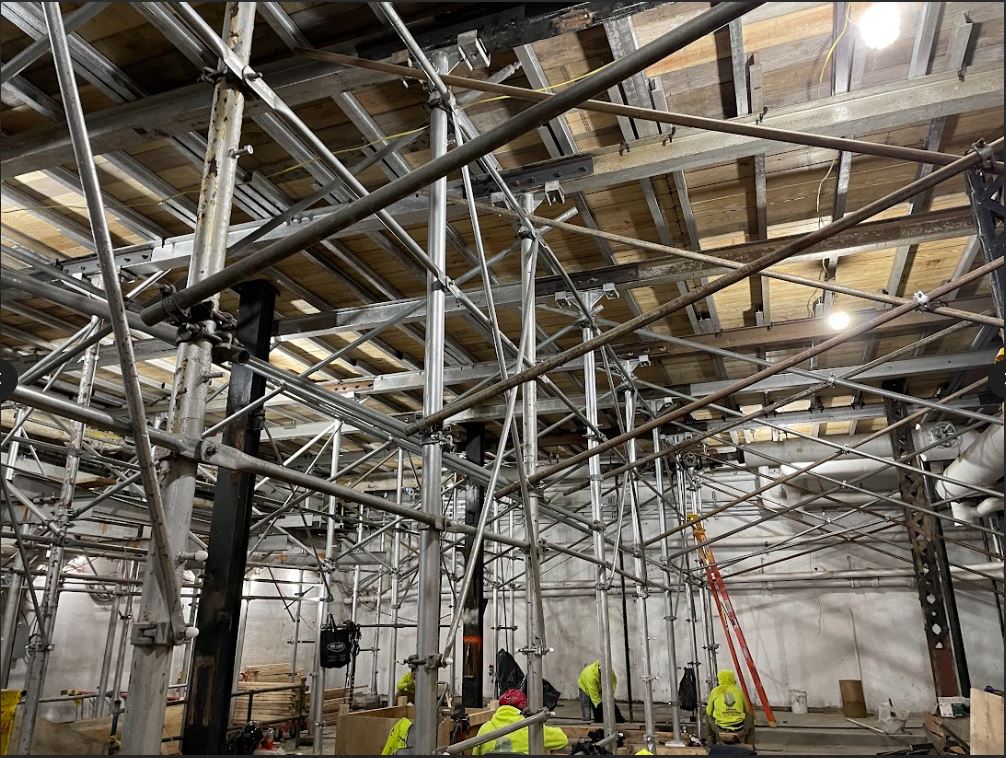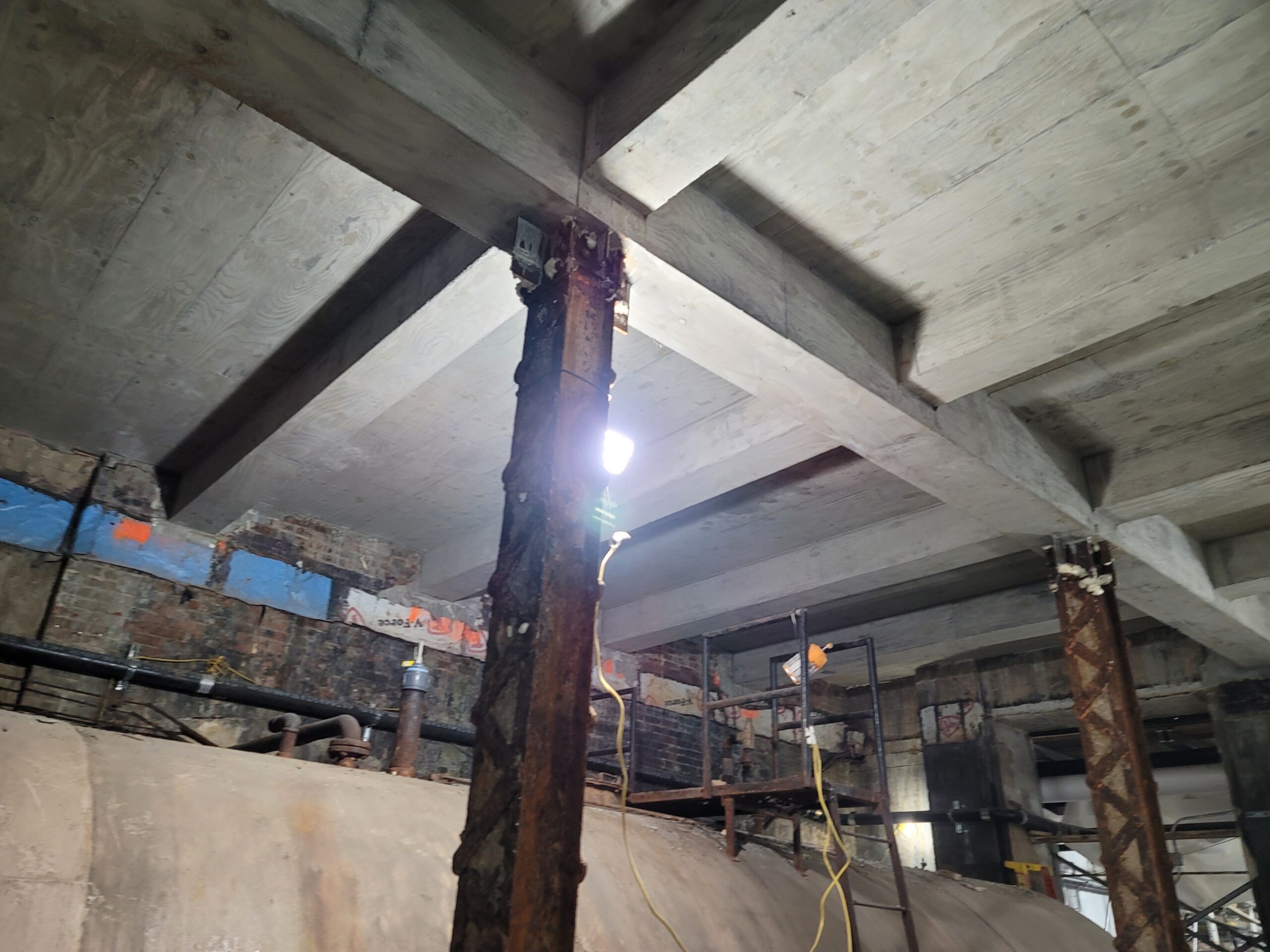 East Hall Boiler & Plaza Project Update for February 2023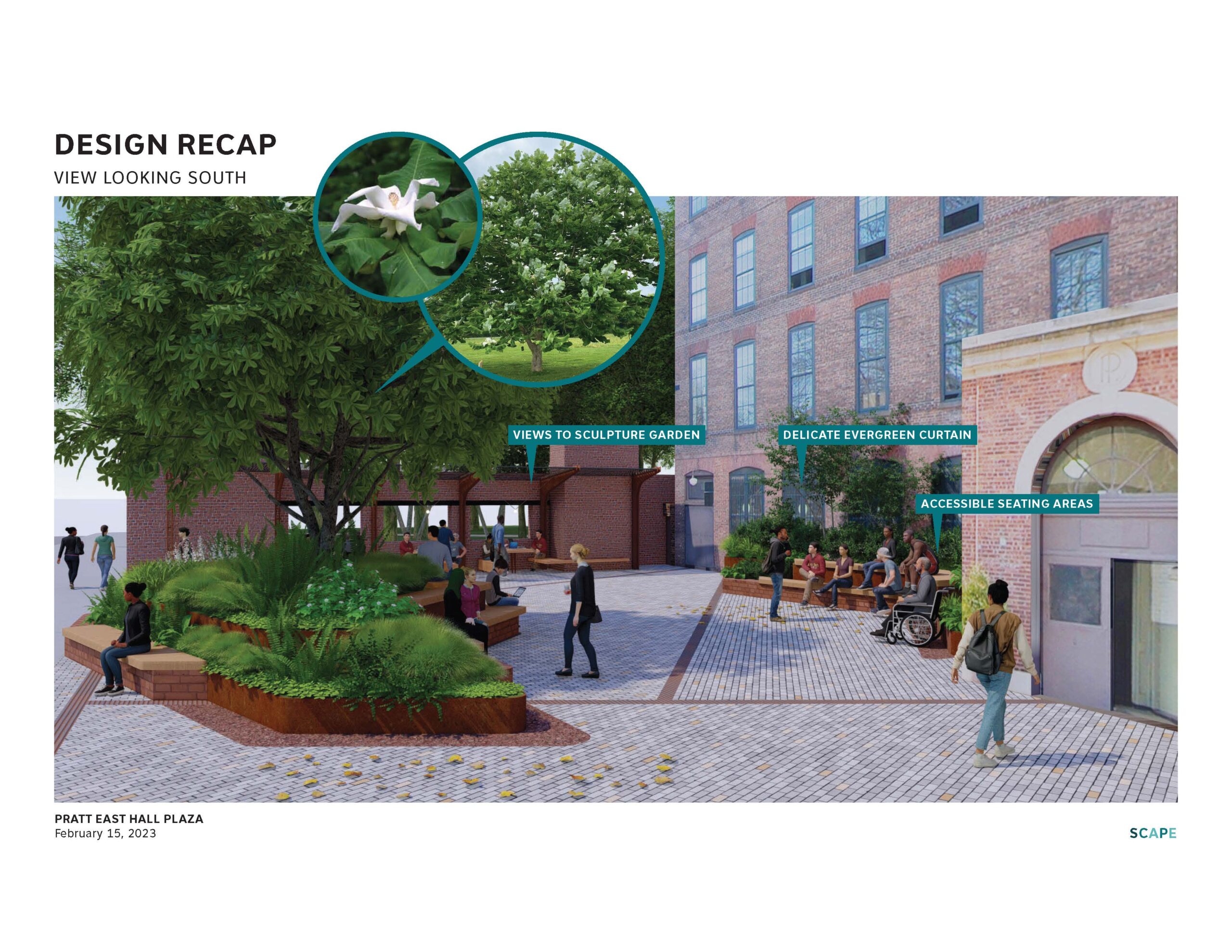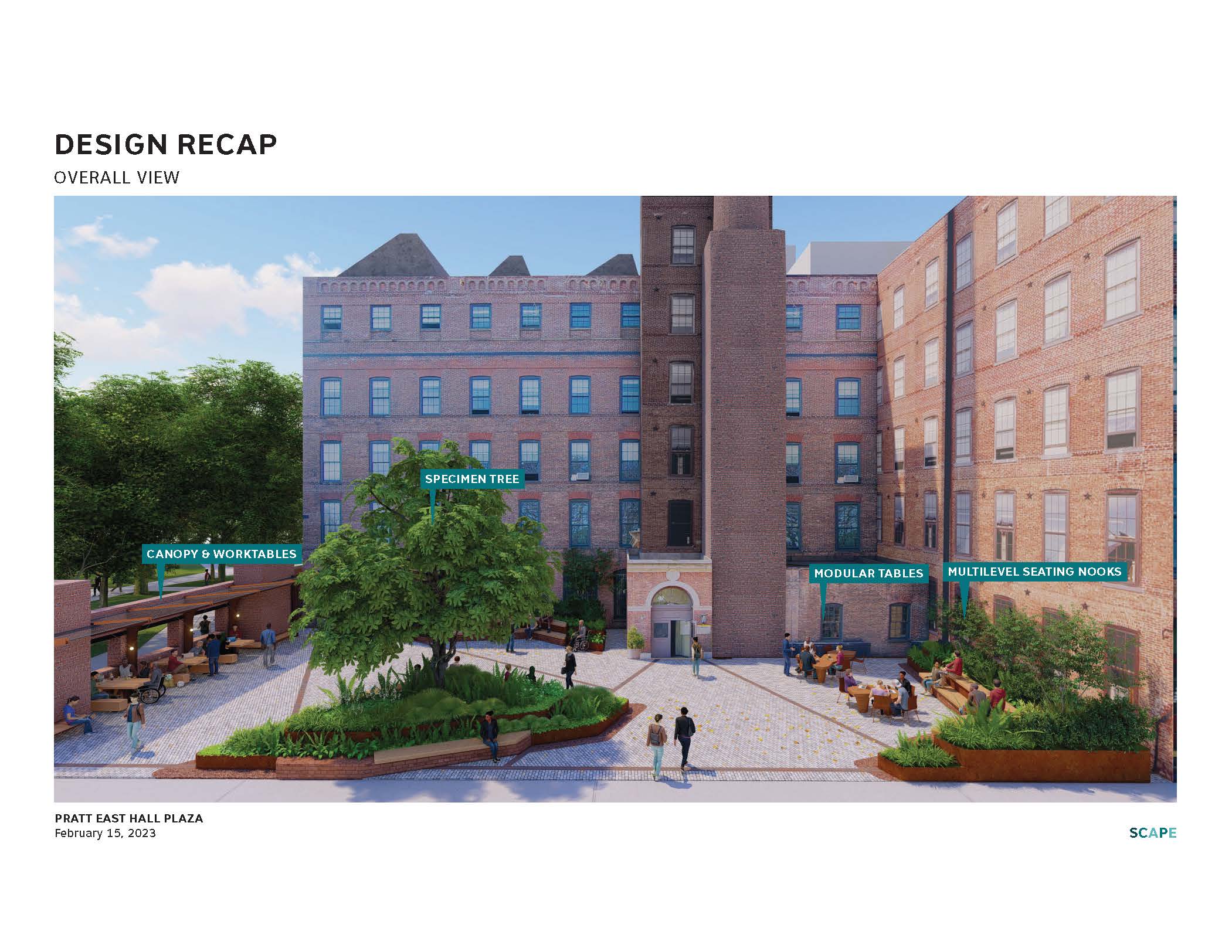 This is to inform the campus of the ongoing upgrades to the boilers and creation of a new plaza above the boiler plant along Grand Avenue.
Phase 2 plaza concrete deck and steel removal will begin in early March. Prep work has begun for the demolition of the concrete slab. Work is expected to be completed by the end of the month. It is similar to the work that took place on Phase 1 in the Fall.
The work of removing the concrete slab and steel will be noisy periodically throughout the course of the demolition. We are working with the contractor to help minimize the disruptions.
Once the work commences it is expected to take 10-14 days to complete.
Other updates; Phase 1 work is nearing completion: structural steel, columns and new footings are installed in preparation for the new plaza deck. Chimney repairs are ongoing to restore the interior and exterior brickwork. As part of the repairs the chimney stack will be restored to the original 1887 height.
East Hall Plaza
The reimaged plaza in front of East Hall is designed by Scape Landscape Architects. The new plaza will include spaces for seating, gathering and learning. The new landscape will include trees, shrubs and perennials for year round interest, lighting and an architectural canopy with tables and chairs for creating and meeting.
The Landscape Architects have completed the design development phase with construction scheduled for Summer. Attached are a few renderings of the design.
East Hall Boiler & Plaza Project Update For September 2022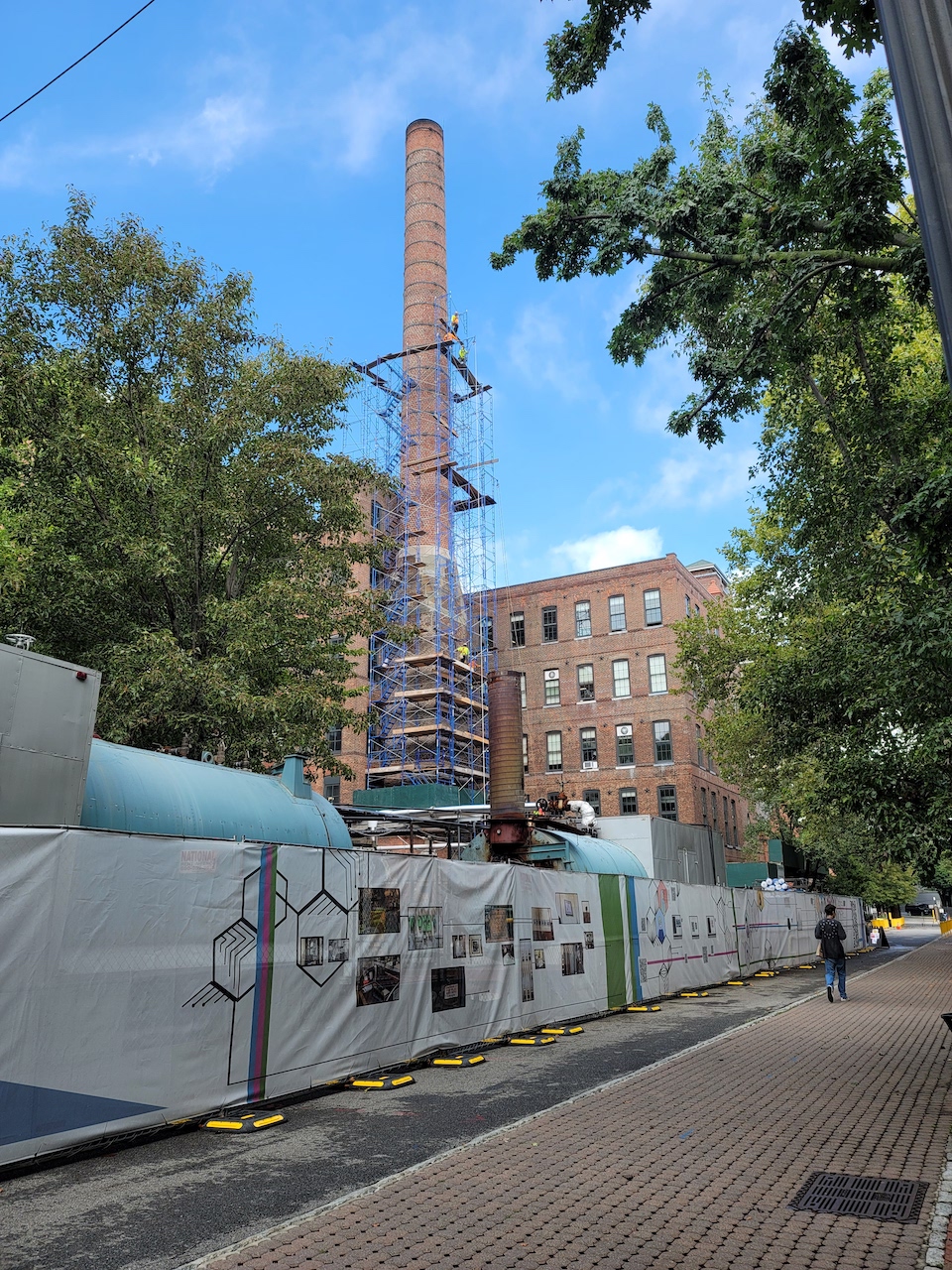 Chimney scaffolding work in progress.
Removal of the East Hall Plaza concrete slab is scheduled to begin at the end of September.
It is anticipated to be noisy at times. We will work with the contractor to help minimize disruptions.
Site Access Plan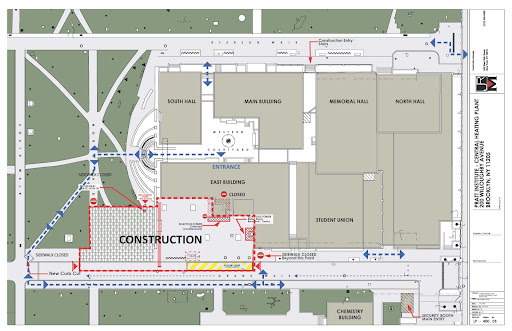 East Hall Boiler & Plaza Project Update For August 1st 2022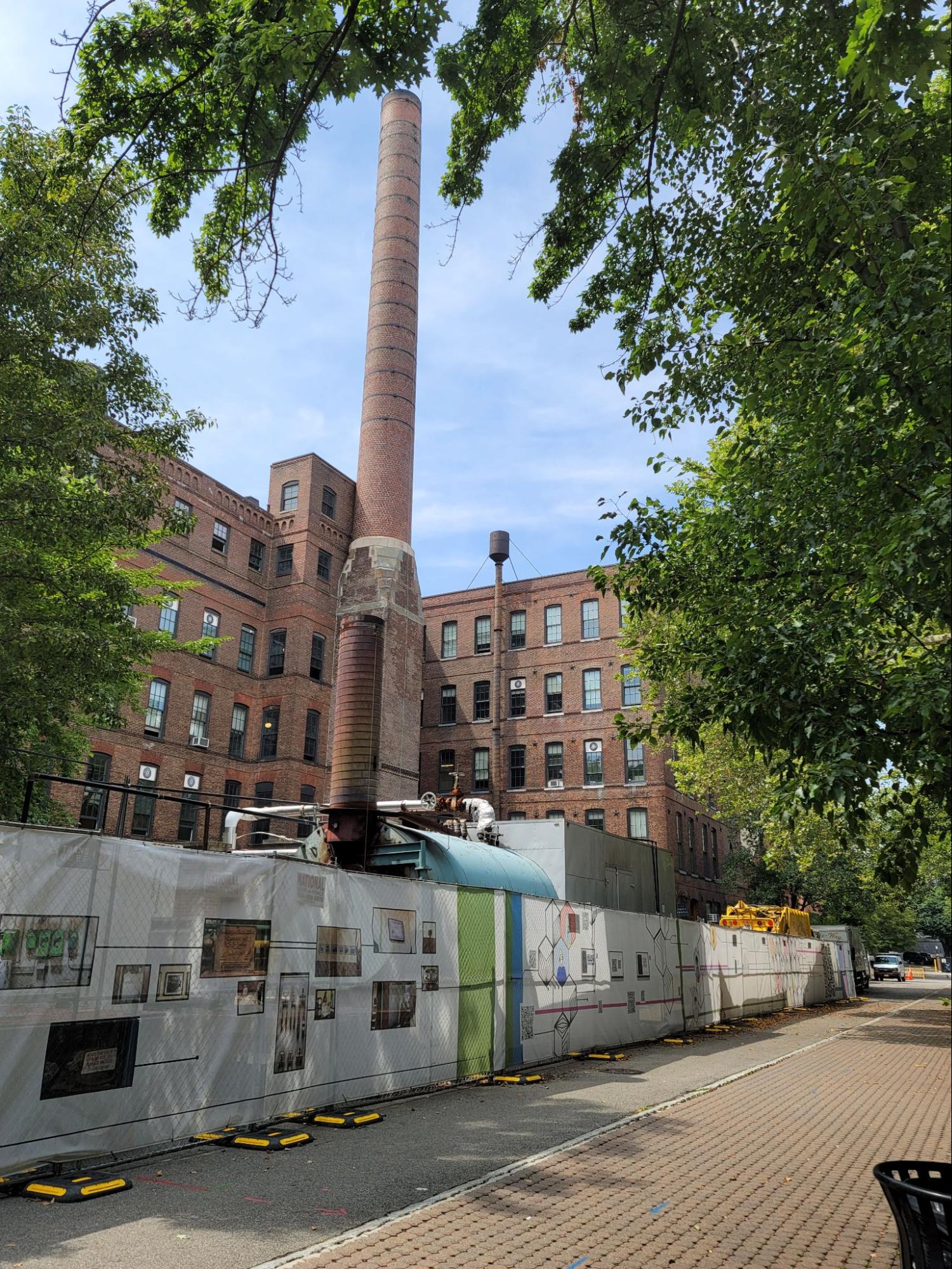 The contractor continues work for demolition of the old boilers and mechanical piping in the Basement of East Hall.
Sidewalk bridging will be installed in front of the East Hall Chapel as well as Chimney scaffolding in the next few weeks.
Removal of the East Hall Plaza concrete slab is scheduled to begin as soon as all prep work is completed. It is anticipated to be noisy at times. We will work with the contractor to help minimize disruptions.
---
East Hall Boiler and Plaza Project Update for July 2022
7/5 – Construction Trailer to Arrive
7/6 – 7/8 – Temporary Boiler Area Prep and 2nd Boiler Delivery
7/5 – Construction Trailer to Arrive
7/6 – 7/8 – Temporary Boiler Area Prep and 2nd Boiler Delivery
Beginning mid-July – Installation of Construction Safety Fence Around Boiler Area. Installation of Construction Safety Fence to enclose Contractor Staging Area. Installation of Construction Safety Fence Around East Plaza. East Hall Entrance from Grand Ave Closed.
Starting August 1st – Please be aware that Access into East Hall is restricted to Courtyard entrance only and from Main 2nd floor ramp. Grand Avenue west sidewalk closed from Chapel to South Walk. And North Walk closed between Grand Avenue and the Newman clock.
Site Access Plan (Coming Soon)
Facilities Planning, Design + Construction
Summer 2022 Construction Project
Project: Boiler + Plaza + Chimney
Building: East Hall
Estimated Start: June 2022
Estimated Completion: Fall 2023
Starting as early as July work will begin on major upgrades to the central heating plant which provides the heating and hot water for most of the campus buildings. Work is scheduled to begin immediately after commencement and last for the next 18 months. Upgrades include removal of the old boilers and installation of new high efficiency boilers to replace them. The boilers are below East plaza which will need to be removed in order to access the plant below. Reconstruction of a new plaza will include landscape, outdoor furnishings and spaces for social interaction and an outdoor classroom. Included in this work will be repairs to the chimney and building façade. Access around East Hall and portions of Grand Avenue will be restricted to construction activities. This will necessitate alternative entrances to East Hall since the Grand Avenue doorway will be closed for most of the work.
We will be working with Pratt Communications on the messaging and signage to help keep everyone informed on the latest activities and up to date as the project progresses.
---
The DeKalb Avenue turnstile and gate at Grand Avenue are closed to pedestrian and vehicular traffic between 7 AM and 6 PM until fall 2022. Contact Facilities at 718.636.3579 if you have questions or concerns.
---
Facade work and masonry repairs
Several projects are set to begin including for Pratt Manhattan, Higgins Hall and Pantas Hall. In preparation of the facade work scaffolding will be installed around portions of the buildings. Please observe safety signage when accessing the building and be aware that some doorways may need to be closed temporarily.
---
Office Hours
Normal Business Hours: Monday–Friday (8 AM–4 PM)
Evening/Night Shift Hours: Monday–Friday (4 PM–11 PM; 11 PM–7 AM)
After Hours or Emergencies
After 11pm or on weekends, emergencies may be called in to the Pratt Department of Public Safety and Security. They will get in touch with someone on duty.
During School Work Coverage
During the school year our staff is on duty seven days per week, 24 hours per day to handle routine cleaning of dorms, office areas, academic buildings, and dining halls as well as handling any emergencies that may occur.
During Summer Work Coverage
During the summer months, our staff is on duty seven days per week between the hours of 7:30 AM through 4 PM; and 4 PM through 11 PM. We also provide emergency service between the hours of 11 PM and 7:30 AM.