Whether in fashion, interior design, comic books, or recorded history, having diverse representation is crucial to presenting a full story where people can see themselves and aspire to create work in those spaces. Pratt Institute faculty, alumni, and students are now working across disciplines to unearth untold stories through their work, ranging from oral history projects that gather narratives that might otherwise go undocumented to interior design that centers Black culture.
Illuminating Black Fashion Designers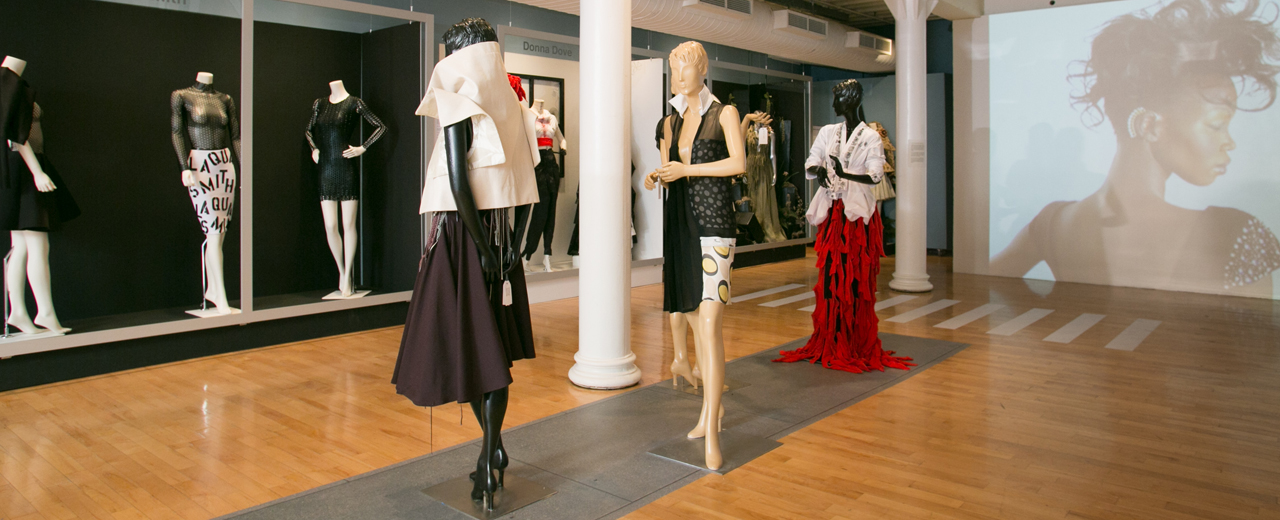 Adrienne Jones, professor of fashion design, has honored the stories of Black designers and addressed the absence of diversity in the fashion industry through Black Dress. She established the project and co-curated its inaugural exhibition in 2014 with Paula Coleman.
"This landmark exhibition was an illustrated platform of achievement of Blacks in the fashion industry," Jones said. "Held at the Pratt Manhattan Gallery, it commemorated and celebrated the contributions of contemporary fashion designers, while addressing the lack of representation of Black designers in the industry. The history of Black fashion is steeped in the cultural legacies traditionally passed down by the tailors and dressmakers of politicians, slaveholders, members of high society, and the like."
Called Black Dress: Ten Contemporary Fashion Designers, the 2014 exhibition showcased designers such as Stephen Burrows, Tracy Reese, Byron Lars, Omar Salam, and Pratt alumnus Jeffrey Banks. It has since evolved over the years as a platform to elevate the achievements of Black fashion industry professionals, including a 2019 Black Dress: Salon which featured a conversation with designer and 2014 Pratt Fashion Visionary Award recipient Byron Lars.
"The project has expanded to a resource website, a YouTube channel featuring interviews with fashion legends, Black Dress: Salon, and, most recently, Black Dress Talks, which present a gathering of notable fashion creatives to discuss fashion and culture," Jones said. "We are currently working on the next Black Dress Talks program, which will highlight models. In the fall, Black Dress Talks will highlight Broadway costume designers."
Gathering Unrecorded History
Ellery Washington, associate professor of writing, recently received a grant as part of the "I See My Light Shining" Oral History Project from the Baldwin-Emerson Collective Oral Histories Fellowship. The project is sending acclaimed writers around the country to conduct interviews and collect experiences that may otherwise be lost to history, with Washington focusing on elder New Mexicans of African American descent.
"As an African American born and raised in Albuquerque, I grew up without having any sense of the historical, cultural, and economic contributions made to the region by previous generations of people who looked like me," Washington said. "I often felt like an interloper in the land I called home. It was only much later, as an adult, that I became aware of the rich African American New Mexican legacy of which I am a part. By collecting these kinds of stories, my hope is to lend greater visibility to overlooked individuals and communities."
Washington has worked across several storytelling platforms, including fiction, nonfiction, film, and television, all woven with ideas of visibility and connection. As he became involved in the oral history project, he happened to be working on finishing a novel titled Buffalo that uses multiple storytelling forms and centers on several generations of African American New Mexicans. Alongside this work, the oral history project is enriching a story of the Southwest that has not been widely told.
"Stories and storytelling are essential elements of our humanity, and the absence of recounted stories related to any particular group has profound individual, social, political, and even economic consequences on the members of that group, as well as the culture surrounding them," Washington said. "More often than not, the act of collecting stories, investing in them, signifies what we as a society value, what narratives we deem worthy of holding on to. The absence of collecting certain stories, from certain people and communities, signals the same."
Designing a Narrative into a Place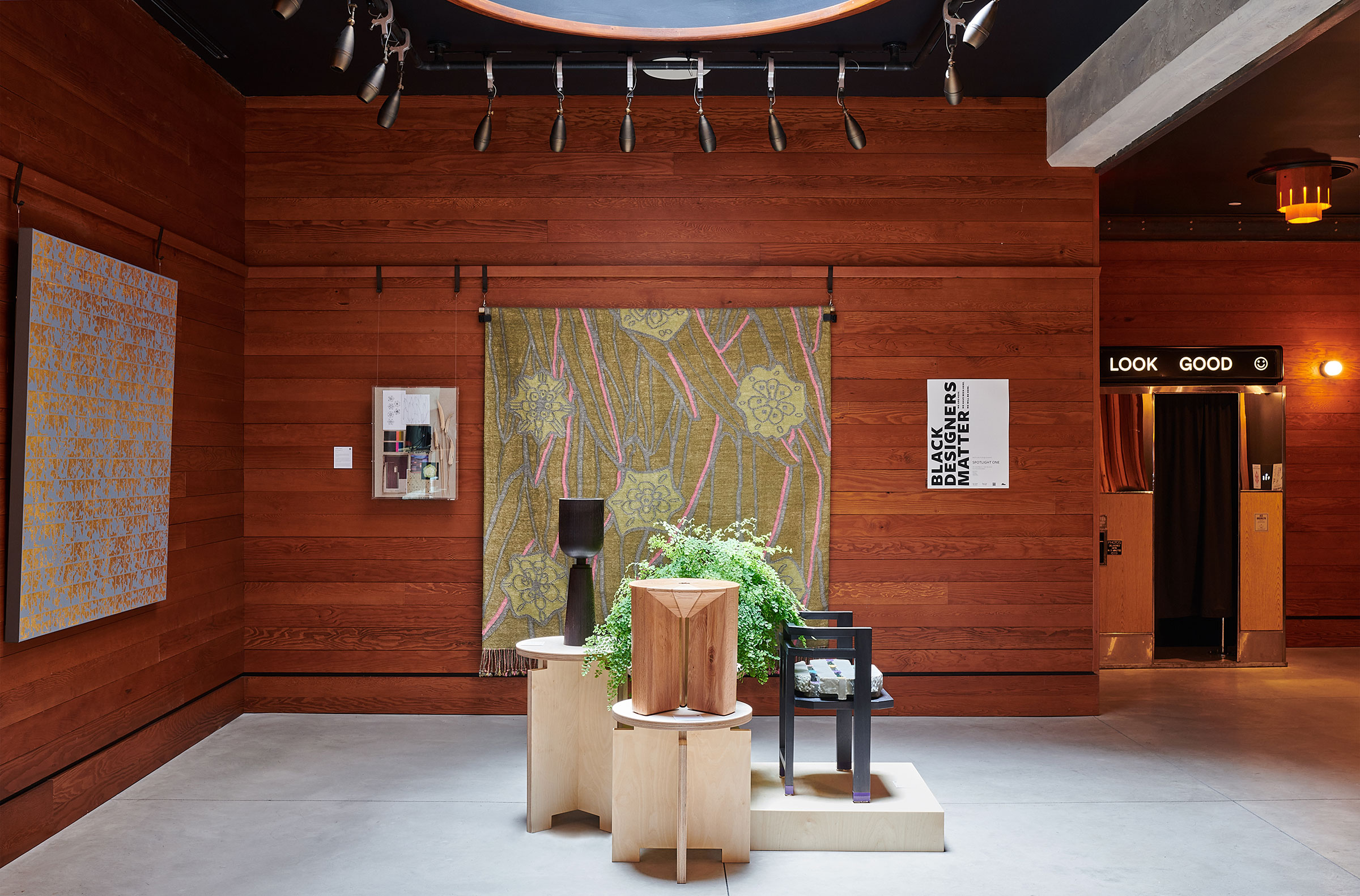 Little Wing Lee, MS Interior Design '06, has focused on what story a place can tell through its design. The Brooklyn-based designer's work has spanned interiors, architecture, and environmental design, including with Apparatus, SOM, Rockwell Group, and the Ace Hotel Group where she is the design director of Atelier Ace. Her recent work includes being involved in the design of Ray Harlem. The large-scale community project combines residential, retail, and event space for the National Black Theatre, a historic community-based theater company that came out of the civil rights movement to offer a home for Black stories not being presented on other stages. Lee is embedding references to the heritage of Harlem in its new interiors.
"My mom was a modern dancer and an artist during the Black Arts Movement of the 1960s and 70s," Lee said. "She has very strong ideas about how a space should feel, about fashion, and she gave my sister and me her eye for beauty. We would also spend summers with our grandmother at her gigantic pink Italianate house in Connecticut surrounded by acres of gardens; she had a love of nature and beautiful things. I spent a lot of time wandering around her gardens, poring through her china cabinets, stacks of tablecloths, and napkins, and being fascinated by all the patterns and colors and styles that she had. So, I grew up with a strong appreciation for how spaces and objects and nature could combine to create a beautiful environment, and ultimately tell a story."
Before shifting to design, she worked in documentary television and film, experiences which informed her interest in creating narratives (she has cited the 1991 film Daughters of the Dust by Julie Dash as an influence). After an impactful summer studying landscape architecture at Harvard's Graduate School of Design, she decided to enroll in Pratt's graduate interior design program. In 2017, she founded the collective Black Folks in Design, an organization that amplifies and networks the contributions of Black designers. It was inspired by her experience as an interior designer for the National Museum of African American History and Culture in Washington, DC, where she worked on a team of primarily Black designers, a contrast to her experience in other design offices where she was often the only one. In 2019, she founded her firm, Studio & Projects.
"As I move through my career as a designer, I realize that storytelling is central to my practice," Lee said. "In starting the process and establishing the mood and atmosphere of the space, I will often look at paintings and sculpture for inspiration for color, texture, and light. I also look at exterior spaces—the city and the exteriors of buildings—to reference and acknowledge moments that can perhaps be drawn into the space as well. I want to develop spaces that not only have a story to tell but also invite and encourage people to weave theirs in as well."
Creating a Portal to Lost Memories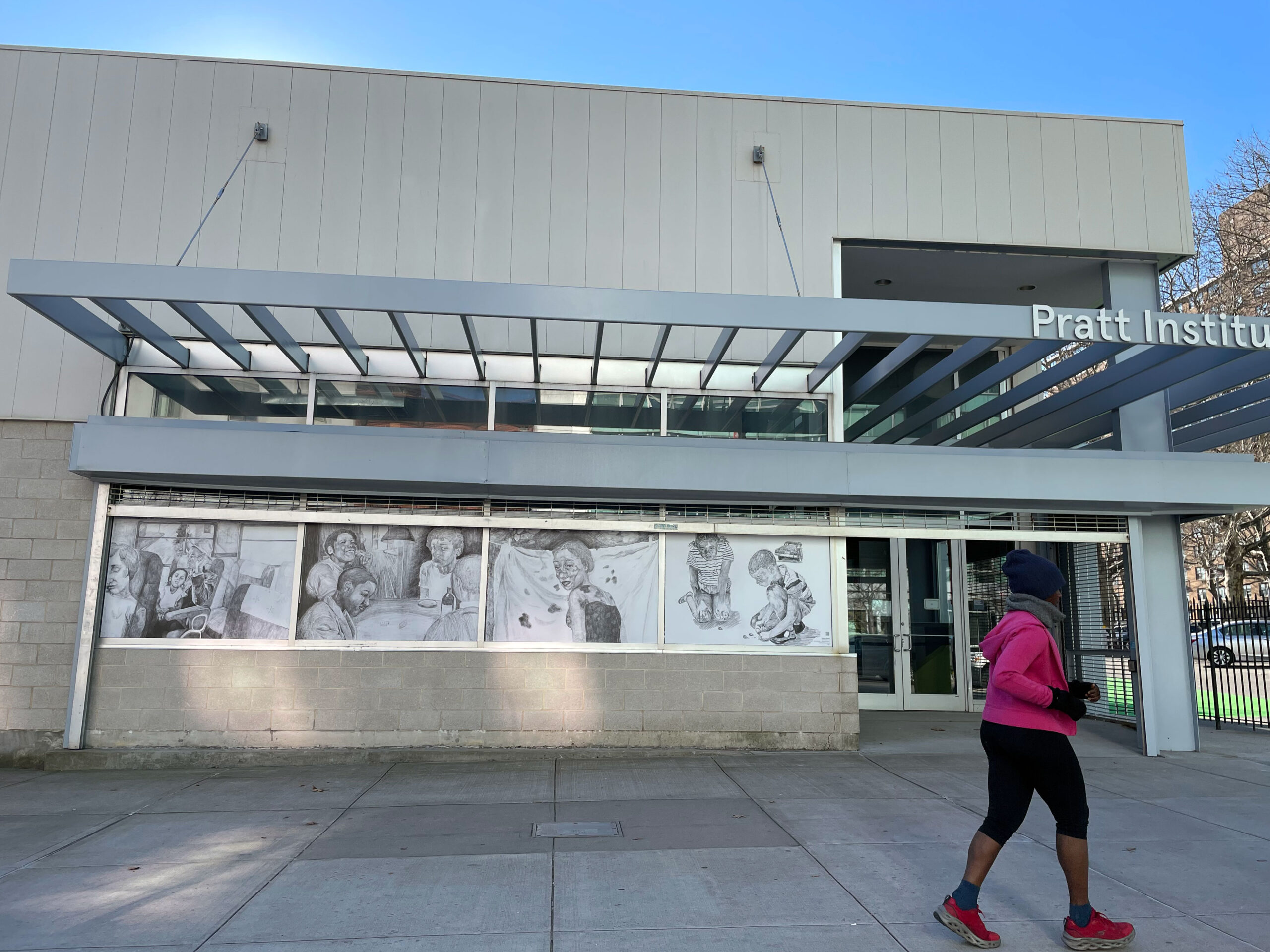 During February 2023, passersby on Myrtle Avenue alongside the Pratt Brooklyn campus can view "Eyes Like Mine – (inherited longing)" by Shanoya Allwood, BFA Film '25, in the windows of the Film/Video Building. The work is based on her graphite pencil and ballpoint pen illustrations that invite Black viewers to see their ancestors in the faces of figures gazing out from different scenes, recognizing that for many Black people, the individuals of their past can be obscure.
"It feels like you're looking at a memory," Allwood told Pratt.edu for a story about the installation. "I wanted to explore the thought of, 'are there times that I mirror the people who came before me?'"
The work is on view as part of Black Artstory Month presented during Black History Month and started by the Myrtle Avenue Brooklyn Partnership. This year, Pratt continued the initiative with the support of the Myrtle Avenue Brooklyn Partnership and curation by Kate Therrian, special assistant to the dean in the School of Art. Pratt has participated in Black Artstory Month since 2020, with previous years of student work including collage, photography, and augmented reality.
"I admire how art can do very different things for everyone but that as a group, we're connected by this enormity of emotion and experience," Allwood said. "Especially when thinking about the topic and ideas of this piece, there's a validity in feeling any emotion: anger, sadness, joy, familiarity, peace. It's all there, and I've felt all of it."
Amplifying Visibility through Film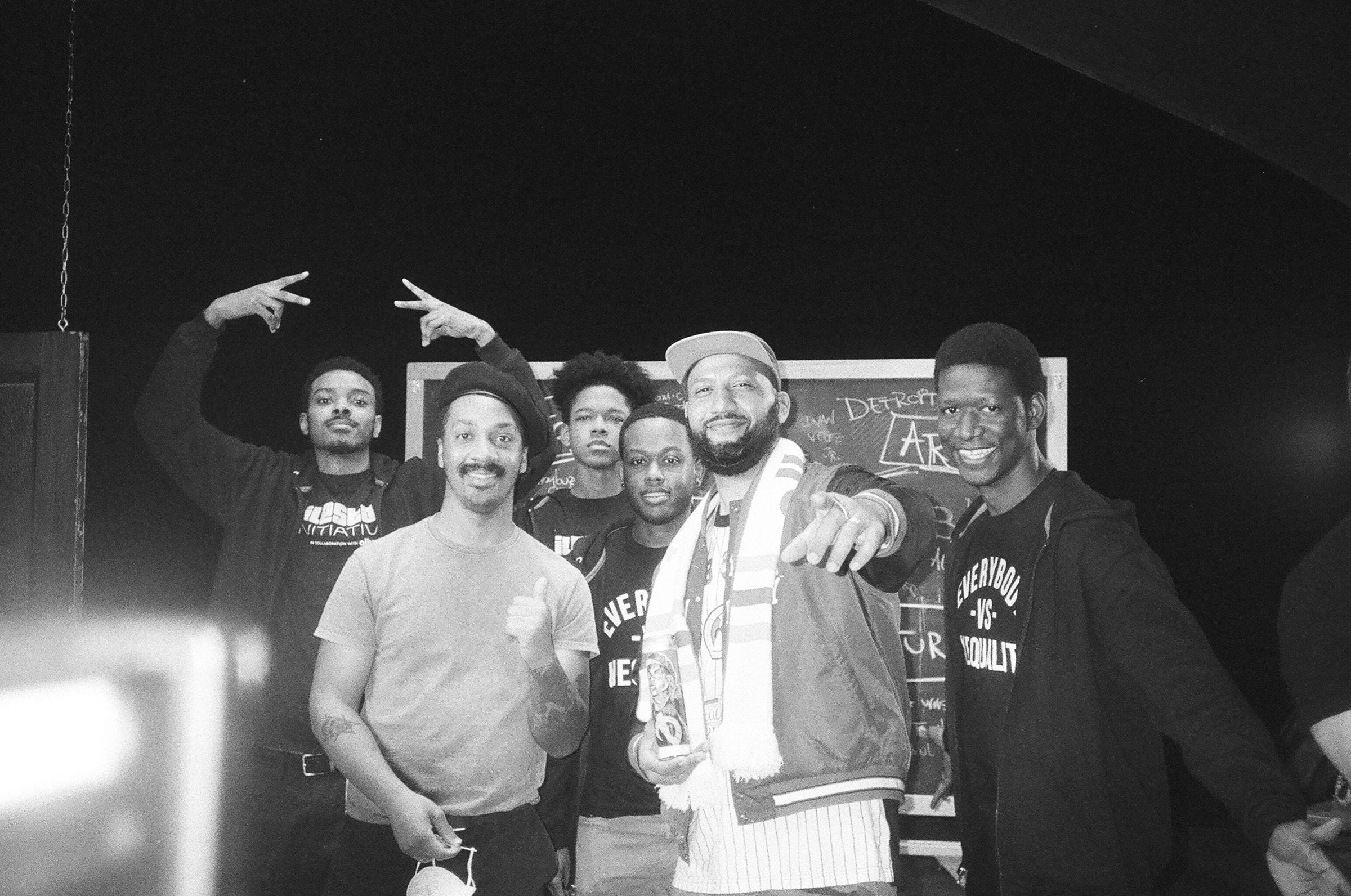 Justice A. Whitaker, visiting assistant professor of film/video, works as a writer, director, and producer to bring light to unsung stories, particularly those related to the global African Diaspora. He recently directed the documentary Milestone Generations—now streaming on HBO MAX—which chronicles the 30-year history of Milestone Comics, the first Black-owned comic book company. The film, made in collaboration with DC Comics, highlights the legacy of their work in increasing the representation of Black comic book characters and how it continues to shape comics today.
"I see my work as a filmmaker as a form of activism, illuminating the experiences of people and their stories that would otherwise be forgotten or overlooked," Whitaker said. "I have traveled the world and had amazing life-changing experiences, and met amazing people with unfathomable life circumstances, and I am inspired by all of that unknown beauty of the world—those places, people, and their stories are what I bring to my storytelling as a filmmaker."
He is now co-directing a documentary film on the Full Circle Expedition, which in 2022 became the first all-Black team to attempt to summit Mount Everest. This year, he received a Pratt DEI Research Seed Grant for The Trauma Cycle, a project which will examine how cinema can offer both healing and social change for BIPOC people.
"In my effort to bring focus to underrepresented voices and ideas, I am mostly focused on Black stories, so many of which have been suppressed, erased, and neglected by mainstream media," Whitaker said. "My experience as a Black artist born and raised in America has made me aware of the universal oppressions people face in a multitude of contexts around the globe, and my work reflects this shared spirit of resistance throughout many cultures. I encourage young artists to always see their own lives as the most valuable cultural capital they can bring to the table. Our own story is one that can never be taken from us."