Using augmented reality and bold illustrations, Ananda Ray, BFA Digital Arts '24, is bringing awareness to the stories of three generations of Black women whose activism for equality made a lasting impact. Called "Reflections of Resistance," the vibrant art installation is in the windows of Pratt Institute's Film/Video Building on Myrtle Avenue in Brooklyn as part of the 2022 Black Artstory Month. The February event organized by the Myrtle Avenue Brooklyn Partnership coincides with Black History Month and features art in storefronts and other public spaces in Fort Greene and Clinton Hill to celebrate the area's legacy of Black creativity.
For Ray, the public-facing work was an opportunity to recognize the unsung contributions of Black women to social movements across American history. The repeated word "unite" radiates around a group of women from across eras who are holding signs like "We March for Integrated Schools Now!" and "Justice for Breonna."
"When you look at Black women in early civil rights movements, they were not only providers for their families but also organizers of these early movements, which is very parallel to the movements we see today such as Black Lives Matter," Ray said. "I wanted to tell stories of the mothers, sisters, and women who came together and fought for democracy. They deserve to be amplified just as much as other civil rights figureheads."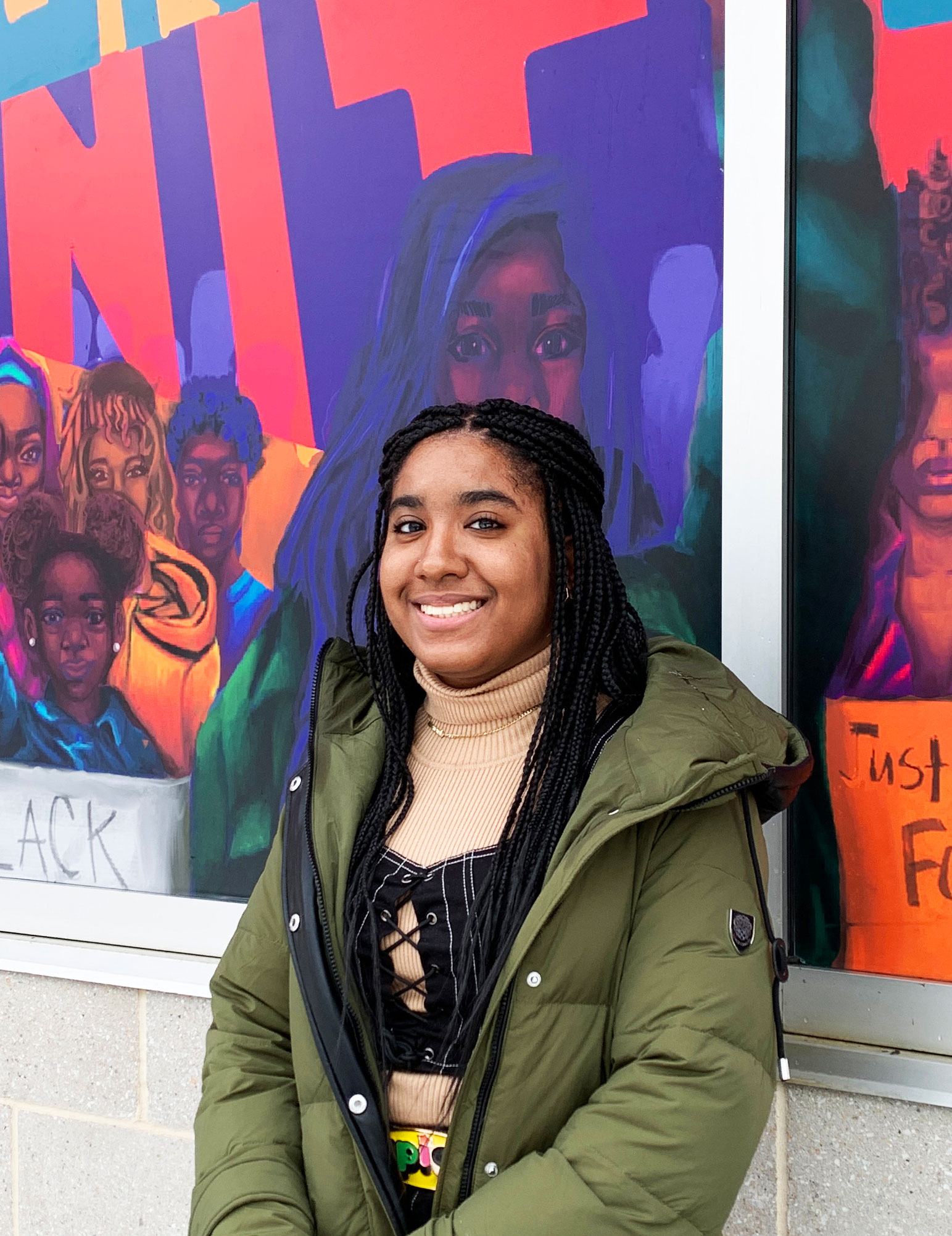 This generational look at activism, from civil rights in the 1950s and '60s to the Black Panthers in the 1970s to Black Lives Matter in the present, resonates with the theme of this year's Black Artstory Month: Democracy's Body. Curated by Bre'Lynn Lombard of UnJaded Curations, the work on view showcases how artists are centering Black womxn's narratives in American democracy in a way that goes beyond the political landscape.
"The collectivity of Ananda's work, its vibrancy, and the emotion that is invoked throughout the subjects are democratic," Lombard said. "It illustrates a story that is not told nearly as much as it should be and highlights the versatility of Black girlhood and Black womxn."
A map of all the Black Artstory Month artwork along Myrtle Avenue is on the Myrtle Avenue Brooklyn Partnership's site, with film screenings, panel discussions, and visual art presentations planned to be held throughout the month. This is the third year that Pratt is participating in Black Artstory Month, with Ray's work following previous installations by Brandon Foushee, BFA Photography '21, and Devin M. Alexander, BFA Fine Arts '20. In addition to the installation on Myrtle Avenue, Ray's artwork can be accessed remotely.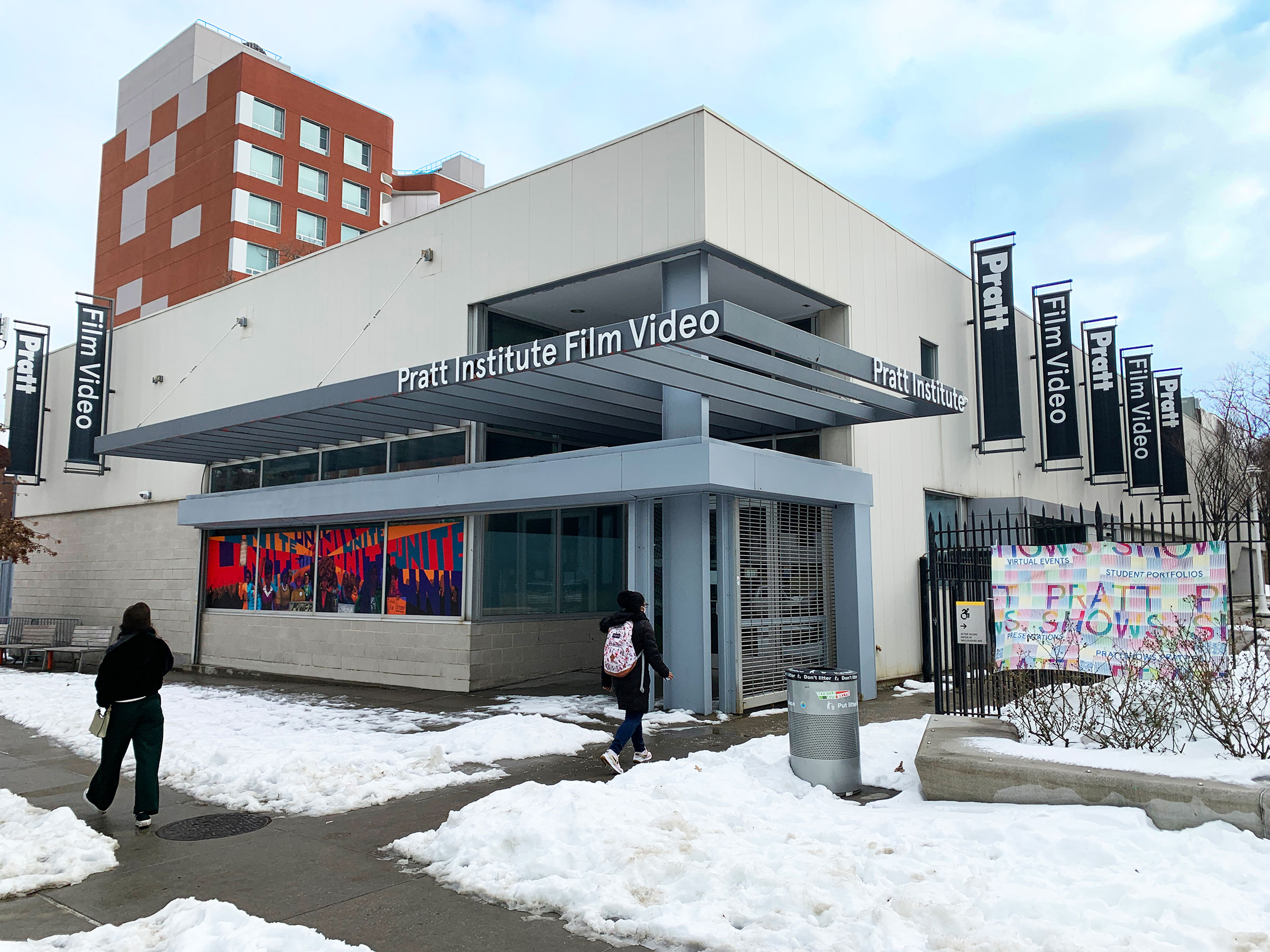 "The user can click on each of the women and learn about their lives, who they were, and what they stood for," Ray said. "I think this form of technology opens up new access to participation. It opens a new path for people to learn and hear important Black stories that deserve to finally be heard."
For instance, a viewer can engage with information on civil rights activist Fannie Lou Hamer, who was pivotal in organizing the 1964 Freedom Summer that brought hundreds of college students to help with voter registration in the South, as well as find details on the current voting rights advocacy led by Stacey Abrams. "Reflections of Resistance" involves both AR and 3D modeling to bring these narratives to life. Creating connections through art is part of Ray's ongoing exploration of technology. One of her earliest AR projects was dedicated to learning about Clinton Hill and the lives of its residents, and she has also designed an AR work where users connect with a version of Black Twitter and conversations around activism, culture, and Black joy.
"It was important for me to create an accessible space to view my art," Ray said. "I hope that through it the viewer can experience something new. Shining light on hidden stories is something that I value as an artist and bringing them into the forefront of society is something that I want to continue to do in my career."