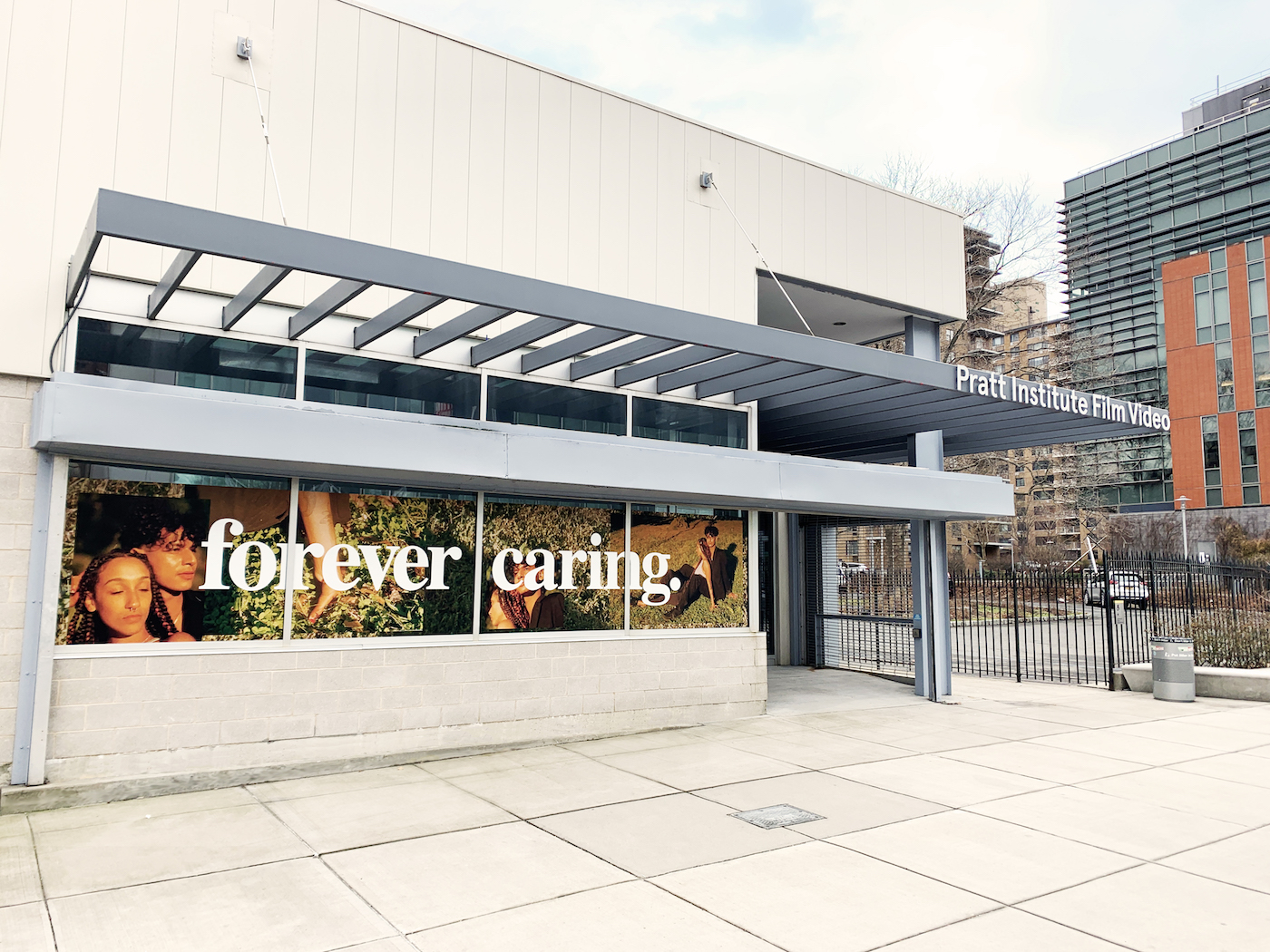 "Forever Caring" by Brandon Foushee, BFA Photography '21 (photo by Kate Therrian Barron)
The words "forever caring" stretch across four windows of the Pratt Institute Film/Video Building on Myrtle Avenue in Brooklyn as part of a new installation by Brandon Foushee, BFA Photography '21. Joining text with photographs of two people sharing a close moment in a grassy landscape, he responded to the Black Artstory Month 2021 theme of "Love, this time" by reflecting on his own community and the role of caring over the past year.
This prompt reminded me of where my love was at," Foushee said. "The people in these photographs are two close friends of mine who both taught me a lot about holding your loved ones close, even in regards to distance in this gray, wintery aspect of life right now. I photographed them in September and there's a warm presence, especially with the golden light in Prospect Park. The collage reiterates that love for caring and reminding other people to care about each other."
Happening throughout February to coincide with Black History Month, Black Artstory Month is organized by the Myrtle Avenue Brooklyn Partnership with installations in Fort Greene and Clinton Hill to celebrate the area's legacy of Black artistry. This year's event, curated by Atiba Edwards of the arts nonprofit FOKUS, examines the challenges of the past months where longstanding issues of inequality were exacerbated by the pandemic, while love still surfaced through acts of care. Like Foushee's work that is visible from the street, the Black Artstory Month pieces are all in public-facing spaces, including windows and storefronts along Myrtle Avenue (a map of all the work is available online).
This is the second year that Pratt is participating in Black Artstory Month, with Devin M. Alexander, BFA Fine Arts '20, creating an installation of vibrant cut-out figures in 2020. For Foushee, who is in his final semester at Pratt, it was an opportunity to push his practice into new areas by exploring collage and text as well as the potential for public art in his ongoing consideration of Black visibility in photographs that capture scenes of daily life.
"I have always used my camera as a way to figure the world out," Foushee said. "But I find more and more that what I'm enjoying is documenting the people that are around me and sharing that image culture. I'm really into the ideas of Black normalcy and leisure because those sorts of themes aren't really present in our image histories."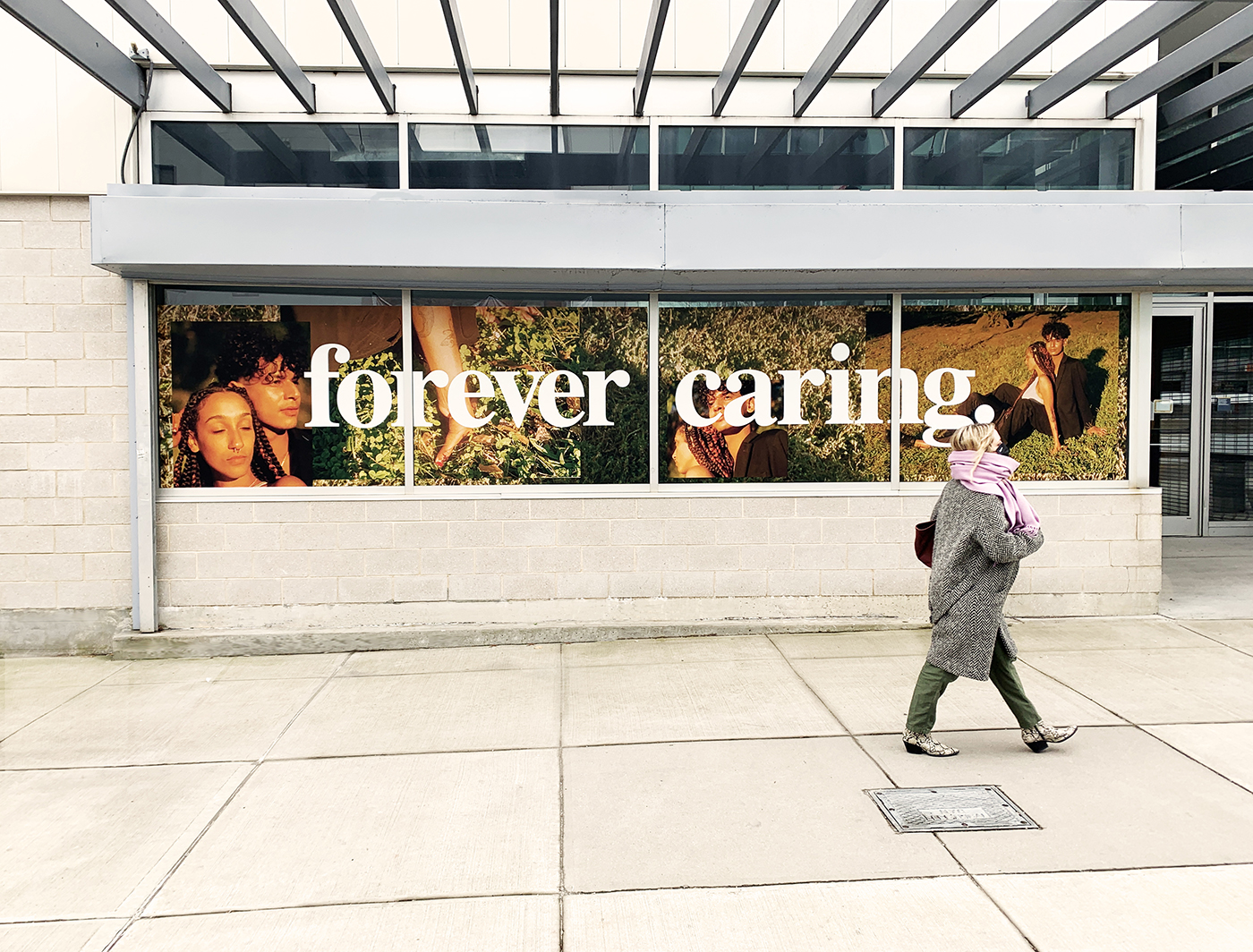 "Forever Caring" by Brandon Foushee, BFA Photography '21 (photo by Kate Therrian Barron)
This is something he's also engaged with in his series The Internal Space, in which he photographs everyday moments, often in domestic settings, where Black people have been historically underrepresented in art and visual culture. He recently discussed this work with Sydney Ellison, BFA Photography '22, in a feature on Cumulus Photo, and explained that the softness in his photographs in their quality of light evokes how his subjects "see themselves in a self-reflective state."
"Through photographing people that I care about, I feel like I've created a deeper bond with them," Foushee said. "And that has a tender quality and genuineness because it feels more like a collaboration and an aspect of how our relationships can grow."
Now through the end of February, that vision and sense of connection will be shared with passersby on Myrtle Avenue, encouraging viewers to cherish their own relationships and to offer care for those they love.