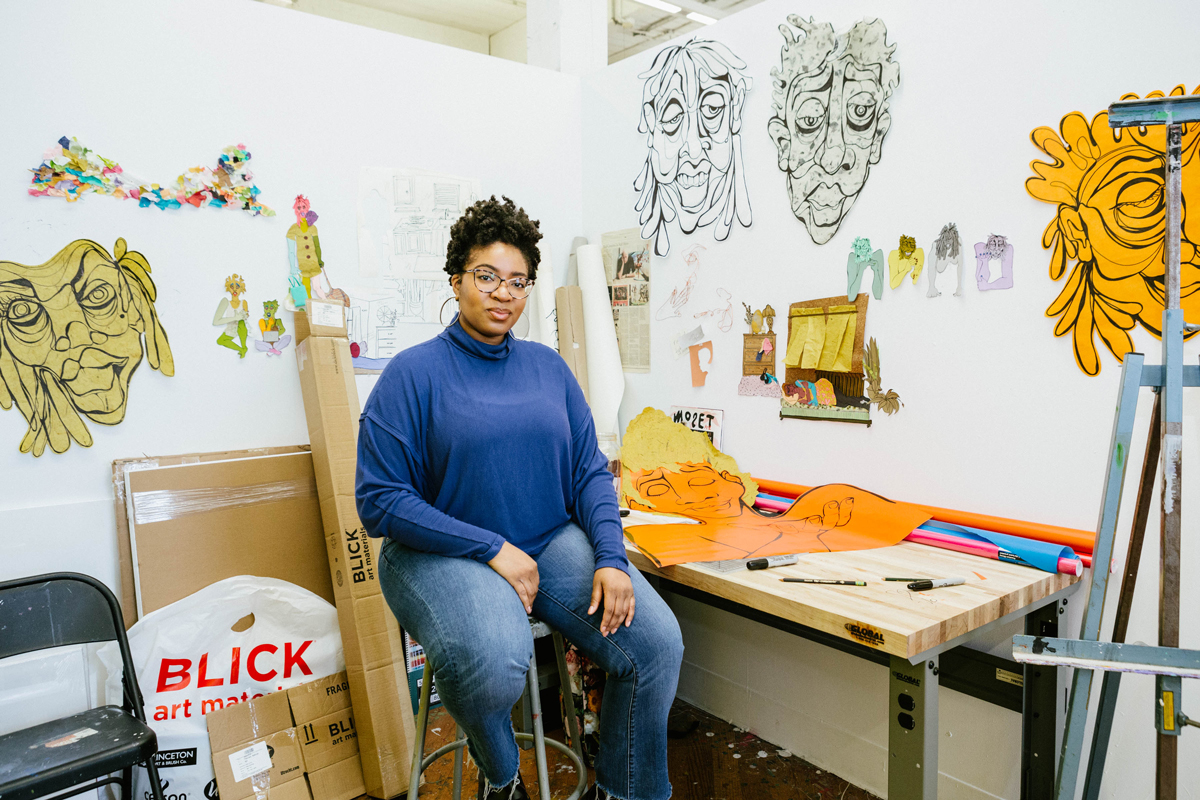 Cut from colorful paper in blue, red, green, orange, and yellow, the illustrated figures in the windows of the Pratt Film/Video Building on Myrtle Avenue gather around glowing objects. Devin M. Alexander, BFA Fine Arts '20, was reflecting on community and belonging when creating her "Long Live, Magic" installation for Some Words: Black Artstory Month 2020 happening all February in Fort Greene and Clinton Hill.
"I've been thinking about what kinds of language and what kinds of affirmation we use to connect us in the world right now," she said. "I was thinking about the feeling I have when I'm complimented by someone who looks like me. The orbs the figures are holding represent something they've received that's really precious."
Organized by the Myrtle Avenue Brooklyn Partnership (MARP), the annual Black Artstory Month celebrates the area's legacy of Black artistry. Timed to coincide with Black History Month, the series of events involves a range of programming including art, film screenings, discussions, and oral history projects. This year's Some Words theme of language and dialogue was inspired by Audre Lorde's 1997 poem "Coal" in which she wrote that "Some words are open / Like a diamond on glass windows."
All along Myrtle Avenue, there are art interventions on this theme in the windows of businesses and other buildings. Language was important to Alexander when she was working on her piece for this initiative, especially in responding to popular social media hashtags like #blackgirlmagic, #blackboyjoy, and #blacklivesmatter that have developed into affirmations.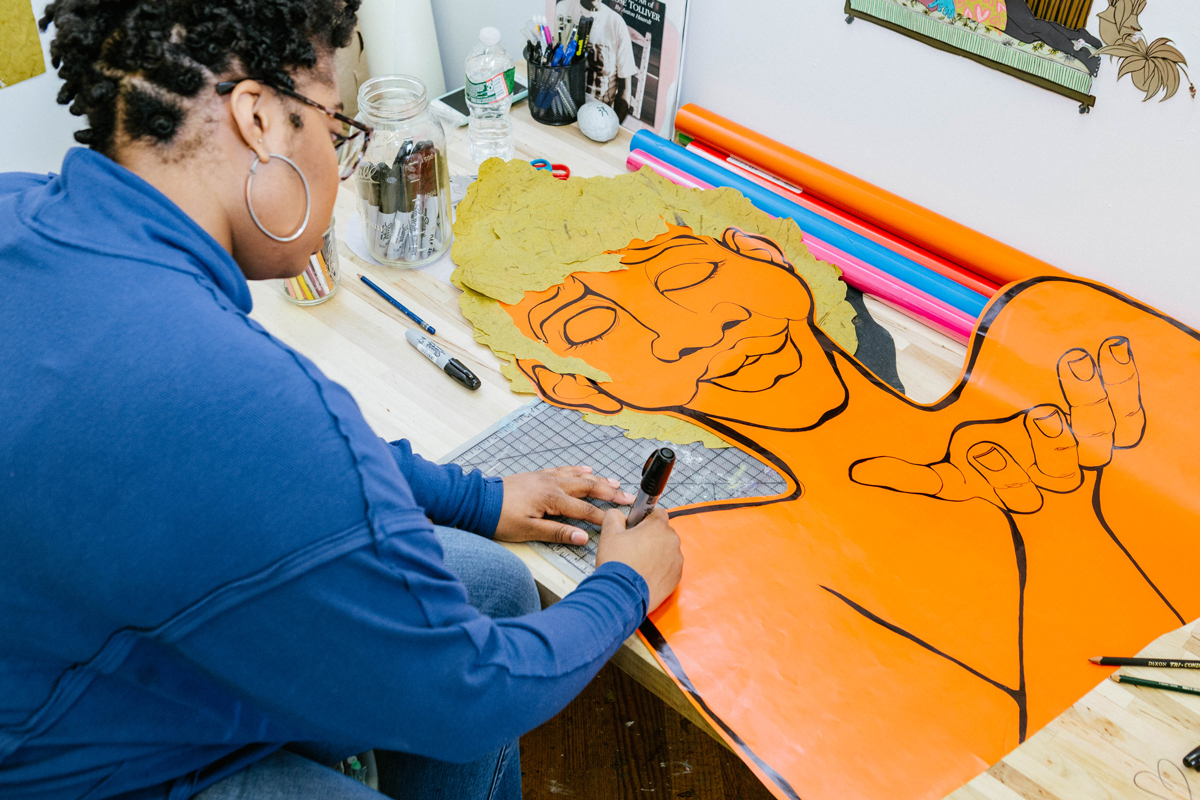 "With this mural, I questioned what hashtags and statements relating to the Black community look like," Alexander said. "What interactions have I had when I've heard 'Yas! I see you and you're Black girl magic!' when getting complimented on my natural hair? Or chanting 'Black lives matter' in response to a crisis? There is a sense of pride in making our presence known. The images that pop into my mind look like vibrant figures admiring each other. This is a type of interaction and language that transcends words, representing something that is no secret but is indeed sacred."
Walking on Myrtle Avenue reminded her of the places where she grew up in Newark, New Jersey, and although the figures don't depict specific people, they reflect on the identities of these communities. Beginning with a small sketch, she transformed the illustrations into a large-scale collage, with line drawings in sharpie contrasting to different weights and textures of paper, from the brilliant bodies of the figures to their hair formed from layers of Japanese rice paper.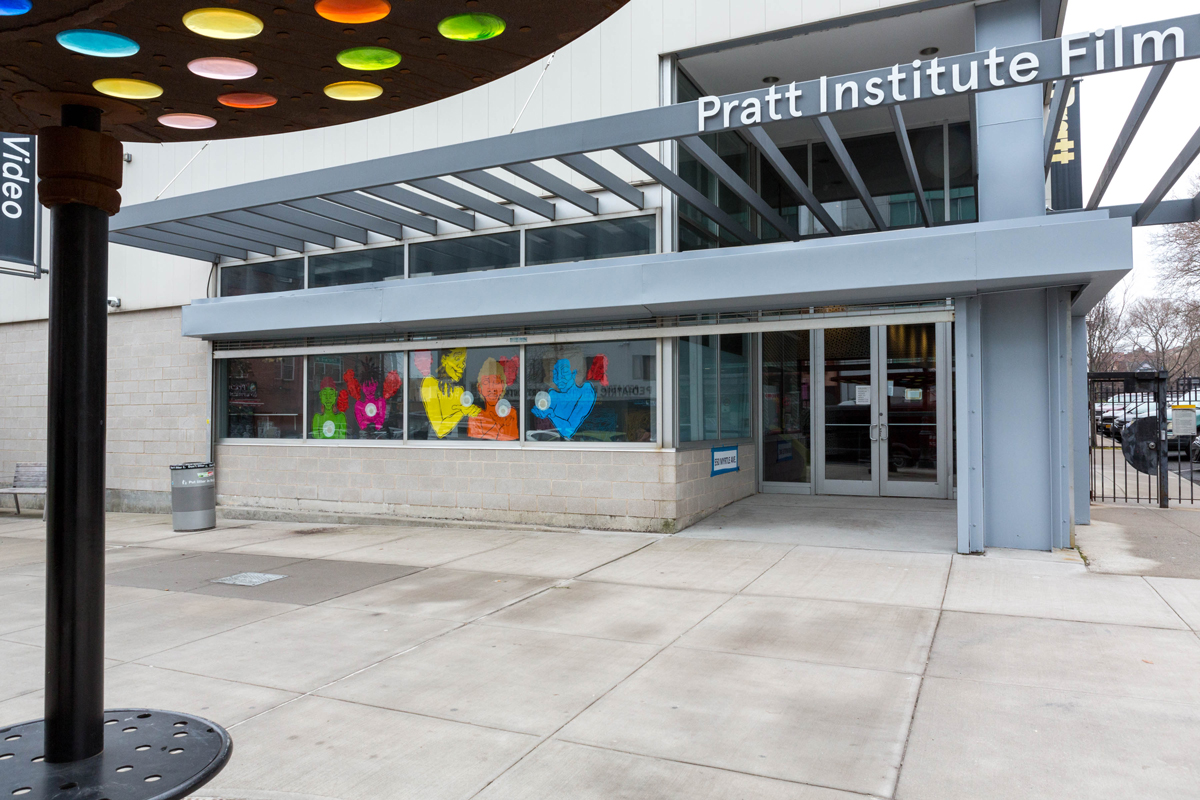 Alexander got involved in creating the installation through The Black Alumni of Pratt (BAP), which she explained has been a vital resource since she arrived at Pratt.
"It can be difficult navigating a space comfortably when you are not the majority," she said. "I've received guidance, opportunities for further success, and genuine encouragement. All of this coming from fellow Black women who know and understand the challenges of navigating a space that doesn't look like us means the world! I only hope to do the same for my folk."
Alexander's installation with her dynamic drawings and mix of materials makes that presence known on Myrtle Avenue. For those who walk by this February, she hopes to create a moment where viewers can see themselves in this collage of radiant people connected by a touch of magic.
Images: All photos by Armon Burton