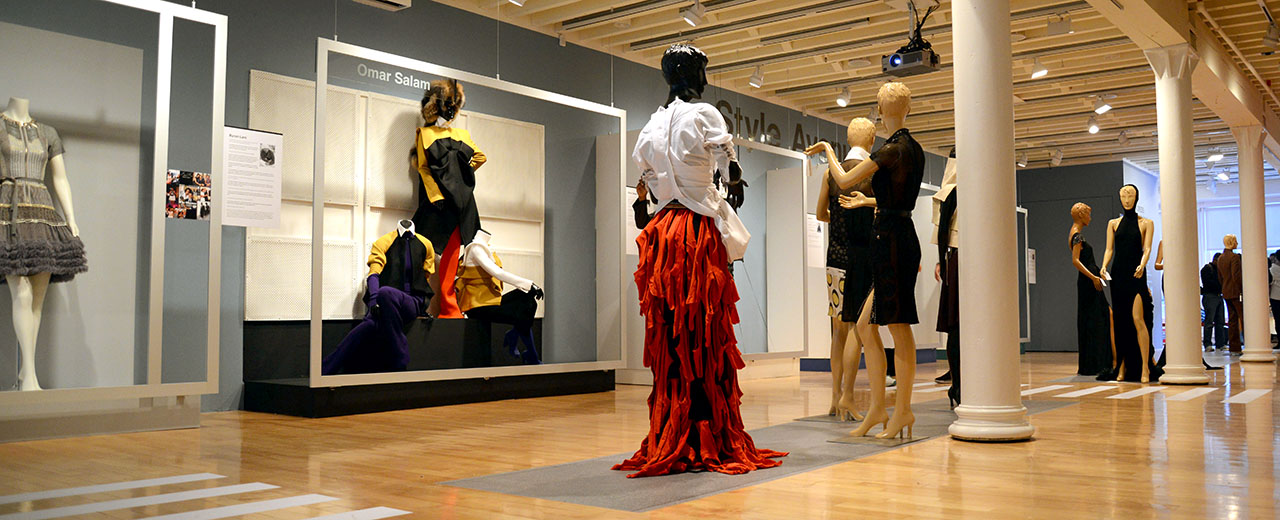 The first night of New York Fashion Week, throngs of Manhattan style mavens took a break from the runway shows to view Pratt Manhattan Gallery's Black Dress: Ten Contemporary Fashion Designers. The show, which opened February 6 and is co-curated by Pratt Fashion Professor Adrienne Jones, garnered extensive media coverage from outlets including Style.com, NY1, W Magazine, and The New York Daily News.
The press discussed the specific designers involved—seasoned talents like Stephen Burrows and up-and-coming designers like LaQuan Smith, who has dressed Rihanna—while also highlighting the show's groundbreaking nature: it's the first group exhibition of black fashion designers.
"I'm hoping it brings in awareness that we've been here all along and the presence that we've had in the industry since the beginning," stated Jones in a feature in The New York Daily News.
W Magazine's Black Dress coverage also emphasized the exhibition's motivational value.
"I think this gives young black designer hopefuls something aspirational," featured designer Byron Lars said. "They see us out here doing it and they realize they can do it, too."
Black Dress is on view at Pratt Manhattan Gallery now through April 26. A panel, including exhibition coordinators and editors from publications like Ebony, Teen Vogue, and The Huffington Post, will examine the contributions of black fashion designers on March 5 at the Pratt Manhattan Campus (room 213). To participate in the conversation, follow Pratt Institute on Twitter (@PrattInstitute), Facebook, and Instagram, using the hashtag #BlackDress.
Image: A series of Madison-Avenue-style store windows give each Black Dress designer a distinct spotlight for their work. Image Credit: © Claudia Castro/Citrico, Inc.