In each of the four illustrations now filling the windows of the Film/Video Building on Myrtle Avenue in Brooklyn, a figure gazes out with an expression of warmth and recognition. Shanoya Allwood, BFA Film '25, used graphite pencil and ballpoint pen to sketch these scenes of everyday life, from passengers riding on a train to children playing in a street, with the black and white quality evoking a sense of nostalgia.
"It feels like you're looking at a memory," she said, adding that in considering how to approach a work timed with Black History Month, she wanted to focus attention on ordinary people whose faces may have been lost in the displacement of the African diaspora due to slavery, colonialism, and segregation. "I wanted to explore the thought of, 'are there times that I mirror the people who came before me?' When you take away time, modernity, and the objects that make up our daily life, we're broken down to the core of who we are and what we do. When I did that, suddenly these unknown people felt closer, like my fourth great-grandma was 19 years old, getting her hair done by her mother, or dancing in her room, or admiring the night sky. Maybe we laughed or walked the same way."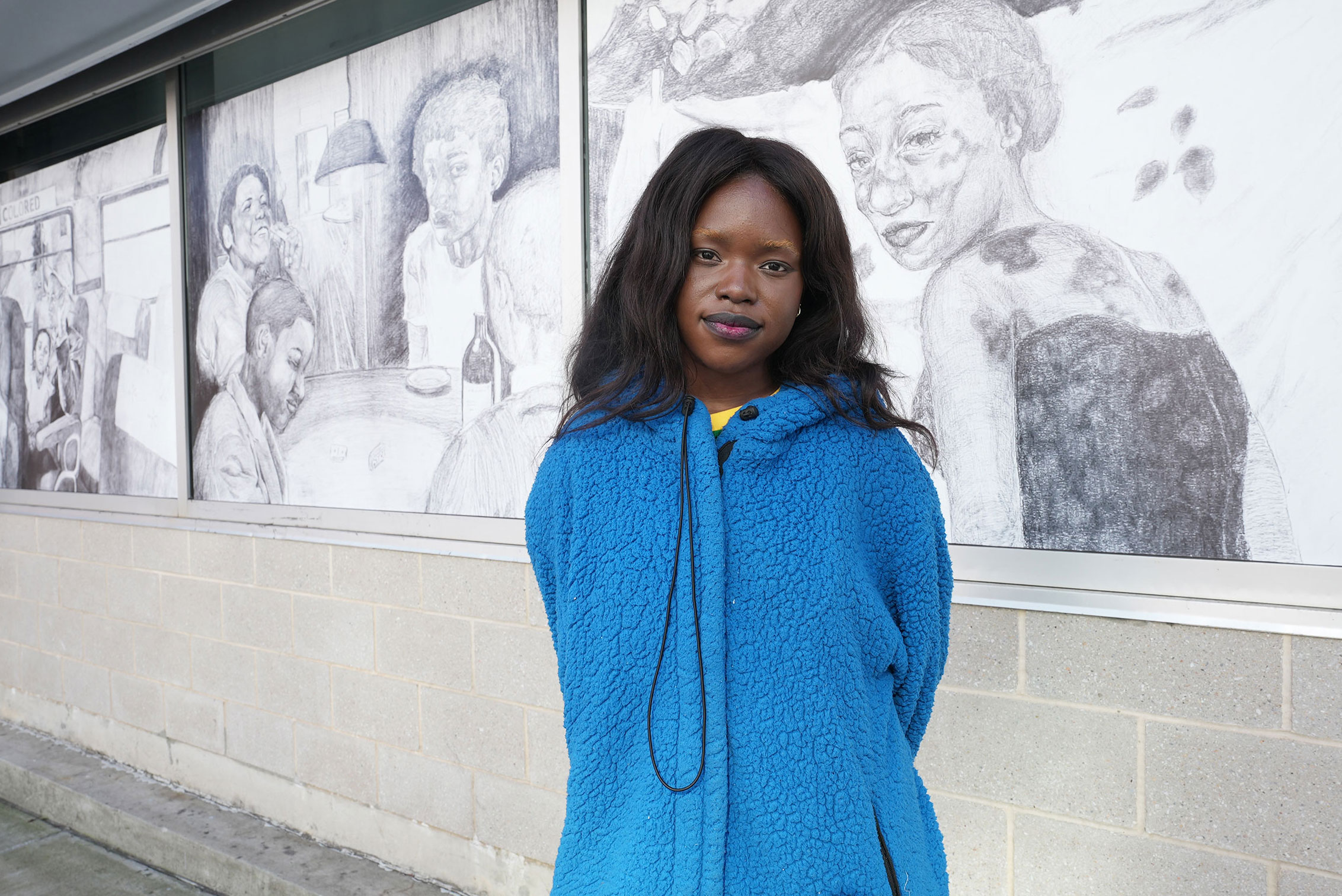 Allwood's work, called "Eyes Like Mine – (inherited longing)," is on view through February 28, 2023, as part of Black Artstory Month presented during Black History Month and started by the Myrtle Avenue Brooklyn Partnership. This year, Pratt continued the initiative with the support of the Myrtle Avenue Brooklyn Partnership and curation by Kate Therrian, special assistant to the dean in the School of Art. Pratt has participated in Black Artstory Month since 2020, with previous years of student work including collage, photography, and augmented reality. Allwood's drawings were scanned and printed large-scale on vinyl, bringing out the detailed line work of the sketched scenes.
Although she is a Film/Video student, Allwood decided to use drawing for "Eyes Like Mine – (inherited longing)" to express a story of reclaiming obscured memories. She used found photographs as inspiration to make the people anonymous, allowing their faces to be a portal between the contemporary moment to a time in the past, recalling that for many Black people, having photographs or mementos of their ancestors is rare.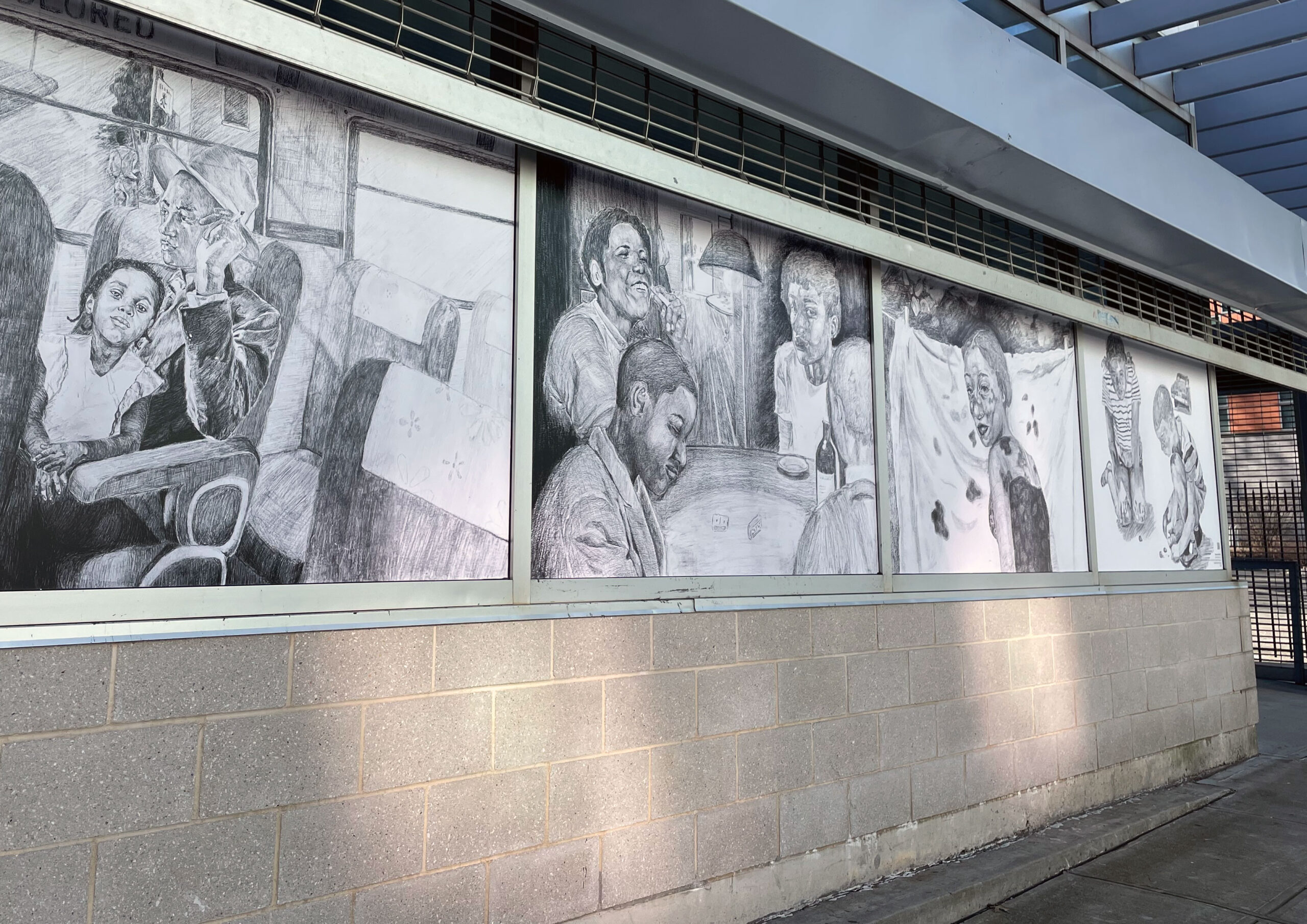 "I admire how art can do very different things for everyone but that as a group, we're connected by this enormity of emotion and experience," she said. "Especially when thinking about the topic and ideas of this piece, there's a validity in feeling any emotion: anger, sadness, joy, familiarity, peace. It's all there, and I've felt all of it."
Allwood was born in Jamaica and grew up in Maryland. Before she returned to campus for the spring semester, she spent time in Jamaica, which is where she said her idea for creating relationships with heritage through the piece originated. She embedded the work with questions about family and the people whose names she might never know. The scenes are deliberately out of time, with the model of a car or style of train hinting at the past without pinning it down to a specific moment.
"By remembering that the people before you lived just as you do, you really start to see them as more than just forgotten names and faces but as real fully formed people," she said. "So each different section of the piece was a way to depict these regular situations that you and a distant person of your lineage have probably both experienced. It was very important to me that everyone has that thought, even if just for a moment. Just as we wouldn't want to be forgotten, the people of our past would want to be remembered."