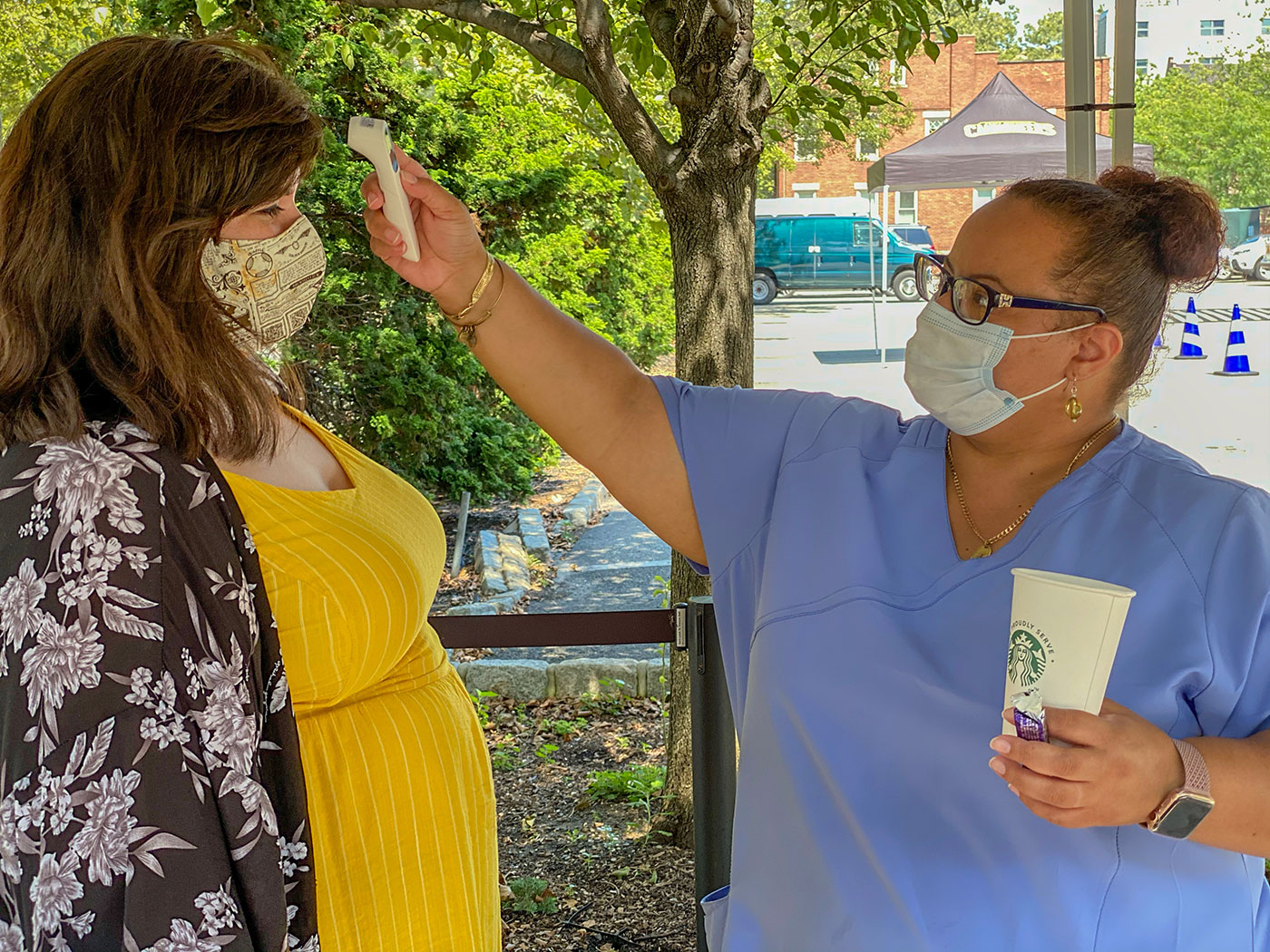 All photos by Christopher Ruggeri
Coming to the Pratt Institute campus this fall? Start with these resources on campus access, the social contract, and COVID-19 testing and monitoring.
When Pratt Institute welcomes students, faculty, and staff who are returning this fall it will look different than it did in the spring, with access beginning with a temperature check and the experience on campus guided by strict physical distancing measures. Each of these changes is aimed at making campus as safe as possible while serving the needs of the Pratt community during the pandemic.
From improving the air quality of indoor spaces to advanced environmental testing, the measures Pratt is implementing this fall employ the latest understanding of and guidelines for COVID-19 from New York State and the Centers for Disease Control and Prevention (CDC). Alongside these technical initiatives is guidance developed to help everyone at Pratt work together to stay healthy. This combination of the scientific and social considers the particular needs of Pratt as it reimagines its experience while still offering the highest level of academic excellence.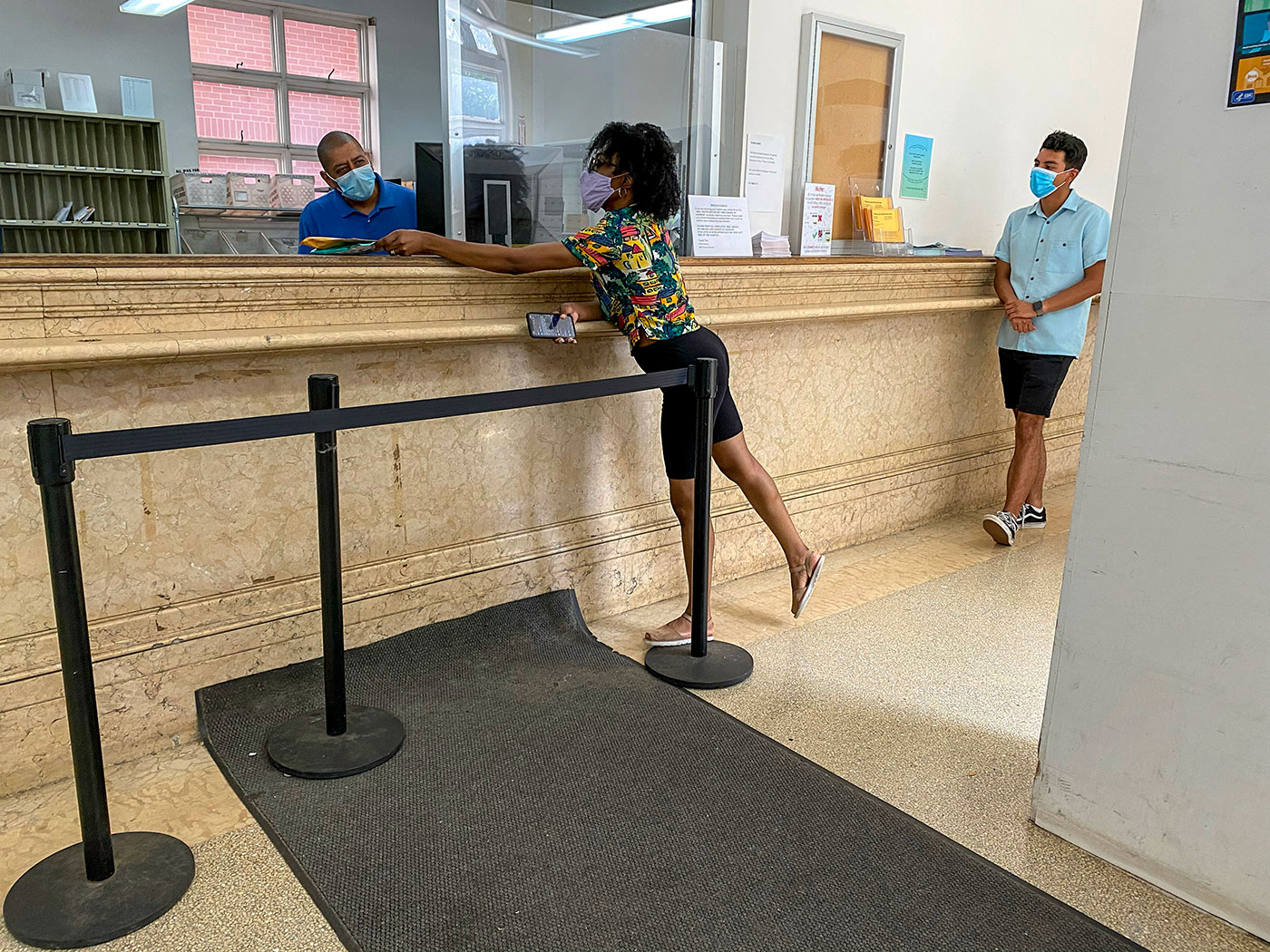 While about two-thirds of fall classes are planned to be online, for students, faculty, and staff spending time on campus, there will be stringent steps to minimize the risk of transmission and exposure to COVID-19. "Since moving to online instruction back in March, Pratt has gone to great lengths to reduce the risks associated with and mitigate the spread of COVID-19 on our campuses, as well as among our community members," said Dennis Mazone, assistant vice president of campus safety and preparedness.
He added that central to the process has been the combined efforts of two complementary task forces organized this April under the direction of Pratt President Frances Bronet. The Fall Academic Scenarios Task Force has addressed the academic calendar and course offerings and the Post-Pandemic Remobilization Operations Task Force (PPRO) has concentrated on the evolving health and safety needs of students, faculty, and staff.
"Jointly, we have focused on a safe campus reopening, developing procedures for monitoring and containing the potential spread of COVID-19 among community members, as well as being vigilant and prepared should Pratt have to move back to 100% online instruction," Mazone said.
To address the complex details of reopening, monitoring, and contingency plans, Pratt has partnered with the consulting and engineering firm Geosyntec. Matt Basso, senior consultant with Geosyntec, explained that this collaboration started with assessing priority issues in reopening and has continued with a thorough application of the higher education guidance from New York State and the New York State Department of Health. "That effort has been a comprehensive on-site set of activities," he said. This included analyzing all interior campus spaces for their capacity to meet guidelines for physical distancing and hygiene. Pratt and Geosyntec have also confirmed daily protocols for health and the Office of Facilities Management has examined the mechanical air handling systems to improve their air quality.
Everyone arriving on campus this fall must have a negative COVID-19 test result before returning and is advised to allow plenty of time to get to their first class or appointment. A daily health questionnaire, required face masks, and temperature screenings upon entering the Brooklyn and Manhattan campuses will further promote community health. Additionally, Geosyntec and Pratt are partnering on environmental testing that can monitor for positive cases even before a person feels symptoms. "Unique to Geosyntec is its qualified laboratory services to sample and test for SARS-CoV-2 within environmental media, such as on surfaces and within wastewater in the campus buildings," Basso said.
Extensive cleaning and disinfecting protocols will be present on the Brooklyn and Manhattan campuses as well as the studios in the Pfizer Building, including electrostatic and fogging methods for interior spaces. A challenge was identifying disinfectants that could be used in studios, labs, and shops without damaging student work or equipment. "We are currently involved with pilot-testing of the disinfecting materials to evaluate compatibility with Pratt's shops and studios, with attention to student artworks, models, compositions, art materials, camera and film equipment, and other materials," Basso said.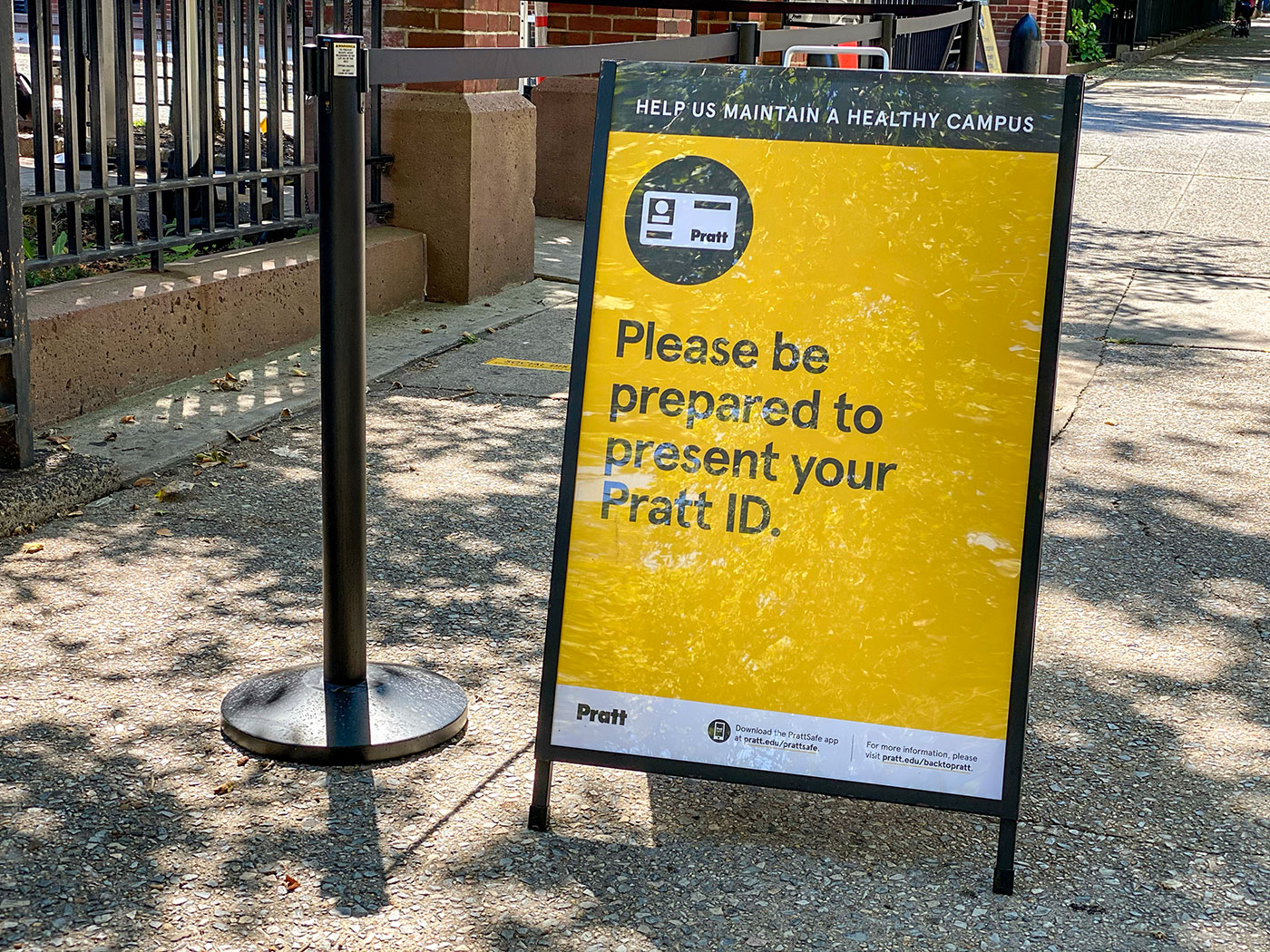 All members of the Pratt community coming on campus are being asked to sign a social contract that pledges their commitment to abide by the requirements and expectations of health and safety. Once people are on campus, they will find that every building has been adapted to the new demands of health. Wayfinding graphics and signage will guide people for physical distancing and crowd control; areas in which physical distancing is impossible will be closed.
"It is essential that all members of the Pratt community, including students, faculty, and staff, adhere to these guidelines to make sure we can continue to offer our hybrid courses and not have to go fully online," said Jorge Oliver, dean of the School of Art. "We've worked really hard to be able to welcome our students. If we protect each other, we will succeed in keeping our campus open."
Being at Pratt this fall will not be the same as it was in the spring. Yet through the scientific measures of the reopening plan and the shared responsibility for health, Pratt is committed to maintaining itself as a place of learning and idea exchange. As Pratt continues to be proactive about the risks and ongoing challenges of the fall semester, the Back to Pratt microsite will be regularly updated to keep the community prepared and informed.