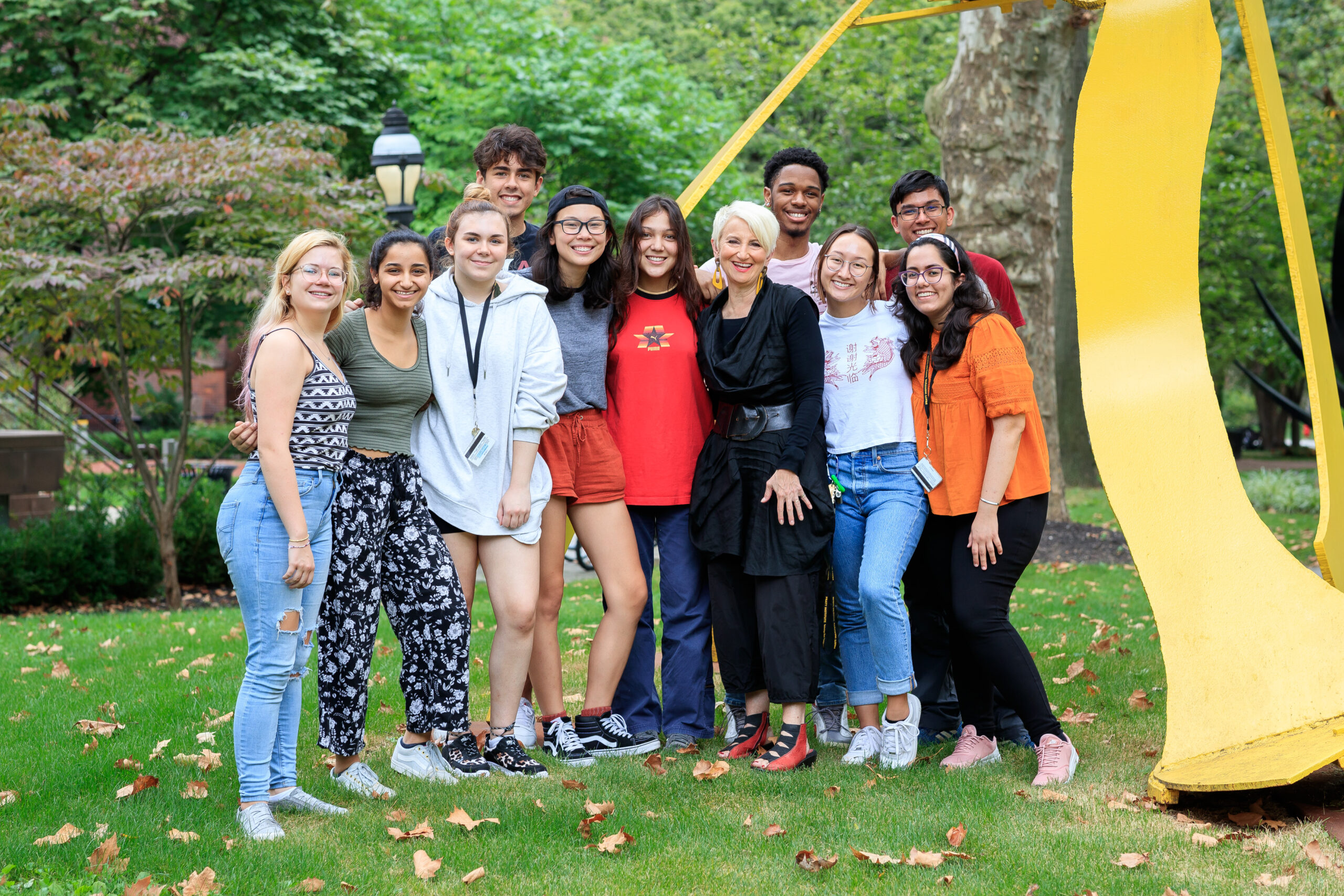 Welcome to Pratt!
We're delighted that you will be joining us at Pratt Institute this fall. We know that you have so much to offer our community, and we look forward to the contributions you will make and the creative growth you will experience in your time here.
It is important that you carefully review all information on this page to successfully onboard as a new student and ensure a smooth and successful start this fall. Check back frequently, as this page will be updated when more information becomes available.
Accessing Your OnePratt Account
Once your deposit is processed, you will receive a system-generated email from onekey@pratt.edu containing your Pratt email and password within 1 – 5 business days. Please check spam! If you have not received it after 5 business days, please contact onekey@pratt.edu for assistance.
Deposited students can access our portal, OnePratt, which contains your student financial account, class schedule (after you have registered), our learning management system, and other valuable information.
Access the portal by logging in with your Onekey on the main website at the bottom right side (OnePratt) of the page.
Providing Parent/Sponsor Access: You have the ability to grant a parent, guardian, or financial sponsor the right to access specific information without providing them with your student oneKey login and password. This can be done through Self Service once you log in to one.pratt.edu and select the Self Service icon from the Academics page. Once in Self Service, click on your user name on the top right, then "View/Add Proxy Access." If the person is not already in your records, you must first request that your parent/sponsor be attached by submitting this form. Full instructions for this function can be found in the Self Service Proxy for Students onePratt knowledge article. Note: If your parents pay your bills, it is essential that they access your financial account online as Pratt does not send print bills to continuing students.
Housing
Once you receive your OneKey login credentials, you may complete the housing application by going to the housing application page. You must submit your housing application by June 1. Any applications submitted after the deadline will be on a waitlist and assigned housing as space becomes available.
Housing Preferences: Once you submit your housing deposit at the application page above, you will be eligible to submit your housing preferences. View detailed information about each residence hall, including costs, here. Review special interest housing and learning community options here.
Meals Plans: learn about meal plan options here.
The Learning/Access Center (L/AC) supports students with chronic physical and mental health conditions, learning issues, and other apparent and non-apparent disabilities, including temporary injuries. The L/AC coordinates special housing and dietary requests and determines classroom and other accommodations. To register with the L/AC, complete the form below:
Shipping Items Before You Arrive: You will receive an email in late July for fall entrants and December for spring containing your campus mailbox and mailing instructions. Once you have this information, you can mail packages to yourself. Our mail center cannot accept items received earlier than August 8. The mail center will be open on check-in day for you to retrieve your things.
You can contact Residential Life and Housing directly by phone at 718-399-4551 or email at reslife@pratt.edu.
Items to Submit
Final Transcripts
High school students must submit their final official high school transcripts. Please inform your guidance counselor now that you will be attending Pratt.
Transfer students must provide final official copies of all college transcripts if they were not provided at the time of application. Please submit these documents as soon as possible after you finish your last term.
If your school does not use an electronic system, final official transcripts may be mailed to:
Pratt Institute
Office of Undergraduate Admissions
200 Willoughby Ave
Brooklyn, NY 11205
If you did not graduate for any reason, please notify the Office of Undergraduate Admissions at admissions@pratt.edu.
Note: Dual Enrolled Credits (AP, IB, Transfer Credit)
If you earned college credit while still enrolled in high school and wish to obtain credit for these courses (e.g. summer school, pre-college programs, advanced placement, dual enrollment between your high school and a university or community college, etc.), you must request that official transcripts from each college or university be sent directly to the Office of Undergraduate Admissions. Note that even if your dual enrolled courses are listed on your high school transcript, we require a final official transcript with the grades posted to be sent from the college through which the credits were earned. Credit will not be awarded until the college transcript has been received. AP scores must be sent directly from the CollegeBoard. Please complete this form: Transfer Credit Form
Health Insurance
All Pratt students are required to have health insurance and will automatically be enrolled in and billed for Pratt's student health insurance program. If you already have health insurance and wish to waive out of the Pratt plan, you must submit a health insurance waiver by July 30. The insurance waiver and health insurance process will be sent to you by email in the summer.
Health Evaluation Forms
The health evaluation packet is due by June 15. Those who have not submitted by the deadline will be prevented from course registration until all requirements are satisfied, so we recommend starting this as early as possible. The health evaluation packet has three individual forms:
Immunization Record
Tuberculosis Screening
Physical Examination
You can download a copy of the health evaluation packet, view detailed directions on how to complete it, and upload your completed forms on this page:
*It is strongly preferred that you download the packet and take it to your health care provider for completion. Students will be notified of the status of the review process via their Pratt email address. Any questions or concerns can be directed to the Health Office at health@pratt.edu.
COVID-19 Vaccination Requirement
Pratt Institute requires all students, faculty, and staff who will be on our campuses to be fully vaccinated. Everyone will be required to submit an electronic copy of their COVID-19 vaccination documentation before they arrive on campus, with the exception of limited approved medical or religious exemptions. Students must submit their vaccination records online.
Please note that you must also sign Pratt's social contract.
Pratt community members must have received a booster vaccination and uploaded proof as well. Eligibility for the booster depends upon when each person received the final dose of the initial vaccine:
five months after the Pfizer or Moderna final dose
five months after the final dose of any WHO-listed vaccine
two months after receiving the Johnson & Johnson vaccine
Also, anyone who has already tested positive for COVID-19 will need to follow the direction of their doctor regarding the booster. Students should contact Health Services at health@pratt.edu with any other questions.
Medical and Religious Exemptions
Pratt Institute will consider exemptions from the vaccination requirement as a reasonable accommodation because of a disability or a sincerely held religious belief, practice, or observance. Please plan accordingly and allow sufficient time for the review process. Exemption requests are due no later than June 15, and you will be notified of approval by July 15 as long as your request was submitted by June 15.
Medical and disability-related exemptions:
May be granted if a licensed physician, licensed nurse practitioner, or licensed midwife (caring for a pregnant student, faculty, or staff member) certifies in writing that such vaccination may be detrimental to your health or is otherwise medically contraindicated.
Must include a statement indicating which vaccine(s) may be detrimental, including a detailed explanation of the medical basis for such determination, and the length of time for which it may be detrimental.
Should be based on the most recent guidelines of the Centers for Disease Control and Prevention and its Advisory Committee on Immunization Practices.
May be granted on a temporary basis depending on the nature of the medical condition.
Religious exemptions:
May be granted if a faculty, staff, or student sincerely holds a religious belief, practice, or observance that prevents them from receiving a COVID-19 vaccine. Requests for an exemption should be in writing and explain the religious principles that prevent vaccination.
May require additional supporting information, if necessary.
Exemption requests will be reviewed and evaluated on a case-by-case basis. Incomplete submissions will not be reviewed.
To submit a request, complete the exemption form and then submit it online.
You will be notified by Pratt email whether or not your exemption request is approved, or if additional information is necessary. If an exemption is granted, you will be required to comply with additional safety protocols while on campus, as determined by the Institute, including masking, maintaining appropriate physical distance, and participating in a weekly testing program. The Institute may modify these protocols as necessary and appropriate.
A note for international students or any student with family members traveling from abroad: please check for any COVID-related travel alerts. All non-immigrants must show proof of vaccination to enter the country with limited exceptions. Only specific vaccines meet the criteria for entry. If you are not properly vaccinated against COVID-19, you may not be allowed to board a flight to the United States, unless you meet the criteria for an exception. Further details are included on the OIA Homepage. Please note that Pratt may not be able to answer specific questions about vaccine eligibility for travel and students are encouraged to contact the airline(s) they will be using for travel.
Student IDs and Parking Permits
To create your Pratt ID card, we ask that you submit a photo online prior to August 1. You will then receive your student ID card during orientation. You will need a copy of your tuition receipt or a residence hall room key toi receive your ID. Full instructions are outlined on the ID card site.
Parking permits may be purchased once you have received a student ID. Commuting students are given priority over residential students as parking is extremely limited on campus. Once the passes are exhausted, students will be put on a waiting list until spots are freed up.
Computers
Laptops are required for some programs and recommended for others. See our Laptop Guidelines page for information on your major.
International Student Documents
As soon as you have your OneKey login and password, please read this section on requesting your I-20 or DS-2019 as the first step to getting your visa. The I-20/DS-2019 request starts with an eForm called the ISF and uploaded supporting documents like funding for estimated expenses.
Obtaining Your I-20 or DS2019 for your Student Visa: International students who need an F-1 or J-1 visa need to apply for an I-20 or DS-2019 from the Office of International Affairs (OIA). The OIA will email you the application instructions within a week after you make your deposit. You will access the application using your OneKey, sent to you by email within five (5) days of sending in your deposit. The Form I-20 will be emailed to you after it is issued. DS-2019 forms will be printed and mailed after you order a shipping label.
Transfer students: The term "transfer student" used by the OIA is different from the term used by the Admissions Office, referring to students transferring credits. Students who are currently studying in the US are referred to as transfer students by the OIA because the SEVIS record has to be transferred to Pratt. These transfer students must request a transfer I-20 at the time of applying for the I-20 or DS-2019. Please read the transfer process guide here.
Financial Statements for OIA: Please be advised that financial documents are required for the I-20/DS-2019 application. The estimated expenses for the I-20/DS2019 are found here. The amounts will increase by a small percentage each year when tuition is set, but you can use the previous year's PDF amount as an estimate.
Making Your Visa Appointment: Students should make an appointment after the I-20 is issued and emailed to you. Please see the visa guide on the OIA website. Transfer students may already have a valid F-1 visa and do not need to renew their visa in that case.
Register with Learning/Access Center
If you'll be seeking an accommodation plan for a documented disability for Fall 2022 classes, please submit the Learning/Access Center form. Priority deadline for disability-related classroom accommodations is August 1. Priority deadline for housing accommodations is May 1st. Student inquiries and access to resources, including enrollment for accommodations, is available year round. Please find the L/AC form and additional information about enrolling with the L/AC here. If you have questions and would like to schedule a meeting to discuss your situation, please email lac@pratt.edu and request a welcome meeting.
Pre-Registration Form
See more information below under "Registering for Classes and Paying Your Bill."
Orientation Schedule and Academic Calendar
Registering for Classes and Paying Your Bill
Registering for Classes
Complete the preregistration form and click the Submit button at the bottom of the form. Your preregistration form is due June 10th.
Your information will be sent to your academic adviser who will register you for all of your classes. You can find a list of all academic advisers online.
Once your adviser has finished setting your schedule, they will email you a confirmation and instructions on how to view your schedule online, and you can print it out if you wish.
Keep in mind the following:
You may not adjust your schedule on your own, so please do not attempt to do so. If you need to discuss your schedule with your adviser, please contact them. Contact information is available at https://www.pratt.edu/academics/undergraduate-advisement/ Advisers are assigned by major.
Course adjustment dates (drop/add) may be found online at Registration Guidelines.
No first-year student will be permitted to DROP a course without first meeting with the chair of the department that offers the course. We understand there will be extenuating circumstances, which may require some students to take a reduced credit load. Note: International students in F-1 or J-1 status must be full-time (12 or more credits) except for the last semester of the senior year. They may not drop below full-time without discussing first with the Office of International Affairs.
By submitting your preregistration form, you are authorizing us to register you, and you are responsible for paying your tuition bill by the deadline. Your bill will be online at my.pratt.edu as soon as you are registered.
Paying Your Bill
Bills are viewable on OnePratt after July 1. You will need to have an approved financing/payment plan in place and receive clearance from Student Financial Services by August 1. Otherwise, tuition bills are due July 30.
Calculating Your Payment
In OnePratt, visit the finances tab, then the student finance menu to see your bill. Your bill will have an overall account summary screen as well as the account balance per term. For further instruction, please visit https://one.pratt.edu/s/article/Student-Finance-in-Self-Service.
Please check monthly to ensure your account is up to date.If you received a scholarship or any other kind of financial aid, it will be posted to your bill no more than ten days before the start of classes.
However, our billing system will calculate your payment due prior to this. Any yearly financial aid (loans or scholarships) will be divided in half since you pay your bill one semester at a time. If you see no financial aid and believe you should have it, please contact your SFS counselor, because you may have missed a step in the financial aid process which they can resolve.
Scholarship Terms and Conditions
Eligible domestic students receive the Presidential Merit-Based Scholarship, and eligible international students receive the International Merit-Based Scholarship. Please note these awards are based on certain information like first-year/transfer status and choice of major. If we find discrepancies in your student information that have incorrectly determined eligibility, we reserve the right to adjust this scholarship. If you are an international student, but received a Presidential Merit-Based Scholarship, unfortunately you are not eligible for this award and it will not be distributed unless you can provide documentation that you are a legal permanent resident or a U.S. citizen.
Merit scholarships are not need-based. They are distributed to incoming students and awarded prior to deposit. Once a deposit has been made, a department scholarship cannot be adjusted. Deferred Students, Leave of Absence students and Readmitted Students will not be reconsidered for merit scholarship; Pratt will honor the original award offered.
Students who receive Tuition Exchange Scholarships may receive additional scholarship funds up to the cost of tuition. Students who receive partial Tuition Remission Scholarships are eligible for the Presidential Merit Scholarship up to the cost of tuition.
The lengths of the programs are two years for associate's, four years for bachelor's, and five years for the B.Arch. Note that transfers may complete the program in less time. If the degree takes you a shorter amount of time to complete, the total amount of scholarship will decrease accordingly. This is particularly important to note for transfer students.
Scholarship awards are contingent on carrying a minimum of 12 credits per semester and maintaining a cumulative GPA of at least 2.5 by the end of the first year and each semester thereafter. Merit scholarships are applied to offset Pratt's tuition charges only and are not cash awards to be used for any other purposes. While scholarships are non-negotiable, questions about your award can be directed to admissions@pratt.edu.
Protecting Yourself Against Financial Scams
Beware of phone and email scams, and never reveal personal information to a source you do not know or trust. Pratt offices and technical support will never ask you for your passwords.
Pratt's Office of International Affairs (OIA) will ask for proof of funds to be uploaded to the i-20 request portal on our website, but will never ask for payments to be made directly to their office.
Student Financial Services (SFS) will never ask students to make a payment or wire transfer by phone. Student bills are available on our website, and payments are made on Pratt's student portal or can be paid with checks made payable to Pratt Institute, 200 Willoughby Avenue, Brooklyn, NY 11205.
If you are unsure of a request, always email Pratt Institute directly to confirm at either sfs@pratt.edu or oia@pratt.edu. Pratt or any government agency will never ask you to complete a payment immediately without the ability to verify its validity. Learn more at https://www.pratt.edu/about/offices/department-of-public-safety/security-and-safety-alertssecurity-and-safety-alerts/.
Deferring or Withdrawing
Deferring to Another Term
FIRST YEAR STUDENTS: The deferral deadline is July 1. First-year students are eligible to defer their enrollment once, for one year from the original date of acceptance. A deferral secures your seat in the program for the following term. The financial aid office will need to recalculate your need-based aid the following year if you are a US citizen or permanent resident who submitted the FAFSA. You will need your Pratt Onekey information (emailed after depositing) to fill out the electronic deferral form.
CONDITIONS OF DEFERRAL:
The non-refundable $500 enrollment deposit is required before submitting your deferral form
Only first-year students are eligible for deferral
Any original merit scholarships awarded will be honored as long as terms of deferral are met
You must maintain your first-year status and not enroll full time in another institution of higher education during the deferral period
If you do not maintain your first-year status during the deferral term, your deferred admission would need to be withdrawn, and we would then reconsider your application as a transfer student along with all other regular transfer applicants for that term. If you plan to enroll in another school during your deferral year, please notify us at admissions@pratt.edu.
TRANSFER STUDENTS: Transfer students may not defer, however you can request to be considered the following year free of charge by emailing transadm@pratt.edu. If you choose to be reconsidered in the future, please submit an updated transcript by the relevant deadline for the term to which you are applying. Transfer deadlines can be found here.
Withdrawing Your Application
Should your plans change and you elect to completely withdraw, please email admissions@pratt.edu so we can update your status.
---
Haven't deposited yet?
Please visit our Admitted Undergraduate Students page.