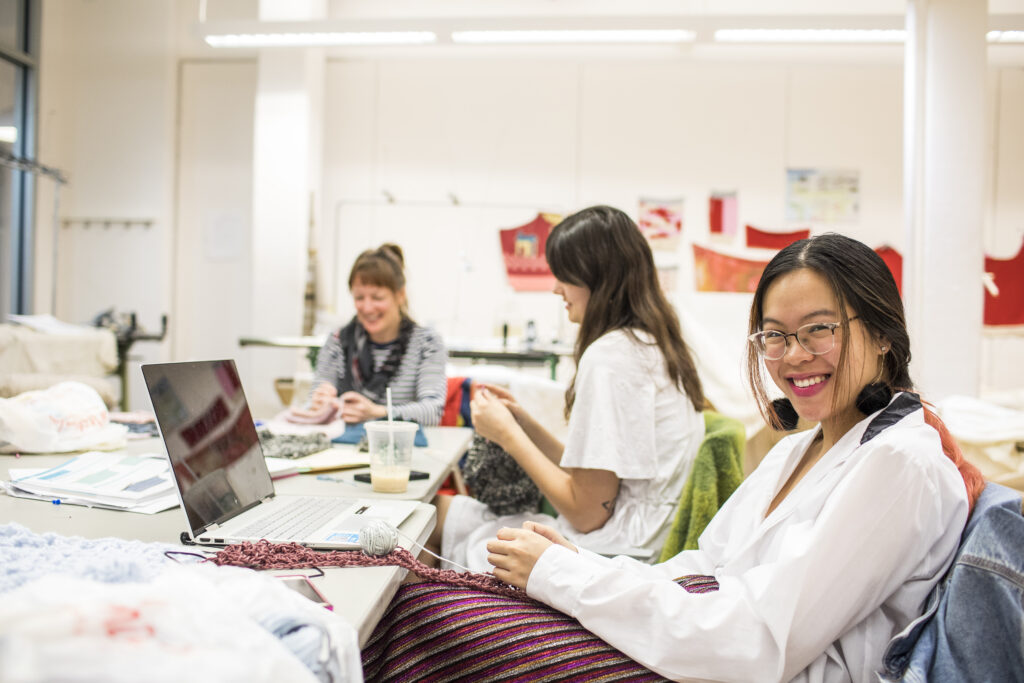 Congratulations to our incoming class!
---
Welcome to Pratt
We hope you're seriously considering joining our community! Learn more about the Pratt experience, including thoughts from current students. Watch our videos below on academics, student life, faculty and alumni, and more. Make sure to read the instructions below to submit your enrollment deposit and see further details about your next steps. More ways to get to know Pratt can be found at the bottom of this page.
---
Next Steps
Deposits are due by December 1 for spring entrants and May 1 for fall or as soon as possible upon acceptance, as programs will accept deposits in the order received until they are full.
The enrollment deposit is refundable until May 1. The housing deposit is nonrefundable after housing has been assigned. Please submit your $500 enrollment deposit and the $300 housing request/deposit online for immediate submission and confirmation. You must submit one and then the other. Both deposits are due by the above deadline. To deposit online, you must have your Pratt ID number. Your Pratt ID is included in your acceptance letter and acceptance email. You will receive a confirmation immediately if you deposit online. Please save this receipt for your records.
Submit Your Deposit
Preferred Method
You will need your Pratt ID (included in acceptance letter) and date of birth.
Submit Deposit by Wire Transfer
Only from foreign countries where online deposit is not possible
Submit Deposit by Check
Only when the above options are not available
Checks should be made payable to "Pratt Institute"
Fill out the Pratt Enrollment Deposit Form (PDF). Mail the check and completed form to:

Pratt Institute
Office of Admissions
200 Willoughby Avenue
Brooklyn, NY 11205
Housing
All first-year (high school) students are guaranteed housing if they deposit by May 1 and complete their Housing Preferences by June 1.
Transfer students will be provided with housing as long as space permits.
Transfer Housing Assignments
The assignment process for new transfer students begins after June 1 and continues as space becomes available. Once the assignment process begins, the student will be contacted as to whether their request can be met. If requests cannot be met, students will be waitlisted and assigned a space only if and when space becomes available. Depositing early increases the likelihood of housing assignment, however we are unable to guarantee housing.
Off-Campus Housing
Students may make use of the variety of off-campus resources to help in identifying off-campus alternatives.
Registration
Once you've deposited and received your OneKey, please visit our Deposited Undergraduate Student page for next steps along with health forms.
Important: It is imperative that you submit all required health forms by the deadline to ensure there is no delay in registering you for classes. Those who have not yet cleared their health holds by satisfying all health office requirements before the time of registration will be prevented from registering for class until all requirements are satisfied. We recommend completing health forms as early as possible to avoid any delays during registration. Please make sure to also review our Back to Pratt section of the website for the most up-to-date communications to the community regarding course modalities and response to Covid-19.
COVID-19 Vaccination Requirement
Pratt Institute will require all new and returning students, faculty, and staff who will be on our campuses to be fully vaccinated. Everyone will be required to submit an electronic copy of their COVID-19 vaccination documentation before they arrive on campus, with the exception of limited approved medical or religious exemptions. Students must submit their vaccination records now online.
A note especially to our international students or any student traveling from abroad: please check for any COVID-related travel alerts. All non-immigrants must show proof of vaccination to enter the country. Only specific vaccines meet the criteria for entry. If you are not properly vaccinated against COVID-19, you may not be allowed to board a flight to the United States, unless you meet the criteria for an exception. Further details are included in our Back to Pratt FAQs and the OIA Homepage. Further details are included in our Back to Pratt FAQs.
International Students
In order to receive your visa, you must request the I-20 from Pratt. Instructions for doing this will be emailed to you upon receiving your deposit(s).
Note: Please protect yourself against financial scams by phone and email, by people posing as government agencies or schools, and never make payments or share personal information with a source you do not know or trust. Pratt or any government agency will never ask you to complete a payment immediately without the ability to verify its validity.
Scholarships
Scholarship Terms and Conditions
Eligible domestic students receive the Presidential Merit-Based Scholarship, and eligible international students receive the International Merit-Based Scholarship. Please note these awards are based on certain information like first-year/transfer status and choice of major. If we find discrepancies in your student information that have incorrectly determined eligibility, we reserve the right to adjust this scholarship. If you are an international student, but received a Presidential Merit-Based Scholarship, unfortunately you are not eligible for this award and it will not be distributed unless you can provide documentation that you are a legal permanent resident or a U.S. citizen.
Merit scholarships are not need-based. They are distributed to incoming students and awarded prior to deposit. Once a deposit has been made, a department scholarship cannot be adjusted. Deferred Students, Leave of Absence students and Readmitted Students will not be reconsidered for merit scholarship; Pratt will honor the original award offered.
Students who receive Tuition Exchange Scholarships may receive additional scholarship funds up to the cost of tuition. Students who receive partial Tuition Remission Scholarships are eligible for the Presidential Merit Scholarship up to the cost of tuition.
The lengths of the programs are two years for associate's, four years for bachelor's, and five years for the B.Arch. Note that transfers may complete the program in less time. If the degree takes you a shorter amount of time to complete, the total amount of scholarship will decrease accordingly. This is particularly important to note for transfer students.
Scholarship awards are contingent on carrying a minimum of 12 credits per semester and maintaining a cumulative GPA of at least 2.5 by the end of the first year and each semester thereafter. Merit scholarships are applied to offset Pratt's tuition charges only and are not cash awards to be used for any other purposes. While scholarships are non-negotiable, questions about your award can be directed to admissions@pratt.edu.
Associates Program Admitted Students
Please note that your acceptance is contingent on your maintaining your grades in your final semester and completing the requirements/courses for the associate degree. You must first complete the associate degree requirements before you can enroll in Pratt's BFA courses. Failure to complete the associate degree requirements will result in a rescission of your acceptance to the BFA.
---
Ways To Get To Know Pratt
Check out our new virtual campus tour
Experience Pratt's campus and programs from home through our in-depth virtual campus tour.
Visit Pratt in person
We invite you to attend a tour of our Brooklyn campus led by a student guide or make an appointment with an admissions counselor to learn more about making Pratt your new home. Email visit@pratt.edu to schedule a tour or counseling appointment.
---
Deferring to Another Term
First Year Students
The deferral deadline is July 1. First-year students are eligible to defer their enrollment once, for one year from the original date of acceptance. A deferral secures your seat in the program for the following term. The financial aid office will need to recalculate your need-based aid the following year if you are a US citizen or permanent resident who submitted the FAFSA. You will need your Pratt Onekey information (emailed after depositing) to fill out the electronic deferral form.
Conditions of Deferral
The non-refundable $500 enrollment deposit is required before submitting your deferral form
Only first-year students are eligible for deferral
Any original merit scholarships awarded will be honored as long as terms of deferral are met
You must maintain your first-year status and not enroll full time in another institution of higher education during the deferral period
If you do not maintain your first-year status during the deferral term, your deferred admission would need to be withdrawn, and we would then reconsider your application as a transfer student along with all other regular transfer applicants for that term. If you plan to enroll in another school during your deferral year, please notify us at admissions@pratt.edu.
Transfer Students
Transfer students may not defer, however you can request to be considered the following year free of charge by emailing transadm@pratt.edu. If you choose to be reconsidered in the future, please submit an updated transcript by the relevant deadline for the term to which you are applying. Transfer deadlines can be found here.
---
Withdrawing Your Application
Should your plans change and you elect to completely withdraw, please email admissions@pratt.edu so we can update your status.