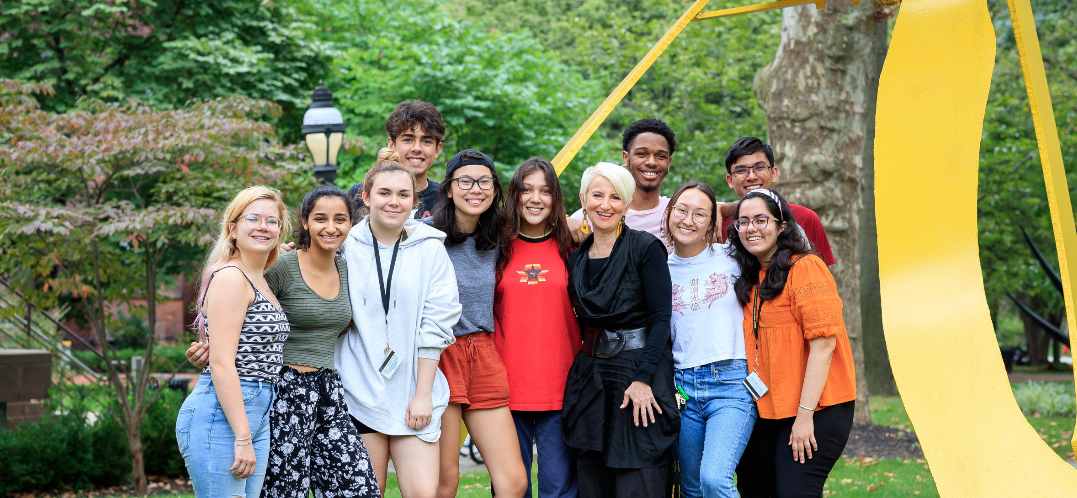 Welcome to Pratt Institute!
Thank you for visiting our Online Enrollment Package for new graduate students. If you have recently deposited, see our next section on Pratt Email and Onekey to learn how you will enter our system, followed by the next steps to complete in preparation for your studies.
If you are a deferred student beginning your enrollment preparation once again, we are excited to continue this process with you! Please make sure you've also taken all necessary steps to prepare for enrollment below. If you have any questions, or if your plans have changed, please get in touch with us at admissions@pratt.edu.
---
Next Steps
​Receive your Pratt Email and Onekey
You will receive an email from onekey@pratt.edu with your Pratt email address and OneKey login and ID shortly after submitting your deposit, which enables you to access the OnePratt portal located at https://one.pratt.edu/s/. Make sure you change your password to something you will remember once you sign up for email at one.pratt.edu. Write down your new password. You will begin receiving email from Pratt at your Pratt email account, and you are responsible for checking that account regularly. You will receive orientation information there as well as other information on billing, etc. If you change your password and then do not remember it, you must contact the help desk at 718.636.3765 or services@pratt.edu.
---
Items to Submit – All Students
Health Evaluation Forms – DUE JUNE 15
The health evaluation packet is due by June 15 for fall entrants and January 1 for spring entrants.
Students will not be able to register until they submit health forms.
The health evaluation packet has three individual forms: the Immunization Record, the Tuberculosis Screening, and the Physical Examination. It is strongly preferred that you download the packet and take it to your health care provider for completion. Alternatively, upload your validated immunization records at the link below and call your healthcare provider for an appointment and the completion of the remainder of your health packet. You can download a copy of the health evaluation packet, view detailed directions on how to complete it, and upload your completed forms on this page:
*Remember, the separate forms may be uploaded as they are completed. They do not have to be uploaded all at once. Students will be notified of the status of the review process via their Pratt email address. Any questions or concerns can be directed to the Health Office at health@pratt.edu.
Course Registration and Lifting Health Records
You will have the opportunity to register for classes after reaching out to your program department for advisement. Registration for new students begins in the summer. Important: It is imperative that you submit all required health forms by the deadline to ensure there is no delay in registering you for classes. Those who have not yet cleared their health holds by satisfying all health office requirements before the time of registration will be prevented from registering for class until all requirements are satisfied. We recommend completing health forms as early as possible to avoid any delays during registration. Please make sure to also review our Back to Pratt section of the website for the most up-to-date communications to the community regarding course modalities and response to Covid-19.
Covid-19 Vaccination Requirement
Pratt Institute requires all students, faculty, and staff who will be on our campuses to be fully vaccinated. Everyone will be required to submit an electronic copy of their COVID-19 vaccination documentation before they arrive on campus, with the exception of limited approved medical or religious exemptions. Students must submit their vaccination records online.
Please note that you must also sign Pratt's social contract.
Pratt community members must have received a booster vaccination and uploaded proof as well. Eligibility for the booster depends upon when each person received the final dose of the initial vaccine:
five months after the Pfizer or Moderna final dose
five months after the final dose of any WHO-listed vaccine
two months after receiving the Johnson & Johnson vaccine
Also, anyone who has already tested positive for COVID-19 will need to follow the direction of their doctor regarding the booster. Students should contact Health Services at health@pratt.edu with any other questions.
Medical and Religious Exemptions: Pratt Institute will consider exemptions from the vaccination requirement as a reasonable accommodation because of a disability or a sincerely held religious belief, practice, or observance. Please plan accordingly and allow sufficient time for the review process. Exemption requests are due no later than June 15, and you will be notified of approval by July 15 as long as your request was submitted by June 15.
Medical and disability-related exemptions:
May be granted if a licensed physician, licensed nurse practitioner, or licensed midwife (caring for a pregnant student, faculty, or staff member) certifies in writing that such vaccination may be detrimental to your health or is otherwise medically contraindicated.
Must include a statement indicating which vaccine(s) may be detrimental, including a detailed explanation of the medical basis for such determination, and the length of time for which it may be detrimental.
Should be based on the most recent guidelines of the Centers for Disease Control and Prevention and its Advisory Committee on Immunization Practices.
May be granted on a temporary basis depending on the nature of the medical condition.
Religious exemptions:
May be granted if a faculty, staff, or student sincerely holds a religious belief, practice, or observance that prevents them from receiving a COVID-19 vaccine. Requests for an exemption should be in writing and explain the religious principles that prevent vaccination.
May require additional supporting information, if necessary.
Exemption requests will be reviewed and evaluated on a case-by-case basis. Incomplete submissions will not be reviewed.
To submit a request, complete the exemption form and then submit it online.
You will be notified by Pratt email whether or not your exemption request is approved, or if additional information is necessary. If an exemption is granted, you will be required to comply with additional safety protocols while on campus, as determined by the Institute, including masking, maintaining appropriate physical distance, and participating in a weekly testing program. The Institute may modify these protocols as necessary and appropriate.
A note for international students or any student with family members traveling from abroad: please check for any COVID-related travel alerts. All non-immigrants must show proof of vaccination to enter the country with limited exceptions. Only specific vaccines meet the criteria for entry. If you are not properly vaccinated against COVID-19, you may not be allowed to board a flight to the United States, unless you meet the criteria for an exception. Further details are included on the OIA Homepage. Please note that Pratt may not be able to answer specific questions about vaccine eligibility for travel and students are encouraged to contact the airline(s) they will be using for travel.
Room Assignments And Meal Plans – DUE APRIL 15
Once you receive your OneKey login credentials, you may complete the housing application by visiting www.pratt.edu/hmpapp. Pratt has extremely limited space for graduate students. If you submitted a deposit for housing, you will be notified at your Pratt email by Residential Life in early June for fall and mid-December for spring as to your status. We also offer Off-Campus Housing resources. Residential and other students who wish to purchase a meal plan may do so during orientation if they did not already sign up. You can find information online at Meal Plans. You will receive an email at your Pratt account with information on dining options at Pratt.
Final Official Transcript(s) – DUE BEFORE CLASSES BEGIN
Make sure you send all post-secondary final official transcripts listing your degree. If you had a WES evaluation in-progress, please submit a completed copy. Please submit as soon as possible after you complete your last term. Do not send any irreplaceable documents, such as a one-of-a-kind diploma, as they become property of Pratt Institute and will not be returned to the student. You may request your transcripts be sent directly to Pratt through the following services if your school is listed:
If your school is not listed with any of these, please request through your Registrar's office or other appropriate office that they mail your final official transcript to:
Pratt Institute
Office of Graduate Admissions
200 Willoughby Avenue
Brooklyn, NY 11205
If you will not be graduated for any reason, you must notify Natalie Capannelli with an explanation and request to either withdraw or defer at ncapanne@pratt.edu.
You may not attend graduate classes until we have received your final transcript with your degree listed.
Health Insurance
All students are required to have health insurance. You will receive notification about our electronic process for waiving health insurance or signing up for it.
Transfer Credits – Due Before Classes Begin
If you are planning to request credit for graduate courses taken elsewhere, contact your department chair for an evaluation of your transcript before the first semester at Pratt. All department contact information may be found at https://www.pratt.edu/people/ or under the department itself.
Register With Learning/Access Center
If you'll be seeking an accommodation plan for a documented disability for Fall 2022 classes, please submit the Learning/Access Center form. Priority deadline for disability-related classroom accommodations is August 1st. Priority deadline for housing accommodations is May 1st. Student inquiries and access to resources, including enrollment for accommodations, is available year round. Please find the L/AC form and additional information about enrolling with the L/AC here. If you have questions and would like to schedule a meeting to discuss your situation, please email lac@pratt.edu and request a welcome meeting.
FAFSA- Due February 1 Or ASAP
US citizens and permanent residents must complete the FAFSA in order to receive federal loans. Eligible students may borrow up to the full cost of attendance. The complete loan process is described online. If you did not submit the FAFSA yet, please submit it immediately so you can begin the loan process or be eligible for certain need-based restricted scholarships.
---
International Students Only
Obtaining Your I-20 or DS2019 for your Student Visa
International students who need an F-1 or J-1 visa need to apply for an I-20 or DS-2019 from the Office of International Affairs (OIA). The OIA will email you the application instructions within a week after you make your deposit. Students who are currently studying at or recently studied in the US are considered transfer students and must request a transfer I-20. You will access the application using your OneKey, sent to you by email within five (5) days of sending in your deposit. The Form I-20 will be emailed to you after it is issued. DS-2019 forms will be printed and mailed after you order a shipping label.
Financial Statements for OIA
Please be advised no financial documents are required for the admissions and review process. These documents are only required after a student is accepted and are required for the I-20/DS-2019 application. The estimated expenses for the I-20/DS2019 are found here. The amounts will increase by a small percentage each year when tuition is set, but you can use the previous year's PDF amount as an estimate.
Making Your Visa Appointment
Students should make an appointment after the I-20 is issued and emailed to you. Please see the visa guide on the OIA website. Transfer students may already have a valid F-1 visa and do not need to renew their visa in that case.
PROTECT YOURSELF AGAINST FINANCIAL SCAMS
Beware of phone and email scams, and never reveal personal information to a source you do not know or trust. Pratt offices and technical support will never ask you for your passwords.
Pratt's Office of International Affairs (OIA) will ask for proof of funds to be uploaded to the i-20 request portal on our website, but will never ask for payments to be made directly to their office.
Student Financial Services (SFS) will never ask students to make a payment or wire transfer by phone. Student bills are available on our website, and payments are made on Pratt's student portal or can be paid with checks made payable to Pratt Institute, 200 Willoughby Avenue, Brooklyn, NY 11205.
If you are unsure of a request, always email Pratt Institute directly to confirm at either sfs@pratt.edu or oia@pratt.edu. Pratt or any government agency will never ask you to complete a payment immediately without the ability to verify its validity. Learn more at https://www.pratt.edu/about/offices/department-of-public-safety/security-and-safety-alertssecurity-and-safety-alerts/.
---
General Information
Orientation And Move-In Information
 Information about general student orientation can be found online. Department-specific orientations are organized by the program departments, who can be contacted through our campus directory at https://www.pratt.edu/people/.
Computers
Pratt has labs throughout the Brooklyn and the 14th Street campus. The Brooklyn campus is wireless in the library, Myrtle Hall, Grand Avenue (graduate residence hall), cafeteria, main building, and is becoming wireless in other areas. Pratt Manhattan is completely wireless. Certain programs require laptops (architecture, architecture and urban design, and interior design). See the Laptop Programs page for details. Only certain programs require students to purchase laptops, but most students do bring them. Pratt has discounted computers available from Dell and Apple at the same site.
Billing
Bills are viewable on OnePratt after July 1. You will need to have an approved financing/payment plan in place and receive clearance from Student Financial Services by August 1. Otherwise, tuition bills are due August 1 for fall and December 19 for spring.
If your parents will pay your bill, make sure you authorize them to access the financial accounts section of OnePratt. You can authorize them by going to OnePratt and then selecting Grant Parents/Sponsor Rights.
Calculating Your Payment
In OnePratt, visit the finances tab, then the student finance menu to see your bill. Your bill will have an overall account summary screen as well as the account balance per term. For further instruction, please visit https://one.pratt.edu/s/article/Student-Finance-in-Self-Service.
Please check monthly to ensure your account is up to date.If you received a scholarship or any other kind of financial aid, it will be posted to your bill no more than ten days before the start of classes.
However, our billing system will calculate your payment due prior to this. Any yearly financial aid (loans or scholarships) will be divided in half since you pay your bill one semester at a time. If you see no financial aid and believe you should have it, please contact your SFS counselor, because you may have missed a step in the financial aid process which they can resolve.
Getting Your Prattcard
Your PrattCard is your Pratt ID card, which you receive at orientation. To find out more about the PrattCard, visit https://www.prattcard.com/ (PrattCard is on the left side of the page) and login. You may use the site to add value to your Pratt Bucks or Existing Meal Plan accounts and the funds will be available for immediate use. Note: Pratt Bucks may not be used in the dining facilities and Meal Plan points cannot be used in the Bookstore or print labs so choose carefully where you want your money to go. You will have the ability to grant access to four additional people to add funds to your accounts.
Shipping items before you arrive
You will receive an email containing your campus mailbox and mailing instructions. The mail center will be open on check-in day for you to retrieve your things.
Deferring to Another Term
For those accepted before April 15, there is a deferral deadline of July 15. For those accepted on or after April 15, the deferral deadline is August 1. If you decide not to enroll at Pratt or wish to defer to the following term or year, please use our electronic form after reading the information below. Please note that any merit scholarship you may have received will be deferred. The financial aid office will need to recalculate your financial aid, however, if you are a US citizen or permanent resident who submitted the FAFSA.
You must submit your enrollment deposit prior to deferring. You will need your Pratt Onekey information (sent after depositing) to fill out the deferment form. Submitting your enrollment deposit secures your place in the program for the term to which you defer. We are unable to defer applications for students who do not submit the required enrollment deposit of $500. Pratt's policy is that new, incoming graduate students can defer for up to one full year from the original date of acceptance.
Individual departments can confirm their policy on reviewing transfer work after a student is deferred. Related coursework completed during a deferral at another institution is not guaranteed to transfer into Pratt graduate programs. Students may take regionally accredited, graduate level transcripts to the department Chairperson for consideration, but any transfer credit would be awarded exclusively at their discretion.
Withdrawing Your Application
Should you choose to completely withdraw, please email admissions@pratt.edu.
See Pratt's response to COVID-19 at our Back to Pratt site.
---
Haven't deposited yet?
Please visit our Accepted Graduate Students page.