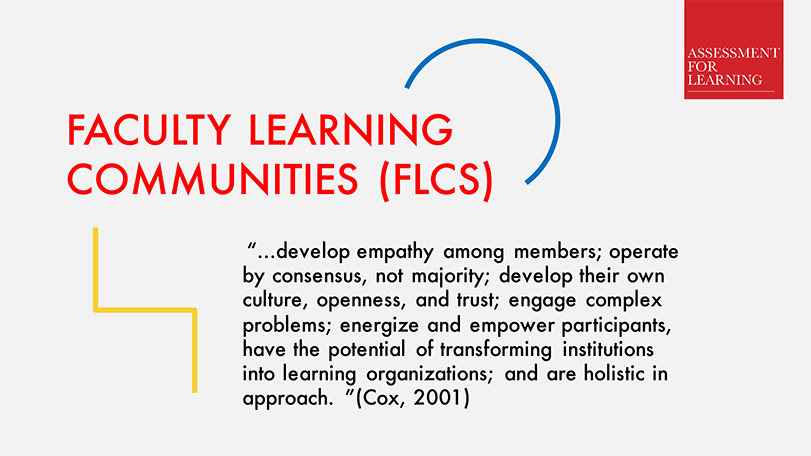 Faculty Learning Communities
The Faculty Learning Communities (FLC's) are multidisciplinary and emphasize faculty and staff learning through community building and action-research. The FLC participants are engaged in the Scholarship of Teaching and Learning as they pose problems about learning issues, use appropriate methods to study the problem and apply their findings to their teaching practice. The FLC participants will share their research findings through peer review, public conferences, and publications. The following First Year Report (2016-17) and Powerpoint (2017-18)captures the ground-up, community-building approach to faculty learning through the Scholarship of Teaching and Learning (SoTL) across Pratt's schools, departments, and disciplines.  
Faculty Learning Communities 2017-18
1. Learning in the First Year FLC
Participants: Ann Schoenfeld (Art History), Linnea Paskow (Foundation), Micki Spiller (Foundation), Rachid Eladlouni (IEP), Jennifer Pipitone (SSCS), Nichole van Beek (IEP), and James Lipovac (Foundation)
Facilitators: Brian Brooks (Foundation) and Chris Jensen (Math and Science)
Participants: Christopher Wynter (Foundation), Allegra Shmulevsky (IEP) and Keena Suh (Interior Design)
The Transfer of Learning is sponsoring faculty workshops this spring. 
3. Learning Through Narrative FLC
Facilitators: Luka Lucic (SSCS) and Svetlana Jovic (SSCS)
Participants: Chelsea Limbird (Interior Design), Audrey Schultz (Construction/Facilities Management), Esther Beke (Industrial Design), Nadya Nenadich (Grad Center for Planning), Victor Vina (UG Communications Design), Adam Elstein (Architecture)
Facilitators: Camille Martin (Interior Design) and Gaia Scagnetti (Graduate Communications Design)
Participants: Analia Siegel (Fine Arts), Rhonda Schaller (Director CPD), Loukia Tsafoulia (Interior Design), Eva Perez de Vega (Architecture), Farzam Yazdanseta (Architecture), Raphael Grisowold (Fine Arts)