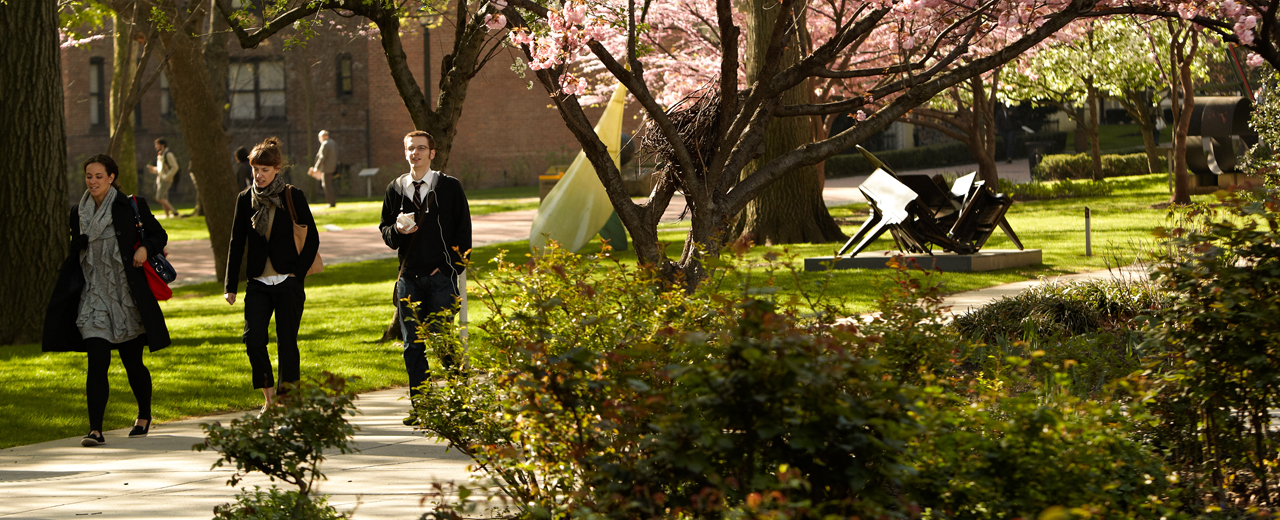 Pratt's beautifully landscaped 25-acre residential campus is a surprise to most visitors who cannot believe it exists in the middle of Brooklyn. Visitors describe it as a quiet oasis with a traditional college feeling within one of the leading art and design schools in the world. Pratt's Brooklyn and Manhattan campus visit options are listed below. Program locations are below as well.
Visiting The Brooklyn Campus
Prospective students and their families are invited to visit Pratt's Brooklyn campus for a tour. Tours are not offered mid-December through mid-January. Tours book quickly and must be scheduled at least 48 hours in advance. Reservations are required. Please note, once our tour registration has reached capacity, we are unable to accommodate additional requests.
Scheduling a Tour
Tours from September 5th, 2023 through October 2nd, 2023 will be start at either 10am or 2pm.
Beginning October 3rd, 2023, we will be offering a 30-minute information session before tours that will feature a student panel. Tours will continue to depart at 10am or 2pm so we ask that you arrive 30 minutes early to attend the info session. If you only wish to participate on the tour, please arrive no later than 10am or 2pm, respectively.
Weekly Tour Schedule
September 5th – December 8th, 2023
Pratt offers major-specific or general tours each week from mid-September to mid-December. All of our campus tours will cover general campus content and then break into major-specific groups, so you only need to register for one tour.
There are two tours offered each day – at 10:00am and 2:00pm, and they are two hours in duration. Beginning October 3rd, 2023 there will be an option for a 30 minute info session prior to the tour departure.
| | Monday | Tuesday | Wednesday | Thursday | Friday |
| --- | --- | --- | --- | --- | --- |
| 10:00 AM | Architecture & Writing | General | Digital Arts & Film/Photo | Fine Arts & Liberal Arts | Design Programs |
| 2:00 PM | Fine Arts & Liberal Arts | Design Programs | Architecture & Writing | General | Digital Arts & Film/Photo |
Find Your Tour
Major Specific
Our major-specific tours delve deeper into the academic offerings for specific programs, so these are best suited for students whose academic interests match the focus of the major-specific tour. Majors are grouped in the following ways:
Architecture & Writing includes the following majors: Architecture, Writing
Fine Arts & Liberal Arts includes the following majors: Painting, Drawing, Printmaking, Jewelry, Sculpture & Integrated Practices, Art & Design Education, History of Art & Design, Critical and Visual Studies
Design Programs includes the following majors: Graphic Design, Illustration, Fashion Design, Industrial Design, Interior Design
Digital Arts & Film/Photo includes the following majors: 2D Animation, 3D Animation, Game Arts, Art & Technology, Film, Photography
---
General Tours
General tours are not specific to a major, but our guides have knowledge of all of Pratt's programs and can answer any questions you may have:
Group tours: If you are a high school art class or other group interested in scheduling a visit, email visit@pratt.edu. We ask that group tours are scheduled at least one month in advance to give us a better chance of accommodating your group. Group tours are for high school groups in grades 10–12 and are offered on Tuesdays only. We are not able to accommodate middle or elementary school groups.
Graduate students: Although you are welcome to join a Brooklyn campus tour, please note that tours do not include graduate facilities. We recommend that you contact your department directly to schedule a visit or join an information session. View graduate visit options.
All Brooklyn campus tours leave from the Admissions Office on the 2nd floor of Myrtle Hall. Myrtle Hall is located across the street from the main campus on Willoughby Avenue; make the first left into the Willoughby Residence Hall parking lot. Myrtle Hall is directly ahead (modern glass building) and located at 215 Willoughby Ave.
Pratt also offers information sessions (undergraduate and graduate) and portfolio reviews (undergraduates only) in the spring, summer and fall. All of Pratt's various visit options are listed online.
Explore Campus on Your Own
Visiting our Brooklyn campus outside of our regularly scheduled tours? Download our self-guided tour and explore our outdoor campus grounds at your leisure. Access to campus buildings is limited to official tours, but you'll have the chance to explore our grounds, experience the campus vibe, and see how centrally located our core buildings are.
Virtual Tour Option
We encourage prospective students who are unable to attend an in-person campus tour to experience our campus and programs virtually through our virtual campus tour. This virtual offering also includes a video tour of a student residence space.
Manhattan Campus Tours
Undergraduate Programs
Undergraduate tours of the Manhattan campus are available by contacting the department or program in which you are interested directly or by joining an information session.
Associate's Degree Programs
aos@pratt.edu or 212.647.7375.
Construction Management
cm@pratt.edu or 212.647.7524
Graduate Programs
Graduate students should contact their graduate program department of interest for an appointment. You may also attend a graduate information session in Manhattan.
Academic Programs in Brooklyn
Undergraduate
Architecture
Art and Design Education: Teacher Certification
Digital Arts
Fine Arts
Fashion Design
Film
Game Arts B.F.A
Communications Design (graphic design, illustration, and branding and art direction)
History of Art and Design (B.A. and B.F.A.)
Interior Design
Industrial Design
Photography
Writing
Critical and Visual Studies
Graduate
Architecture
Urban and Community Planning
Communications Design
Sustainable Environmental Systems
Historic Preservation
Urban Placemaking and Management
Art and Design Education: Teacher Certification
Dance Therapy
History of Art and Design
Digital Arts
Industrial Design
Interior Design
Fine Art
Media Studies
Packaging, Identities, and Systems Design
Writing
Academic Programs in Manhattan
Undergraduate
Construction Management
Associate's Degree Programs
Graduate
All School of Information Programs
Arts and Cultural Management
Design Management
Facilities Management
Real Estate Practice
More Ways to Visit Campus
Undergraduates
Undergraduate Information Sessions: Attend one of our undergraduate general information sessions and/or our major-specific sessions.
On-campus Portfolio Reviews: Portfolio reviews are available with admissions counselors when visiting from April 1 to December 1 only. Reviews are informal and to give you feedback on your work and to answer questions about Pratt's programs. Portfolio reviews and interviews are not required for the admissions process or to be accepted.
Off-campus Portfolio Reviews: Pratt's admissions counselors, artists themselves, visit many states in the US as well as other countries. Make an appointment to see us in your area at your convenience. Receive invaluable guidance on your art portfolio as well as the opportunity to discuss Pratt and your interests with a Pratt representative.
Graduates
Graduate Information Sessions are offered at the location of the program, Manhattan or Brooklyn.
Local Accommodations
View a list of local accommodations.
Useful Links
Pratt's Sculpture was recently ranked among the top ten campus art collections by Public Art Review.