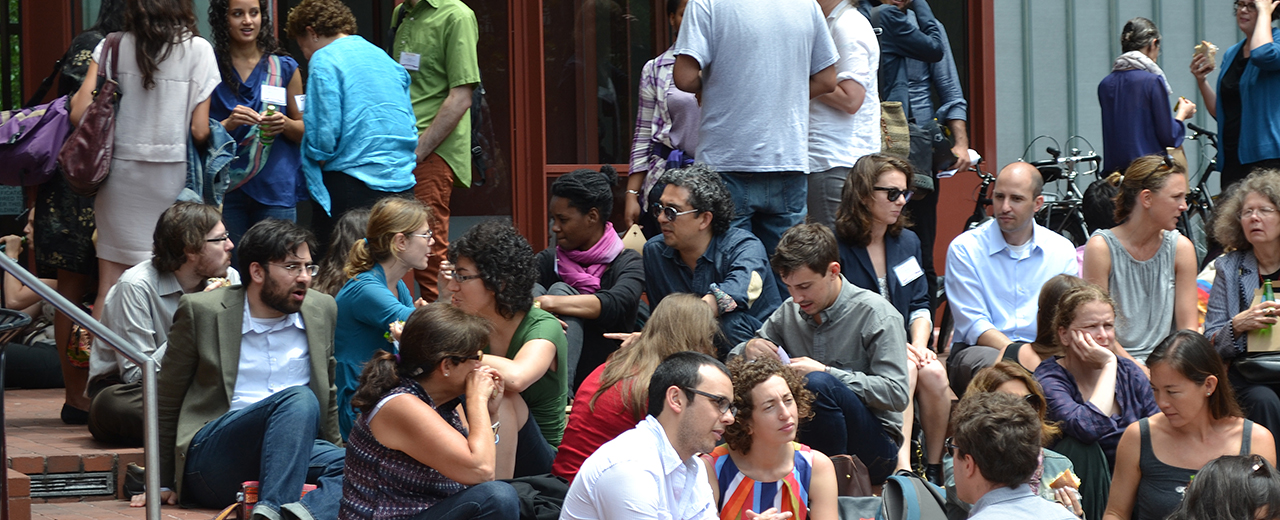 Interdisciplinary Research/Practice Hubs are comprised of interested faculty, administrators and students at Pratt Institute who are engaged in various matters related to the interdisciplinary realm of research and practice. Theoretical, historical and praxis-based problematics and inquiries are explored, while adventurous programs and actions are integrated into the fabric of the group's work.
These hubs provide ongoing opportunities for the exploration of practices surrounding a particular academic/disciplinary arena, and interdisciplinary interstices. They integrate practice, research and theoretical investigations of the particular topics' past, present and future. Participants in these working groups have all been involved in various dimensions of the investigated realm, and continue to integrate questions around the form and functions of the discipline or interdisciplinary questions their evolving research and practice agenda.
Creative Praxis Groups
Customized Minor Info Sessions
The Translation Innovation Ensemble, launched by Amir Parsa and Christian Hawkey, is a core group of poets/writer/translators first formed at Pratt Institute. The Ensemble was conceived concomitantly with the first Translate This! event. The main focus of the ensemble—which remains open to interested literary translators from across the world—and the Translate This! series is to provide a space for reflection and action on the challenges and possibilities of poetic translation, as well as the inescapable political and social dimension of translatory practice as a whole. Innovative gestures at micro and macro levels are infused with the constant reflection on the impossibility-yet-necessity of poetic translation.
The Ensemble organized the first Translate This! Reading and panel discussion in spring 2016 with the participation of poets Per Bergström, Ida Börjel, Jennifer Hayashida, Jenny Tunedal, and Uljana Wolf.
Book Pub
The BookPub constitutes a research and practice hub, a figurative space, and a circle of interested faculty, administrators and students at Pratt Institute who are engaged in various matters related to the book as object, idea, artwork and cultural artifact. The BookPub intertwines research and practice on campus with ongoing conversations around the past, present and future of the book through exhibitions, unique and innovative events, conversations, lectures and workshops with artists, designers and experts. Theoretical, historical and praxis-based problematics and inquiries are explored, while adventurous programs and actions are integrated into the fabric of the group's work. The core members of the group have also been involved in the creation of a Book minor. Participants include Russ Abell, Saul Anton, Youmna Chlala, Adeena Karasick, Kyle Olmon, Amir Parsa, Tori Purcell, and Robbin Ami Silverberg
Documentary Practices Group
The Documentary Practices Group constitutes an Interdisciplinary Hub where faculty from multiple Pratt departments organize screenings, panels, exhibitions and conversations, and collectively reflect on the theoretical and practical dimensions of documentary practice across mediums (photo, film, writing). Members of the group also share research and continue to reflect on the relationship of new forms to the concept of the documentary. The group is also involved in the conceptualization of a cross-departmental minor dubbed Documentary Practices. The core members of the group include Kara Hearn, Ann Holder, Kathleen Kelley, Jacki Ochs, Amir Parsa, Tori Purcell, Jennifer Telesca, and Sasha Sumner.
This 'hub' provides a platform for the investigation of engagements that are intrinsic to documentary work across disciplines and mediums. Participants have expertise in various backgrounds (from anthropology and cultural studies to film-making and photography to new forms) and are connected through their interests in the questioning of the foundations, forms and functions of what is perhaps too often uncritically dubbed "documentary." The group's work encompasses an ongoing exploration of the creation of the minor, as well as the presentation of work by guest practitioners. It involves a questioning of the "representation of the real" as well as a constantly critical perspective wrought onto the history, theory and gestures involved in documentary work, including emerging practices.
In February 2016, The group organized a screening of, and panel discussion around, Jack Walsh's film Feelings Are Facts: the Life of Yvonne Rainer at Pratt. Following the screening, the panelists discussed various dimensions of Rainer's work as a film-maker and a pioneer of dance, and also delved into the decisions made by Jack Walsh through the process of making the documentary. Moderated by HMS professor Jennifer Miller, the panelists engaged in a spirited and fascinating conversation around the aesthetics, poetics and politics of art making in general, and the documentary practice that allowed the continuing debates around particular works and movements. Audience questions and interventions also generated more provocative discussion around not only Yvonne Rainer's work, but the nature of the documentary itself—as a genre and cultural mainstay. Participants in this event included Jack Walsh, Jennifer Miller, Jorge Oliver, Deb Meehan, Noel Carroll , Patricia Hoffbauer, and Judy Lieff.
Moli Group
The Mapping Outcomes and Learning Initiative seeks to create a nimble, fluid, and useful mapping of learning outcomes as they are articulated within Pratt's academic departments and other relevant institutional units. The product visualizes the connections between disciplines and departments as well between learning outcomes themselves. Overall, the Mapping Outcomes and Learning Initiative will be an ongoing tool that can help administrators, faculty, students, and their families, along with the Pratt community and the wider community of schools of art and design, provide a productive and helpful image of the curricular and learning landscape at Pratt, while helping to identify areas of improvement and needed operations to create an adaptable learning environment.
Networks
There are many opportunities to engage in interdisciplinary work across Pratt's departments. For example, schools often hold programs and events that are especially interdisciplinary in nature or work together across department lines to develop work and public programs. Additionally, faculty across Pratt's departments are often engaged in research and projects that cross disciplinary lines and that are contributing to new and emerging fields.
Please consult the Pratt Calendar and Fuse Blog for upcoming Happenings: events, programs, work, and news.
Pratt Research And Centers
Pratt Centers are interdisciplinary spaces. Knowledge and expertise of faculty from many departments contribute to ongoing research and to exciting and innovative work. Please consult the Research and Centers page for additional information.
The Felt
An online journal of poetry and prose produced by Pratt Institute's MFA in Writing, The Felt is interested in the creation and cultivation of emancipatory poetic spaces for felt sentiments that have been marginalized, displaced, or estranged from the dominant culture. Like the textile of its namesake, The Felt is an intricate entanglement unlimited in every direction. We strive to publish disobedient and daring work that invites departure, resistance, engagement, and the collaborative, tender-hearted making of new knowledge.
STEAMplant
The Mission of the STEAMplant initiative is to foster interdisciplinary collaboration between the science, technology, engineering, and mathematics (STEM) fields and "art" as defined by the diverse disciplines pursued at Pratt.
The STEAMplant supports its mission through two programs:
Sirovich Family Student Fellowship Program – Supports graduate and upperclass undergraduate students at Pratt doing STEAM work.
Sirovich Family Residency Program – Supports professionals outside of the Pratt community seeking to work on a STEAM project in residency at Pratt.
Both programs involve collaboration with at least one faculty or staff member from the Mathematics and Science Department and at least one faculty/staff member from another department at Pratt. Projects are supported by the broad array of resources that are available at the Institute, including vast knowledge and a wide range of technological capabilities, especially those that can be used to produce creative work. STEAMplant projects produce work that can be exhibited publicly and communicated to a targeted audience.
---
For more information, contact Amir Parsa at aparsa@pratt.edu.