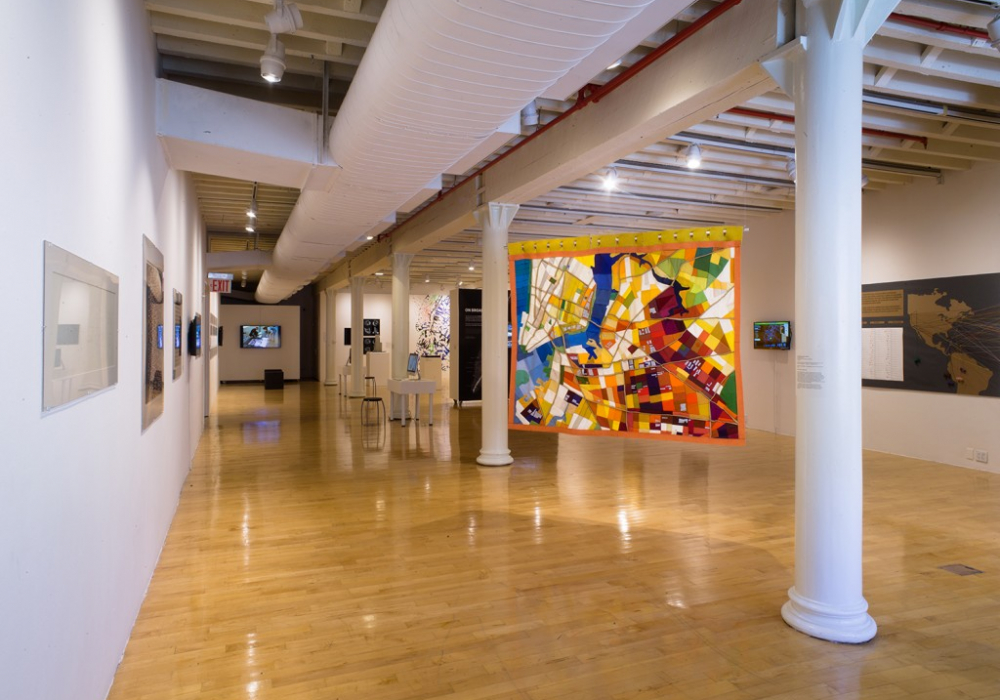 PARTNER
Pratt Manhattan Gallery
SUMMARY
In September 2017, Pratt Manhattan Gallery presented You Are Here – NYC: Art, Information, and Mapping, an exhibition of works demonstrating the artistic side of cartography. Curated by Katharine Harmon, author of numerous books on creative mapping, and Jessie Braden, director of SAVI, the exhibit showcased map art based on data analysis and visualization. Over two dozen assembled works by artists and information designers addressed an increasingly relevant question: in what forms can data visualization become art, and how can artists make data visible?
As the centerpiece of the exhibit, the curators commissioned three artists—Doug McCune, Ekene Ijeoma, and Christine Gideon—to develop installations using the same census-based dataset, focused on NYC immigration. SAVI provided support in acquiring, processing, and extracting the latent narrative, and then working with the artists to manifest unique visual interpretations.
Finally, in celebration of the month-long exhibit and to expand the conversation around data's role in our social and creative worlds, Jessie Braden moderated a panel event discussing the relationship between art and data. The panel included Jer Thorp, Sarah Williams, Ekene Ijeoma and Doug McCune.
The Pratt exhibition was inspired by Harmon's recently released book, You Are Here – NYC: Mapping the Soul of the City. Artists with work in the exhibit included: Kim Baranowski; Alexander Chen; Xingying Du, Michelle Htar, and Jessica Silverman; Nicholas Fraser and Heidi Neilson; Neil Freeman; Christine Gedeon; Daniel Goddemeyer, Moritz Stefaner, Dominikus Baur, and Lev Manovich; Jill Hubley; Ekene Ijeoma; Bettina Johae; Jerome Marshak; Christopher Mason/MetaSUB team; Doug McCune; John Nelson; Jenny Odell; Perkins+Will / Quilters without Borders; Herwig Scherabon; Erica Sellers; Chris Whong. Exhibit photos by Jason Mandella Photography.
GIS and Design certificate program fellow Aditi Sharma and SAVI staff member Case Wyse provided data processing and mapping assistance to Christine Gideon and Ekene Ijeoma, respectively.
PROJECT TEAM
Kim Baranowski
Alexander Chen
Xingying Du, Michelle Htar, and Jessica Silverman
Nicholas Fraser and Heidi Neilson
Neil Freeman
Christine Gedeon
Daniel Goddemeyer, Moritz Stefaner, Dominikus Baur, and Lev Manovich
Jill Hubley
Ekene Ijeoma
Bettina Johae
Jerome Marshak
Christopher Mason/MetaSUB team
Doug McCune
John Nelson
Jenny Odell
Perkins+Will / Quilters without Borders
Herwig Scherabon
Erica Sellers
Chris Whong
Jason Mandella Photography
Aditi Sharma (GIS and Design certificate program)
Case Wyse (SAVI)
YEAR
2017