In her forthcoming book, After Spaceship Earth, Eva Díaz, an art historian and associate professor in Pratt Institute's History of Art and Design Department, critically examines R. Buckmister Fuller's influence on contemporary art and the ways in which his ideas have shaped visions of the future. Fuller, along with his Black Mountain colleagues Josef Albers and John Cage, was also a subject of Díaz's previous book, The Experimenters: Chance and Design at Black Mountain College (Chicago, 2015). Here, Díaz discusses what her research has illuminated about how artists today are engaging with the theoretical underpinnings of Fuller's investigations of tech-enmeshed futures, probing questions of equity, social and environmental justice, and the human desires bound up in outer-space aspirations.
Your work on After Spaceship Earth originates with R. Buckminster Fuller, but there's another force at play as well—Sun Ra, the late avant-garde jazz artist, whom you have described as equally important in this conversation. Could you describe the theses or core visions central to their work that counter one another?
R. Buckminster Fuller hoped to reorient mundane life towards a greater awareness of Earth as embedded in the wider cosmos. Yet the eccentricity of his metaphor of "Spaceship Earth," which characterizes architecture as an advanced technological vehicle that can supplant natural ecologies in sustaining life, has had lasting effects in how the future is envisioned as human-authored and technologically dependent. Like Janus's two faces, Fuller's euphoria about technologies expanding human access to the universe is inextricably linked to Sun Ra's sense of whites having robbed others of a place on Earth, thereby necessitating the flight into outer space. One important proposal of what I term neo-Afrofuturist artworks is to temper the vision of the future as a frontier of exploration and technological progress with recognition that the loss of history for enslaved and subjugated peoples was the defining condition of previous colonial endeavors.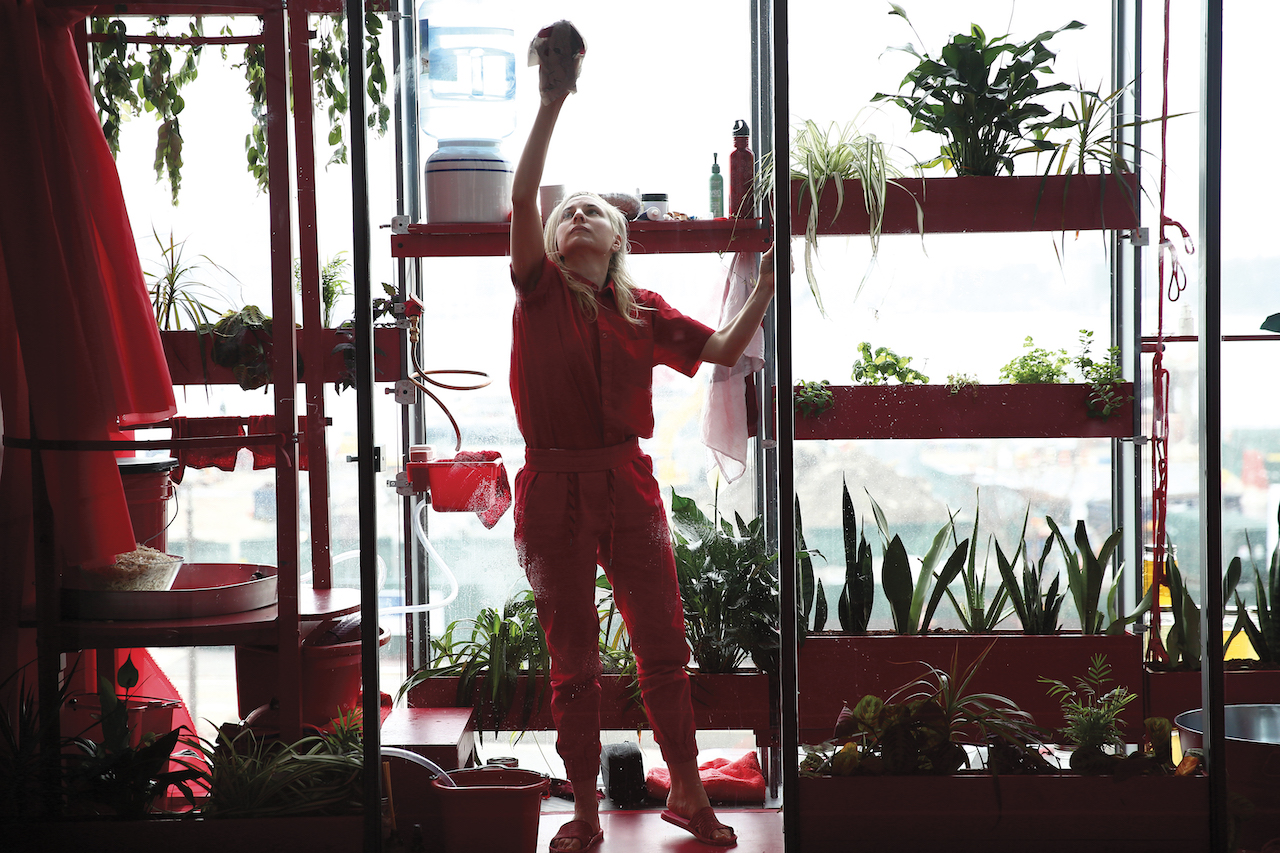 In your research, what have you found about how contemporary artists can help us think differently about futures beyond Earth—in ways that probe or challenge dominant narratives around human engagement with outer space?
As NewSpacers like Jeff Bezos and Elon Musk embrace Fuller's notion that "we are all astronauts," visual art today does a lot of the heavy lifting when it comes to issues about rights to space. Artists working on access to space are at the front line of a critical investigation about the contours of the future, both in its material form and social organization, recognizing that much of the surplus capital accumulated from the internet and tech boom is now being funneled into NewSpace projects. Where robber barons once invested in public libraries and universities, the new oligarchs are investing their fortunes in apocalyptic survivalist schemes. Artists are opening up these doomsday projects to greater visibility.
The metaphor of Fuller's "Spaceship Earth" as a hybrid ecological-architectural object is not lost on artists working to produce experimental structures and scenarios in art galleries, public installations, and film. Some artists have undertaken projects that emphasize instead the spaceship as a "poor" architecture, an alternative shelter from which to reflect on histories of inequality and deprivation, or on the role of the colonist or astronaut in modeling ideal citizenship. Fuller was nothing if not a great showman, adept at promoting a vision of life beyond Earth—a utopia in which computers would supplant brainpower in specialized tasks, allowing humanity to turn to the higher forms of thought within the larger matrix of the universe. In his 1960 Cloud Nine plan, a collaboration with his former student and later architectural partner, Shoji Sadao, Fuller proposed that large, fully spherical geodesic habitations be heated so as to float above the Earth or other planets, thereby untethering human life from terrestrial existence. Gathering works that vector out from Fuller's project, my research shows how artists have opened up those visions of DIY space travel to wider communities than he anticipated, questioning Fuller's "we are all astronauts" rhetoric, and taking issue with his ecology-as-technology model of "Spaceship Earth."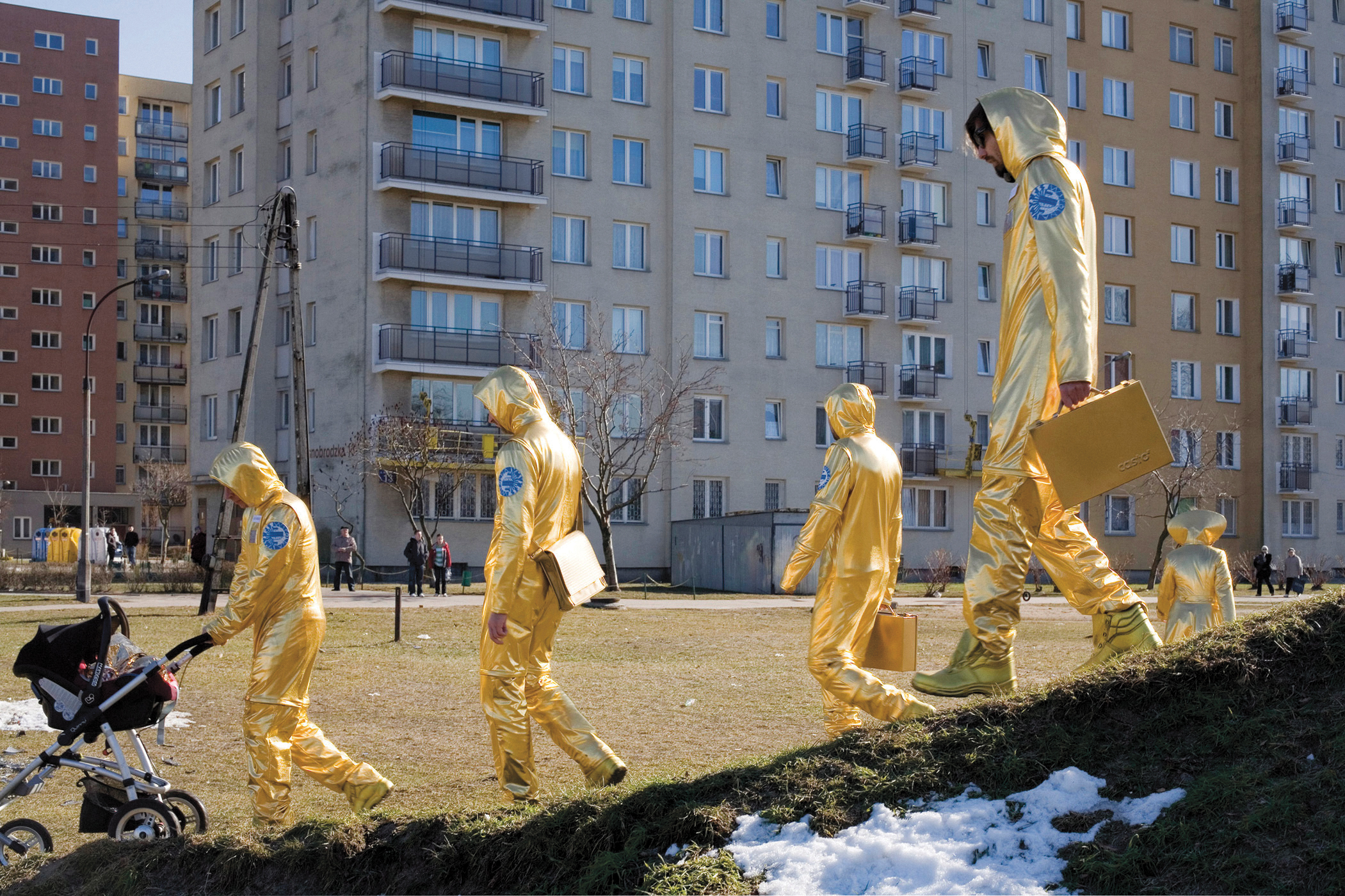 What are some examples of particularly powerful or provocative projects that are raising questions around justice, access, equity in relation to space?
The power of space exploration to organize earthbound desires is evidenced by the wide array of artists who address the topic. Artists such as Jane and Louise Wilson, Connie Samaras, and Matthew Day Jackson employ film, photography, and sculpture to explore the sites on Earth where older space programs once thrived and document new zones where private, corporate, or otherwise inaccessible space ventures are located. Other artists such as Tom Sachs and Tavares Strachan produce work prototyping conjectural objects and architectures for space travel and exploration. While suspicious of Fuller's technocratic ideology, they are nonetheless drawn to his emphasis on ad hoc architectural process. Visual artists are also critically investigating the harsh material reality of space. Artists like Rachel Rose and MPA question the managed existence and scientific supervision of astronaut life and the physiological and psychological pressures that off-planet existence might hold for humans. They also flag the astonishing work of repression involved in pretending that a technologically governed capsule existence can surpass the plentitude of ecologies on Earth, or that space travel will foster freedoms, both bodily and political, when it will above all be determined by scientific instruments applied with capitalist means.
Countering Fuller's optimism about humanity's orientation to outer space, a post-Apollo-missions generation of artists, many born in the late 1960s to the 1980s, reckons with its own belatedness to a conception of space exploration as an aim of public culture in the current era of New Space privatization. Several of the artists in my discussion, who include Paweł Althamer, Halil Altindere, Frances Bodomo, Cristina de Middel, Larissa Sansour, Tomás Saraceno, and Apichatpong Weerasethakul, engage in explicit criticisms of Fuller's techno-futurity. They register an elegiac sense that the era of space exploration as a program of knowledge acquisition, interspecies communication, and even intergalactic colonization—in short, the epoch of cosmic optimism—has receded if not ended. They join slightly older artists, such as John Akomfrah, who reconsider how the applications of technologies in near and outer space, once billed as progressive, are rife with negative effects such as resource depletion and privatization, racial domination, and economic inequality. Given the fact that environmental damage, which is already prompting climate migrations, is being used to justify future off-planet colonization, space travel and space architectures have become central preoccupations of artworks made in the last decade or so.
Thinking about your Pratt seminar "The Current Season," which explores exhibitions in New York City, are you looking forward to any shows opening this fall that relate to the themes and questions you bring up in your book?
This fall I'm looking forward to the first show of Puerto Rican art in a major museum in decades: the Whitney Museum's no existe un mundo poshuracán: Puerto Rican Art in the Wake of Hurricane Maria, set to open in late November. No doubt many of the projects will focus on the relationship between grassroots organizing, political uprising and utopianism, and the quite dystopian realities of racism, infrastructural vulnerability and disinvestment, and ever-worsening natural disasters. I'm also eager to see Xaviera Simmons's show at the Queens Museum, in which, among other things, she addresses the unequal access to food resources in minority communities.
Read more stories from "Start Here" in the Fall 2022 issue.