Jennifer Babcock
Assistant Professor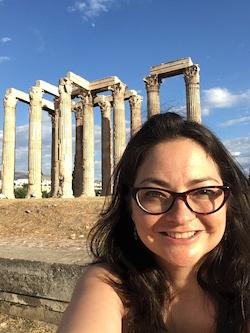 Email

Phone

Pronouns

She/Her/Hers
Biography
Jennifer Miyuki Babcock specializes in ancient Egyptian art and archaeology though also has a strong interest in contemporary art. In her teaching and research she investigates ancient processes and practices of art and design and is invested in decentering Euro-centric perspectives in Egyptology and art history, in general.
Dr. Babcock is interested in the representation of the animal world in ancient Egypt, the reconstruction of ancient Egyptian aesthetic values, and how visual narratives are represented and imagined. All of these issues are featured in her recently published book, which is the first art historical and comprehensive study of ancient Egyptian figured ostraca depicting animal fables. Her current research investigates the range of skill we find in ancient Egyptian material and visual culture, and how that can be measured.
Before coming to Pratt, Dr. Babcock was a Curatorial Postdoctoral Associate in the Exhibitions Department at the Institute for the Study of the Ancient World. She has also held fellowships and positions at The Metropolitan Museum of Art, the Museum of Fine Arts, Boston, and the Brooklyn Museum.
Education
Ph.D. Art History and Archaeology, Institute of Fine Arts, New York University
M.A. Art History and Archaeology, Institute of Fine Arts, New York University
B.A. History and Art History, University of California, Los Angeles
Publications and Projects
Books:
Tree Climbing Hippos and Ennobled Mice: Animal Fables in Ancient Egypt. Culture and History of the Ancient Near East 128, Brill, 2022
Selected articles/catalogue entries:
"The Representation of 'Humans' and Gods in the So-Called Satirical Ostraca and Papyri from Deir el-Medina," Proceedings of the International Conference Gods and Humans in Ancient Egypt: Current Research and Multidisciplinary Approaches, Journal of Ancient Egyptian Interconnections, forthcoming.
"Head of Merymose," Highlights Catalogue for the Frances Lehman Loeb Center, Vassar College, forthcoming.
"Finding Inspiration in Nature: The Created World of the Ancient Egyptians," Egypt on the Nile, Carnegie Museum of Natural History, Pittsburgh, forthcoming.
"Curated Desertscapes: Animal Control by Artistic Design in Ancient Egyptian Tombs," Animals in Ancient Material Cultures. Arts, Vol. 3. (2022): https://doi.org/10.3390/arts11030059