Dr. Thomas F. Schutte, Pratt Institute president from 1993 to 2017, will be honored with the naming of the Schutte Plaza on the Brooklyn campus. Made possible through a recent $1 million gift by longtime Pratt donor, alumnus, and Trustee Emeritus Bruce Newman, BFA Interior Design '53, the naming reflects a decades-long dedication and care for Pratt, with his lifetime support of Pratt totaling more than $5.2 million.
Since the 1980s, Newman has supported Pratt in many ways, including for beautification projects across campus from green lawns to brick pathways. Each addition he has supported, such as the amphitheater at the entrance of the South Hall in the late 1980s and the sculptural 21-foot clock designed by Newman and dedicated in 2011 on the Newman Mall, has contributed to a cohesive campus where learning, community, and student life are all connected. He envisioned and supported the multi-award-winning redesign of the Engineering Quadrangle—a project featured in the Wall Street Journal in 2015 for its consideration of every detail down to the building's wrought iron and lighting sconces—recognizing that an inviting landscape improves the experience of everything around it. Mr. Newman's ongoing support during the pandemic helped fund Foundation Starter Kits for all students, which contained basic tools and materials needed in their first-year classes to facilitate remote learning.
"Bruce has made our campus a beautiful place where our collective communities can gather, exchange ideas, and foster conversations across domains," said Pratt Institute President Frances Bronet. "We experience the world in concert with our built environment and, at Pratt, our campus is a landscape of invitation, reflection, and invention."
This September, Architectural Digest named Pratt one of the "prettiest college campuses in America" and the campus was previously ranked the eighth most beautiful in the nation by College Magazine.
The Schutte Plaza is a lush, open greenspace covering 15,000 square feet from the back of the Library to the ISC Building at Hall Street and Willoughby Avenue. Offering an area for recreation, open-air study, and outdoor classes, the Schutte Plaza is a lively space for students who enjoy its lawns in summer, fall foliage in autumn, and sculptures year-round.
"Anyone who has visited Pratt's campus knows it is an energizing environment where the trees, gardens, sculpture, buildings, and lawns all contribute to a spirit of inspiration," Newman said. "I am honored to support the naming of the Schutte Plaza as a tribute to my deep respect and admiration for Dr. Schutte's impact on Pratt and Brooklyn."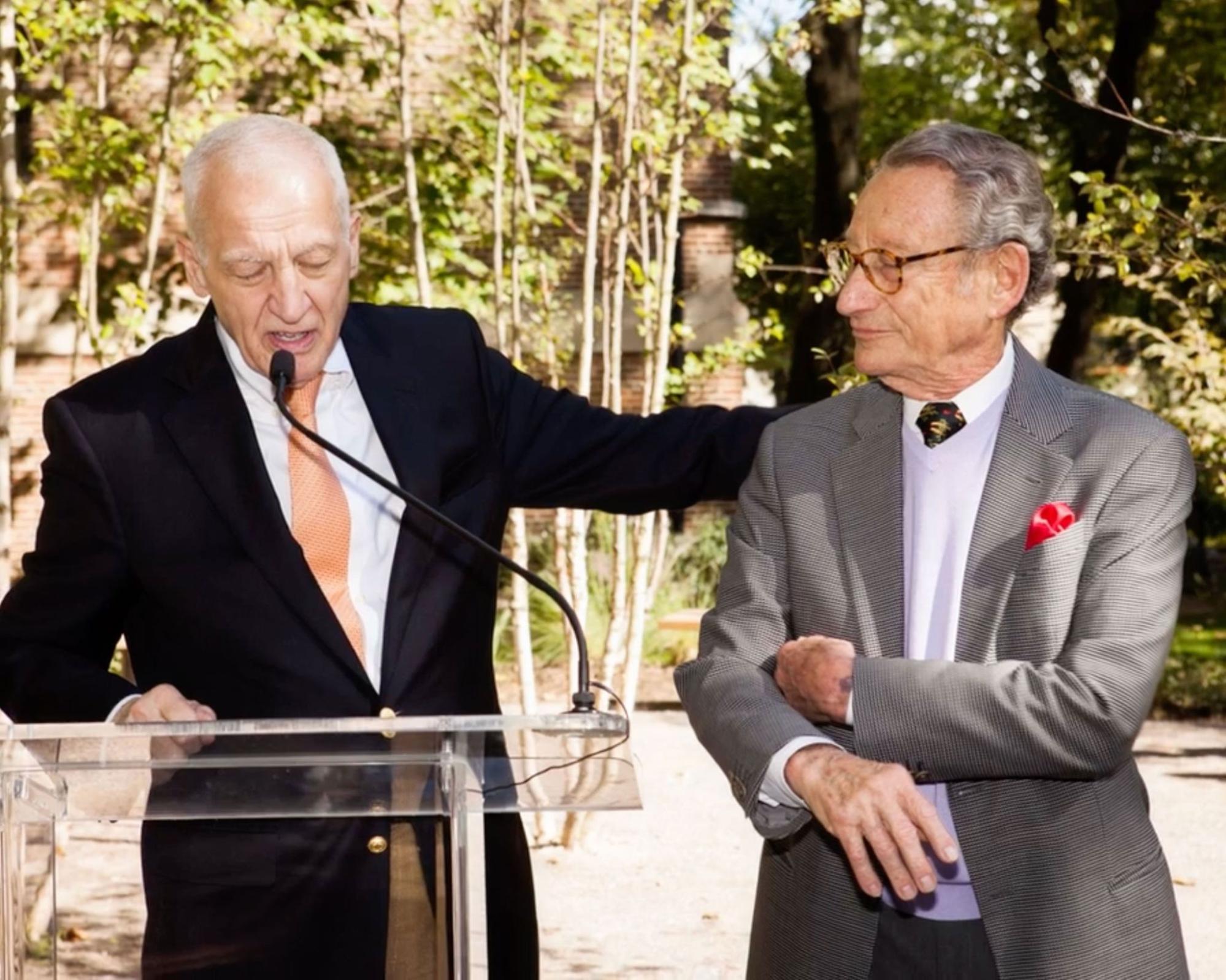 The announcement of the Schutte Plaza comes as Pratt is marking its 135th year, with the Brooklyn campus connecting to this history while evolving to meet the needs of new students, faculty, and staff. Dr. Schutte is one of Pratt's longest-serving presidents who oversaw more than two decades of this change. His commitment to a campus where people can come together to learn, create, and actively strive toward making a better world is celebrated with the naming of this space.
"Pratt, with its prominent place in New York City, has led the way in shaping a college campus that serves the diverse interests of the people who pass through its gates," Dr. Schutte said. "I am honored to be named. With the support of donors like Bruce, Pratt will continue to be a vital part of the cultural fabric of Brooklyn, a community role which this campus promotes and upholds."