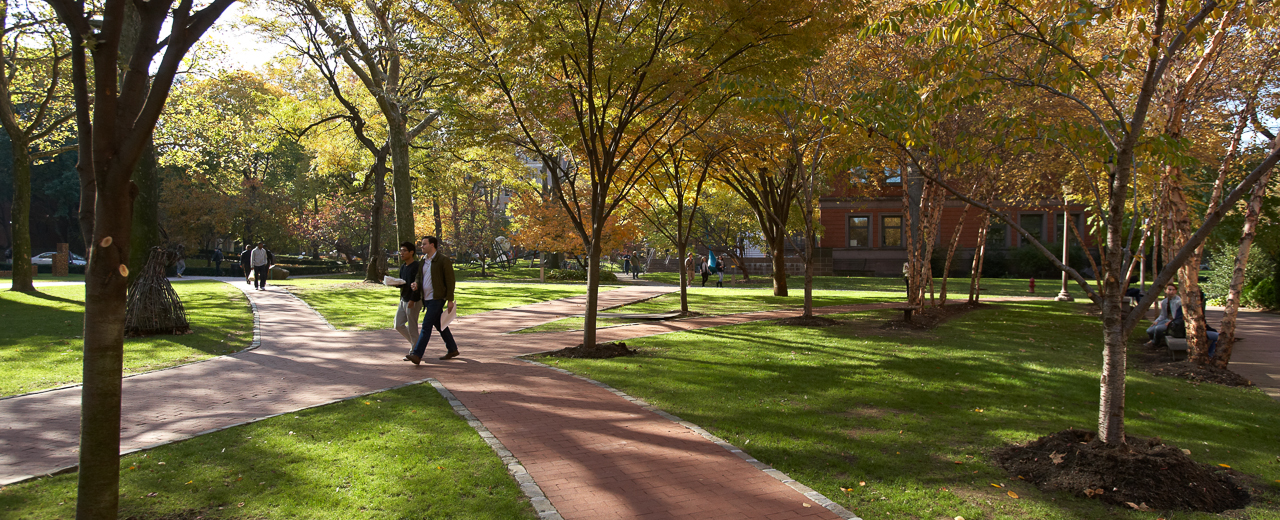 Pratt's campus has been recognized by College Magazine, which ranked Pratt number eight in its list of "Top 10 Most Beautiful College Campuses," and by The Municipal Arts Society, which honored the Institute's Engineering Quadrangle with its 2015 MASterworks Award for Best Urban Landscape.
Pratt was among other top-tier institutions nationwide named in the "Top 10 Most Beautiful College Campuses" list recently released by College Magazine, a daily guide to campus life that reaches millions of college students across the country. The College Magazine rankings are based on factors that include location, architecture, and atmosphere. According to the rankings, the Institute's "blend of building styles and its Brooklyn location give it the perfect balance of classic college atmosphere and city excitement."
The Municipal Art Society (MAS), the distinguished New York organization dedicated to creating a more livable city, selected Pratt's re-landscaped Engineering Quadrangle for the 2015 MASterworks Award for Best Urban Landscape. The MAS recognized The Engineering Quadrangle project for creating a new open space that contributes to New York's livability and resilience and is a hub for the neighborhood and school community.
The project involved redesigning and rebuilding the space, allowing for better circulation, enhanced aesthetics, and an increased cohesiveness with the rest of campus. It was a collaborative effort between the Office of Facilities Management and recent architectural graduates of Pratt and CUNY, was made possible through the generosity of Pratt alumnus and Trustee Emeritus Bruce M. Newman (B.F.A. Interior Design '53).
Dating back to 1988, the annual MASterworks Awards recognize projects with an excellence in architecture and urban design that make a significant contribution to New York City's built environment. The awards have paid tribute to some of New York's best known built works, including 8 Spruce Street, The New York Times Building, TKTS Booth, Hypar Pavilion at Lincoln Center, and the High Line. The 2015 MASterworks Awards ceremony and reception will take place on April 16 at the Museum at Eldridge Street in New York City.
More information about the 2015 MASterworks Awards can be found here. To view the College Magazine rankings, click here.