Photographer Alice Austen did not conform to the expectations for women in 19th-century New York. Hoisting her equipment on her bicycle (she was an early advocate for women's cycling), she traveled the city to capture its lively neighborhoods and vendors as well as its newly arrived immigrants, including those sent to quarantine islands which other photographers ignored. Not only was she a pioneering woman photographer who took her camera outside of the studio—a rarity at the time—she also turned her lens to the intimate moments of the people around her including Gertrude Tate with whom she was in a relationship for over 50 years. The home they lived in together for three decades in the early 20th century can still be visited on Staten Island.
The Alice Austen House Museum (AAHM) is frequently under the radar even for people in its immediate Rosebank neighborhood. Last semester, Pratt Institute historic preservation, placemaking, and planning students in the Graduate Center for Planning and the Environment (GCPE) explored the site and envisioned new ways it could share the story of an extraordinary photographer whose visibility as a queer woman has too often been overlooked. The project came about after Dean of the School of Architecture Harriet Harriss and AAHM Executive Director Victoria Munro discussed the many opportunities for students to engage with the site.
"The students approached the program with open minds and followed a series of needs-based targets for the park, producing a visionary document to increase visibility, access, and community engagement as well as site resiliency," Munro said.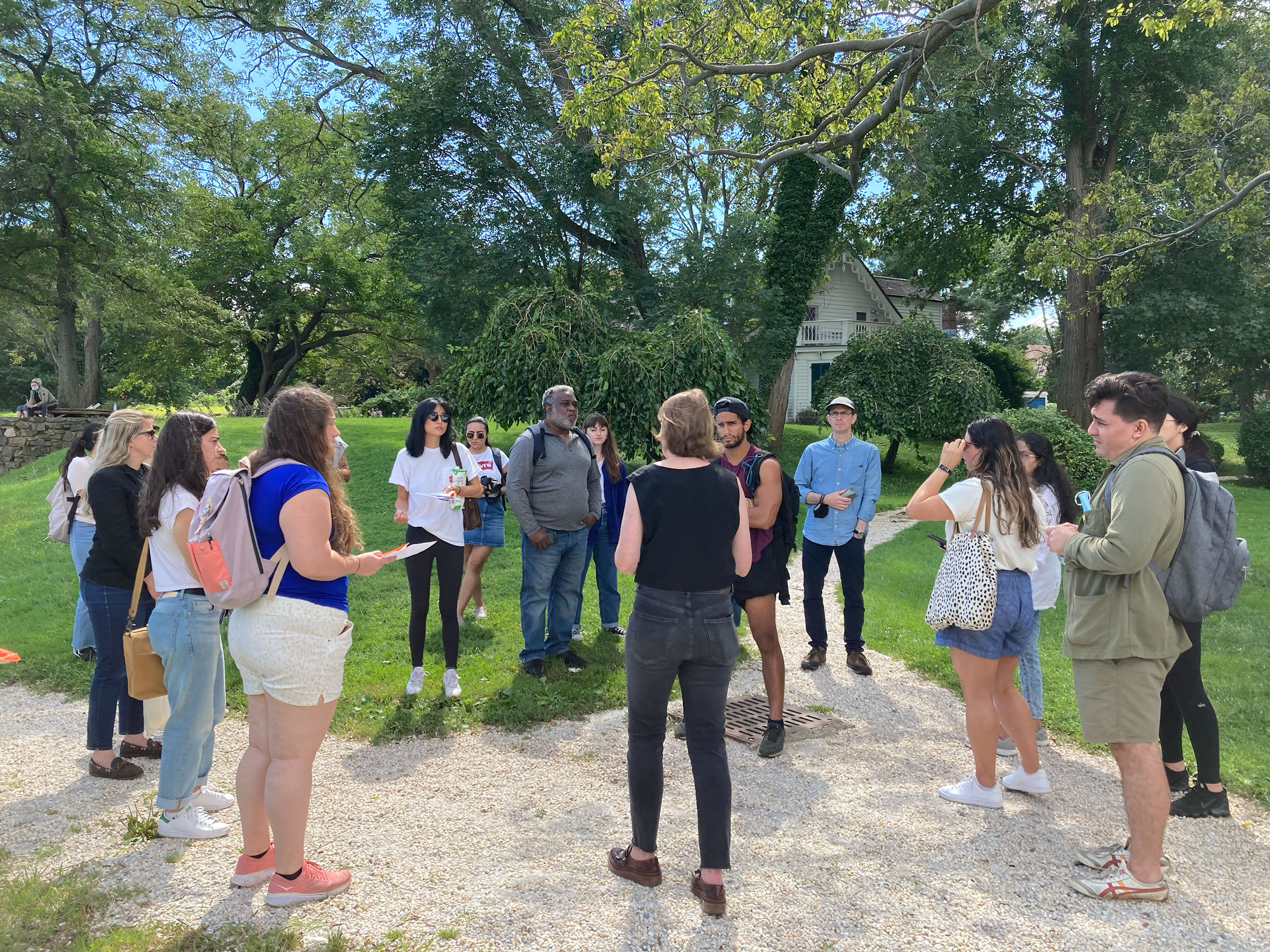 Students in the Historic Preservation/Urban Placemaking Joint Advanced Studio worked closely with AAHM to propose ideas to help it become a stronger community anchor. The course was led by GCPE Adjunct Associate Professor Bethany Bingham and Visiting Assistant Professor Emily Ahn Levy with coordination from Academic Director of Historic Preservation Vicki Weiner.
The studio brought together students in Urban Placemaking and Management, Historic Preservation, City and Regional Planning, and Graduate Industrial Design. They included Ashley Alvarez, Shreya Bedi, Michaela Brocchetti, Brit Byrd, Jeff Charles-Pierre, Katherine Cognata, Portia Dyrenforth, Omar El Feki, Marissa Garcia, Adriana Hazelton, Shanaz Khan, Eve Lerouge, Alexandria Martz, and Annika Northland.
The students approached the project with four groups in mind: neighborhood youth, the LGBTQIA+ community, cultural groups, and area community-based organizations. Surveying locals at public events as well as visiting New York institutions like the Tenement Museum for ideas on interpretation and planning models, they developed 12 different recommendations for reimagining the site. They considered AAHM's goals for centering queer history, bolstering its public programming, and striving for authenticity and broader community engagement. At the core of these recommendations was Alice Austen's story and how her legacy can resonate with the present and future.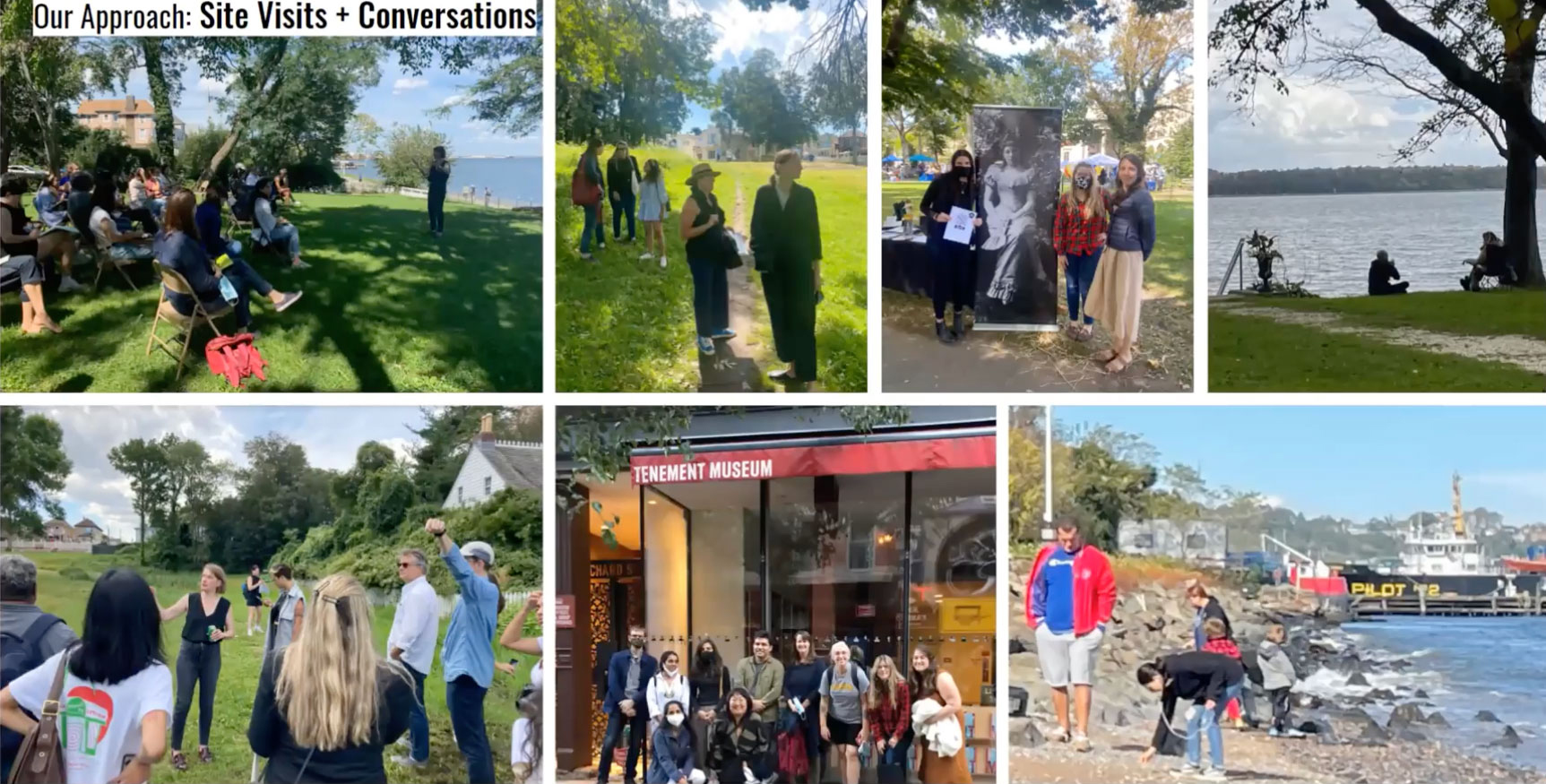 On the north shore of Staten Island near the base of the Verrazzano-Narrows Bridge, AAHM sits alongside a popular waterfront park for dog walkers, fishermen, and neighbors who come to stroll and view the sunset. This location has incredible community potential but necessitates preparing for the impacts of climate change. AAHM has already experienced flooding, including in Hurricane Sandy in 2012 which damaged the lawn and the house's gates. The students' recommendations included integrated wetlands as well as removing the fence that encircles AAHM's large lawn and adding street-level signage. These "moments of invitation" could amplify AAHM's mission beyond its physical boundaries, whether an installation at a tennis court to celebrate Austen's beloved hobby or at the Stonewall Inn to add her story to local landmarks of LGBTQIA+ history.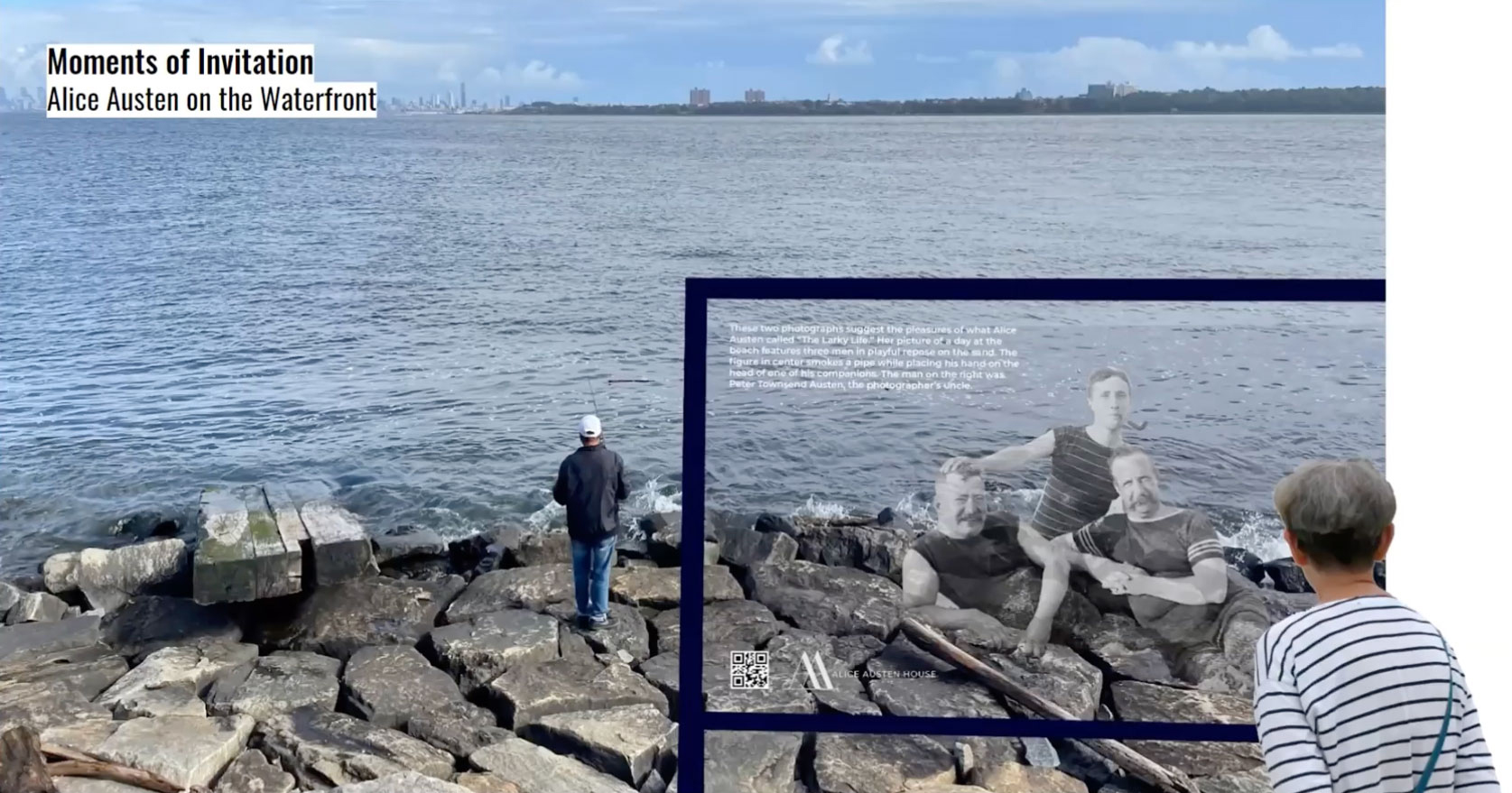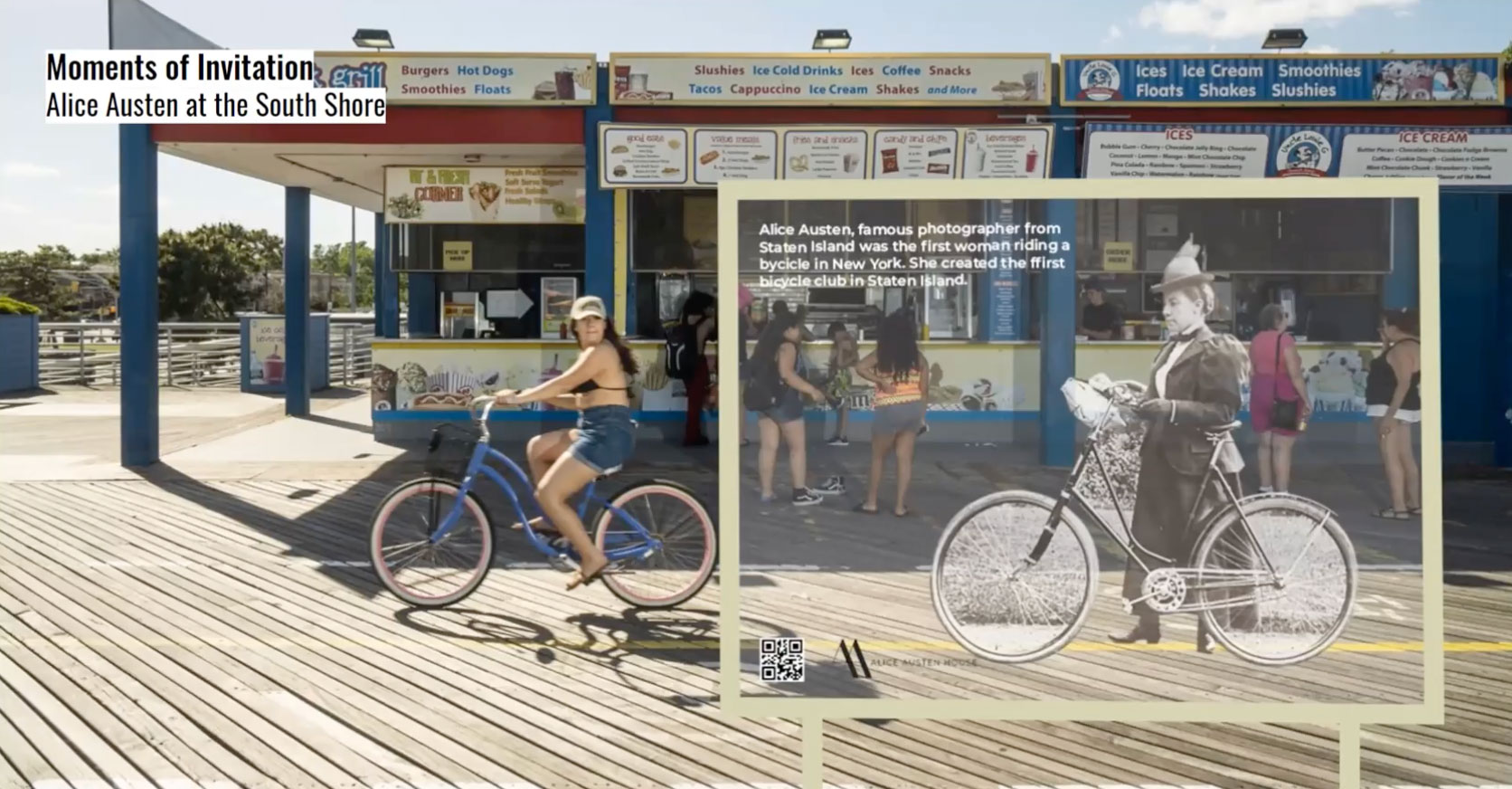 The students looked at existing resources at AAHM, such as the disused McFarlane Bredt House, formerly the Staten Island Yacht Club, that is next door and could offer much-needed programming, exhibition, and storage space. Inspired by local precedents including the Weeksville Heritage Center and St. Ann's Warehouse, they examined how the building could be partially restored and functionally renovated without detracting from its surviving architectural elements. Other additions like a native garden could acknowledge Lenape history on the land and support environmental education programming.
"We are in talks now to create a site-specific garden intervention with students and examine the possibility of moving forward with a second phase course to focus on strategic planning for three of the identified objectives," Munro said.
Pratt is continuing its relationship with AAHM and expanding on ways for students to engage with the site. Also in fall 2021, a Parks and Open Space course led by Elliott Maltby, adjunct associate professor in GCPE and Graduate Architecture and Urban Design (GAUD), used AAHM for research and design speculation. Students explored how the design and planning of parks and open space can construct and communicate more complete stories, as well as the role of memory in the public realm. They specifically looked at photography's role in capturing and representing the experience of landscape spaces. The students included Lama Alhammad, Ashley Alvarez, Megan Bednarz, Michaela Brocchetti, Yuri Chang, Katherine Cognata, Marissa Garcia, Suzanne Goldberg, Gundega Laivina, Kieran Micka-Maloy, Leanna Molnar, Nischala Namburu, Annika Northland, and James Tschikov.
Austen's house was nicknamed "Clear Comfort" and she was dedicated to making it a place where people could be themselves. As the students spent time there talking to the people who care for her story, they were inspired by the place's powerful potential to carry forward that heritage of love and inclusion to a wider community.