This spring's Pratt Institute Research Open House (ROH) will also celebrate the debut of the Research Yard in the Brooklyn Navy Yard. It is the first in-person edition of the annual event since 2019 and invites the public to learn about research possibilities, innovative ideas, and the impact of Pratt's community. The 2023 ROH on March 10 will include dynamic projects from across the research ecosystem at Pratt, including climate resilience, sustainable energy, and environmental justice.
ROH started in 2018 and is organized by the Office of Research and Strategic Partnerships in the Provost's Office. Now in its sixth year, it showcases the breadth and depth of research at Pratt.
ROH is free and open to the public with visitors having the opportunity to meet inventors, doers, and thinkers who are working to make a difference in the local community and around the world. Pratt's Brooklyn campus is just a few blocks south of the Brooklyn Navy Yard, which is on the banks of the East River and holds more than 500 businesses.
"We are very excited to celebrate the research of Pratt at our new Research Yard in the Brooklyn Navy Yard," said Allison Druin, vice provost for research and strategic partnerships. "Research Open House will be a time for the public to see our research that explores important new paths for community development, climate innovation, the future of jewelry, K-12 design thinking, and so much more. What is wonderful is that once our Research Open House day is over, the Research Yard will continue to house the advanced research activities developing solutions to real-world problems."
Below is a preview of the variety of interdisciplinary work from faculty, students, and staff that will be shared at ROH 2023, demonstrating how world-changing research in design, creative advocacy, networked information, architectural structures, and more is happening across campus.
Harnessing the Power of the Wind
Karen Bausman, adjunct associate professor-CCE of undergraduate architecture, has been working over the past two years with architecture students to explore connections between energy sources and the built environment, particularly related to the New York City shoreline. Her project, NYC Future Perfect: Wind Power and The Waterfront, focuses on how wind power infrastructure along the urban coasts could be a vital new source of renewable energy generation. At ROH 2023, she will be presenting her research on building prototypes to harness the wind to generate power through structures that could be dismantled easily and moved for a more adaptable future.
The Data of Urban Gentrification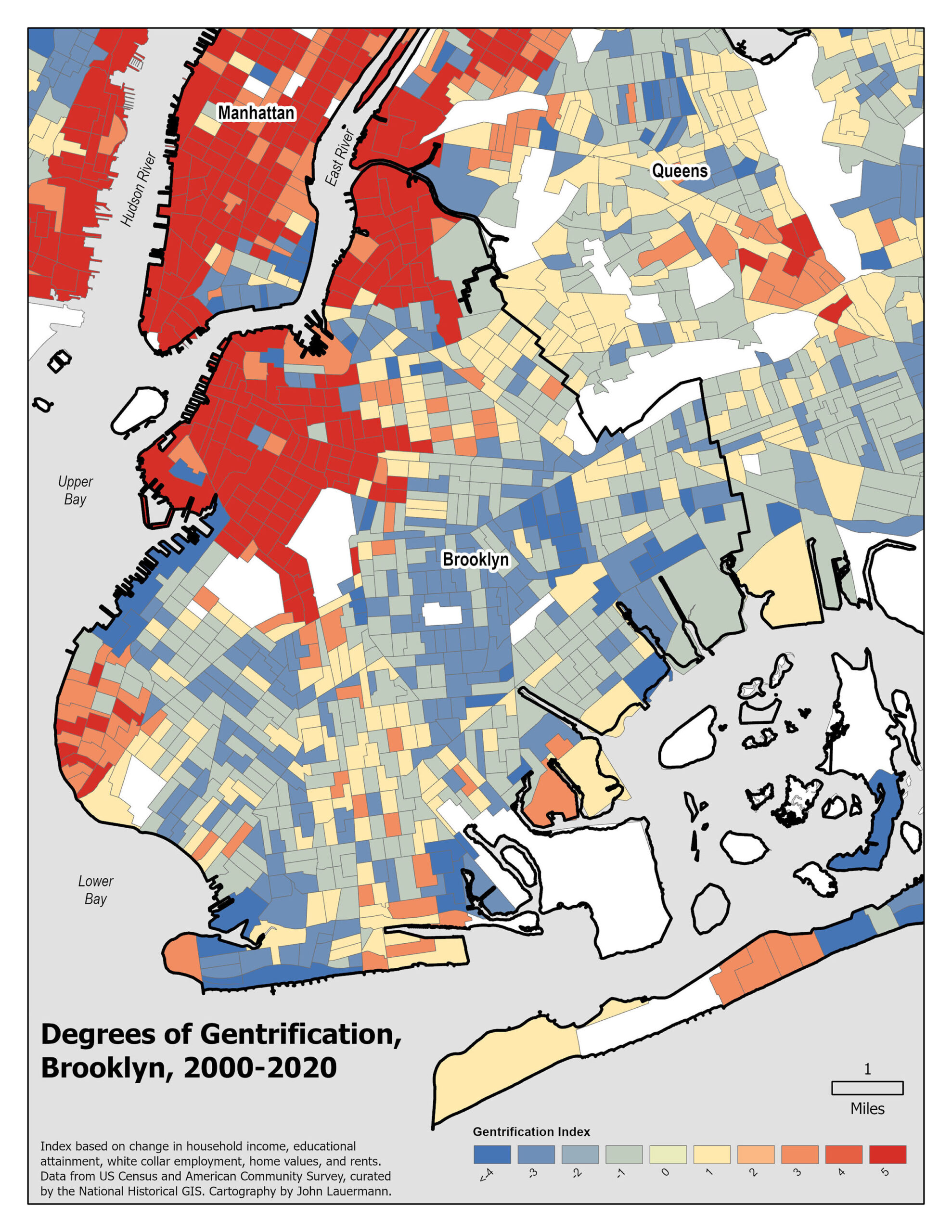 John Lauermann, associate professor in the School of Information and faculty director of the Spatial Analysis & Visualization Initiative (SAVI), is presenting a project on mapping extreme gentrification and middle-class displacement. This research has been funded by the National Science Foundation, the CUNY Research Foundation, and a Pratt DEI Seed Grant. It analyzes demographic data to map degrees of gentrification intensity in American cities to evaluate displacement patterns. Lauerman's team is concentrating on the 50 most populous metropolitan regions from 1990 to 2020 and drawing on oral histories of middle-class displacement in Brooklyn to understand what happens after a neighborhood has been gentrified and continues to change.
A Film Bridging Communities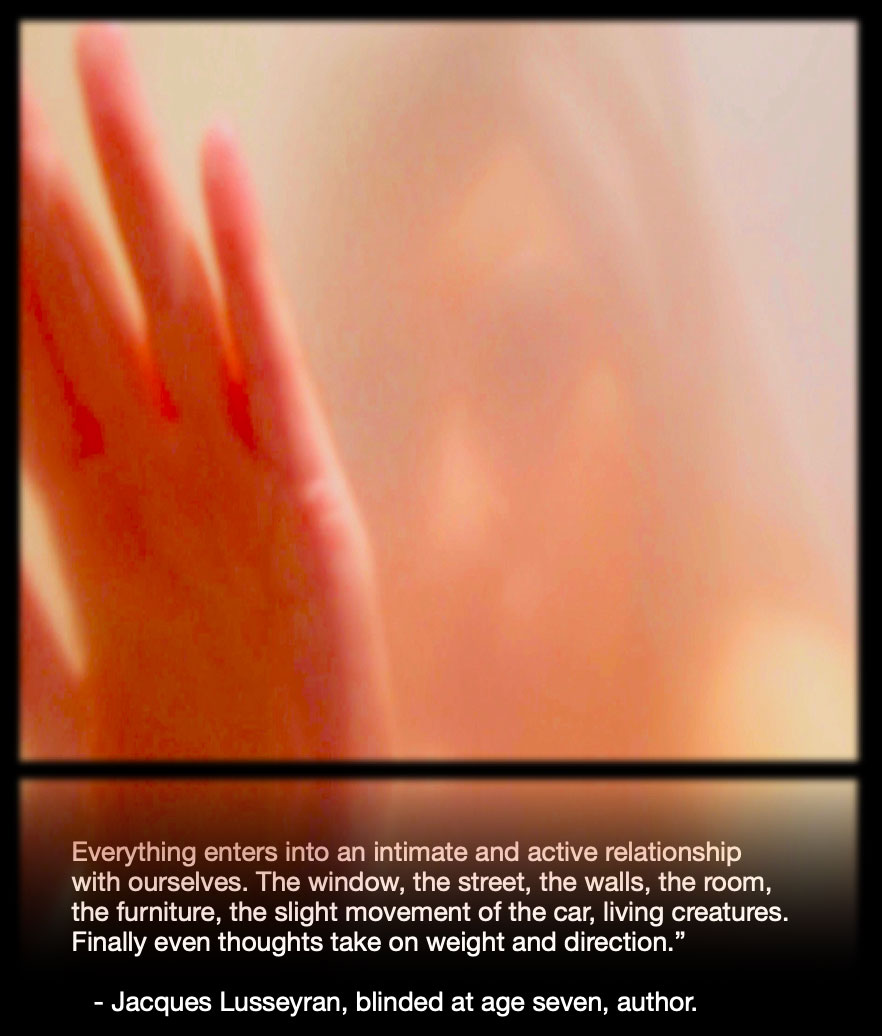 Amy Guggenheim, adjunct associate professor-CCE of humanities and media studies, will be presenting her research for Blindsight. The dramatic short film, which was a 2022 New York State Council on the Arts (NYSCA) Film/Video Production Grant Recipient and has screened at international film festivals, was created as a bridge between low vision and sighted communities. It explores perception and vision through representation, accessibility, and artistic expression, drawing on Guggenheim's research in collaboration with actors, a design team, and musicians as well as audio describers and other experts to expand inclusivity.
Supporting Digital Preservation across the Country
Anthony Cocciolo, dean of the School of Information, will present the work of the Digital Preservation Outreach and Education Network (DPOE-N), which received major funding from the Mellon Foundation. DPOE-N supports digital preservation education and outreach in libraries, archives, and museums throughout the country. It was created by the Library of Congress in 2010 and, in 2018, transitioned to the School of Information and New York University's Moving Image Archiving and Preservation (MIAP) program. Its largest program is a microgrant for cultural heritage professionals, and it offers free workshops on digital preservation topics, such as web archiving, anti-racist digital preservation, and environmentally sustainable digital preservation. This March, it is hosting a digital preservation workshop for cultural heritage professionals at the University of Puerto Rico.
Read more about Research Open House 2023 and click here to RSVP.