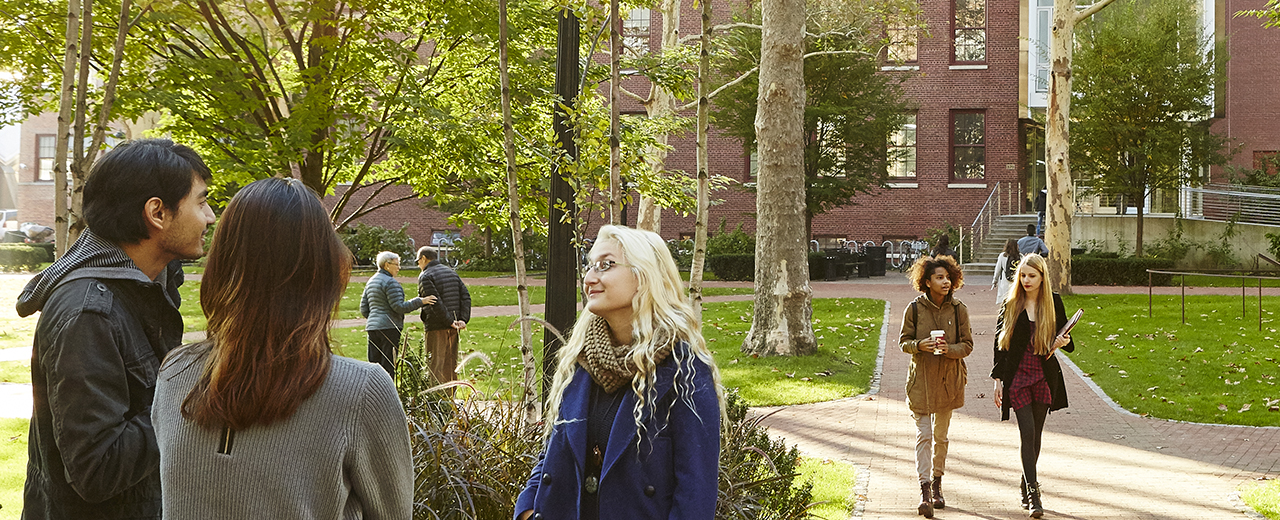 PRATT INSTITUTE IS PLEASED TO OFFER EXTENSIVE BENEFITS AND SERVICES TO OUR TALENTED ALUMNI COMMUNITY AROUND THE GLOBE. THERE IS NO FEE FOR MEMBERSHIP.
Pratt Institute
Office of Alumni Engagement
200 Willoughby Avenue, Myrtle Hall
Brooklyn, NY 11205
Email: alumni@pratt.edu
Phone: 718-399-4447
The Office of Alumni Engagement is currently unable to welcome visitors, as Pratt is observing COVID-19 protocols.
Pratt is currently observing COVID-19 protocols.
Full information and campus access for alumni can be found at Back to Pratt.
ALUMNI ID CARDS
Pratt alumni ID cards are now digital! Your digital alumni ID card will provide you with the same access to alumni benefits with the addition of being:
Eco-friendly, sustainable, and green
Convenient – you'll never lose or forget your digital card!
Contactless
To request a digital alumni ID, please update your contact information and mark the checkbox that you'd like a digital alumni ID. We process requests weekly, so please allow ~1 week. Then look for an email invitation with instructions on how to download your ID onto your phone.
MERCH!
Visit the online Pratt Store for Pratt branded merchandise!
YOUR CAREER AND MORE
Career Counseling
Alumni have lifetime access to Pratt's Center for Career and Professional Development. Learn about scheduling a one-on-one appointment with one of our career advisors.
Pratt Pro
Alumni can use Handshake to seek an internship, full or part time positions, freelance work, and volunteer opportunities.
Looking to hire Pratt students or alumni?
The Center for Career and Professional Development manages Handshake, where employers can post their open internship, professional and volunteer opportunities. Students and alumni can search and connect with employers directly. We encourage employers to view the work of the entire Pratt community, students, alumni, and faculty at Pratt Institute Portfolios.
Continuing Education
Alumni receive a 10% discount for courses at Pratt's School of Continuing and Professional Studies. To learn more, email prostudy@pratt.edu.
Auditing Courses
Pratt alumni may audit regular courses at a discounted rate. Learn more here or contact the Registrar's Office at reg@pratt.edu.
WHILE IN NYC
As of March 1, 2021, Pratt has renewed memberships to select museums in New York City. A valid Pratt Alumni ID must be presented to gain admission. In addition, many museums now have protocols in place in order to visit. Please check their websites ahead of time to ensure a smooth visit.
Pratt Alumni Museum Membership Benefits as of March 1, 2021 include:
Brooklyn Botanic Garden
Brooklyn Museum
Museum of Arts and Design (MAD)
The New Museum
STAY CONNECTED
Email
Alumni may keep their pratt.edu email address after graduation. For Pratt Alumni, email, web calendar, and cloud storage is now powered by Google. For more information, visit the Powered by Google page on pratt.edu. For assistance, contact the Help Desk at 718.399.3765.
Prattfolio
All Pratt alumni with a valid email address receive Prattfolio, the magazine of Pratt Institute. Update your email address with the Office of Alumni Engagement to ensure you never miss an issue.
Alumni Regional Networks
The mission of Pratt's Alumni Regional Networks is to advance the educational, cultural, social and professional development of our alumni by providing opportunities for them to connect with each other and the Institute.
Connect with other Pratt alumni in your area for fun virtual events, networking opportunities and thought-proving activities! Check out each region's page to find out what is going on in your area.
JOIN IN
Exhibitions and Event Invitations
Alumni are invited to a variety of virtual events throughout the year, including through Alumni Regional Networks.
Explore the Pratt calendar.
Pratt Portfolios
Pratt alumni, students, faculty, and staff are invited to join Pratt Portfolios —an exclusive network—to gain broader exposure for their work, connect with other members of the Pratt community, and be discovered more easily by potential clients, recruiters, and creative enthusiasts.
LIVE LOCALLY?
Brooklyn Art Space
Receive a discount at Brooklyn Art Space.
Gym Membership
While Pratt Institute alumni are eligible for a discounted membership to the Activity Resource Center (ARC), Pratt's indoor athletic facilities remain closed at this time. Please visit the Pratt Athletics website for updates.
TRANSCRIPTS
Transcripts
Transcripts can be requested through the Office of the Registrar.
---
DIGITAL ALUMNI ID CARDS FAQ
How do I add the digital alumni ID card to my iPhone?
Access the email from your smartphone and click the "Download" button, then click "Add to Wallet" and "Add." The card will automatically go to your iPhone's Apple Wallet. It can be accessed in Wallet at any time.
How do I add the digital alumni ID card to my Android phone?
Android users need to download Wallet Passes from Google Play. After you have the app, access the email from your smartphone and click "Download" in the digital alumni ID card email, and the card will automatically go to your Wallet Passes app, where it can be accessed at any time.
I'd prefer not to use this digital alumni ID card, what should I do?
Please contact alumni@pratt.edu for a physical alumni ID card.
I don't have a mobile phone, what can I do?
Please contact alumni@pratt.edu for a physical alumni ID card.
I have a question about my alumni benefits.
We're happy to help. Please contact alumni@pratt.edu.
My name is spelled incorrectly.
So sorry! Please contact alumni@pratt.edu to update your alumni record.
I downloaded my digital alumni ID card but I can't find it.
If you have an iPhone, the card will automatically download to Apple Wallet. Check the app for your new digital alumni ID card (scroll through any cards that are already there–it may be hiding!). If you have an Android, you'll need to download Wallet Passes from the Play Store prior to downloading the card.
Prattfolio